Chopped Mexican Salad with Pepitas has a Honey-Chipotle Dressing and it's a delicious, hearty festival of fresh Mexican flavors. It's perfect for a summer picnic, on a buffet table, or alongside tacos or burritos.
This Mexican salad with pepitas is beautiful, festive and full of sweet and spicy flavors and soft and crunchy textures. It's amazing as a main course salad and an awesome side, too.
With food, little details can make a big difference, and it's often a matter of preference.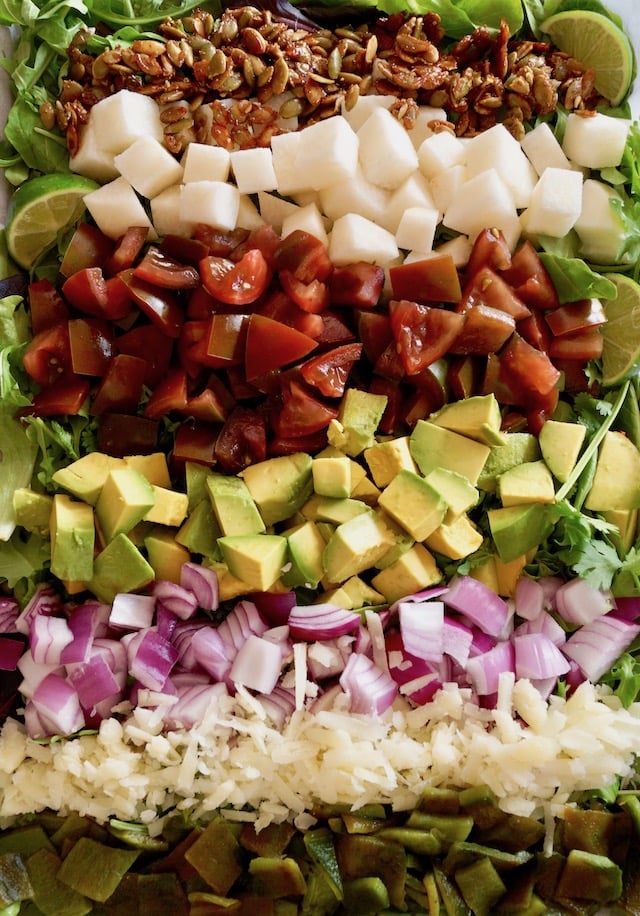 Chopping salad ingredients, all approximately the same size, makes for a very different salad. A little bit of every single ingredient on your fork at once -- that's the beauty of it.
How to Make it
This salad has three components: Spiced Pepitas, Honey-Chipotle Dressing and the produce with cheese.
The Spiced Pepitas (pumpkin seeds). Mix the pepitas with honey, a little oil and spices, and then roast for just a few minutes.
The Honey-Chipotle Dressing. Blend the lime juice, chipotles in adobo sauce, honey, spices and oil together.
The produce and cheese. Chop all of the produce, grate the cheese, and toss everything together with the pepitas and dressing.
(More detailed instructions are below.)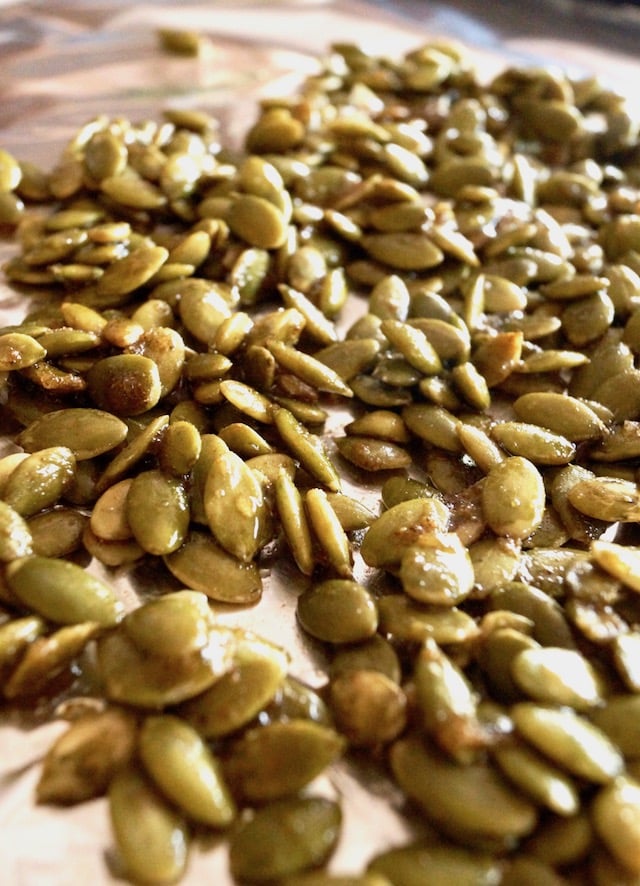 Can you make Chopped Mexican Salad ahead?
Yes! Well, most of it.
I make the pepitas a day or two ahead of time. They should be stored in a tightly sealed container, at room temperature.
I make the dressing up to a week in advance. It should be stored in a tightly sealed jar, at room temperature or refrigerated. (If it's refrigerated, take it out a couple hours ahead of time.)
Except for the avocados, I chop all of the produce the day before. It should be stored in a tightly sealed container in the refrigerator.
About 15 minutes before you'd like to serve the salad, cut the avocados and mix everything together.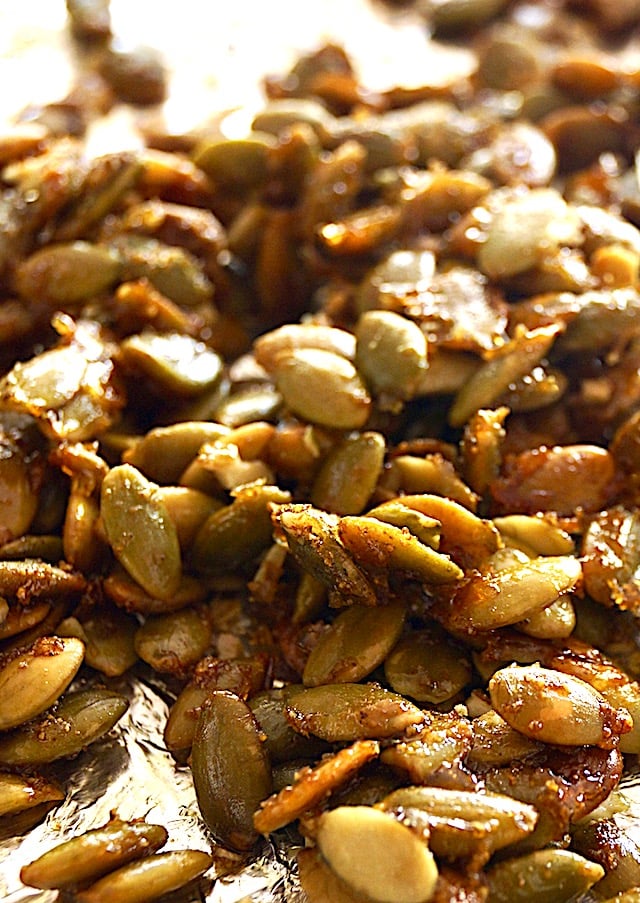 Recipe Tips
The dressing recipe may make a bit more than you'll need -- dress the salad to your taste.
My favorite way to make salad dressing is in a jar. Simply add all of the ingredients at once, put the lid on, and shake!
The pepitas are great mixed in, but I also save a small handful to sprinkle on top. They're nice just to have on hand, too -- they make a delicious snack!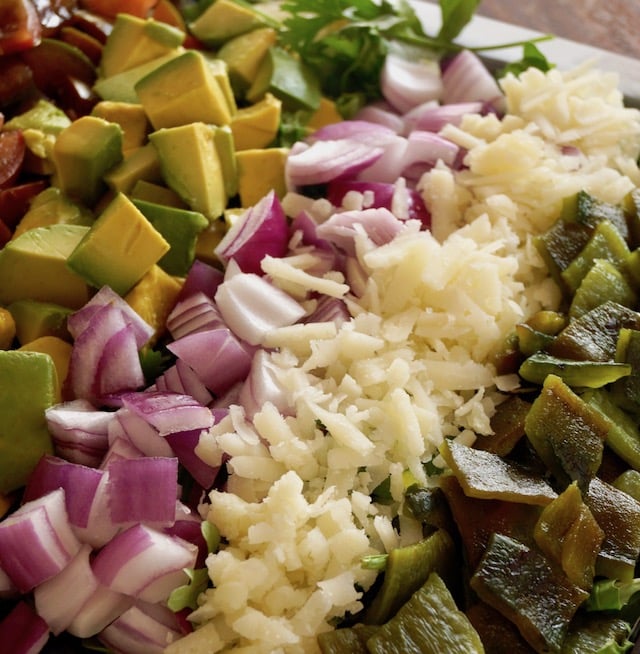 This salad is so good as a part of a buffet of Latin flavors. Here are a few other recipes that would be great with it: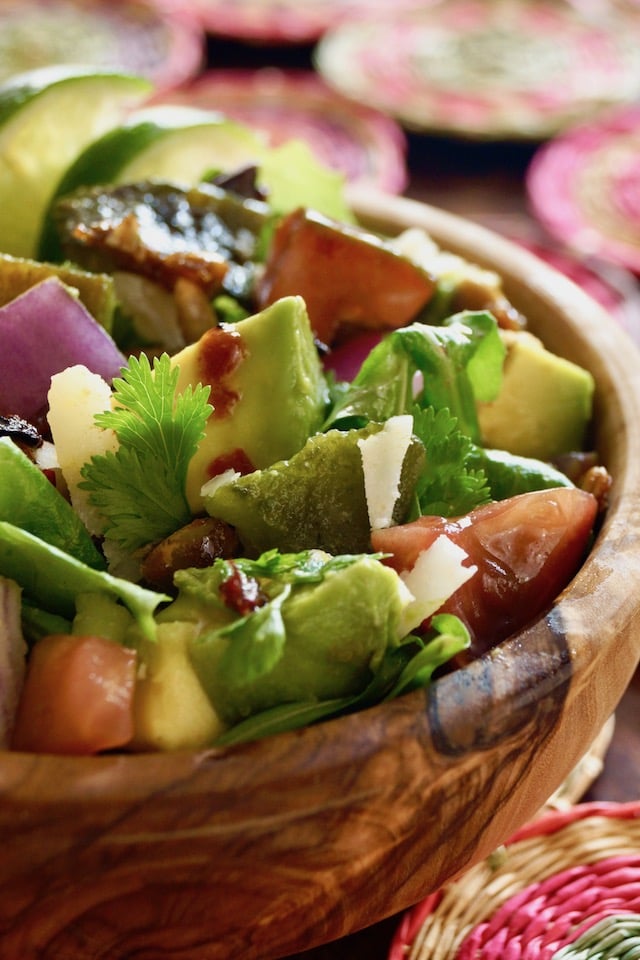 This is one of those salads you'll gobble up like it's your favorite flavor of ice cream. Know what I mean?
Enjoy every last bite of this scrumptious Mexican salad with Pepitas!
Chopped Mexican Salad with Pepitas and Honey-Chipotle Dressing
Chopped Mexican Salad with Pepitas & Honey-Chipotle Dressing is a delicious, hearty main course salad, that is truly a festival of fresh Mexican flavors!

Ingredients
For the salad (everything "chopped," should be cut into about ¼ to ½-inch dice):
4

cups

packed arugula or mixed baby greens (or a combination of both),

roughly chopped

½

cup

cilantro,

washed and dried, finely chopped

1 ½

cups

jicama,

chopped

1 ½

cups

tomato,

seeds removed, chopped

1 ½

cups

avocado,

chopped

1

cup

roasted poblano peppers (click here for how to roast them here),

peeled, seeded, chopped

½

cup

red onion,

chopped

½

cup

Manchego cheese,

grated
Instructions
For the pepitas
Preheat the oven to 375°F and line a baking sheet with foil. In a small mixing bowl, combine the pepitas with the oil and honey. Once they are well-coated, add the spices and salt and stir to blend. Spread the pepitas on the foil-lined baking sheet and roast them in the preheated oven until they begin to brown and are very aromatic, about 5 to 7 minutes. Set aside.
For the dressing
In a small mixing bowl, combine the lime juice with the chiptoles, honey, cumin, and salt. Gradually whisk in the oil and set aside.
For the salad
In a large serving bowl, combine all of the ingredients except the cheese. Just before serving, add the cheese, spiced pepitas and the dressing. Toss to combine.
NUTRITION
Have you tried this recipe?
I'd love to see it on Instagram! Tag me at @cookingontheweekends or leave a comment & rating below.
Cooking On The Weekends is a participant in the Amazon Services LLC Associates Program, an affiliate advertising program designed to provide a means for sites to earn advertising fees by advertising and linking to Amazon.com.