Gluten-Free Bacon Fried Calamari recipe is laced with a smoky flavor. It's a fantastic appetizer for sharing!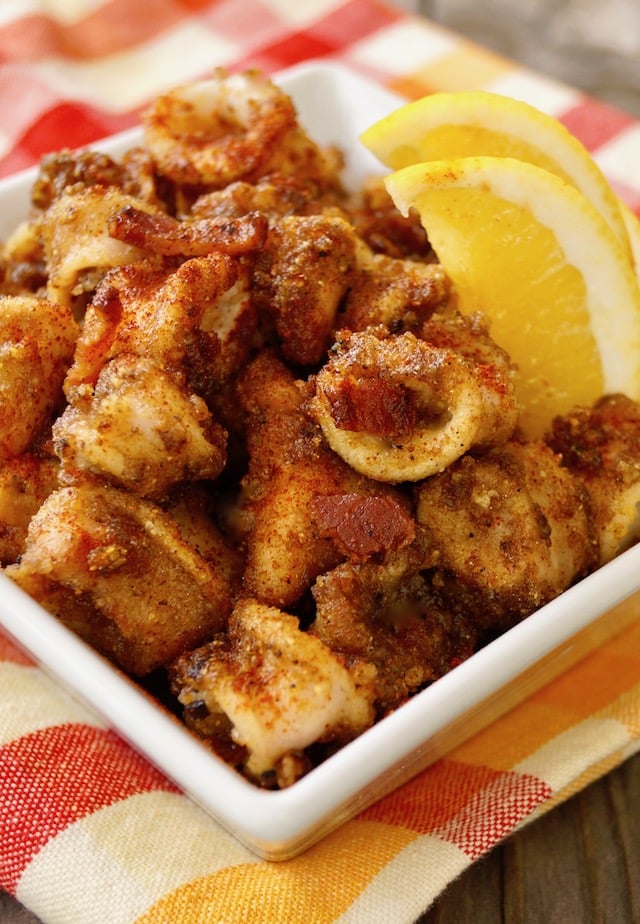 You know how you had one, maybe two teachers when you were a kid, that you'll never forget because they were so inspiring? So fun? So interesting? They created an environment where you were super excited to learn?
My son has one of them right now, for his Science class.
Inspiration
Here's what happened when I was driving home one late afternoon from errands a few weeks ago . . . .
My son called me and said, "Mom, can you please stop somewhere and get me a whole squid? I have to dissect it for my science class.Tonight. Maybe get a bunch of them."
Me: Um? Tonight? Seriously?
Son: "Well, there's actually no due date — it's extra credit, but I really want to do it tonight. Oh, and after I'm done, I want you to use them to make a cool recipe."
I had been so busy and I was so tired, but I found myself immediately checking to see if Santa Monica Seafood was still open. It's one of my favorite places, after all.
My son was ready to get started as soon as I got home.
He had to dissect the squid, place the parts on a piece of paper, and then label them.
And no, these particular parts did not become a part of the recipe. 😉
This is what they looked like after they were cleaned . . . .
What a difference!
Can you buy already cleaned squid?
Of course, you can buy squid already cleaned, but if you're very ambitious, like my son and me, here's how to clean them.
It's easier than you might think.
I knew I had to come up with a recipe fairly quickly since the fresh squid would not last too long. So the next day when my husband was cooking bacon, this idea came to me.
I'd lightly coat them with spices and flour and then add them to hot, smoky, delicious bacon fat. Of course, I'd add the crispy bacon to it. Oh, and it would have to be gluten-free fried calamari, since my son has Celiac Disease. So that's how I came up with this Gluten-Free Bacon Fried Calamari recipe.
Tips to a tasty gluten-free fried calamari recipe:
A touch of lemon.
A mix of delicious spices.
Cornmeal for a bit of extra crispiness.
Making sure the oil and/or bacon fat is super hot before cooking.
As it turns out, I'd apply all the same tips from making the gluten-free fried calamari, to a non-gluten-free recipe as well.
Part of my son's science assignment was writing his name with the black squid ink. It looked awesome. (He turned it in — if only I'd taken a picture of that first. Oops!)
Enjoy every last piece of the smoky Bacon Fried Calamari!
(Can't get enough smoky bacon flavor? Then you'll also love my Smoky Tomato Bacon Chipotle Deviled Eggs! )
Gluten-Free Bacon Fried Calamari Recipe
This gluten-free fried calamari is strewn with delicious bits of bacon and laced with a smoky flavor. Bacon Fried Calamari recipe is a fantastic appetizer!
Ingredients
2

strips

applewood smoked bacon

12

squid,

cleaned

3

tablespoons

gluten-free all-purpose flour

1

tablespoon

corn meal

½

teaspoon

salt

½

teaspoon

garlic powder

½

teaspoon

onion powder

⅛

teaspoon

cayenne pepper

(or more if more heat is desired)

lemon wedges for drizzling and garnish
Instructions
Add a layer of paper towels to 2 plates and set them aside.

Add the bacon to a large sauté pan, over medium heat, and cook until it's crispy, about 4 minutes per side. Let the bacon strips drain on 1 of the towel-lined plates. (Leave the bacon fat in the pan!)

Pat squid dry with a paper towels and cut them into approximately 1 to 2 inch rings. Set aside.

In medium-sized mixing bowl, add the flour, corn meal, salt, garlic powder, onion powder and cayenne pepper. Mix to blend and then add the calamari rings. Use your hands to toss them into the flour mixture, being sure they are all very well coated.

Then turn the heat to high under the same sauté pan with the bacon fat. Once it's very hot, carefully add coated squid in a single layer. Fry, tossing frequently, until the squid is opaque and cooked through, about 2 to 3 minutes. Use a slotted spoon to remove the fried calamari from the pan and add it to the 2nd towel-lined plate. Let it drain for a couple of minutes. Then crumble the bacon and add both the fried calamari and bacon to a bowl and toss.

Serve warm, with a few lemon wedges to drizzle over them.
Notes
Calorie count is only an estimate.
Have you tried this recipe?
I'd love to see it on Instagram! Tag me at @cookingontheweekends or leave a comment & rating below.
Save
Save
Save
Save
Save
Save
Save