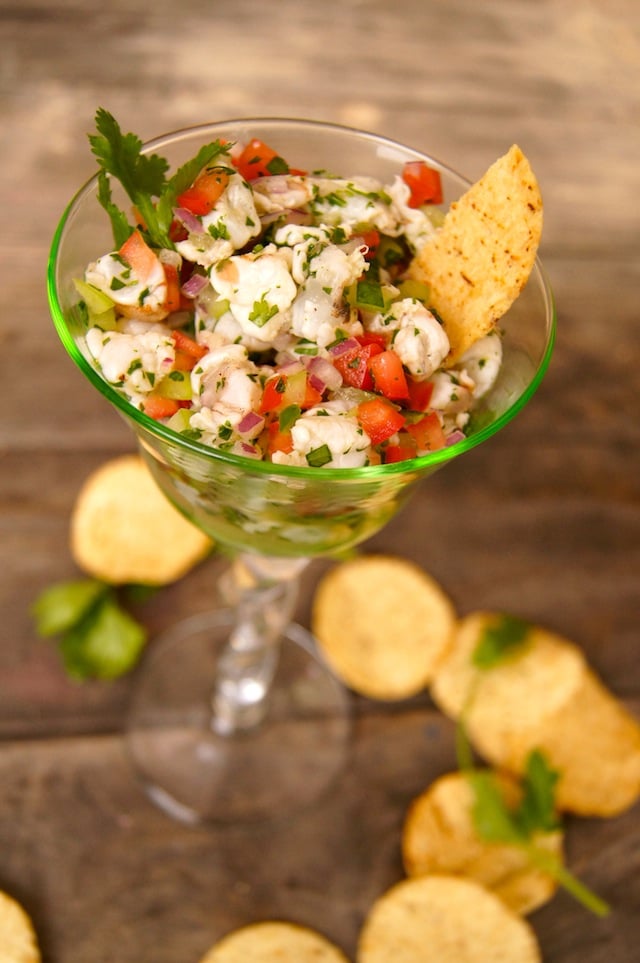 Do you have a friend who — no matter how much time goes by without talking — you still feel totally connected?
My dear friend Pilar lives in Madrid, Spain.  I lived there for a year and — just by chance  my study abroad program placed me in her apartment.  We became close friends instantly and we felt like sisters.  Everyone actually thought we were sisters — twins even!
I've been back to visit her a few times over the years, and she's been here, but it's been about seven years now since we've seen each other, and I don't know when we last spoke.  Even so, I feel like we talked this morning, and if I saw her tonight for dinner, it would seem as if no time had passed.
I can't eat shrimp in any form without thinking of Aguadulce in the south of Spain, where Pilar's family has a home.  In the summer, we'd sit by the beach and eat unbelievably fresh shrimp right out of the shell — practically right out of the ocean!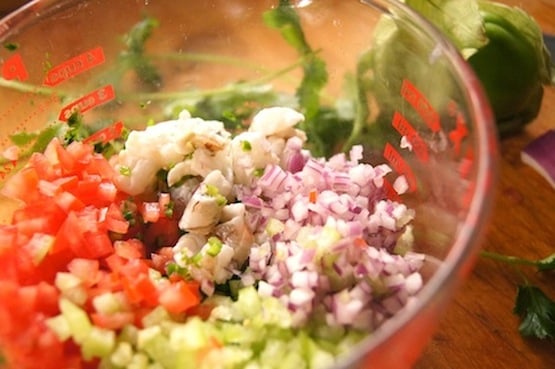 While this ceviche is made up of several ingredients, it has that super refreshing quality I love when I eat shrimp.
It's the perfect first course or appetizer for your Cinco de Mayo festivities this weekend!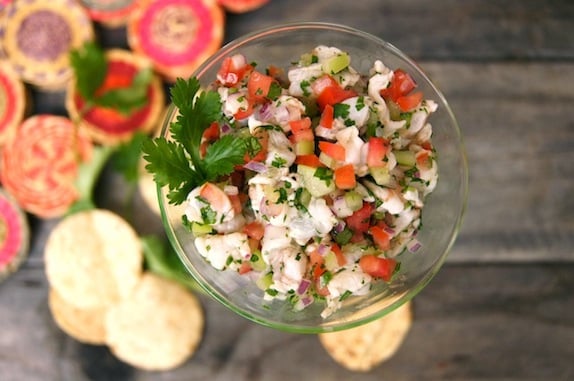 Clearly Spain has nothing to do with Cinco de Mayo, but really I'm all about the shrimp here!)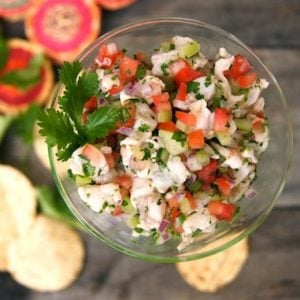 Tomatillo Shrimp Ceviche
Makes about 2 cups
Ingredients
1/2

cup

fresh lime juice

from about 3 limes

2

tablespoons

fresh orange juice

3/4-

pound

fresh shrimp

peeled, deveined, and finely chopped

1/3

cup

finely chopped tomatillo

about 1 large tomatillo

1/3

cup

finely chopped tomato

seeds removed (about 1 medium-sized tomato)

1/4

cup

finely chopped red onion

1

tablespoon

super finely chopped Serrano pepper

seeds removed

2

tablespoons

finely chopped cilantro

Sea salt and freshly ground black pepper

Olive oil
Instructions
Mix the lime and orange juice in a medium-sized glass bowl. Add the shrimp, cover with plastic wrap, and let it marinate for at least 4 hours in the refrigerator.

Remove the marinating shrimp from the refrigerator and gently mix in the tomatillo, tomato, onion, pepper and cilantro, cover and return to the refrigerator to marinate for about 1 more hour, or until the shrimp appears to be "cooked." It should be completely opaque and slightly pink.

Drizzle with a bit of olive oil and season generously to taste with salt and pepper.
Recipe Notes
You can adjust the amount Serrano pepper you add, depending on how much heat you like. The amount listed in the recipe makes the ceviche medium hot.
Are you wondering how the shrimp in the ceviche is "cooked?" Wonder no more! The acid from the citrus actually changes the structure of the proteins in the seafood, essentially "cooking" it without using heat.
Save
Save