This Hatch Green Chile Shrimp is served with Coconut Rice — it's rich and hearty, sweet and spicy, and so over-the-top delicious that you will keep coming back for more and more.
Is bragging always a bad thing?
What if it's about something really fantastic you've done?
Like say, cooking one of the most delicious meals you've ever tasted?
I'm just going to go ahead and say that this Hatch Green Chile Shrimp with Coconut Rice is exactly that — one of the best meals I've ever I've ever tasted.
It's spicy, rich, sweet, hearty, healthy, and the list goes on. And on.
This Hatch Chile Festival, (again, not to be confused with the other Hatch Chile Festival), is really getting good.
And don't think for a minute that I wouldn't include a Hatch Chile dessert in our festival.
What's in Hatch Green Chile Shrimp?
roasted Hatch chiles
shrimp
grapeseed oil
honey
garlic
cumin
salt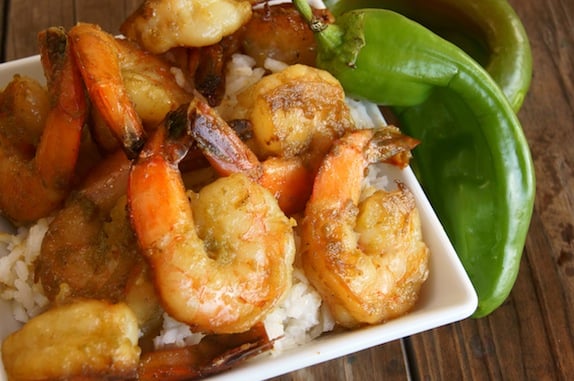 By the way, many of you have been asking how you can tell exactly how hot a Hatch Chile is.
There's no simple answer . . . .
How can you tell how hot or mild a Hatch Chile is?
Here's what I've learned during all of my Hatch Chile recipe developing and tastings:
Some are green, some are red, some are both green and red — this makes no difference in the amount of heat the chile will have.
The seeds are always very, very hot.
Some stores will have them labeled, "hot" or "mild." I've found the "hot" are typically medium to hot and vary greatly. The "mild" vary also, but not quite as much — they're usually mild to medium.
Always taste the pepper first! Before you begin to cook — so you know exactly what you're dealing with.
I've just been mixing them up as I cook because I like the mix of the varying degrees of heat.
Enjoy every last grain of rice and bite of shrimp in this Hatch Green Chile Shrimp with Coconut Rice Recipe!
More of my favorite Hatch Chile recipes . . . .
Hatch Chile Shrimp Sauté with Coconut Rice Recipe
This Hatch Chile Shrimp Sauté with Coconut Rice is rich and hearty, sweet and spicy, and so over-the-top delicious that you will keep coming back for more and more.
Keyword:
best shrimp recipes, healthy dinner recipe
Ingredients
For the shrimp:
1

pound

medium-sized shrimp,

peeled and deveined

6

roasted & peeled Hatch Chile peppers (click here for How to Roast & Peel a Pepper)

3

tablespoons

water

2

tablespoons

grape seed oil,

plus a bit extra for the pan

1

tablespoon

honey

1/2

teaspoon

garlic,

crushed

1/2

teaspoon

ground cumin

Sea salt
For the rice:
2

cups

coconut water

1/2

teaspoon

salt

1/2

teaspoon

granulated sugar

1

cup

long grain enriched rice
Instructions
To make the shrimp:
Roast and peel the peppers --

here's how to roast Hatch chiles

. Then, cut the stem end off of each one and carefully, use a small paring knife or your fingers, to make a slit in each of the peppers to open them.

Gently remove all of the seeds.

Place the chiles in the blender, or food processor fitted with the blade attachment. Add the water and oil and blend until smooth. Then add the honey, garlic and cumin, and blend for another few seconds just to combine.

Place your peeled, deveined shrimp in a large, heavy-duty zip-lock bag and pour the pepper marinade over them, making sure they are all well coated. Double the bag, or put the bag in a bowl and place the marinating shrimp in the refrigerator for 3 hours, and ideally overnight.

Coat a large sauté pan with grape seed oil and place it over high heat. Remove the shrimp from the bag, along with any extra pepper marinade, and place them on a baking sheet. Sprinkle both sides with sea salt.

Add the seasoned shrimp to the preheated pan and sauté just until they are cooked through, about 2 minutes per side.
To make the rice:
In a medium-sized saucepan, combine the coconut water, salt and sugar. Bring it to a boil and add the rice. Stir to blend, turn the heat to low, cover, and simmer just until the rice is tender and has absorbed all of the liquid, 15 to 20 minutes.

Serve the shrimp over the rice.
Recipe Notes
Among other stores, you can get Hatch chiles right now at Gelson's Market, Whole Foods and Bristol Farms. And of course you can order them here at Melissa's Produce.
Save
Save
Save