Roasted Hatch Chile Seared Scallops are bursting with delicious fresh, seasonal flavors. The subtle sweetness of the scallops perfectly balances the heat from the peppers. And it's a gorgeous dish!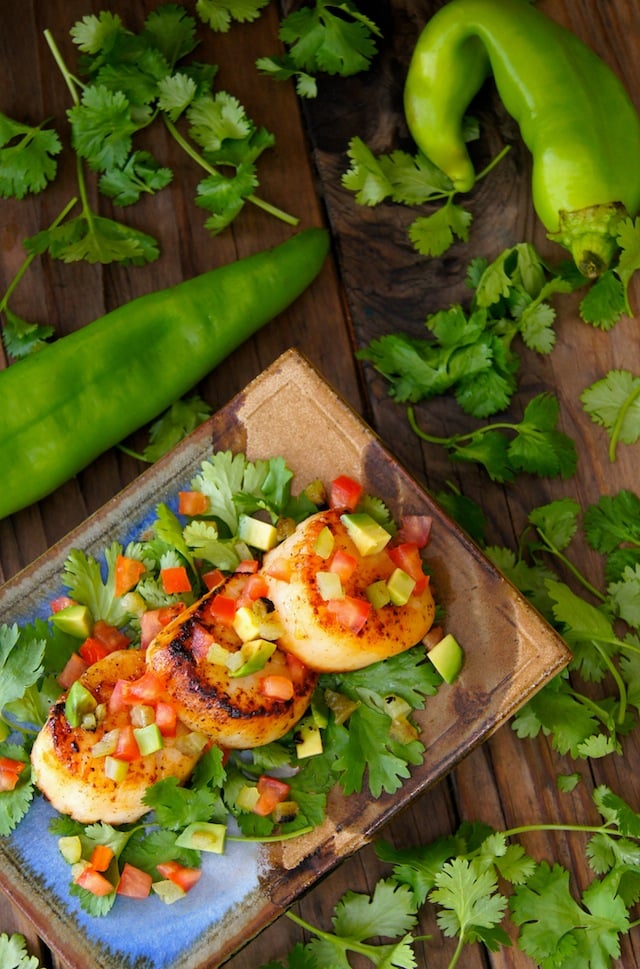 Since I pretty much stick to food talk around here, you might not know that beneath my Chef's hat, I'm always wearing my Mommy hat. It goes on first.
Yesterday was a big Mommy day.
My boys started 2nd & 4th grade.  My little boys are becoming big boys, and it makes me smile and shed a few tears all at once.
My son's 2nd grade teacher had a note with an eraser and a penny waiting for him at his desk.  It said, "The eraser is to let you know it is okay to make mistakes.  We will correct them together, and learn from them.  And the penny is for your thoughts.  I'll share mine, too."
And my 4th grader's teacher had a joyful smile that filled the classroom with a delightful vibe.
Knowing my boys were happy, comfortable and well taken care of, I headed home with ease.  Minutes later I found myself in the kitchen, making these deliciously rich, brightly flavored scallops, using the ingredient of the moment — Hatch chiles!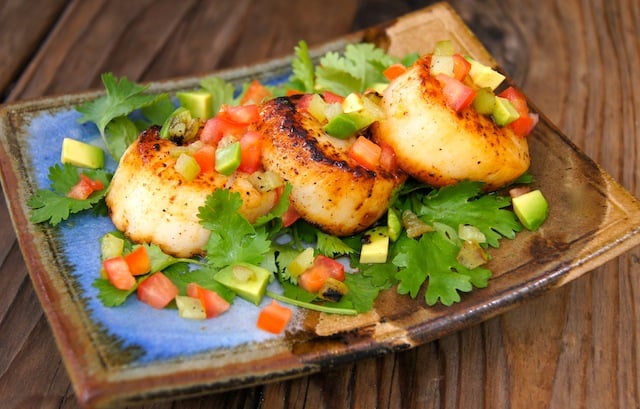 I'm so happy Melissa's Produce sent me a big bag of fresh Hatch chiles for recipe testing!
Hatch Chile roastings are happening all over the U.S. Look for a roasting in your city here.
This is not a sponsored post — I love Hatch chiles and Melissa's Produce, and all opinions are my own.
Roasted Hatch Chile Seared Scallops
Please note that the prep time does not include making the Hatch Chile-Agave Compound Butter, or roasting the chiles, which adds about 20 minutes or so. Both of these steps can also be done up to a few days ahead of time.
Keyword:
good for light dinner, summer dinner party
Servings
:
2
as a first course
Instructions
Add a layer of cilantro leaves to two serving plates and set aside.

In a small bowl, combine the tomato, avocado and roasted Hatch chiles, and set aside.

Remove the muscle from each scallop (if it hasn't already been removed). You'll recognize the muscle as a thicker portion of the flesh, running up the side of the scallop. It is slightly opaque compared to the rest of the scallop and the texture is firm. (This muscle is unpleasant to eat, and it should always be removed before cooking.) Simply grab the tab of the muscle firmly, and then gently pull it off the scallop.

Season both sides of the scallops with salt and pepper.

When the pan is very hot (the butter should be bubbling), add the scallops. You should hear a sizzle when the scallops hit the pan -- if you don't, wait!

Sear the scallops until they are golden brown, about 2 minutes per each side. They should be just beginning to crack and still be slightly translucent in the center.

Immediately place 3 scallops on each of the cilantro-garnished serving plates, and then "sprinkle" the tomato-avocado-roasted Hatch mixture over them.

Serve immediately!
Recipe Notes
It's up to you whether you use hot or mild Hatch chiles. I use hot in the butter and mild for the garnish. (FYI, Hatch chiles are one of the few chiles where hot and mild can be determined, even though they all look the same.  They should be labeled as such in stores — if they're not, I'd ask the produce department if they know, and if they don't, ask them to cut into one for you.  They can be very, very hot — or not at all.)
Save