Spicy Cilantro Shrimp only takes eight minutes to make! Eight minutes for an amazingly delicious dish! Whomever you serve this to will wonder how in the world you made this "secret sauce" and they will keep coming back for more.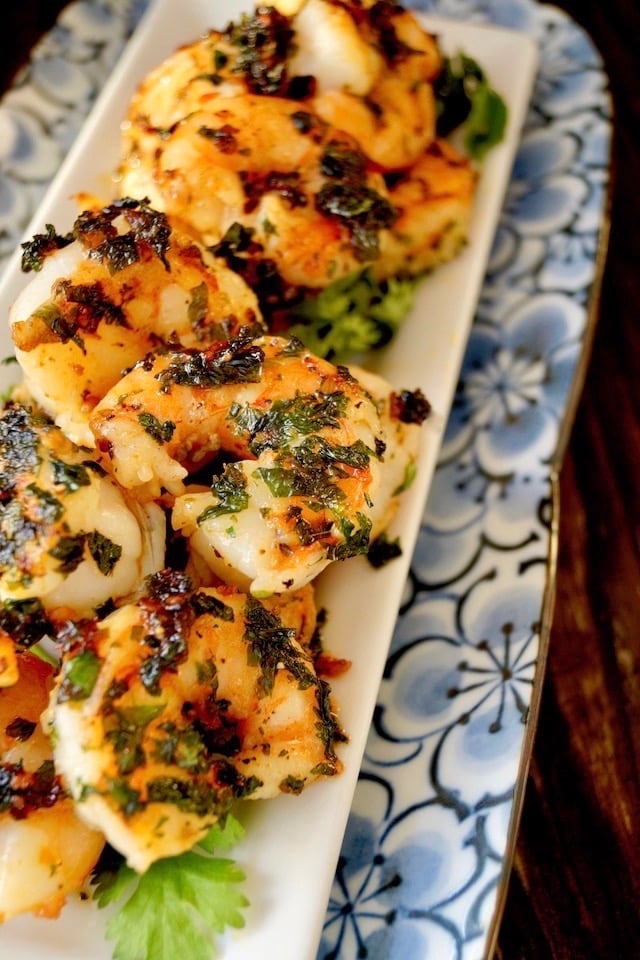 Spicy shrimp recipes have always lured me in, and this recipe is my favorite!
Have you ever seen a "secret sauce" on a menu?
If I had a menu, the sauce for this shrimp would definitely be my "secret sauce!" Just calling it that makes it so much more alluring, doesn't it?!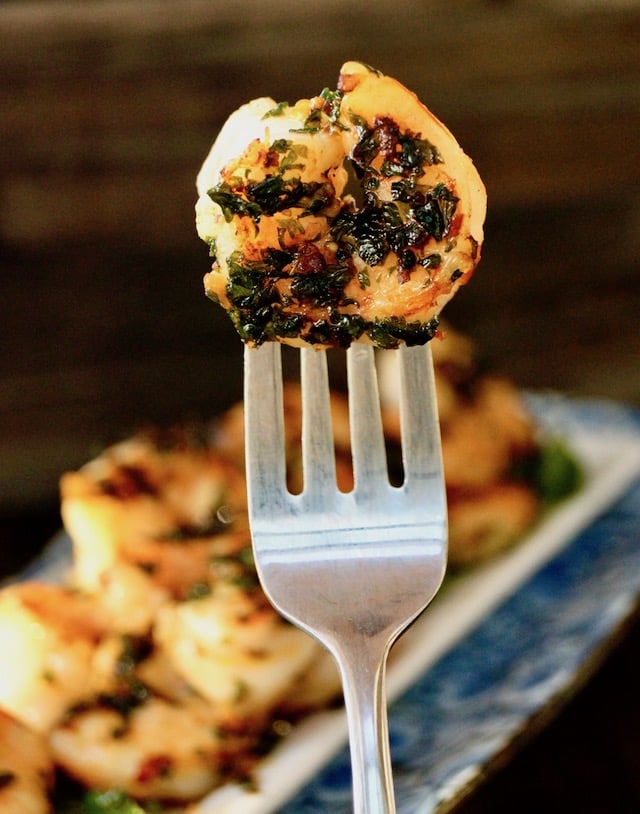 What's in this recipe?
Here's the deal. . . this sauce has essentially three ingredients, takes about two minutes to prepare, and it tastes incredibly special.
Fresh cilantro, Sambal Oelek chili paste and garlic are the key elements that make the spicy shrimp recipe totally over the top.
The fresh cilantro with the spicy Sambal Oelek, are a perfect balance to the shrimp, which is naturally on the sweet side.
The bits of garlic become almost candy-like in the spicy chili paste — and the way it all caramelizes with the shrimp as it's quickly sautéed, creates a brilliantly sweet spiciness that's absolutely divine!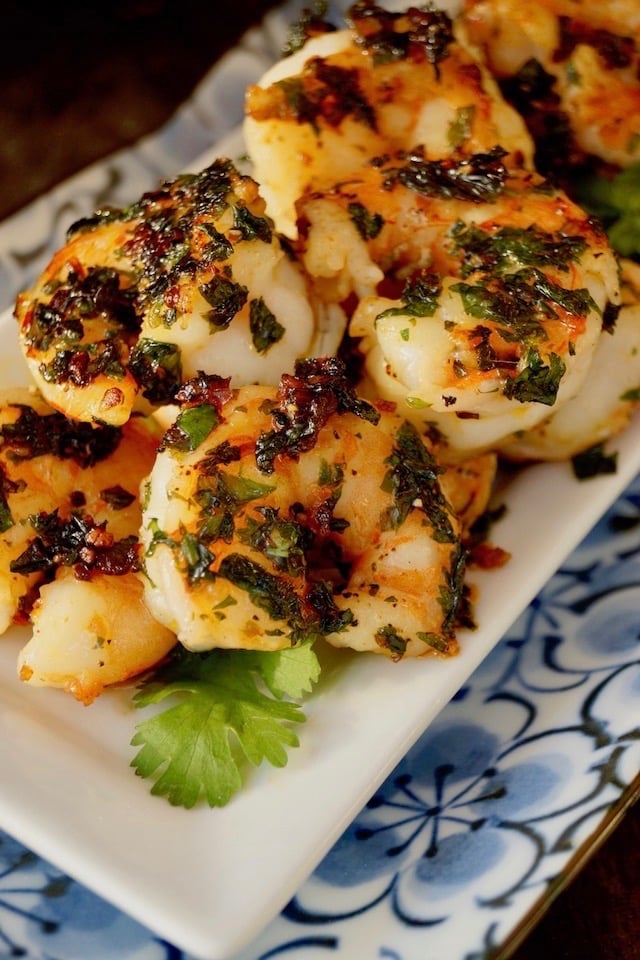 How to Make it

There are essentially only 3 steps . . .
Chop the cilantro and garlic.
Add all of the sauce ingredients to a sauté pan.
Season the shrimp with salt and pepper, and add it to the pan.
You're done!
What to Serve with Spicy Shrimp Recipes

This goes not only for the cilantro shrimp, but for almost all spicy shrimp recipes . . .
This is a great addition to

Pad Thai

.
On its own as an appetizer. Just add toothpicks!
It's amazing with rice that soaks up and bits of leftover sauce — especially the below

Coconut Cilantro Rice

.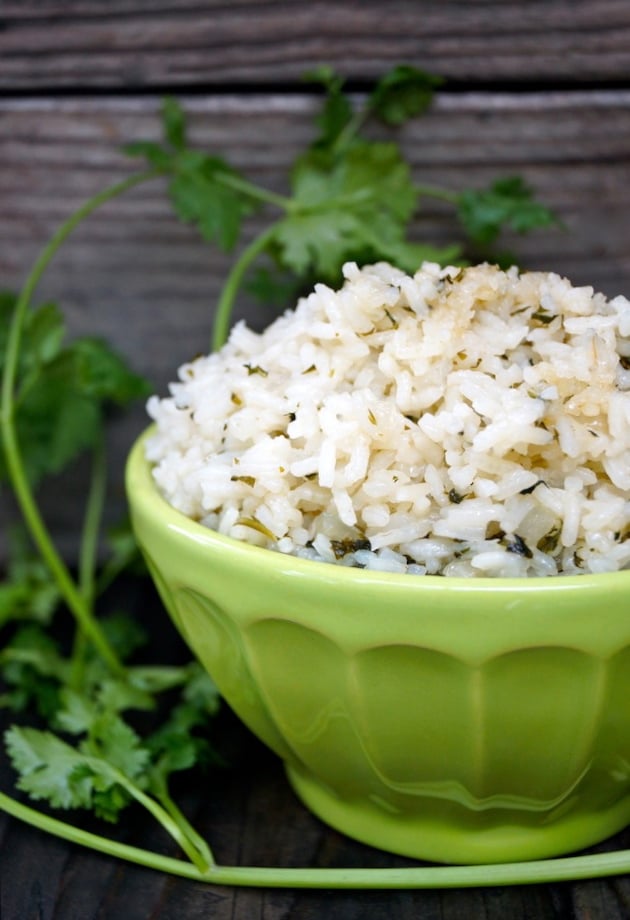 Have a few friends over this weekend and serve it any way you'd like!
I hope you enjoy every last bit of this scrumptious Spicy Cilantro Shrimp!
Spicy Cilantro Shrimp Recipe
Eight minutes is all you need to make this amazingly delicious Spicy Cilantro Shrimp. Eight minutes! Whomever you serve this to will wonder how in the world you made this "secret sauce" and they will keep coming back for more!

Ingredients
¼

cup

grapeseed oil

2½

teaspoons

chili paste

1½

tablespoons

minced garlic

½

cup

roughly chopped cilantro,

washed and dried

1

pound

medium-large raw shrimp

(about 31 to 35 per pound), peeled and deveined

salt and freshly ground black pepper
Instructions
Make the sauce. Add the oil to a large sauté pan and place it over low heat. Add the chili paste, garlic and cilantro to the pan and let it simmer for about 2 minutes. Then turn the heat to high.

Prep shrimp. While the pan is heating, place the shrimp on a baking sheet or large plate and season both sides with salt and pepper.

Sauté. Once the pan is hot, add the shrimp, with at least a couple inches between them -- you should hear a sizzling sound. If you don't, your pan's not hot enough.  Wait until the pan is very hot and listen for the sizzle!

Sauté the shrimp just until cooked through, about 1 to 1½ minutes per side.

Make sure you serve the shrimp with any bits of the sauce that have stuck to the bottom of the pan. Those bits are delicious!!!
Notes
Calorie count is only an estimate.
Have you tried this recipe?
I'd love to see it on Instagram! Tag me at @cookingontheweekends or leave a comment & rating below.
Cooking On The Weekends is a participant in the Amazon Services LLC Associates Program, an affiliate advertising program designed to provide a means for sites to earn advertising fees by advertising and linking to Amazon.com.