With a crispy, gluten-free, spicy crust — and a refreshing, zesty sauce, these succulent chicken strips are beyond delicious!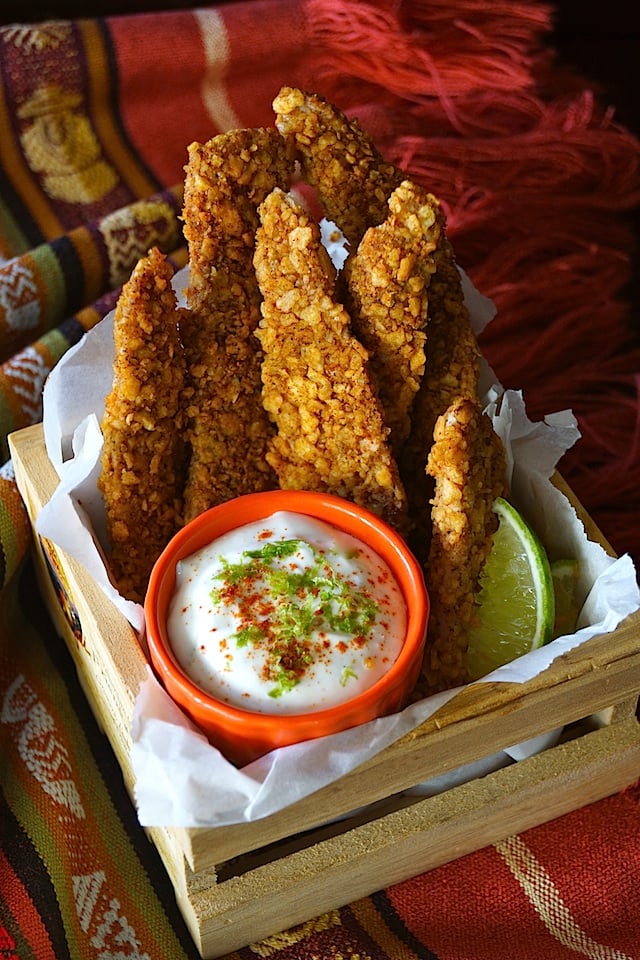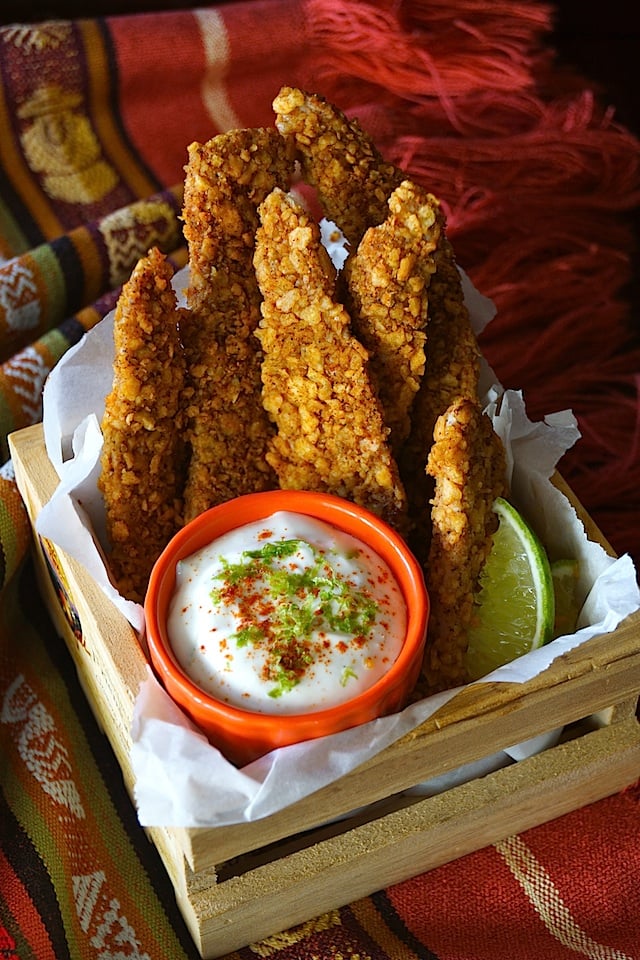 Here's the thing, people say that one of the most important things in writing a blog, of any sort, is to be authentic.
We're all often tempted to say or do things simply so that we'll be more popular, whether or not those things reflect who we really are.
I've learned being authentic is actually incredibly easy — and it's the most relaxing thing to do.  The truth is, it's when we're not being authentic, that things become more difficult.  Think about it . . .  isn't it so much more relaxing to just be yourself, instead of trying to be someone you're not?  It's when we do that, that life becomes more work and therefor stressful.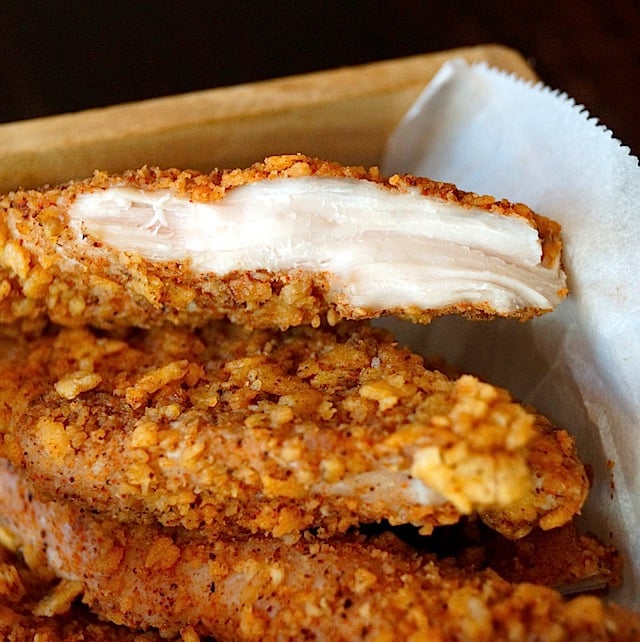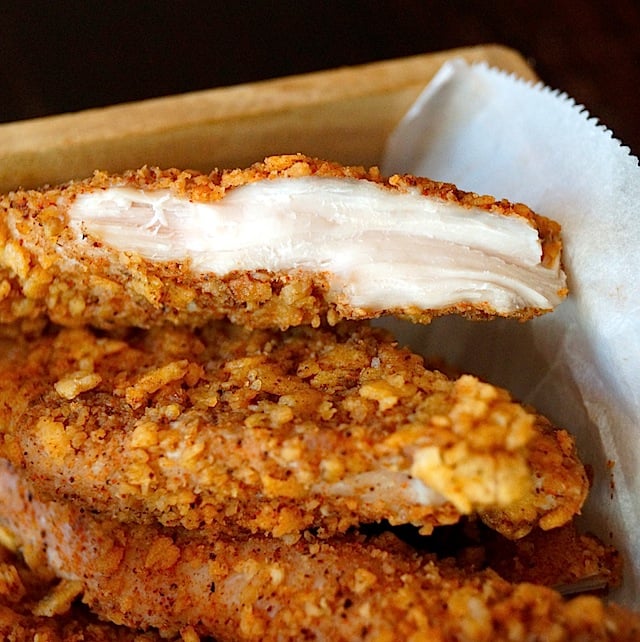 Whether you're getting dressed for the day, deciding how to express your political views in a group, or writing about food, it will always be easier to just be yourself!
Everyone else is taken, anyway. 😉  Okay, now I'm telling you what I tell my kids, but seriously, it's just something that was on my mind.
And, perhaps more importantly, this chicken is outstanding and I urge you to try it for dinner. Tonight!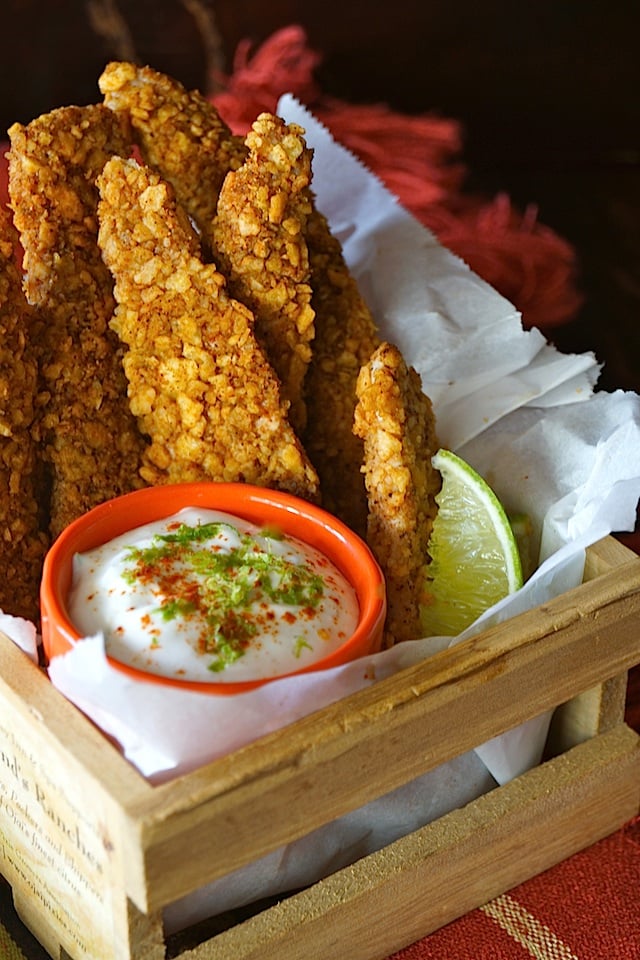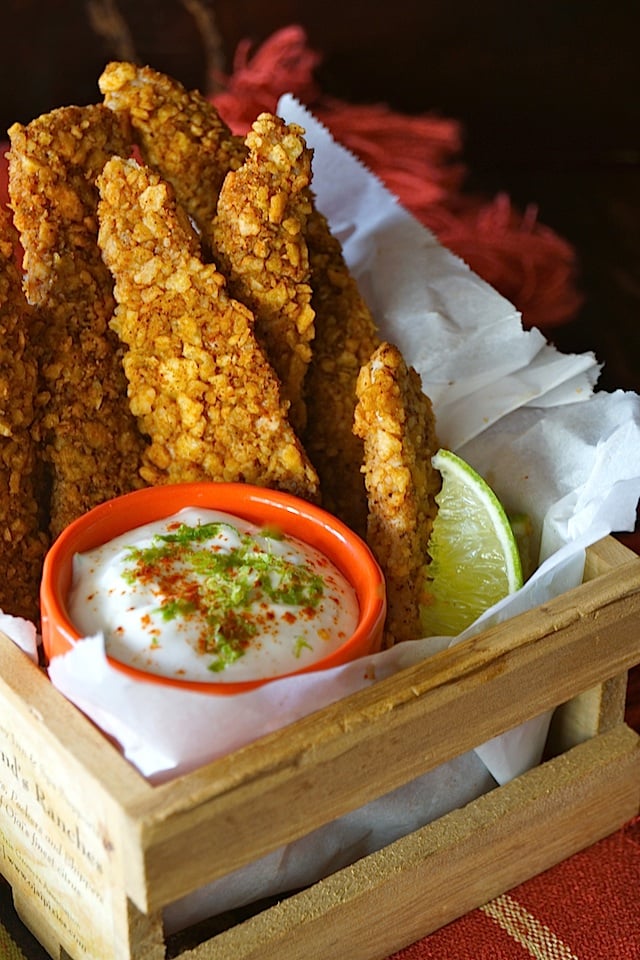 Enjoy!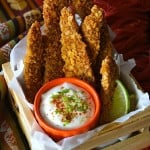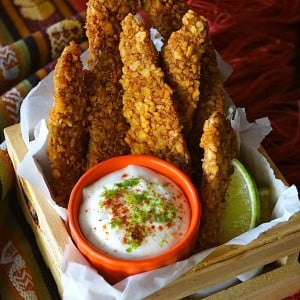 Spiced Tortilla Baked Chicken Strips Recipe & Honey-Lime Crema
Ingredients
For the chicken
2-

pounds

chicken breasts

4

cups

corn tortilla chips

2

teaspoons

chile powder

mild to medium, depending on how much heat you like -- see notes

1

teaspoon

ground cumin

1/2

teaspoon

sea salt

freshly ground black pepper

drizzle of olive oil
For the crema
1

cup

Crema Mexicana

see notes

zest of 2 small limes

plus extra for garnish if desired

1

tablespoon

plus 1 teaspoon fresh lime juice

1

teaspoon

honey

sea salt and freshly ground black pepper to taste

Here's How to Season to Taste

chile power for garnish if desired
Instructions
For the chicken
Preheat the oven to 375 degrees F, and adjust a rack to the center. Line a baking sheet with parchment paper and set it aside.

On a clean, dry surface, use a boning or paring knife to remove any excess fat from the chicken breasts, and then cut them into 1 to 2-inch strips, lengthwise. Set aside.

Add the chips to a food processor fitted with the blade attachment. Blend until the chips are very tiny, coarse pieces. Add the chile powder, cumin and salt and blend until they're evenly incorporated. (If you don't have a food processor, you can add the chips to a heavy-duty, zip-lock bag and crush them with a rolling pin. Then mix in the spices.)

Add the chip mixture to a very large plate, and season both sides of the chicken strips with salt and pepper. Then place them, a couple at a time, on the chip mixture, pressing them down firmly. Flip them over and firmly press down again. You want both sides very well coated with the mixture. Place them on the parchment-lined baking sheet as you work, continuing until all of the strips are done.

Drizzle lightly with olive oil and place in the preheated 375 degree F oven just until they're cooked through, about 12 minutes. If some of the chicken strips are thicker, they'll likely need to be flipped over, for an additional few minutes of baking time.
For the creama
While the chicken is baking, add the crema, lime zest, lime juice and honey to a small bowl and mix. Season to taste with salt and pepper (

here's how

), and then spoon this into a small serving bowl, or 6 tiny individual bowls. If desired, garnish the crema with a bit more lime zest and a sprinkle of chile powder.

Serve!
Recipe Notes
I used Chile Nuevo Mexico from Melissa's Produce and it was perfect!
Crema Mexicana is available in most grocery stores, but if you can't find it, you can mix 1/2 cup sour cream with 1/2 cup heavy cream.
This is not a sponsored post.  Cacique and Melissa's Produce are both brands I love and use regularly.
Save