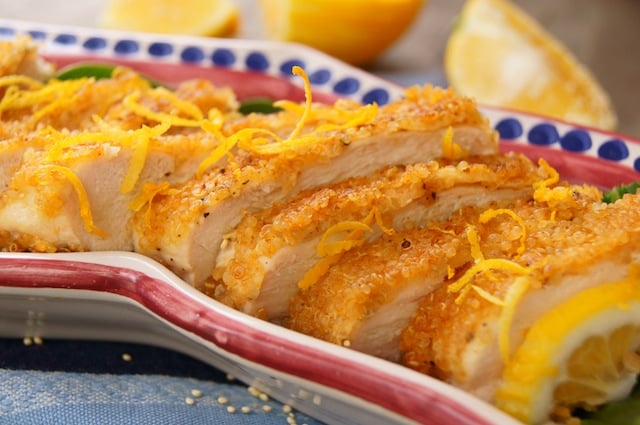 Quinoa Fried Chicken recipe is so delicious that you would never guess it's a light, healthy, gluten-free fried chicken.
Gluten-free fried chicken? Who would've thought it could be so good!?
When was the last time you had some finger-lickin' good fried chicken? I would bet it wasn't quinoa crusted fried chicken. Well, it can be now.
If you skip fried chicken because you want to skip the greasy batter, skip no more!
My goal with this recipe was to create a healthy, gluten-free, light version of fried chicken.
This gluten-free quinoa fried chicken is in fact finger-lickin' good. The cooked quinoa becomes so crispy when it's lightly fried in olive oil -- it's the perfect crust.
When I serve this to family and friends, the boneless, skinless chicken with the crunchy, super delicious quinoa crust, is always a huge hit!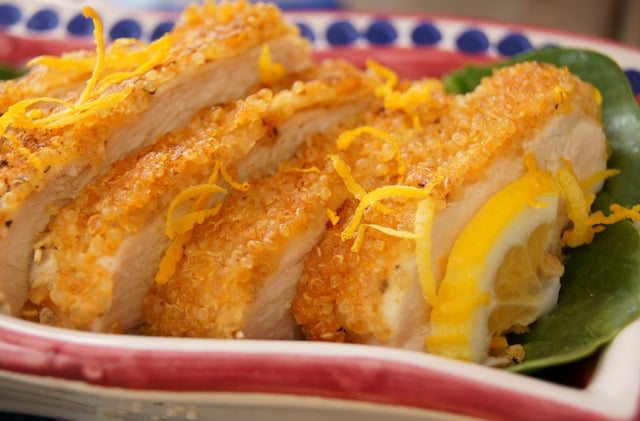 Serving Suggestions
This gluten-free fried chicken would be perfect with any number of salads. I especially love it with my Asparagus Parmesan Salad (pictured below).
Whether your guests are gluten-free or not, this would be a scrumptious meal.
I hope you enjoy every last, delicious bite of this quinoa crusted fried chicken!
Quinoa Fried Chicken Recipe
Quinoa Fried Chicken Recipe is gluten-free and so delicious that you would never guess it's a light and healthy version of fried chicken. 
Ingredients
4

(approximately 8-ounce)

chicken breasts,

boneless, skinless

¼

cup

brown rice flour

(or all-purpose gluten-free flour)

1

large

egg,

lightly beaten

olive oil for the pan

salt and freshly ground black pepper
Instructions
Make "crust." Add the flour, egg and quinoa to three separate, medium-sized, flat-bottomed bowls. Set aside.

Prep chicken. Trim any excess fat off the chicken breasts and place them, smooth side up on a large sheet of plastic wrap, on a flat surface. Place another large sheet of plastic wrap on top. Then use a meat mallet, or the bottom of a small sauté pan to flatten out the thicker portion of each one, so the whole thing is the same thickness. (This ensures even cooking.)

Coat chicken and heat pan. Place the chicken on a large plate and season both sides with salt and pepper.

Coat the bottom of a large sauté pan with olive oil and place it over medium-high heat.

While the pan is heating, dredge each chicken breast in the flour, then the eggs, and then place it on the quinoa and gently press down to coat the bottom. Flip it and gently press down again, to do the other side.

Cook. Once the pan is very hot add the quinoa coated chicken -- you should hear a sizzling sound when chicken hits the pan -- if you don't, it's not hot enough. The only way to form a nice "crust" is with a very hot pan.

Sauté until the bottom is golden brown, about 4 minutes. Very gently, use a metal, flat-bottomed spatula to flip the chicken. Sauté until it's cooked through and the other side is nicely browned, about 3 more minutes. (Cooking times will vary.)
NOTES
Calorie count is only an estimate.
NUTRITION
Have you tried this recipe?
I'd love to see it on Instagram! Tag me at @cookingontheweekends or leave a comment & rating below.
Save
Save