Air Fryer Fried Chicken is gluten-free and seasoned with lemon and herbs. With next to no oil, it's crispy on the outside, and juicy on the inside. Perfect!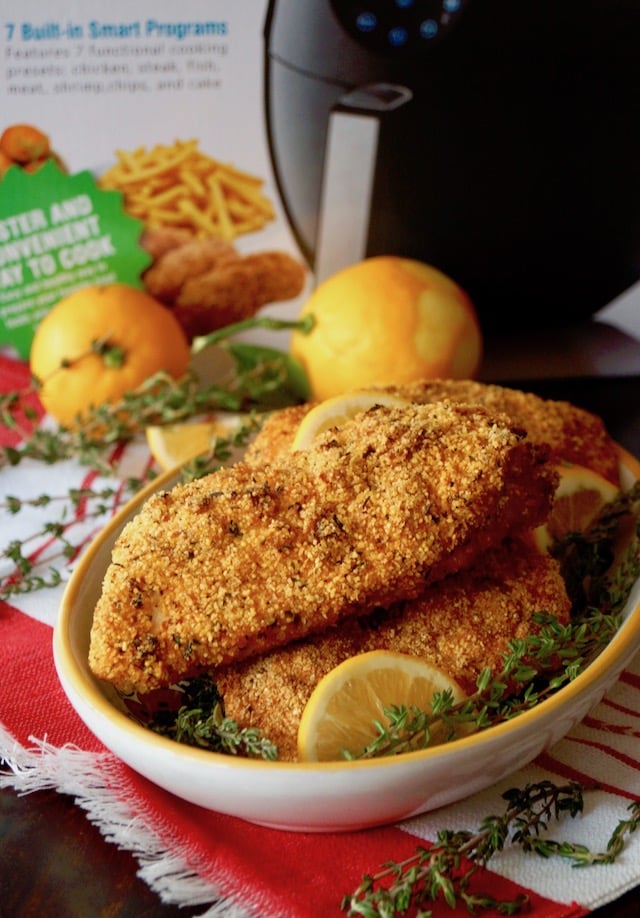 This is a sponsored post brought to you by GoWISE USA. All opinions are my own, based on my experience with the product. Thank you for supporting my sponsors, who help make Cooking On The Weekends possible.

I work with – and love – traditional cooking equipment and methods.
So when I was given a GoWISE USA Air Fryer (the Touch Screen 3.7-Quart 7-in-1), I was a bit skeptical. I was however intrigued because I knew Air Frying was becoming a big cooking trend.
How does the air fryer work?
Air fryers have a fan that circulates hot air around the food at a high speed. The combination of this rapid air, and targeted heat, the air fryer cooks foods quickly and efficiently.
How is an air fryer different than a convection oven?
Air fryers have a smaller area where food is held, and the air circulates at a higher speed than in a convection oven. Therefore, in an air fryer, it takes less time to cook foods.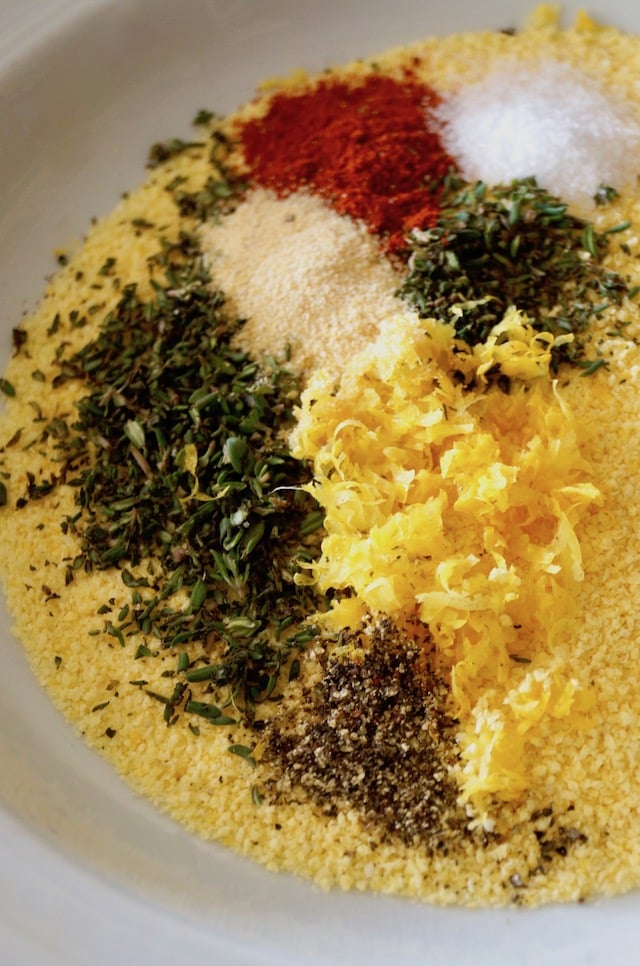 Beyond fried chicken, what can you cook in an air fryer?
Almost anything -- from bacon and rack of lamb, to cakes and pizza. It's not just for "fried" foods!
While it's possible to cook a variety of foods in the air fryer, my goal was to make something that's normally cooked in oil, by deep frying and have it taste really good!
I'm happy to report that my Air Fryer Fried Chicken is not only really good — it's delicious!
What's in this recipe?
chicken
corn meal
thyme
smoked paprika
garlic powder
lemon zest
salt, pepper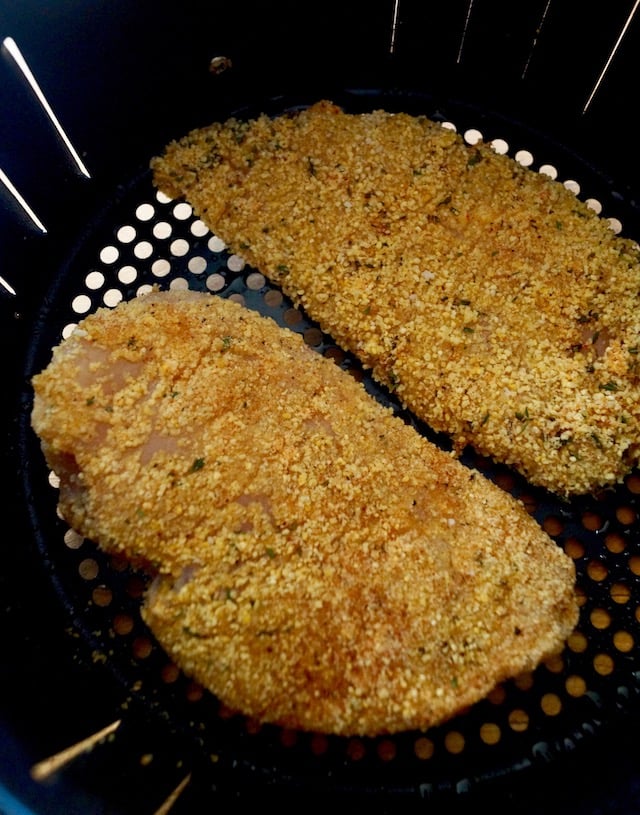 When I hit "start" on the screen, I wondered if the chicken would actually look and taste fried.
Honestly, I was a bit surprised when I saw how crispy the "crust" became. And even more so when I cut into the chicken to find it very juicy -- super succulent, in fact.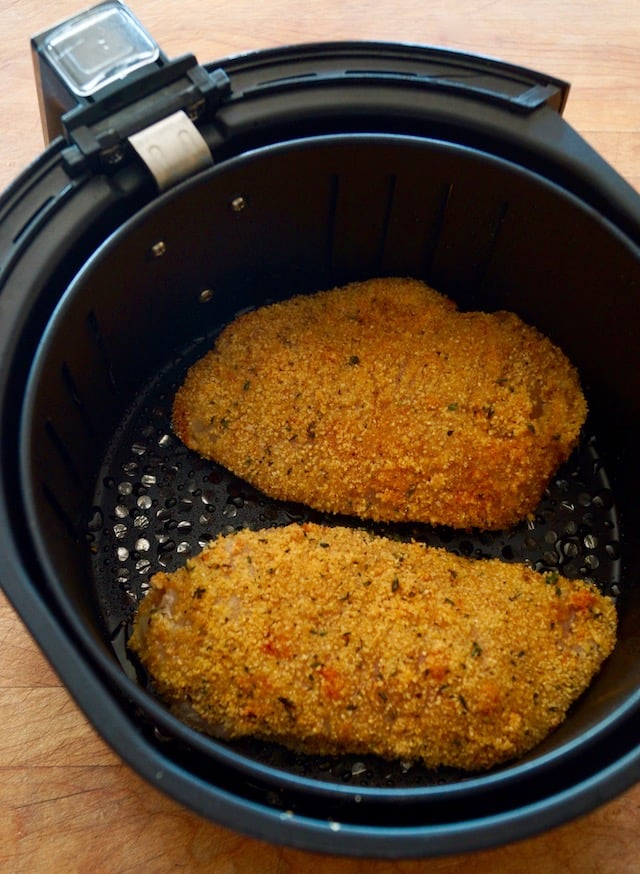 Recipe Substitutions
I used cornmeal in my recipe, to keep in gluten-free. You can use gluten-free bread crumbs also, and of course, any breadcrumbs you'd like to. If keeping it gluten-free isn't important, I'd suggest Panko.
I love the thyme with the lemon, but you can use any fresh herbs you like. Oregano and/or rosemary would also be lovely.
Benefits to Cooking in the Air Fryer
Generally, 75% to 80% less oil is required. (In the case of my Air Fryer Fried Chicken recipe, about 90% less!) I found that the best way to use a minimal amount of oil in the air fryer is to use a spray. I used an olive oil spray, which worked perfectly to evenly coat the basket and food.
It's incredibly easy to clean.
There's no preheating, and cooking times are fast.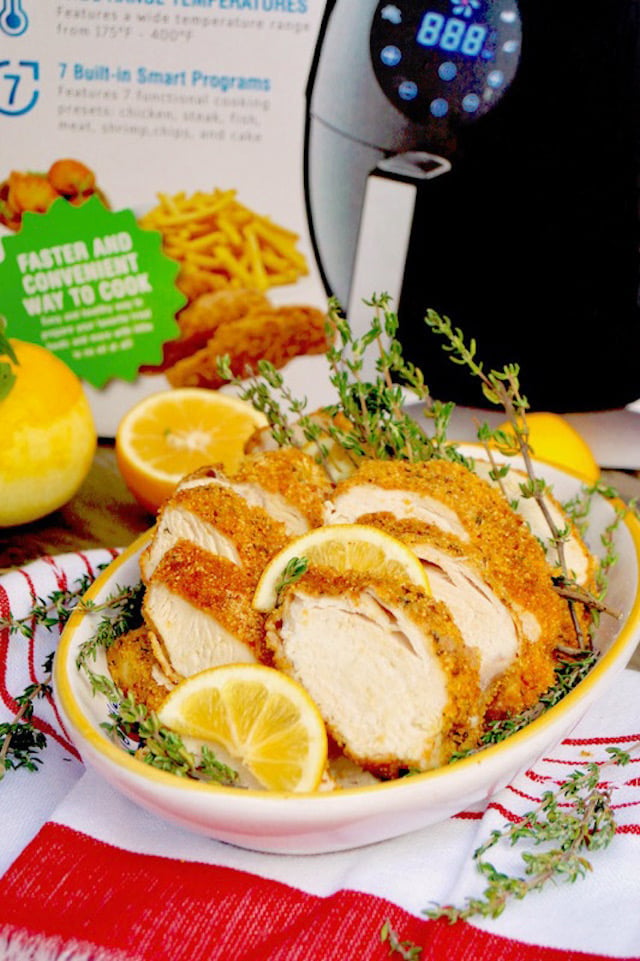 Making Air Fryer Fried Chicken
When I set the cooking time and temperature, I felt like I was taking a risk because I rarely put exact times on my recipes. I say, "about" followed by the estimated time. (Things are done when they're done, not when a certain amount of time is up.)
However, when I was making my gluten-free Air Fryer Fried Chicken, I used the Chicken Preset, and it came out perfectly! I'd been expecting to have to play around with the time, but I didn't.
Did the air fryer know how thick it was? How much it weighed? I can't tell you for sure, but what I can tell you is that for 2, 8 to 10-ounce, boneless, skinless chicken breasts, the Preset Chicken time and temperature of 20 minutes at 400°F, was spot on.
This should definitely be one of your top GoWISE Air Fryer recipes!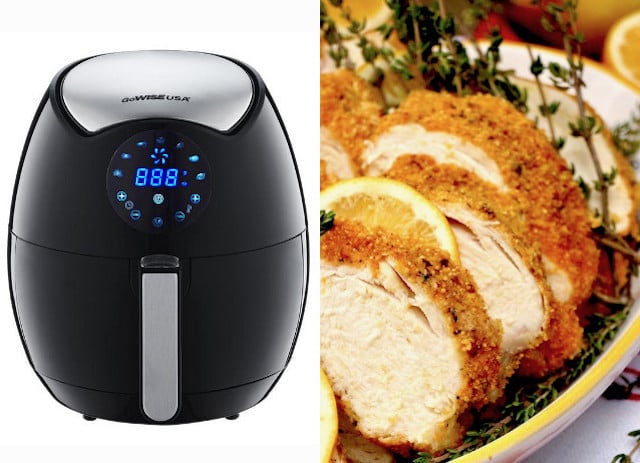 Storing the Air Fryer
It's small enough to sit on the counter or be stored without taking up too much room. (Mine fits perfectly on a shelf in the pantry.)
It has 2 removable parts, and both are dishwasher safe, but I found there's no need because they clean up so easily and quickly int he sink.
It comes with a small book of air fryer recipes.
There are 7 Presets: Fries/Chips, Meat, Shrimp, Cake, Chicken, Steak, Snacks and Fish.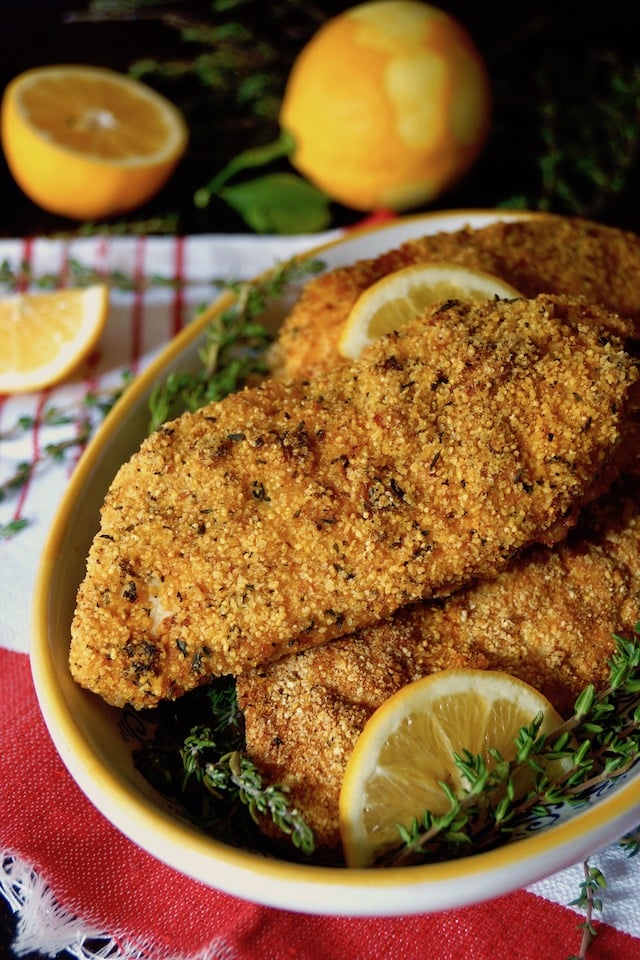 Side note: I've also been making bacon in the air fryer. Sure it's greasy in and of itself -- but all of the fat drips into the pot (lined with foil for easy clean-up) as it drains through the basket. It comes out just as crispy as it does in a pan, but without the mess or need to drain it on paper towels before serving.
And now, let's try the oh-so-delicious gluten-free Air Fryer Fried Chicken recipe!
More mouth-watering air fryer recipes:
More gluten-Free Fried Chicken Recipes: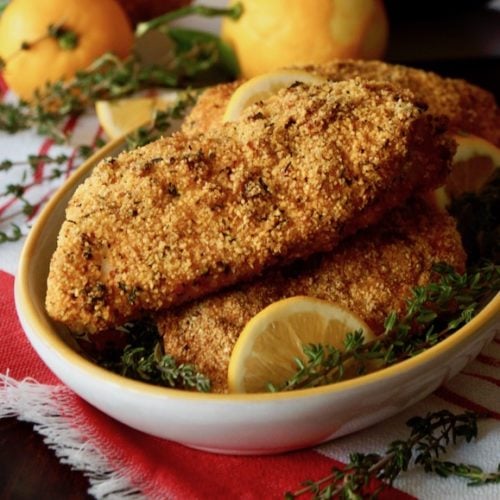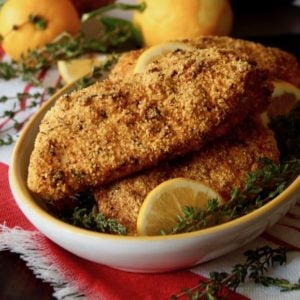 Air Fryer Fried Chicken (Gluten-Free)
Using next to no oil, this Air Fryer Fried Chicken is crispy on the outside, and juicy on the inside, and it's chock-full of delicious, fresh flavors!
Ingredients
½

cup

corn meal

2

tablspoons

fresh lemon zest

2

teaspoons

fresh thyme,

finely chopped

¾

teaspoon

garlic powder

¾

teaspoon

smoked paprika

½

teaspoon

salt

¼

teaspoon

freshly ground black pepper

1

large

egg,

lightly beaten

2

large (approximately 10-ounce)

chicken breasts,

boneless, skinless

olive oil cooking spray
Instructions
Add the corn meal, lemon zest, thyme, garlic powder, paprika, salt and pepper to a large, shallow bowl. Mix to blend evenly and set aside.

Add the flour to a second large, shallow bowl, and the egg to a third.

Sprinkle the chicken breasts lightly with salt and pepper, and one at a time, coat them with the flour lightly and evenly. Then dip them into the egg, being sure they're well coated. Now place each breast on top of the corn meal mixture and gently press down so that it adheres to it, and do the same thing on the other side, and edges.

Remove the basket from the pot of the air fryer, and line the pot with foil. Return the basket and spray the bottom of it with the olive oil. Place the coated chicken breasts in the basket and then spray the top surface with the olive oil.

For the GoWISE USA Air Fryer, use the Preset Chicken setting for 20 minutes at 400° F.

Let the air fryer cool down and wait for the indicator that it's ready to open.

Serve!

NUTRITION
Have you tried this recipe?
I'd love to see it on Instagram! Tag me at @cookingontheweekends or leave a comment & rating below.
Cooking On The Weekends is a participant in the Amazon Services LLC Associates Program, an affiliate advertising program designed to provide a means for sites to earn advertising fees by advertising and linking to Amazon.com.