Tofu Sashimi with basil is a very unique dish, as sashimi made without fish is quite unexpected. Drizzled with Asian flavors, it's one of my favorite appetizers with tofu. It's quick and easy to prepare, and has an elegant and beautiful presentation.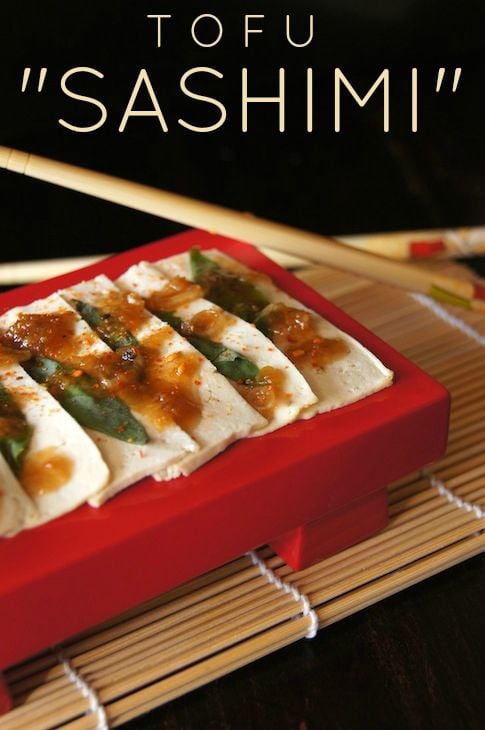 While I have an aversion to treating tofu like something it's not (i.e. the infamous Tofurky), I'm very happy to treat it like raw fish, like sashimi, if you will. Maybe that's strange, but really, what else would I ever title a super, super thinly sliced tofu dish?
Inspiration for Tofu Sashimi Recipe
I am a tofu fan — I'm not a vegetarian or vegan, and I love tofu dishes as much as I love dishes with steak, chicken, fish, and so on.
I love that you can get tofu in different textures — soft, silky, firm, extra firm, etc. As a result, you can make very different recipes with them. From cakes and breads, to stir-fries and curries — and then some!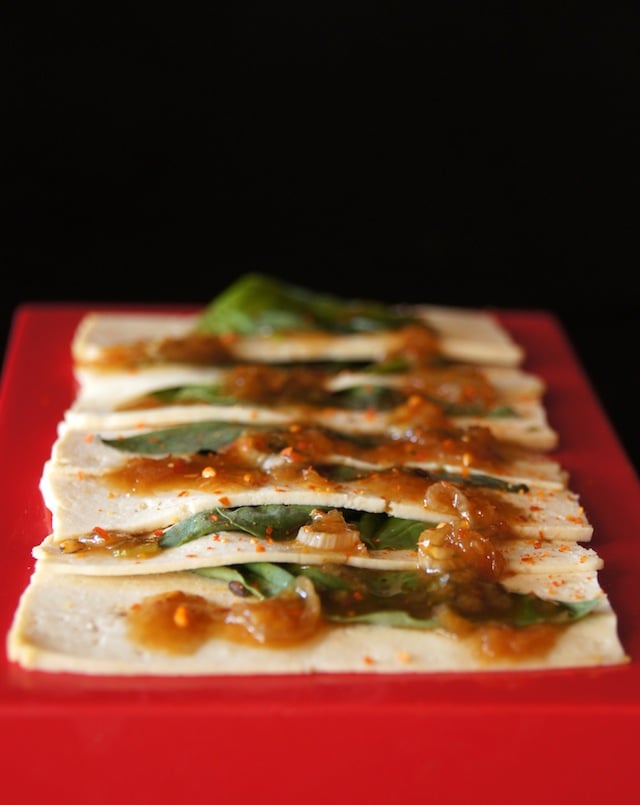 Tofu Sashimi
Raw tofu sliced super thinly, doused in warm, spicy Asian flavors is absolutely divine!
A fresh basil leaf between each slice of tofu adds a pop of brightness and makes for a simple and beautiful presentation.
Tofu Sashimi with Basil can be put together in only 15 minutes — however, if you serve it at a dinner party, your guests will be so impressed with the lovely, yet simple, presentation, that they'll likely think it took a very long time.
And I'm guessing they'll never have had sashimi not made with fish. 😉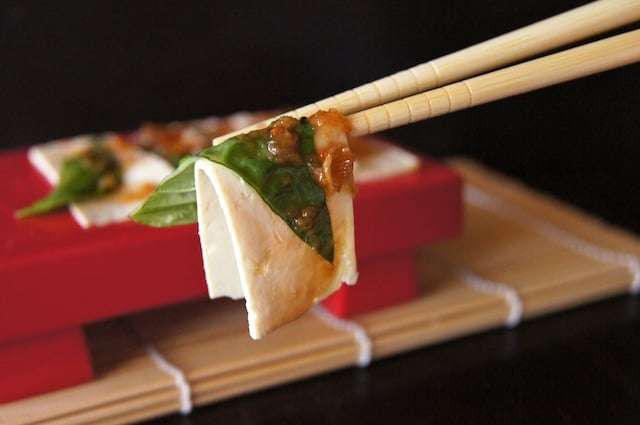 I say give it a go this weekend! For your family, friends, or both!
More tofu recipe I love:

Enjoy every thin slice of this tofu sashimi, and I hope this becomes one of your favorite appetizers with tofu, too.
Tofu "Sashimi" Recipe
Tofu Sashimi with Basil is a very unique and unexpected dish, with a beautiful presentation.
Ingredients
½

pound

extra firm tofu

a few dozen small, fresh basil leaves,

washed and dried

2

tablespoons

grapeseed oil

2

tablespoons plus 1 teaspoon

sesame oil

2

teaspoons

low sodium Tamari

1

tablespoon plus 1 teaspoon

Mirin

(sweet rice wine)

½

teaspoon

garlic,

super finely minced

½

teaspoon

ginger pulp

2

scallions (white portions only),

finely chopped
Instructions
Place a double layer of paper towels on a plate and place the tofu on top and then press all of its sides with another paper towel.

Now lay 2 more paper towels on the counter and cut the tofu horizontally, into super thin slices, (About 1/16-inch thick), placing them in a single layer on one of the paper towels as you go.

Once you've cut all of it, lay the second towel on top and very gently press down.

Arrange the tofu slices on 4 appetizer plates, with a small basil leaf between them. Set aside.

Add all of the remaining ingredients to small sauté pan and bring to a strong simmer. Then dividing it evenly, immediately pour it over the 4 portions of tofu slices, and serve. (You can also serve the sauce on the side and the tofu slices can be dipped into it.)

Sprinkle the top with Togarashi.
Have you tried this recipe?
I'd love to see it on Instagram! Tag me at @cookingontheweekends or leave a comment & rating below.
Save