The Miso Tofu Marinade in this recipe will turn you into a tofu lover, if you're not already. This dish is perfect with a side of vegetables or a light salad, and it's also a fantastic hors d'oeuvre!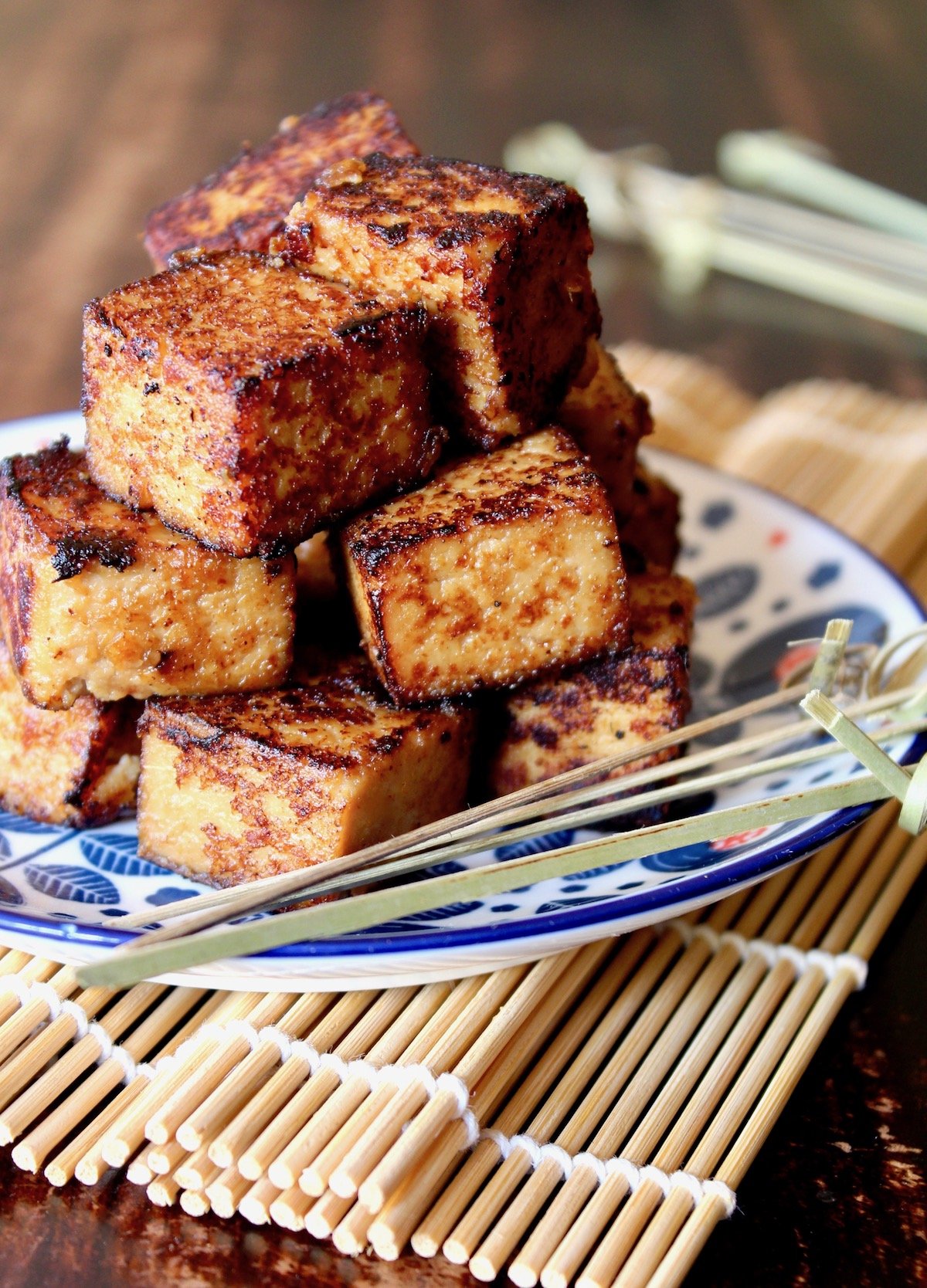 This is by far the most delicious tofu I've ever tasted -- and it's 100% about the miso tofu marinade.
We're talking crazy good, can't-stop-eating-it good, super-sad-when-it's-gone good.
If you're not a tofu fan, I seriously think this recipe could turn you.
What makes it so amazing?
There are few things that make the marinade work so well. First, removing moisture from the tofu before adding it. Two, the long marinating time. And three, the ingredients in the marinade.
Miso Garlic-Ginger Tofu is not only caramelized to perfection, it's also crispy along the edges, adding another texture to the dish.
Removing the Moisture
You should remove as much moisture as possible from the tofu. This is easily done with paper towels. (See instruction no. 1 below.) Doing this enables the tofu to better soak up the marinade, and will ensure crispness when it's cooked.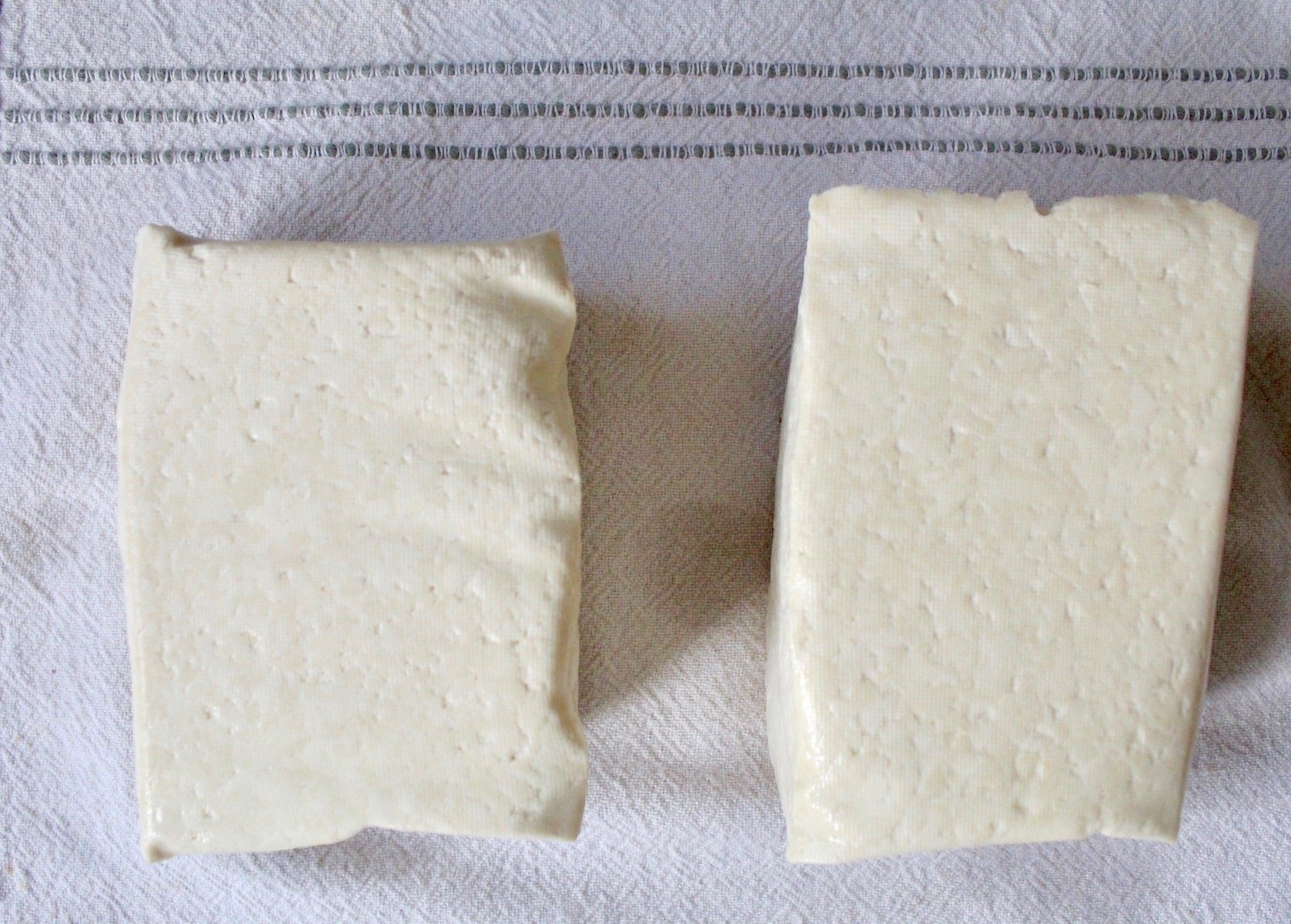 Long Marinating Time
The tofu sits in the quick and easy miso marinade, full of aromatic flavors, for two days.
Yes, two days! It's important to do this to get the tofu just right. And "just right" means allowing for the flavors to really seep their way in.
It's well worth the wait because once you bite into one of these beautifully caramelized cubes of tofu, you'll notice how the flavors of the miso marinade go all the way through to the center.
What is miso paste?
Miso is a traditional Japanese ingredient. It's made by fermenting soybeans with salt and Koji (a type of mold used in Japan to convert starch into sugar in rice, barley and other foods.)
There are three main types of miso paste: white, or Shiro miso, red or Aka miso, and yellow or Shinshu miso.
White is the most mild, sometimes called sweet or mellow. Red miso is the most pungent, and the yellow is somewhere in the middle.
You can learn more about miso here.
Is miso paste gluten-free?
Most brands of miso paste are not gluten-free as they may contain grains that are not. However, there are several brands that are. Here are a few: Cold Mountain, Hikari and Eden. (I use Cold Mountain and it's excellent.)
What to Serve it With
Two of the key ingredients in the miso marinade are ginger pulp and garlic pulp. Grating them into a pulp is part of what ultimately creates the flavorful crisp edges and "crust" on the tofu.
Recipe Tips and Substitutions
This recipe is super quick and easy to put together -- however, whatever you do, do not shorten the marinating time. (If you want another delicious tofu recipe that's quick to get on the table, there's a scrumptious list of them just above the recipe, below.)
The best tofu for this recipe is extra firm. Firm is second best, but will be slightly more fragile, so it needs to be handled with a little more care.
There is no better tool than a

microplane zester

for the garlic and ginger in the miso tofu marinade. It will create a pulp, which is part of what ultimately creates the flavorful crisp edges and "crust." If you don't have one, use the finest grater you do have, and then go over it again with a knife.
I find the tofu is best about when it's cut into about 1

½

inch cubes. Every part of them becomes so flavorful. If they're much bigger, the flavor might not be quite as strong. And smaller is fine, but might not work with a toothpick as an hors d'ouerve.
In this recipe I use

Shiro (white) miso

paste

. If you would like to use yellow or red, you can, just keep in mind both are saltier than white miso, with a stronger, more pungent flavor. I would use a bit less of the yellow and about half of the red, which is the strongest.
When satuéing the tofu, stand back a bit as the oil will splatter, even though it's only coating the pan. (I always use a

splatter guard

when I'm making it.)
This is best served about five to ten minutes after it's out of the pan.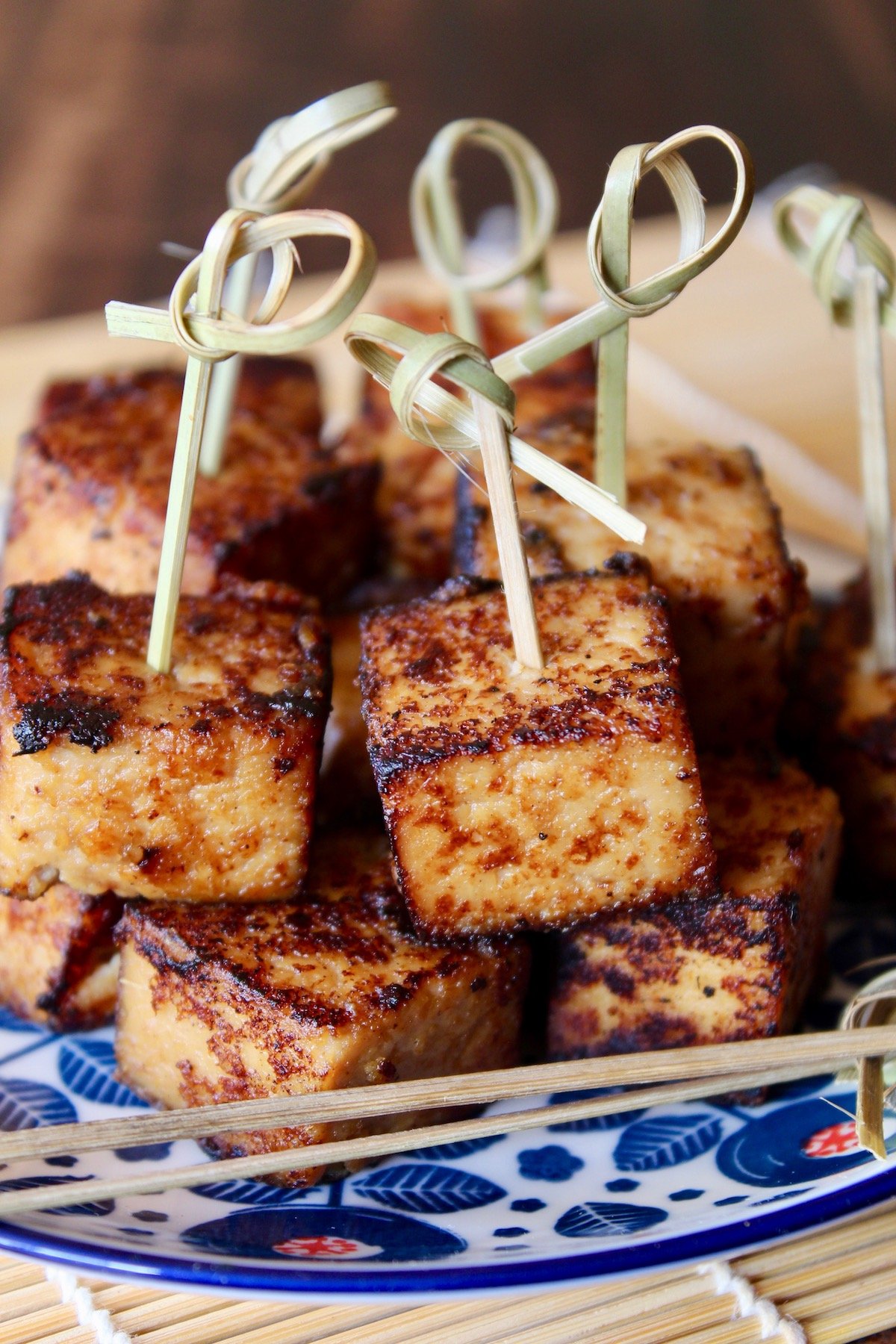 If you're interested in the origins of tofu and its nutritional value, check this out.
I hope you love the miso tofu marinade and that you too, will think it's one of the best tofu recipes ever!
More popular recipes with tofu: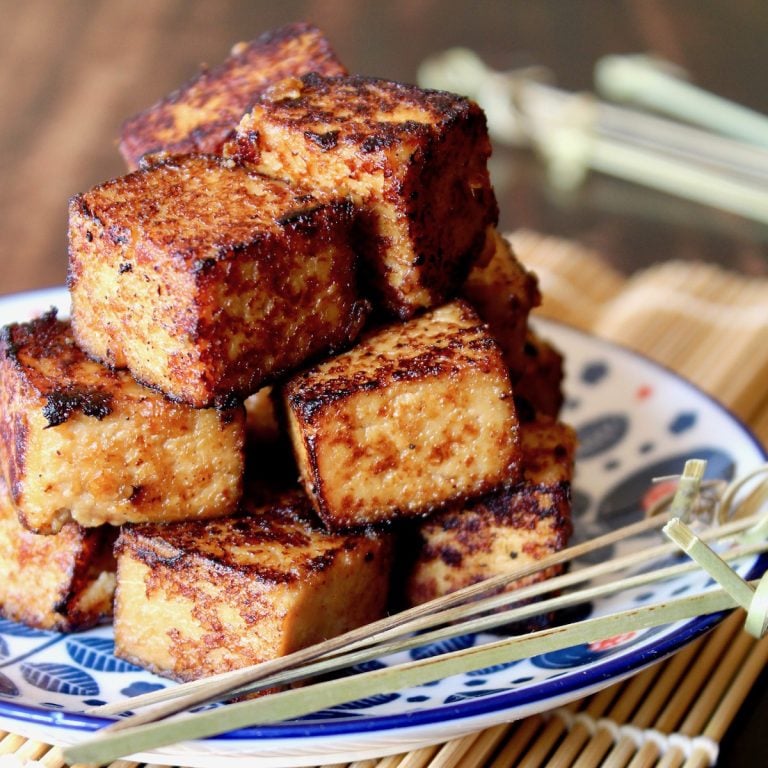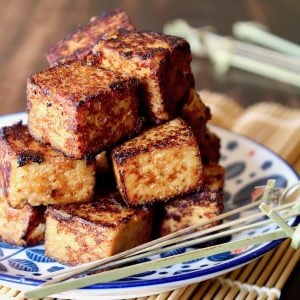 Miso Garlic-Ginger Tofu
The Miso Tofu Mariande in this recipe will make you swoon. Perfect with a side of vegetables, a salad, and it's a fantastic hors d'oeuvre!*The tofu marinates for 48 hours -- however, the active work time is only about 15 minutes.
Instructions
Dry the tofu. Remove the tofu from the package and set it on a double layer of paper towels (or a tea towel). Place another double layer on top and gently press all sides of the tofu block to remove as much moisture as possible. Now cut the tofu block into approximately 1½ inch cubes, placing them on a new double layer of paper towels as you go. Place yet another double layer on top of the cubes and gently press down. Set this aside.

Make the marinade. In a small mixing bowl, use a whisk to blend the miso paste with ponzu, Mirin, vinegar, honey, sugar, ginger and garlic. Whisk until everything is smooth. Pour the marinade into a baking dish -- one large enough to hold all of the tofu, but small enough so that the marinade isn't too shallow.

Add the tofu. Once more, before adding the tofu to the marinade, set the cubes on a dry paper towel -- this time, roll them to get all of the sides dry, carefully so they keep their shape. Use a second towel if they still seem slightly damp. Now add the them to the marinade. Make sure all the side are well coated.

Refrigerate/marinate. Cover with plastic wrap and let the tofu marinate in the refrigerator at least for 48 hours and up to 72. If there is a portion of the tofu that isn't fully in the marinade -- turn them over about half way through the marinating process.

Cook. Cover a large plate with a paper towel and set it aside. Coat the bottom of a large non-stick sauté pan with the oil -- this oil should only coat, not have depth to it. Turn the heat to medium-high and let the pan preheat.Once the pan is very hot, turn the heat down a bit and add the marinated tofu cubes, one at a time to be sure they don't break, letting any excess marinade drip off first. (I use my hands to do this.) Stand back a bit as the oil will splatter.Sear every side of the cubes. Use a small flat-bottomed spatula to flip them, or small rubber cooking tongs. Once each side is very nicely browned, set them on the paper towel-lined plate to drain. Don't worry if the edges are charred a tiny bit -- this adds well to the overall flavor.
NOTES
Calorie count is only an estimate.
NUTRITION
Have you tried this recipe?
I'd love to see it on Instagram! Tag me at @cookingontheweekends or leave a comment & rating below.
Cooking On The Weekends is a participant in the Amazon Services LLC Associates Program, an affiliate advertising program designed to provide a means for sites to earn advertising fees by advertising and linking to Amazon.com.