Fresh mint recipes explode with flavor! This healthy Vegetarian Mint Stir Fry is made hearty with delicious tofu noodles. It can be prepared quickly for a weeknight, and it's lovely for casual entertaining on the weekend.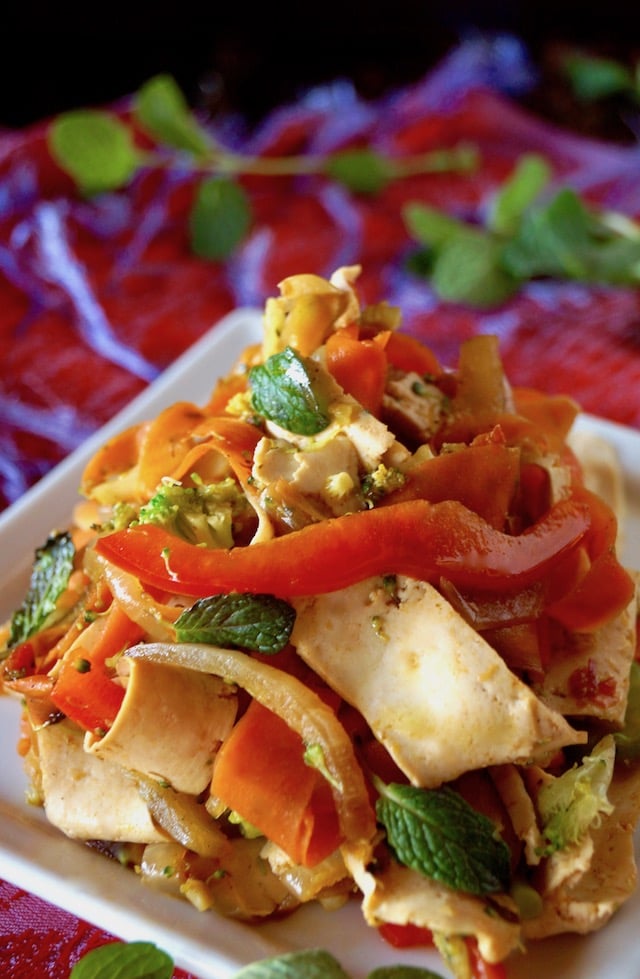 Just because this healthy, vegetarian Mint Stir Fry with Tofu Noodles is low in calories, that doesn't mean it isn't super hearty and satisfying — and incredibly delicious!
To he honest, I hadn't planned on making homemade tofu noodles, but as I was about to chop the tofu into cubes for the stir fry, I saw my vegetable peeler out of the corner of my eye and got a magical idea. Yes, I just referred to the way I was going to cut my tofu as magical. And it was!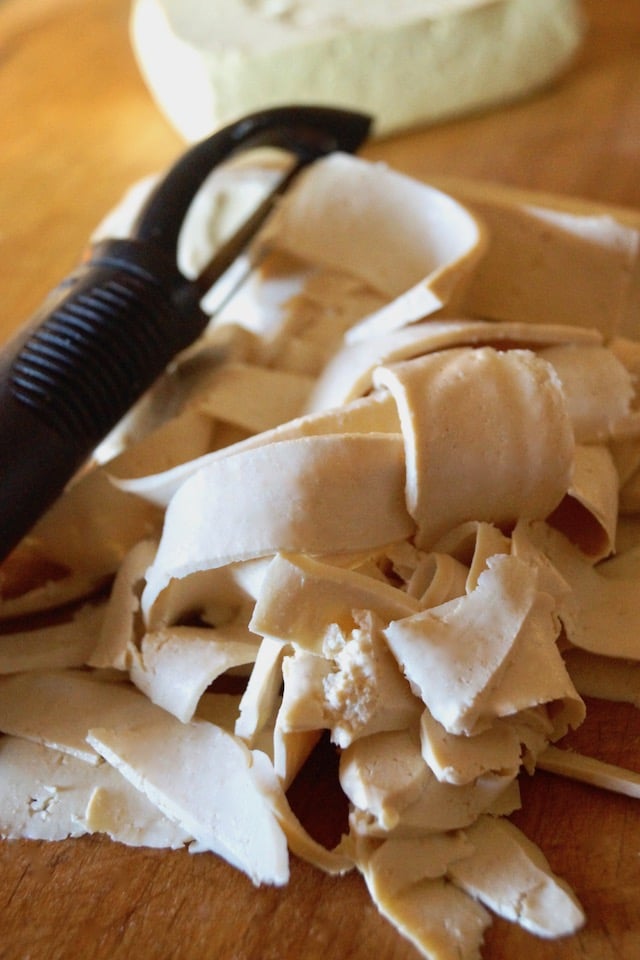 Making Tofu Noodles
Since I was using extra firm tofu, I knew I would be able peel thin strips, making a "noodle" of sorts. In this noodle form, tofu can be added in the last few seconds of the cooking process.
Clearly these are not homemade, from scratch, from soybeans — however, I still think I can call them homemade tofu noodles. 🙂 If you do want to give the whole thing a go from scratch, here's how.
Tofu noodles are perfect for mint recipes because they soak up a ton of flavor. Not only do they take on the mint flavor, they also just might make you feel as though you're having a hearty pasta!
This is a fantastic vegetarian meal.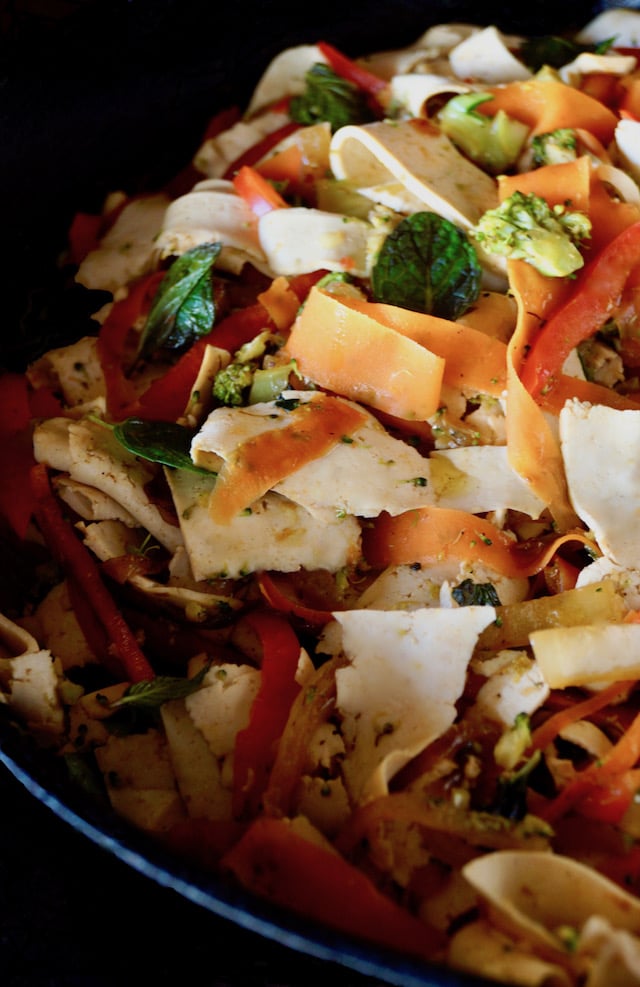 Recipe Tip
I sort of threw this together on the fly so the measurements can be "more or less" — they don't have to be exact. We're not making a cake here! In fact, you can add whatever vegetables you like!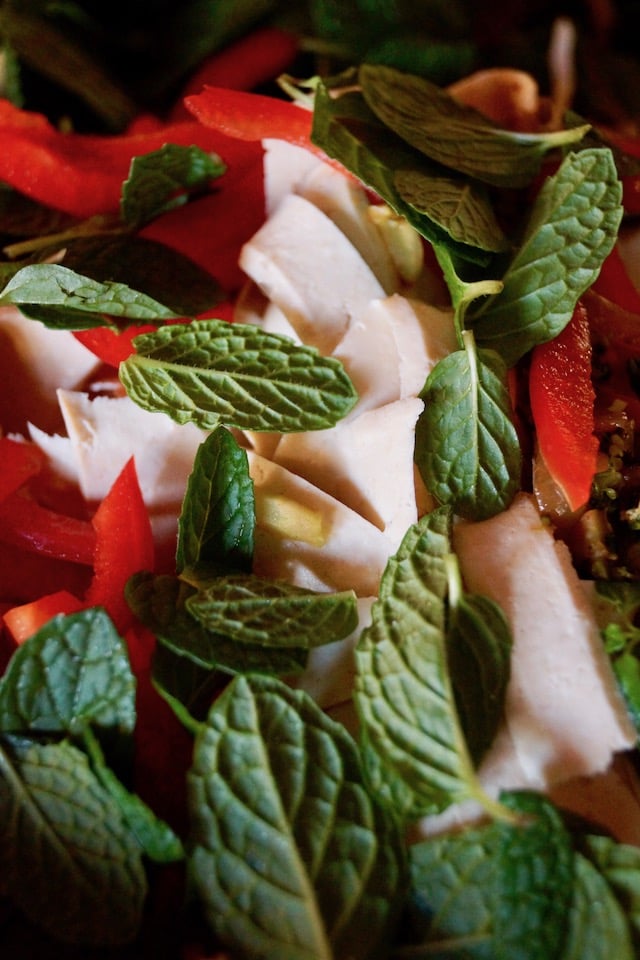 Click here for another awesome, healthy vegetable stir fry recipe on Diabetes Strong, with yet another type "noodle."
More delicious tofu recipes:
And if you want more mint recipes:
Enjoy cooking and eating this delectable Vegetarian Mint Stir Fry recipe with Tofu Noodles!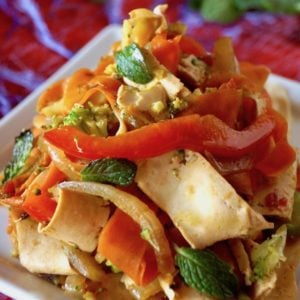 Vegetarian Mint Stir Fry With Tofu Noodles
Exploding with fresh flavors, this healthy Vegetable Mint Stir Fry recipe is made hearty with delicious homemade tofu noodles.
Ingredients
½

pound

extra firm tofu

1½

cups

yellow onion,

thinly sliced

2

tablespoons

garlic,

minced

1½

cup

broccoli,

washed and dried, finely chopped

1¼

cup

carrot peels, from about 2 large carrots

(see instruction no. 3)

1¼

cup

red bell pepper,

thinly sliced

1

cup

loosely packed, fresh mint leaves,

washed and dried

⅓

cup

orange juice

(preferably freshly squeezed)

1

teaspoon

chili paste
Instructions
Prep tofu. Keeping the tofu in one piece, pat it dry with paper towels. Then cut it into 2 smaller chunks (see image in post above.) Use a vegetable peeler to make super thin "noodles" out of the chunks. Set aside. (There will likely be pieces at the end that are too small to peel -- you can just cut that into thin slices.)

Cook onion and garlic. Coat the bottom of a large sauté pan with the oil. Add the onion and garlic and cook over medium-high, stirring often, until the onion is soft and becoming golden, about 10 minutes.

Prep carrots, add everything together and cook. Peel the carrots, and then continue to peel them until you have as many noodles/ribbons as possible. Then add the carrots and broccoli to the pan, and cook just until tender, about 6 minutes.

Then gently stir in the pepper, mint leaves, and the tofu noodles. Some of the noodles will tear, and that's okay.

Add remaining ingredients. Add the orange juice and and chili paste. Mix gently and then season to taste with salt and pepper.
Notes
Grapeseed oil is very low in saturated fat, has a high burning point, and doesn't interfere with the other flavors.
Pressed for time?  You don't have to make the tofu or the carrots into noodles -- you can also slice both thinly.
Calorie count is only an estimate.
Have you tried this recipe?
I'd love to see it on Instagram! Tag me at @cookingontheweekends or leave a comment & rating below.
Save
Save
Save