This is possibly the most comforting and delicious corn side dish ever — it's sweet, slightly spicy, and it's as creamy as can be without any cream!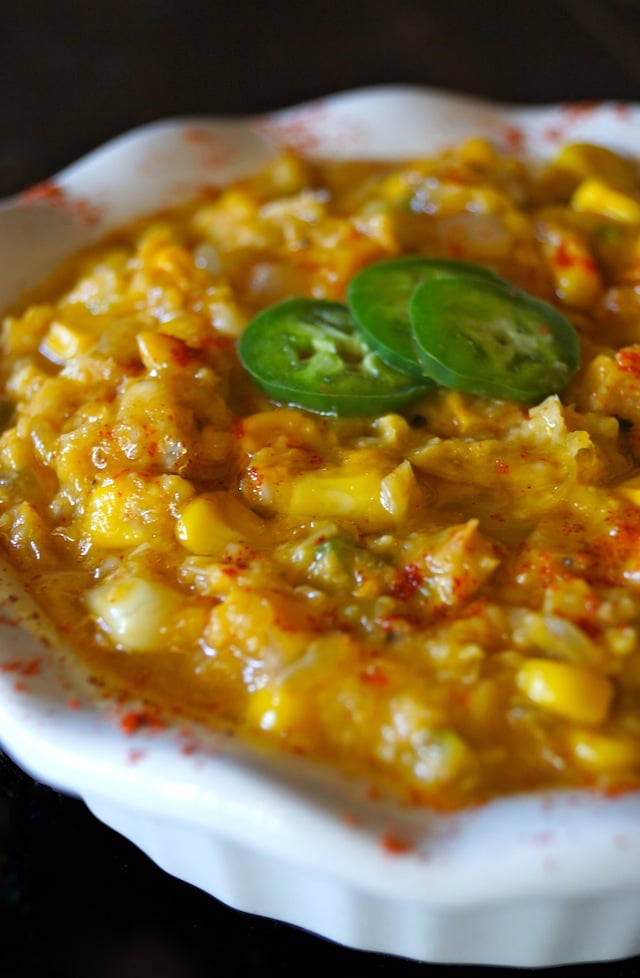 As we are in the last few days of 2016, I'm craving comfort food more and more.
Perhaps it's because I've been reading the news every day.  (UGH!!)  Or perhaps it's because the weather in LA was finally cold.  (Though, it has already warmed right back up.) Or perhaps it's because corn is one of my absolute favorite comfort foods.
What's your favorite comfort food?  Did you ever read, What Makes a Comfort Food a Comfort Food?  It's one of my favorite posts on Cooking On The Weekends, and features 20 of my top comfort food recipes.  (They're pictured below and you can click the image to get to the recipes.)
I'm definitely adding this creamed corn to the list!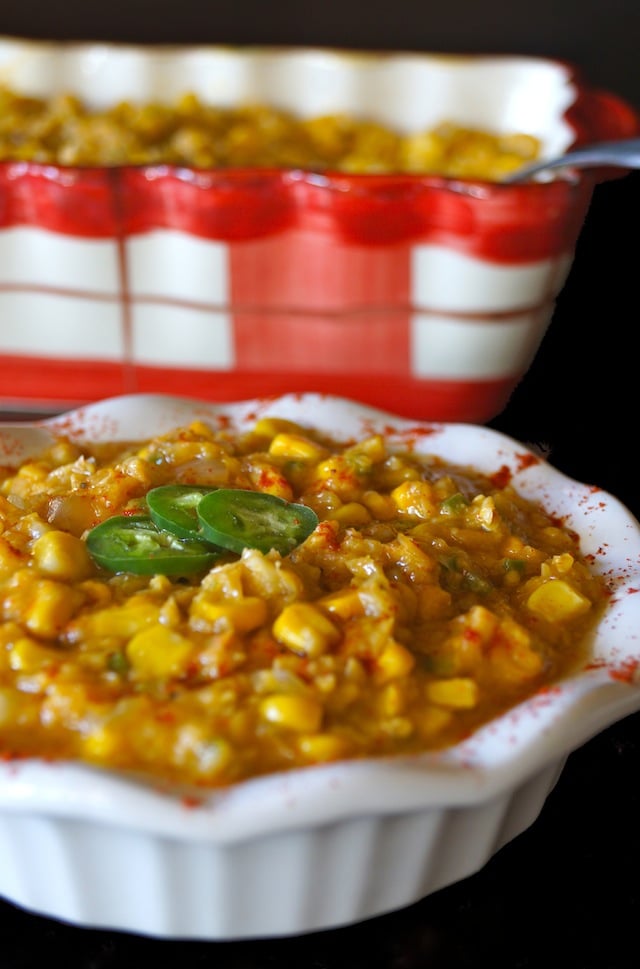 I'm ready for some good news, some cooler weather, and a big, warm bowl of this corn dish. I know, many of us are getting ready for light, clean salads.  I'm not quite there yet. 😉
Though this is not a heavy, rich dish at all — it tastes like it is.  And while I'm calling it a side dish, I would happily sit down with a big bowl as a main course.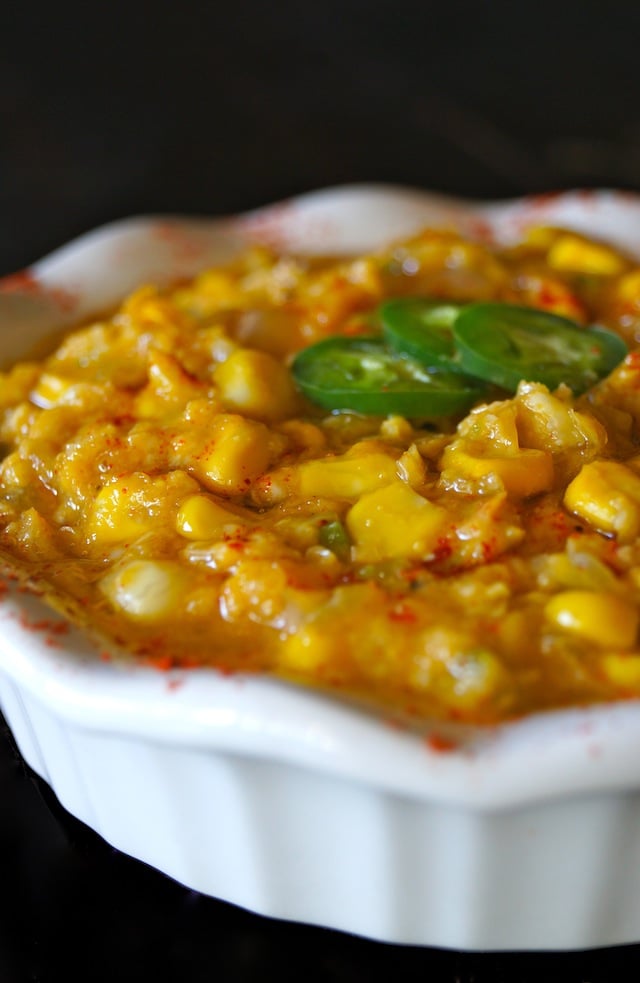 Vegan Jalapeño Creamed Corn Recipe
Ingredients
2

approximately 4-inch jalapeño peppers

3 3/4

cups

corn kernels

from about 5 ears corn -- frozen and thawed is okay, too, divided

3/4

cup

vegetable stock

olive oil for the pan

3/4

cup

finely diced yellow onion

3/4

teaspoon

ground cumin

3/4

teaspoon

smoked paprika

1

tablespoon

freshly squeezed lemon juice

sea salt and finely ground black pepper

drizzle of honey

if desired
Instructions
Wash and dry the jalapeños. Very finely chop one of them, with seeds removed, and set it aside. Roughly chop the second one, with seeds removed, and set it aside separately.

Add 1 1/4 cup of the corn kernels and 1/4 cup of the stock to a blender and purée just until it's half way smooth, about 10 seconds. Pour into a bowl and set aside.

Now add 1 more cup of the corn kernels, the remaining 1/2 cup of stock and only the roughly chopped jalapeño to the blender. Purée until it's completely smooth, about 20 seconds. Set aside.

Generously coat the bottom of a medium-sized saucepan with olive oil and place it over medium-low heat. Add the onions and sauté until soft and slightly golden, about 10 minutes. Add the very finely chopped jalapeños and sauté for another couple of minutes. Stir in the cumin and paprika and sauté until it's very aromatic, about 30 seconds.

Now add the remaining 1 1/2 cups corn kernels, the partially puréed corn-stock mixture, and the smooth corn-stock-jalapeño mixture to the pan and stir. (If you're using raw, fresh corn, give the kernels a few minutes in the pan before adding the puréed mixtures.)

To serve, sprinkle with a bit more paprika and drizzle with a little honey if desired.