Packed with bold and delicious flavors, this hearty, comforting dinner is so easy and is a huge crowd pleaser.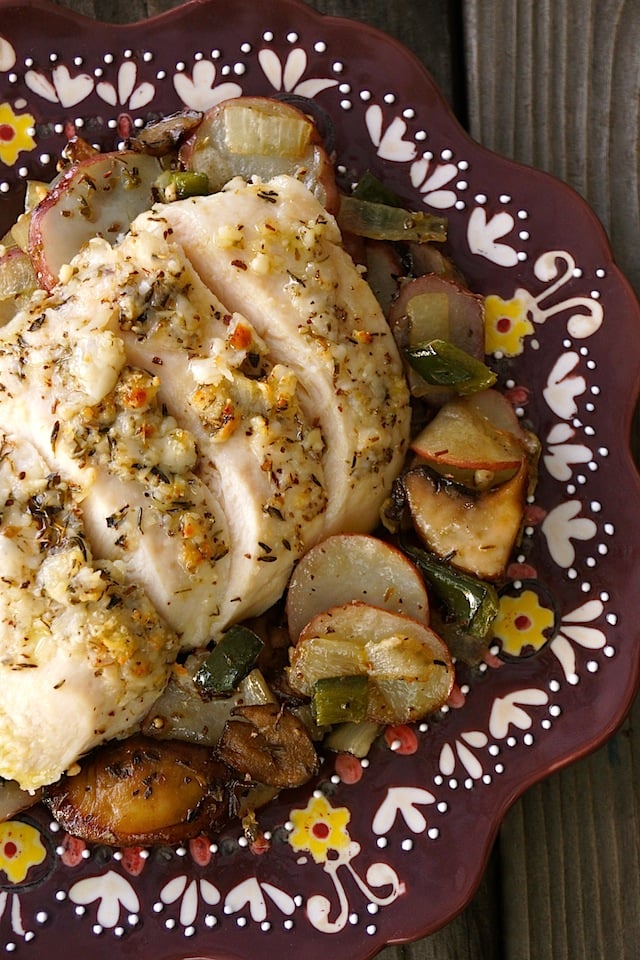 Something has changed with the way my boys eat, and it's awesome!
Hard for me to believe, but they've been pretty picky most of their lives.  As a chef, I'd never imagined that would be the case.
It used to be that things all had to be separate on their plates. If broccoli got mixed into their steak, there would be a complaint. Or, they might have loved rice and mushrooms on their own, but when I'd mix them together they'd say I'd "ruined it." I know, not so much fun for the Chef mom.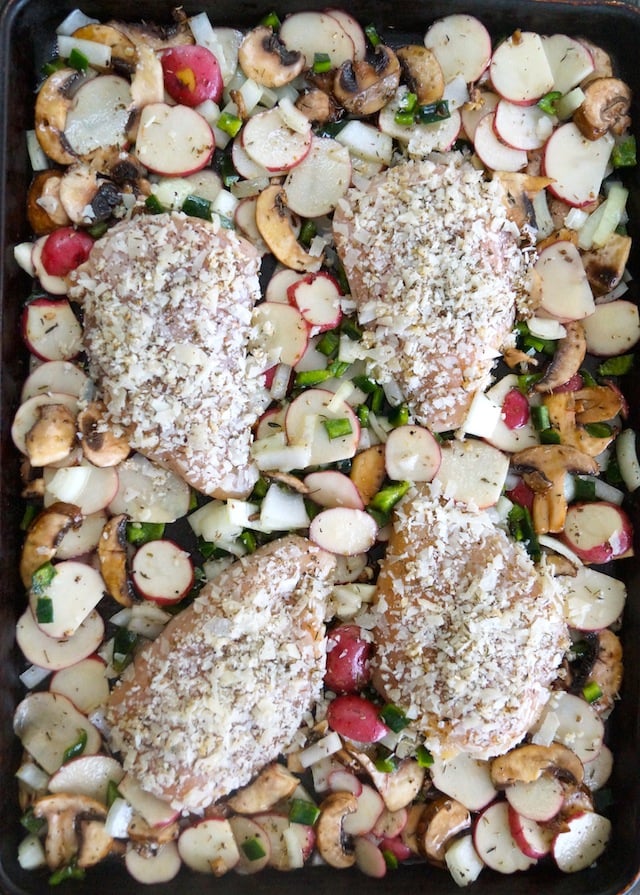 So my oldest just turned 13 last week, and my "baby" will be 11 in two weeks.
In the last year or so, they've both turned into amazing eaters!  Stews, stir-fries, casseroles — the more ingredients and spices mixed together, the better!
So why is it that cooking many ingredients together, in one pot or one pan, typically creates delicious comfort food meals?
I think it's the layers of flavors and textures, and how they all meld together.
This way of cooking, whether it's for eight hours in a crockpot, two hours on the stove, or thirty minutes on a sheet pan in the oven, tends to create the perfect bite.
This dish is certainly no exception!  Let's imagine a bite, shall we?
Juicy chicken with a crispy, packed-with-flavor crust, enveloped with garlicky-caramelized onions, potatoes and mushrooms — all with a slight kick of heat from Poblano chiles.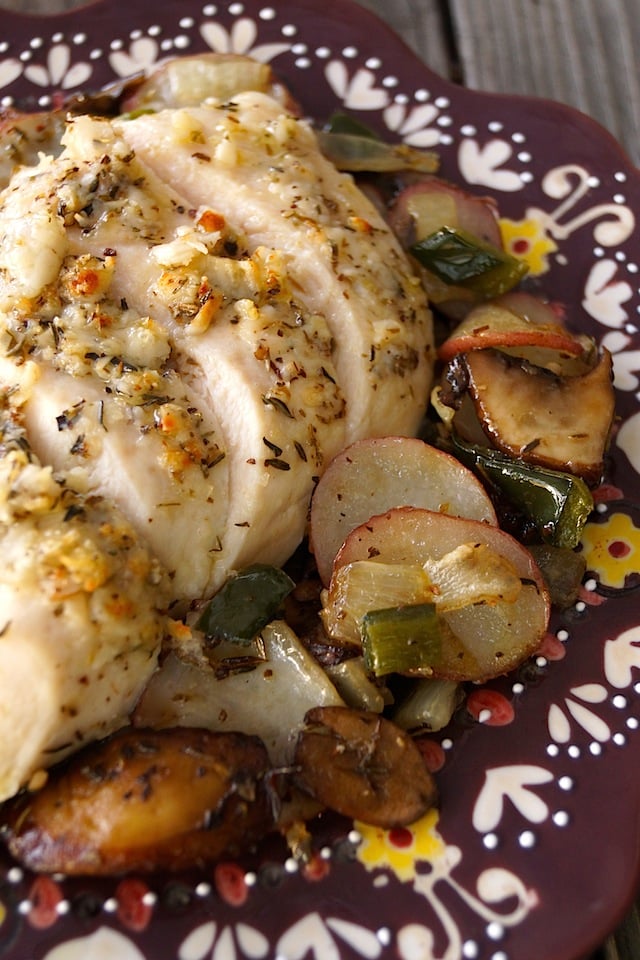 It's what's for dinner, and both of my boys will love it!
Enjoy!
Sheet Pan Parmesan-Herb Chicken with Poblano Potatoes Recipe
Ingredients
1/2

cup

finely grated Parmesan cheese

2

teaspoons

dried oregano

divided

2

teaspoons

dried thyme

divided

1

tablespoon

finely chopped garlic

divided

5

tablespoons

extra virgin olive oil

2

cups

small red potatoes

about 3/4-pound, washed, dried and sliced into thin rounds - about 1/8-inch

1 1/2

cups

thinly sliced crimini mushrooms

washed and dried

3/4

cup

finely chopped yellow onion

1/2

cup

small dice Poblano chile peppers

washed, dried and seeds removed

4

boneless

skinless chicken breasts (at least 1 1/2-inches thick)

sea salt and freshly ground black pepper
Instructions
Preheat the oven to 375 degrees F and adjust a rack to the center.

In a large, shallow bowl mix the Parmesan cheese with 1 teaspoon of the oregano, 1 teaspoon of the thyme, and 2 teaspoons of the garlic. Set aside.

Coat a sheet pan with the olive oil and add the potatoes, mushrooms, onions, Poblanos, and the remaining 1 teaspoon of oregano, thyme and garlic. Use your hands to mix, being sure everything is well coated with the oil. Season generously with salt and pepper, and make four spaces for the chicken breasts to go -- they should not be on top of any vegetables.

Place the chicken breasts on a clean, dry surface and season both sides generously with salt and pepper. Now, smooth side down, place them, one by one, into the Parmesan mixture and gently press down. Do this with each one, and add them to each cleared area on the sheet pan as you go. If not all of the Parmesan mixture has stuck to the chicken breasts, evenly divide what's remaining among them.

Place in the preheated 375 degree F oven and cook just until the chicken is cooked through, about 20 minutes. Remove the chicken breasts from the sheet pan, place them on a plate, and cover with foil. Turn the oven up to 425 and continue to cook the vegetables until they're golden and slightly crispy, about 10 minutes.

Place the chicken back on the sheet pan and place it under the broiler just long enough for the cheese to become golden, 30 seconds to 1 minute.

If necessary, season the vegetables to taste with a bit more salt and pepper. (Here's

How to Season to Taste

.)

Serve!
Save