Honey Glazed Tofu Broccoli with Sriracha is a scrumptious, healthy sheet pan meal that's great for guests or a quick weeknight dinner. Tofu has the ability to soak up almost all of the flavors added to it, so every bite is packed with flavor.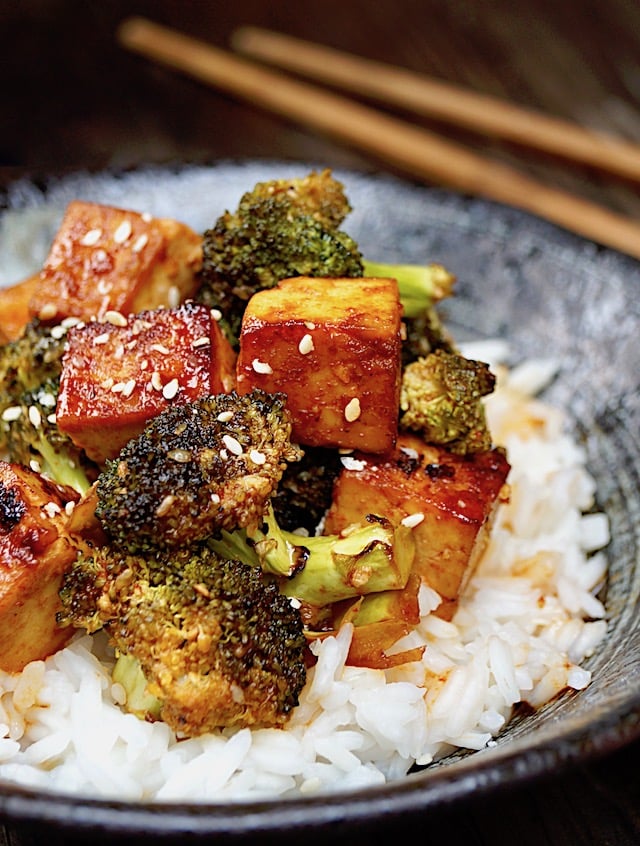 It's funny, sometimes people assume if you're eating tofu, you must be a vegetarian. Have you ever heard that?
I suppose it's an obvious substitute for animal protein, so that makes sense.
I've always loved tofu -- and I'm not a vegetarian.
I think it's such a great ingredient to work with because it's capable of taking on so many flavors it's cooked with, and it comes in varying textures.
Vegan and gluten-free, this Honey Glazed Tofu dish is full of sweet, savory and umami flavors. It's so good, you'll want to lick the pan. No joke!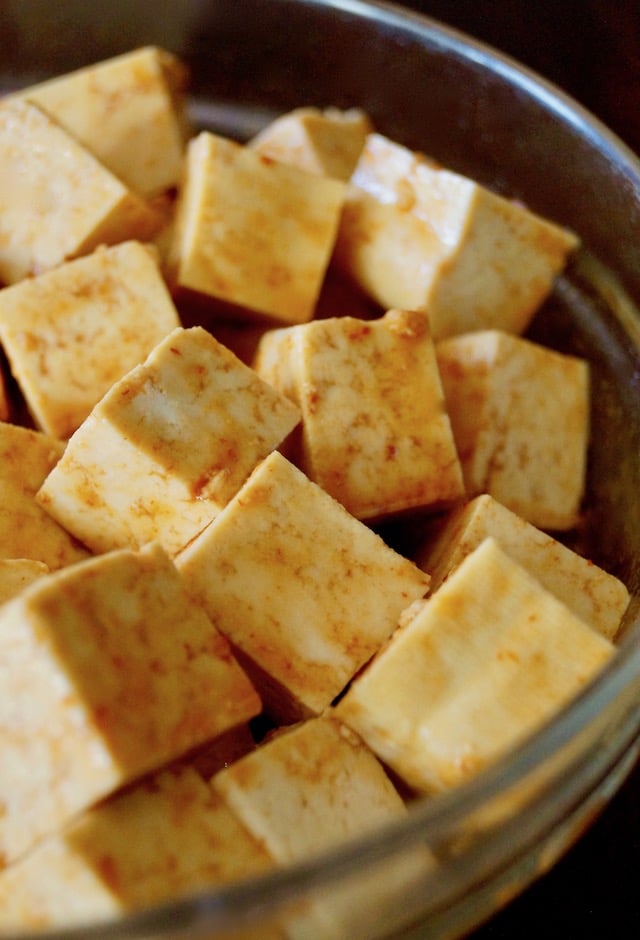 What exactly is tofu?
A traditional part of East and Southeast Asian cuisines, Tofu (also called bean curd), was invented in China about 2000 years ago.
Tofu is made from soybeans, and is prepared by coagulating soy milk and then pressing the soybean curds into solid blocks of varying softness. (This process is similar to cheese making.)
Tofu is naturally gluten-free, vegan and low in calories and fat. It's also cholesterol free, and is an excellent source of iron and calcium.
Tofu comes in a variety of textures -- silk/soft, medium firm, firm, and extra firm. Each type is best suited for certain cooking applications. The silk/soft tofu is best for things like sweet puddings, smoothies or salad dressings. And the firmer varieties are better for baking, grilling and stir-frying.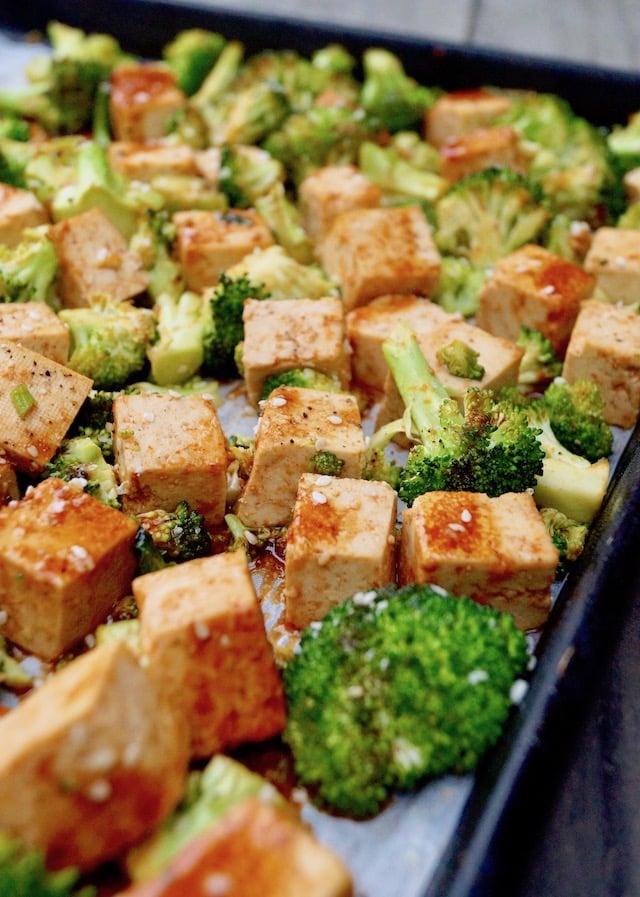 How to Make it
Drain and cut the tofu.
Make the Sesame Sriracha Honey marinade/sauce.
Marinate the tofu.
Place everything on a sheet pan, drizzle with more of the marinade and roast.
Drizzle with the remaining marinade, sprinkle with sesame seeds and serve.
(Detailed instructions are the recipe card below.)
You guys! This Honey Glazed Tofu recipe is a great opportunity for me to share one of my favorite, most inexpensive kitchen tools with you. I'm not really into gadgets, and this isn't one I use all of the time -- BUT, when I need it, I'm so happy I have it!
I discovered this Sesame Seed Grinder at my favorite ramen restaurant, Tatsu Ramen. They have one on every table and I was so excited about it the first time I used it, that I ordered one that same day.
I love this grinder because it doesn't turn the sesame seeds into a powder, it just breaks them apart, which brings out more flavor. And it easily, evenly distributes them over the Sriracha Honey Glazed Tofu.

What to Serve With Honey Glazed Tofu

I almost always serve this with rice. White or brown -- whichever you prefer. It does a great job of soaking up the sauce. Asian noodles would also be delicious.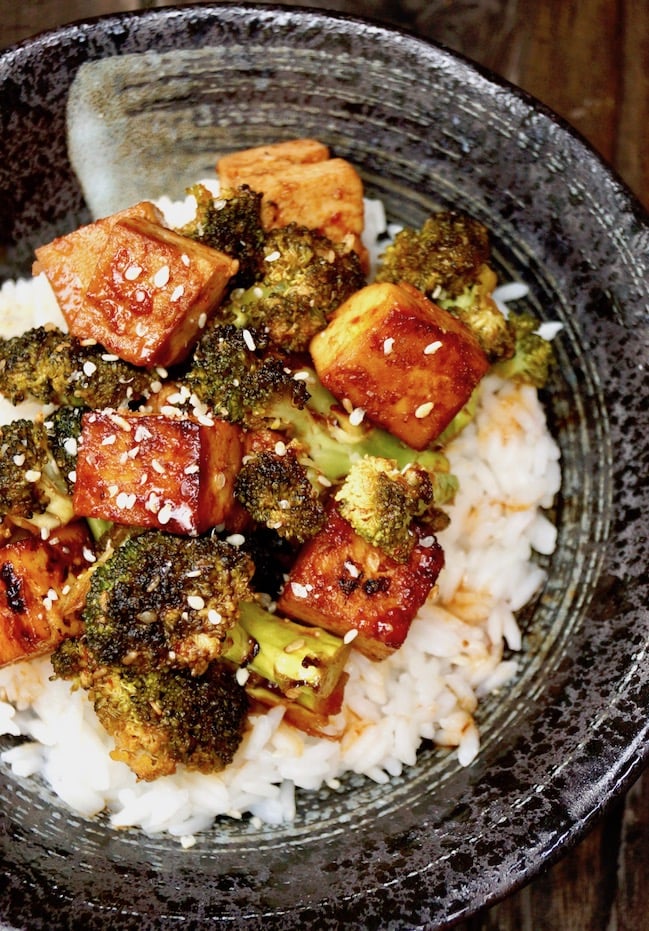 More delicious tofu recipes:
Whenever I serve Sriracha Honey Glazed Tofu Broccoli to my family, every last bite is gone. Even on my older son's plate, who says he's not a tofu fan.

I hope you love it as much as we do!
Sriracha Honey Glazed Tofu Broccoli Recipe
This is a scrumptious, healthy sheet pan meal that's great for guests or a quick weeknight dinner. Tofu has the ability to soak up almost all of the flavors added to it, making every bite full of flavor.
Instructions
In a medium-sized mixing bowl, whisk the Sriracha with the Tamari, honey and sesame oil. Add ¼ cup of it to a large mixing bowl and set the rest aside.

Line a baking sheet with a double layer of paper towels. Remove the tofu from its packaging and drain. Cut it into even slices, about ½ to 1 inch thick, placing them on the paper towels as you go. Then place another layer of paper towels on top and gently press down to remove as much liquid as possible. Now cut the slices into cubes and add them to the bowl with the ½ cup of marinade. Toss gently to be sure they're well coated. Cover with plastic wrap, and let the tofu marinate in the refrigerator for at least 1 hour, and up to overnight. (The more the better.) Every so often, gently mix the tofu with the marinade.

About 15 minutes before the marinating time ends, preheat the oven to 450°F.


Combine the broccoli with the marinated tofu on a sheet pan (no liner needed). Drizzle another ¼ cup of the marinade over everything and toss. With everything in a single layer, sprinkle lightly with salt and pepper and place in the preheated 450°F oven. Roast until the tofu is golden and the broccoli is tender and beginning to brown as well, about 30 minutes. Use a spatula to flip the tofu and broccoli about halfway through the cooking time.

Once it's done, drizzle with the remaining ¼ cup of the marinade and sprinkle with the sesame seeds. Ideally, use a sesame seed grinder to do so. Serve!
NOTES
Calorie count is only an estimate.
NUTRITION
Have you tried this recipe?
I'd love to see it on Instagram! Tag me at @cookingontheweekends or leave a comment & rating below.
Cooking On The Weekends is a participant in the Amazon Services LLC Associates Program, an affiliate advertising program designed to provide a means for sites to earn advertising fees by advertising and linking to Amazon.com.