This Hazelnut Crusted Chicken Roulade recipe is a gluten-free, unique and beautiful recipe for a casual or fancy dinner party, and is easy enough for a busy weeknight meal.
Who doesn't love a crispy, juicy breaded piece of chicken!? A rhetorical question -- I want to think you all love it.
With two gluten-free eaters in my house, I'm always looking for new and creative ways to make a "crust" without bread.
I have two super delicious, favorite recipes -- this Hazelnut Crusted Chicken Roulade recipe, and also, my Quinoa Crusted "Fried" Chicken.
What's in Hazelnut Crusted Chicken Roulade?
chicken
spinach
Gruyère
hazelnut meal/flour
smoked paprika
olive oil
egg
salt, pepper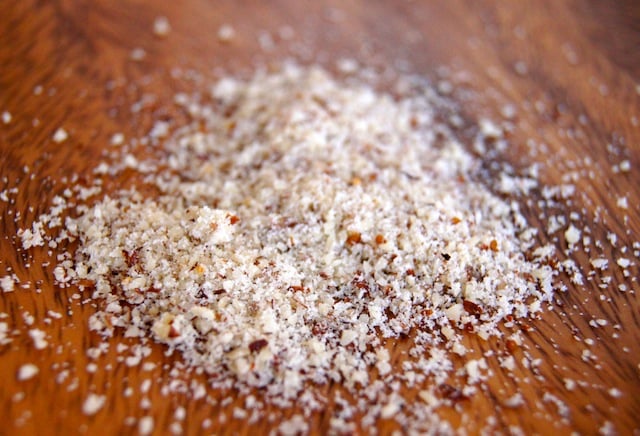 I used Bob's Red Mill Finely Ground Hazelnut Meal to form the crust, and it adds the most wonderful, buttery, nutty flavor imaginable!
Try it, and you'll see what I mean.
What is hazelnut meal/flour?
Hazelnut meal/flour is ground whole raw hazelnuts. It's paleo and gluten-free-friendly.
Whether it for a dinner party or for a weeknight dinner, I hope you enjoy this Hazelnut Crusted Chicken Roulade recipe as much as my family and I do.
This is not a sponsored post. Bob's Red Mill sent me hazelnut meal for recipe testing, and as always, I only cook with products I love and all opinions are my own.
Hazelnut Crusted Chicken Roulade Recipe
This Hazelnut Crusted Chicken Roulade Recipe is a gluten-free, unique and beautiful recipe for a casual or fancy dinner party, and is easy enough for a busy weeknight meal.
Ingredients
4

(approximately 6 to 8-ounce)

chicken breasts,

boneless, skinless

1

handful

fresh baby spinach leaves,

washed and dried (amounts may vary - see recipe instructions)

½

cup

Gruyère cheese,

grated

1

teaspoon

smoked paprika

1¼

teaspoons

salt

freshly ground black pepper

olive oil for the pan

1

large

egg
Instructions
Trim any excess fat off of the chicken breasts and place them on a large plate. Set aside.

Place a large piece of plastic wrap on a flat, dry surface and place two of the chicken breasts, smooth side up, on top. Then add another large piece of plastic wrap on top of the chicken. Use the smooth side of a meat mallet, or the bottom of a small sauté pan to pound the chicken until it's evenly flattened, about ¼ to ½-inch thick. Repeat this with the remaining two chicken breasts.

Turn the chicken breasts over, so the rough side is up, and they are laying vertically in front of you, and season the surface of each one with salt and pepper.

In a single layer, cover the surface with spinach leaves, and gently press them down. (Amounts will vary depending on the size of your chicken breasts and how thinly you've pounded them.)

Now add about 2 tablespoons of the Gruyère evenly over the spinach.

Beginning with the end closest to you, roll the chicken tightly, and evenly, away from you. Then place the roll on a new, clean piece of plastic wrap and wrap it very tightly. Repeat this with the remaining three chicken breasts, and refrigerate them for at least 1 hour.

While the chicken is refrigerating, mix the hazelnut meal, paprika and salt in a shallow bowl.

Lightly beat the egg in another shallow bowl.

Coat the bottom of a large sauté pan with olive oil and place it over medium-high heat.

Unwrap each chicken roll and carefully dip it in the blended egg, being sure it's evenly coated. Then gently press it into the hazelnut meal mixture, on all sides. Do this a couple of times so that you have a nice thick layer which uses about ¼ of the mixture for each roll.

Once the pan is very hot, add the well-coated chicken rolls. You should hear a sizzling sound when they hit the pan -- if you don't it's not hot enough yet. Brown the bottom and top very well, about 2 minutes each. Then turn the heat to low, cover the pan, and cook until the chicken cooked through, about 15 minutes. (It's easiest to use kitchen tongs to turn the chicken.)

Let them sit for about 5 minutes and then serve. (For a pretty presentation, slice them and serve over sautéed spinach with roasted hazelnuts.)
NUTRITION
Have you tried this recipe?
I'd love to see it on Instagram! Tag me at @cookingontheweekends or leave a comment & rating below.
Cooking On The Weekends is a participant in the Amazon Services LLC Associates Program, an affiliate advertising program designed to provide a means for sites to earn advertising fees by advertising and linking to Amazon.com.