In just an hour, on the stove-top, in one pan, this Turkey Meatball Stew is cooked to perfection. It's an ideal, scrumptious comfort food dinner for the cooler months.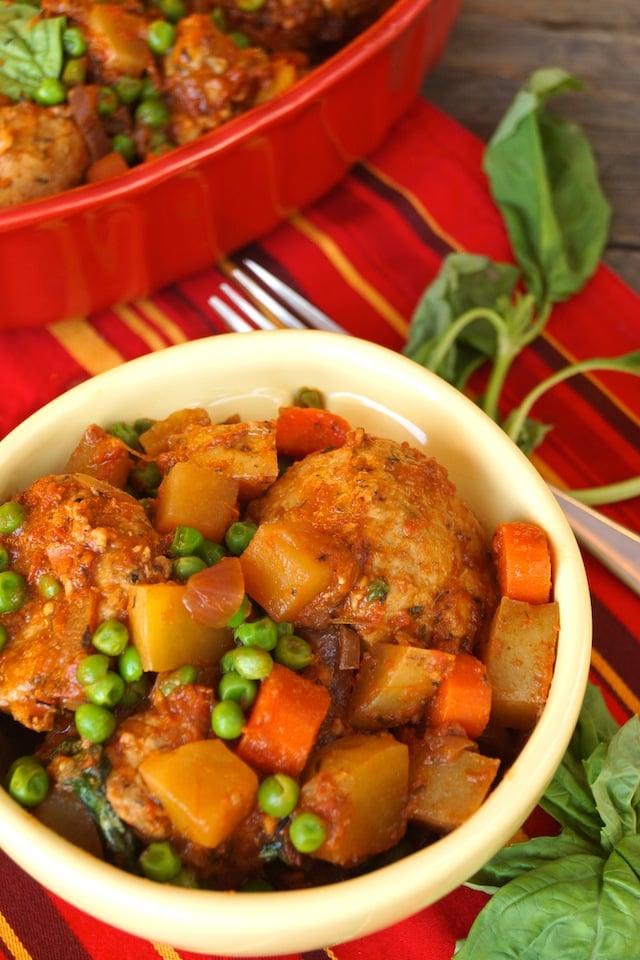 When my husband started eating meat again after being a vegetarian for twenty-one years, I had a celebration of sorts. Remember, my Blackberry-Thyme Roasted Chicken?
Inspiration
Well, now he can't get enough. Any time I ask him if he wants anything from the market, his response is, "meat." And by meat, he means any animal protein. It's pretty funny.
In addition, he's been getting all sorts of specific carnivorous cravings. I mean come on, wouldn't you if you had stuck to plants for all those years!? 😉 (I'm joking! I'm guessing most Vegans and Vegetarians are quite satisfied with their diet.)
This super delicious recipe satisfied my husband's recent longing for meatballs. Have you ever pined for a meatball? It can happen.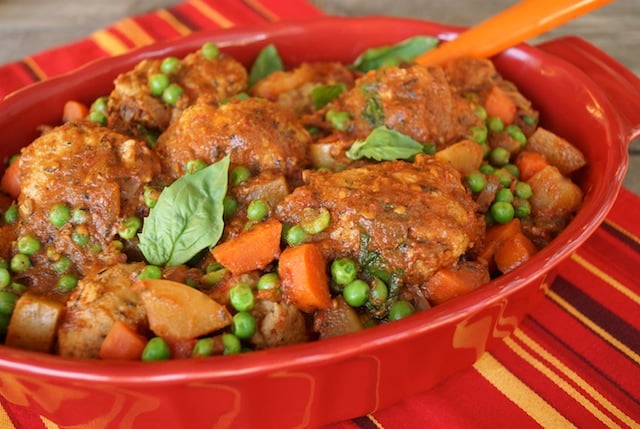 This stove-top Turkey Meatball Stew recipe might just be the "mother of all comfort foods," too. It's so warm and cozy with tasty spices and soft textures.
What's in Stove-Top Turkey Meatball Stew Recipe?
ground turkey
paprika, oregano, onion powder, garlic powder, thyme
olive oil
fresh garlic
red onion
potatoes
carrots
tomato purée
peas
basil
Really, in a word . . . yum!
What to serve with Stove-Top Turkey Meatball Stew?
Here's the deal, this is a one pan meal, so instinctively I want to say "nothing." However, there are a few things that could nicely complete this one pan meal . . .
Enjoy every last bit of this Turkey Meatball Stew, either with one of these add-ons, or all by itself.
If you try my turkey meatball stew, or any of my other recipes, I'd love to hear what you think about it in the comments below. I love hearing from you! You can also follow on Facebook, Instagram and Pinterest to see more of my mouth-watering recipes!
Stove-Top Spiced Turkey Meatball Stew Recipe
In just an hour, on the stove-top, in one pan, this Turkey Meatball Stew is cooked to perfection. It's an ideal, scrumptious comfort food dinner for the cooler months.
Keyword:
best meatball recipes, comfort food recipes for winter
Ingredients
2

pounds

ground turkey

1

large

egg

2

teaspoons

smoked paprika

1

teaspoon

ground oregano

1

teaspoon

onion powder

1

teaspoon

garlic powder

2 1/2

teaspoons

dried thyme,

divided

1½

teaspoons

salt

freshly ground black pepper

olive oil for the pan

1 1/2

cups

red onion,

thinly sliced

1

tablespoon

garlic,

minced

2

cups

Yukon Gold potatoes,

washed and dried, cut into bite-sized pieces

1 1/2

cups

carrots,

peeled, cut into bite-sized pieces

1

(28-ounce) can

tomato purée

1

cup

peas,

frozen and thawed

1

cup

loosely packed basil leaves,

washed and dried, roughly chopped
Instructions
Combine the ground turkey with the egg, paprika, oregano, garlic powder, onion powder, 1 teaspoon on the dried thyme, salt and a pinch or two of pepper. Mix only until combined. Cover with plastic wrap and set aside.

Coat the bottom of a very large sauté pan with olive oil and place it over medium heat. Add the onions and garlic and cook until the onions are soft and beginning to caramelize, about 5 minutes. Add the remaining 1 1/2 teaspoons of dried thyme and stir to blend.

Turn the heat to the lowest setting and add the potatoes and carrots. Cover the pan with a fitted lid or foil to let them steam until they're tender, about 15 minutes. (Open the lid and stir from time to time to be sure they aren't getting too brown or burning on the bottom.)

Add the tomato purée to the sauté pan with the vegetables. Bring to a boil, then immediately turn the heat to low and let it simmer for about 5 minutes.

Keeping the heat low, shape the turkey mixture into approximately 1/4 cup-sized meatballs, gently adding them to the pan as you go. (Clear an area for each one, by moving the sauce around a bit.) Cover the pan until they are cooked through, about 16 minutes. They should be turned over gently midway through the cooking time.


Gently mix in the peas and basil.

Serve!
Cooking On The Weekends is a participant in the Amazon Services LLC Associates Program, an affiliate advertising program designed to provide a means for sites to earn advertising fees by advertising and linking to Amazon.com.