This Upside Down Carrot Apricot Cake is full of warm spices and sweet flavors. In this recipe, basic ingredients combine to make a show-stopping dessert!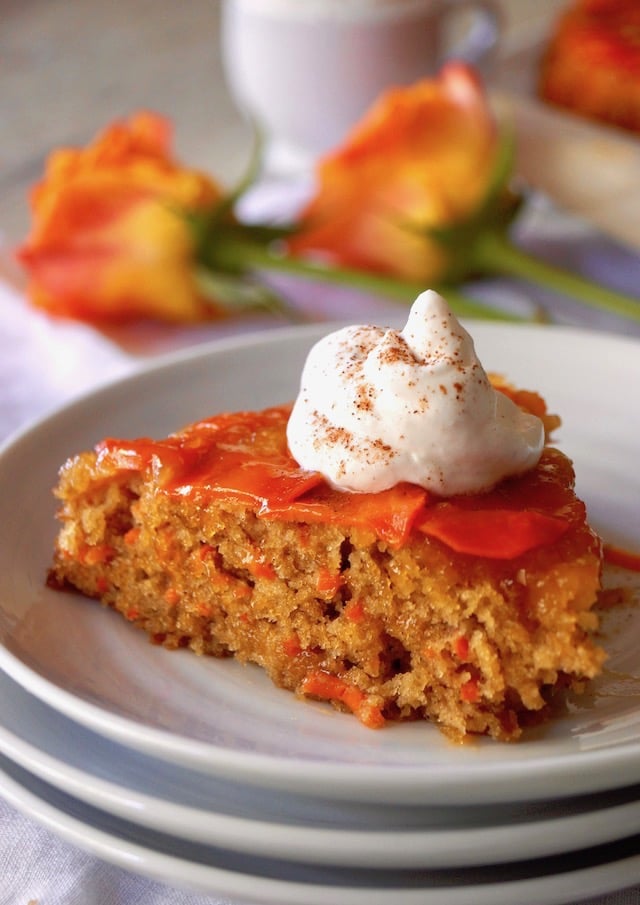 If you need a stunning dessert to bring to a gathering, this it!
Whether it's a summer barbecue, Thanksgiving dinner, a winter dinner party, or a spring brunch, guests will be wowed by this Upside Down Carrot Apricot Cake.
It's quick, easy, super yummy, and beautiful! Pretty and fun — and just light enough to be a delightful finale at any meal.
While my usual preferred dessert fare features chocolate or Nutella, I love to mix fruits and vegetables (yes, vegetables) with spices to turn them into sweet, unique desserts.
I also love making upside cakes. I love the reveal of the top when it's flipped over. Well, the bottom, really.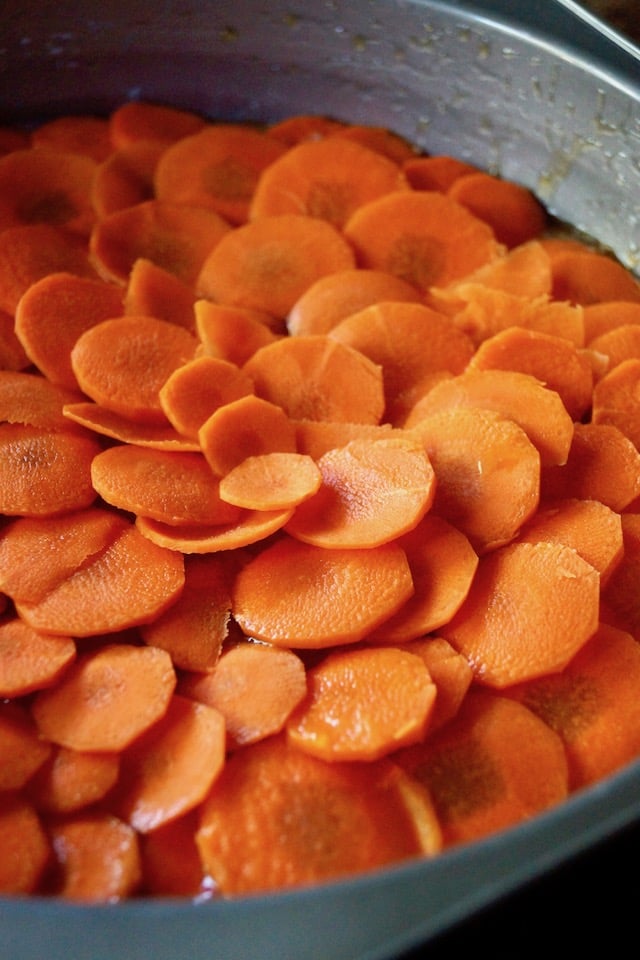 What makes this Carrot Apricot cake so unique?
Well for one, it's upside down! And the top — I mean bottom — is a layer of thinly sliced carrots! Have you ever seen that before?
And the flavor of apricots is spread throughout the cake — inside and out!
Cardamom and cinnamon are wonderful, warming spices, and they're especially good when fruit is involved. The cinnamon is expected, but the flavor of the cardamom will surprise your tasters.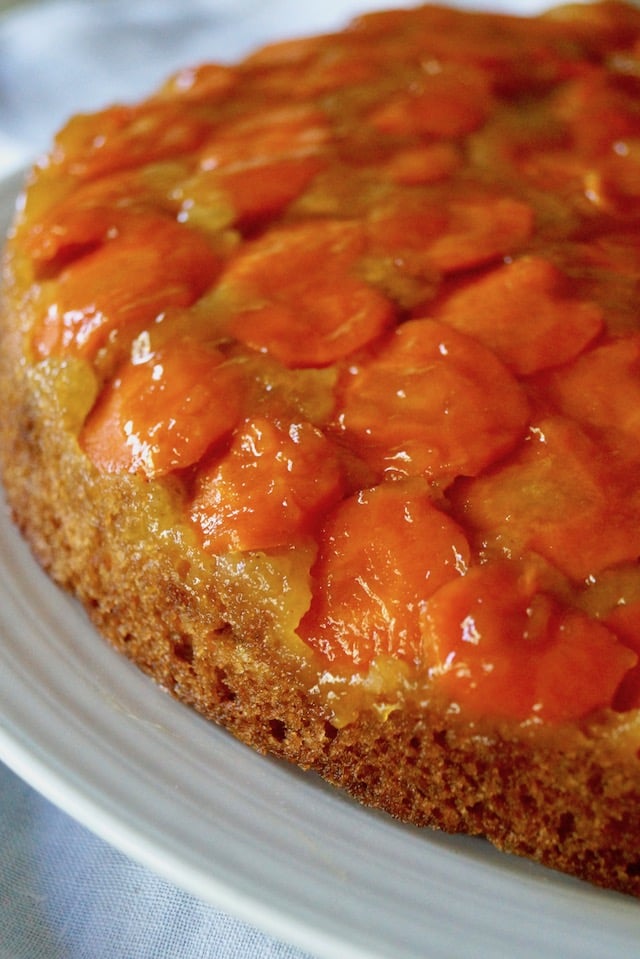 How do you make a carrot cake moist?
Pineapple! Pineapple is a fruit that acts as a tenderizer. Enzymes found in pineapple break down proteins and when using it in carrot cake, the result is a moist cake.
Brown sugar. Brown sugar adds more moisture than granulated sugar.
And of course, do not over bake it.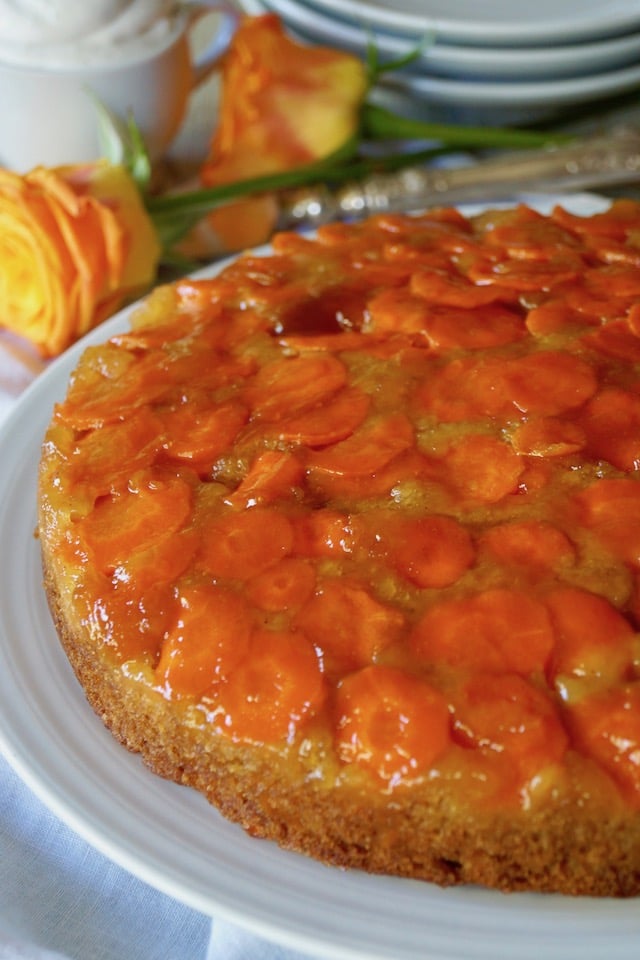 Recipe Tips
I think this cake is pretty and unique with the carrot slices on top — however, to save time (without losing any deliciousness), you can just pour the batter in a buttered pan and serve with the whipped cream.
You could also make super yummy carrot muffins . . . simply butter your muffin tins and add the batter about 3/4 the way up. The baking time will be a bit shorter.
And please do not worry if you're a person who's avoiding gluten. I have another carrot cake up my sleeve just for you! My Gluten-Free Spiced Carrot Cake with Cardamom Cream Cheese Frosting is also out of this world.
I hope you love every bite of this pretty Upside Down Carrot Apricot Cake!
Upside Down Carrot Apricot Cake Recipe
This Upside Down Carrot Apricot Cake is full of warm spices and sweet flavors. In this recipe, basic ingredients combine to make a show-stopping dessert!
Ingredients
For the topping
2

tablespoons

unsalted butter

1/2

cup

apricot jam,

divided

2 to 3

large

carrots,

peeled and cut into super thin rounds
For the cake
2/3

cup

brown sugar

1/3

cup plus 2 tablespoons

olive oil

1/4

cup

crushed pineapple

1

tablespoon

apricot jam

2

teaspoons

pure vanilla extract

1/2

teaspoon

ground cardamom

3/4

teaspoon

ground cinnamon

1/8

teaspoon

salt

2

large

eggs

1 1/4

cups

shredded carrots

1

cup

all-purpose flour

1/4

teaspoon

baking powder

1/4

teaspoon

baking soda
Instructions
Preheat the oven to 350°F.
For the topping
Add the butter to a

9 X 2-inch cake pan

and put the pan in the oven (even if it's not preheated yet). Remove the pan as soon as the butter has melted, about 2 minutes. Use a pastry brush to spread the butter evenly around the bottom and sides of the pan. (There will be more on the bottom than the sides -- that's perfect.)

Now add 1/4 cup of the apricot jam to the pan. Again, place the pan in the oven -- only long enough to melt the jam, about a minute or so. Then use the pastry brush to evenly spread it just on the bottom of the pan.

Arrange the carrot slices on top of the jam. A single-layered layer is best, and the more slices the better because they will shrink a little bit during the baking process. Set this aside.
For the cake
In a medium-sized mixing bowl, combine the sugar with the olive oil, pineapple, apricot jam, vanilla, cardamom, cinnamon, and salt. Add the eggs, and mix until they're fully incorporated and then fold in the shredded carrots.

Sift in the flour along with the baking powder and baking soda. Mix only until the flour has blended in and then pour the batter directly on top of the carrot slices in the cake pan.

Bake in the preheated 350°F oven just until the cake has solidified and is beginning to crack, about 30 minutes. (You can stick a toothpick in the center of the cake and if it comes out clean -- it's ready.)
For the spiced whipped cream
While the cake is baking, use an electric mixer or a whisk to whip the cream with the sugar and spices until you have soft peaks.

Let the cake sit out of the oven for at least 5 minutes. Then invert it directly onto a serving platter. Let it cool for 30 minutes.


Add the remaining 1/4 cup of apricot jam to a small pan and place it over low-medium heat. Once it's melted, use a pastry brush to lightly coat the entire surface of the cake to make it shiny.


Add a dollop of the spiced whipped cream to each slice as you serve.
Have you tried this recipe?
I'd love to see it on Instagram! Tag me at @cookingontheweekends or leave a comment & rating below.
Cooking On The Weekends is a participant in the Amazon Services LLC Associates Program, an affiliate advertising program designed to provide a means for sites to earn advertising fees by advertising and linking to Amazon.com.