Grilled Strawberries!  Yes, it's easy and fun to grill fruit, and this Grilled Strawberry Kebab recipe is fresh, sweet and a bit savory — and can serve as an appetizer or dessert!
I love this grilled strawberry kebab recipe — while it's certainly sweet enough for dessert, the fresh basil leaves make it suitable for an appetizer too.
The balsamic glaze gives this dish some depth — perhaps like a chocolate sauce might. (Oh la la!)
As strawberries enter the peak of their season, they are becoming sweeter and juicier and oh-so-good!  A perfect strawberry is intoxicating!  And grilled strawberries are super intoxicating!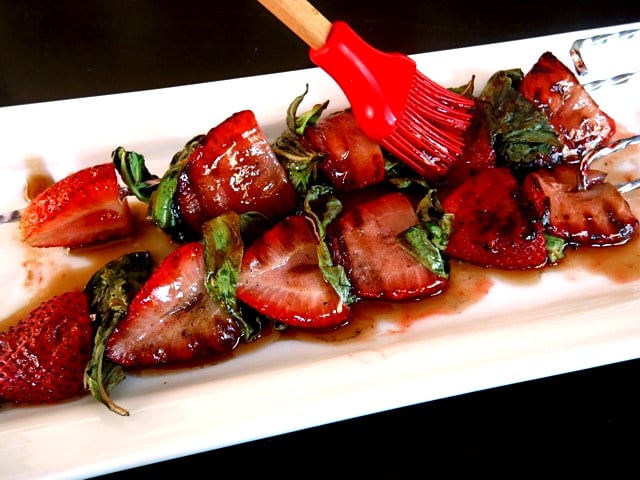 If it's convenient, buy your strawberries at your local Farmers Market.  They'll be the best!  Any produce is best when it hasn't traveled too far to reach you, and hasn't been sprayed with a bunch of "stuff" (i.e., pesticides)!
You can find a Farmers Market near you

here

.
Always walk up and down the market having a sample at each strawberry booth before deciding where to buy.  I now have my favorite booths at certain markets — and it's great to develop a relationship with the growers, too.  You'll get a lot of information about your produce this way, and it makes shopping at the market much more fun!
What are you doing this Saturday? Sunday? I'm sure there's a local Farmers Market close by.  Go check it out, meet a few vendors, taste some great strawberries, buy some, have fun and make this grilled strawberry kebab recipe!  And don't forget the basil!
If you love the sound of grilled strawberries, you will also love these grilled fruit recipes:
Truly, this is a treat than can also be a side for an outdoor barbecue dinner, over ice-cream for dessert, or just as a delightful snack!  There's always a place for grilled strawberries!
I hope you enjoy this strawberry kebab recipe, whether it's for an appetizer, snack or dessert!
Grilled Strawberry Basil Kebab Recipe
it's easy and fun to grill fruit, and this Grilled Strawberry Kebab recipe is fresh, sweet and a bit savory -- and can serve as an appetizer or dessert!
Course:
Appetizer, Dessert
Keyword:
good for summer bbq, kebabs with fruit
Instructions
To clean the strawberries, use a damp paper to wipe each one off. Remove the stems and cut each one in half, lengthwise.

One by one, gently slide each strawberry half onto a metal or wooden skewer (if you're using wooden, soak them in water for about 10 minutes first). Between each strawberry half, slide on one or two basil leaves. Set aside.

In a small mixing bowl, whisk together the honey, vinegar, vanilla and a pinch of sea salt. Set aside.

Preheat a stove-top grill or your barbeque and drizzle or brush a bit of grape seed oil onto the flat surface of each strawberry. Once the grill is hot, place the strawberry skewers on it, flat side down. You should hear a sizzling sound -- if you don't the grill is not hot enough. Wait until it is! Grill until each side is marked from the grill, about 30 seconds per side. Place the skewers on a plate and while they're still hot, use a pastry brush to add the glaze to the kebabs. Remove them from the skewers to serve.
Save
Save