If you like Jalapeño Turkey Burgers, you'll LOVE Jalapeno Pepper Jack Turkey Burgers. Just imagine that rich and creamy, slightly spicy cheese added to the heat of the peppers — all in a delicious burger!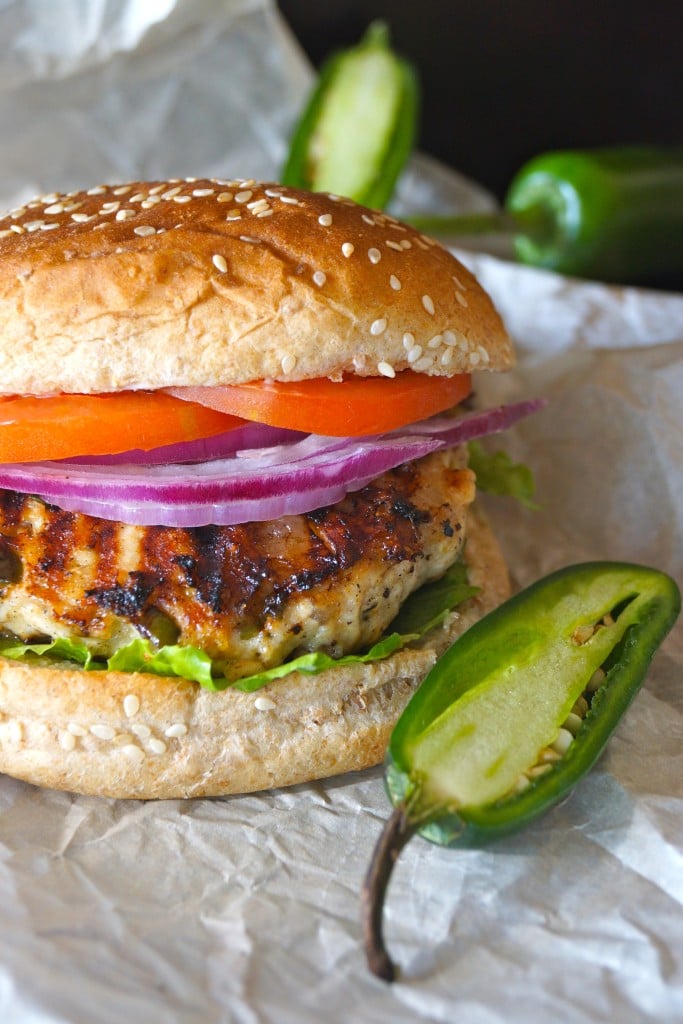 True story. . .
I'd told my parents we'd be there for my Dad's birthday dinner at 5:30 PM, with dinner in tow.
At 5:05 PM, I heard noises in the kitchen. I walked in to find my (usually perfect, and always adorable) dog licking up the last bite of my Jalapeño Pepper Jack Turkey Burgers I'd just finished cooking for dinner. The very LAST bite!
After calling my parents to say we'd be late because Maple ate our dinner, I got the kids in the car to hurry to the store to buy more ingredients. Then I whipped these burgers up for a second time inside of an hour.
My first batch — the one the dog devoured — were simply Jalapeño Turkey Burgers, and they were delicious. The second batch however, received a couple of additional ingredients, including the pepper jack cheese. Then, they became super delicious!
So I guess there was a silver lining to the dog eating our dinner. 😉
Other Ways to Cook Grilled Jalapeño Pepper Jack Turkey Burgers
I recommend grilling these burgers. I love the smoky flavor that's added from the char. However, you could just as easily sauté them in a cast iron skillet. The flavor combination will still knock your socks off.
My dad's still joking about Maple's behavior, and making fun of me for insisting that she'd later apologized. (Which is completely true, by the way.)
What to Serve with Them
Really, all you need to add is a salad or side of veggies and dinner is ready. And I always love an ice cream dessert after a burger. Don't you?
I always seem to make a big deal out of what I cook for my dad's birthday. His all time favorite birthday dessert is this Coffee Mud Pie.
I'm thinking you'll love it too.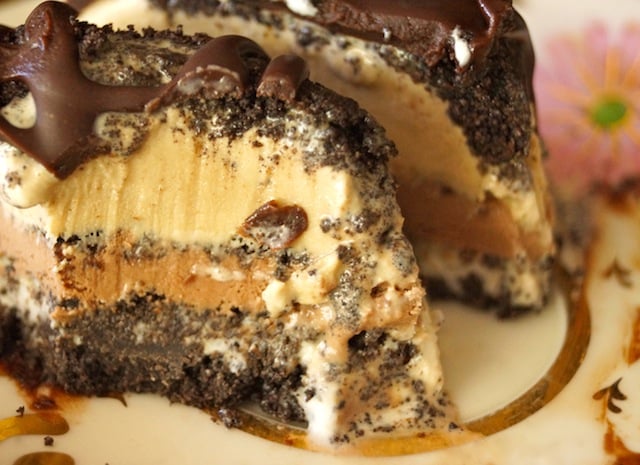 Enjoy every single bite of your super delicious Jalapeño Turkey Burgers turned Jalapeño Pepper Jack Burgers!

More of our favorite burger recipes: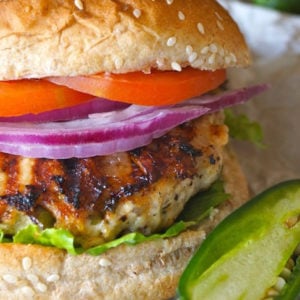 Grilled Jalapeño Pepper Jack Turkey Burger Recipe
Just imagine that rich and creamy, slightly spicy cheese added to the heat of the peppers -- all in a delicious burger!
Keyword:
summer grilling, good for summer bbq
Ingredients
olive oil for the pan and grilling

1

cup

red onion,

finely chopped

¼ to ½

cup

jalapeño peppers,

seeds removed, finely chopped (see notes)

2

teaspoons

garlic,

minced

1

pound

ground turkey

1

cup

Pepper Jack cheese,

grated

1

teaspoon

sea salt

1

teaspoon

granulated sugar

1

teaspoon

ground cumin

a few turns of freshly ground black pepper
Instructions
Coat the bottom of a medium-large sauté pan with the oil and place it over medium heat.

Add the onion, jalapeños, and garlic and sauté until the onions are soft, about 5 minutes. Set aside to cool to room temperature.

Once the onion mixture has cooled, in a large mixing bowl, combine it with the turkey, cheese, salt, sugar, cumin and pepper. Use your hands to blend all of the ingredients together so they are evenly distributed.

Preheat the BBQ or a stove-top grill, shape the turkey mixture into 4 evenly sized burgers, and drizzle them with oil.

When the grill is very hot, put on your burgers.  You should hear a sizzling sound — if you don't -- wait!  You won't get a nice caramelization and "crust" on the burger if it's not hot enough. Grill until the bottoms are nicely marked, about 3 minutes, then flip them over and reduce the heat to medium-low.  Continue grilling just until the turkey is cooked through, about another 5 minutes.

Place the cooked burgers on a plate and cover with foil.
Recipe Notes
Always taste jalapeños (or any chile peppers) before you use them. Depending on how much heat you want, you can use more or less of the suggested amount. They always vary -- from day to day, and pepper to pepper.
Cooking On The Weekends is a participant in the Amazon Services LLC Associates Program, an affiliate advertising program designed to provide a means for sites to earn advertising fees by advertising and linking to Amazon.com.
Save