Citrus Carrot Salad Recipe is as delicious as it is stunning. It's like an edible painting.  A little bit sweet, and a little bit spicy, every bite is packed with flavor.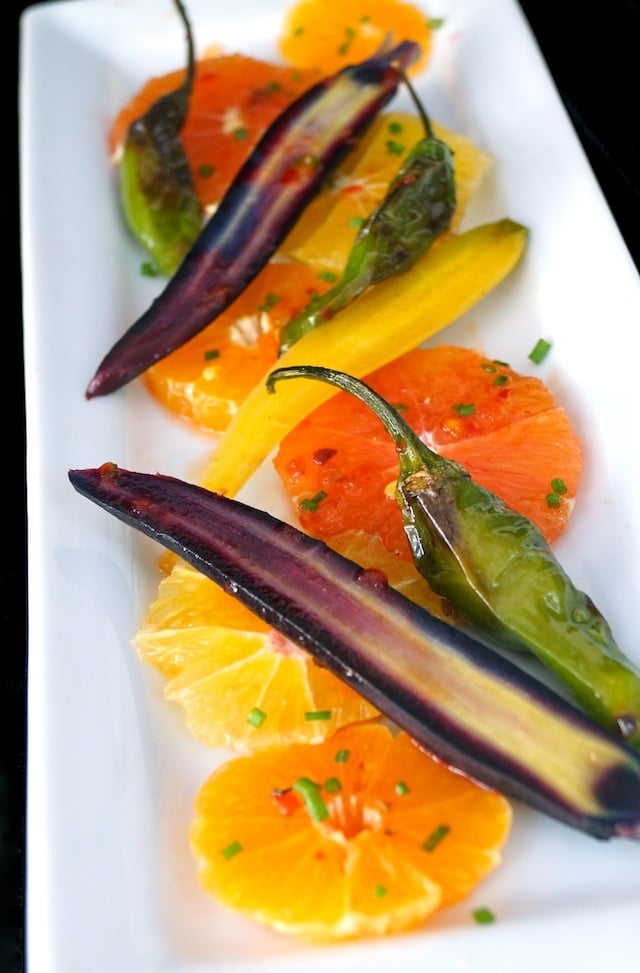 Melissa's Produce has declared the Shishito Pepper to be one of the most trendy peppers.
And today it's a key ingredient in this beautiful salad.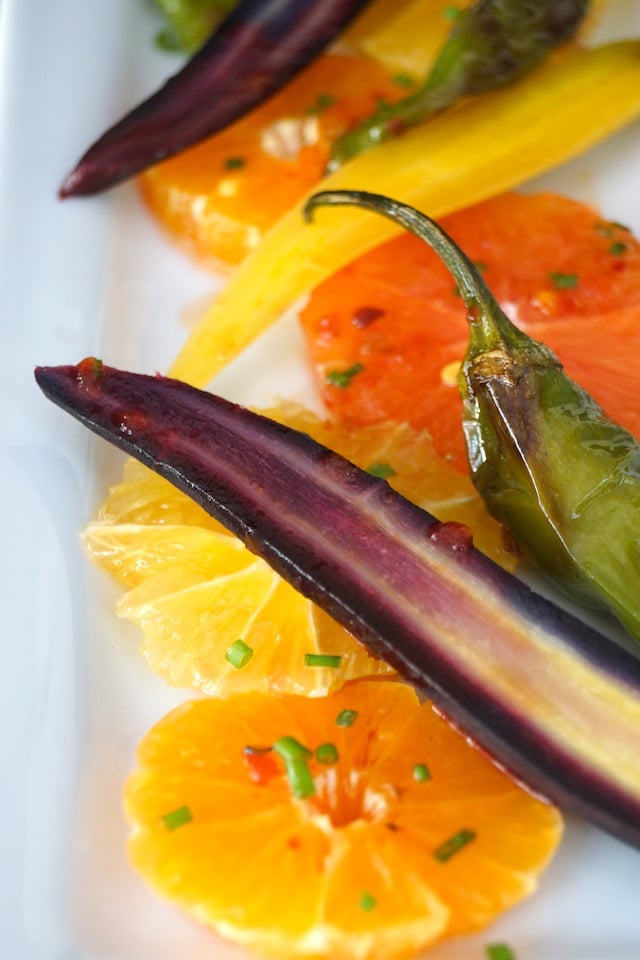 Colorful Citrus Carrot Salad
A mix of vibrant colors on a plate can stimulate the appetite and well, it's just so pretty to look at!
And it's so fun to play with produce in this way -- especially when we have such delicious and interesting choices available to us.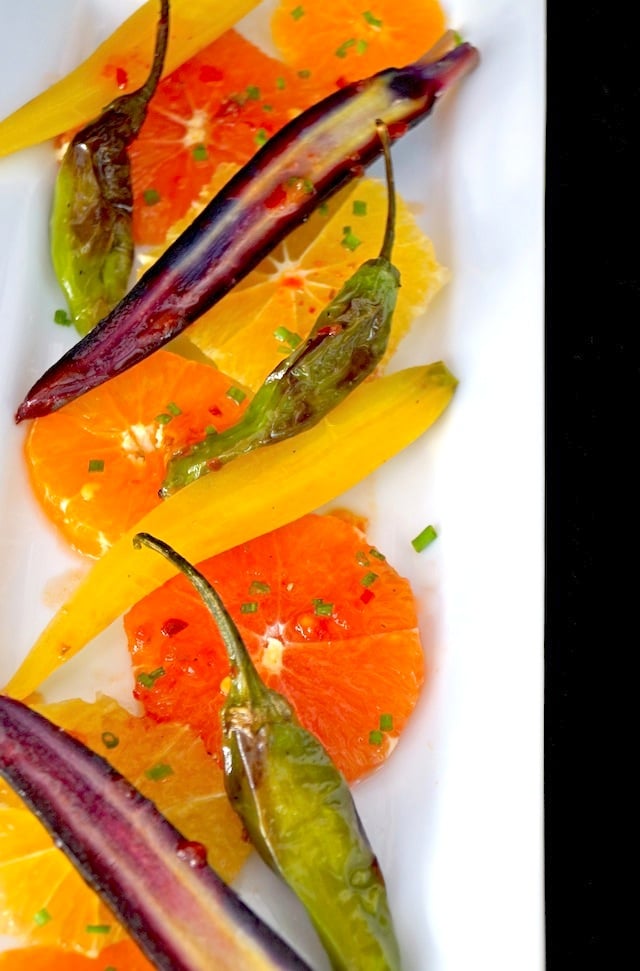 Creating a plate like this always feels like art -- it's like painting with the ingredients.
I've chosen specific citrus varieties for this salad that I love and that are currently in season. Though, you can use whatever you'd like! You'll start to see blood oranges in the markets soon, and the red would be a lovely addition.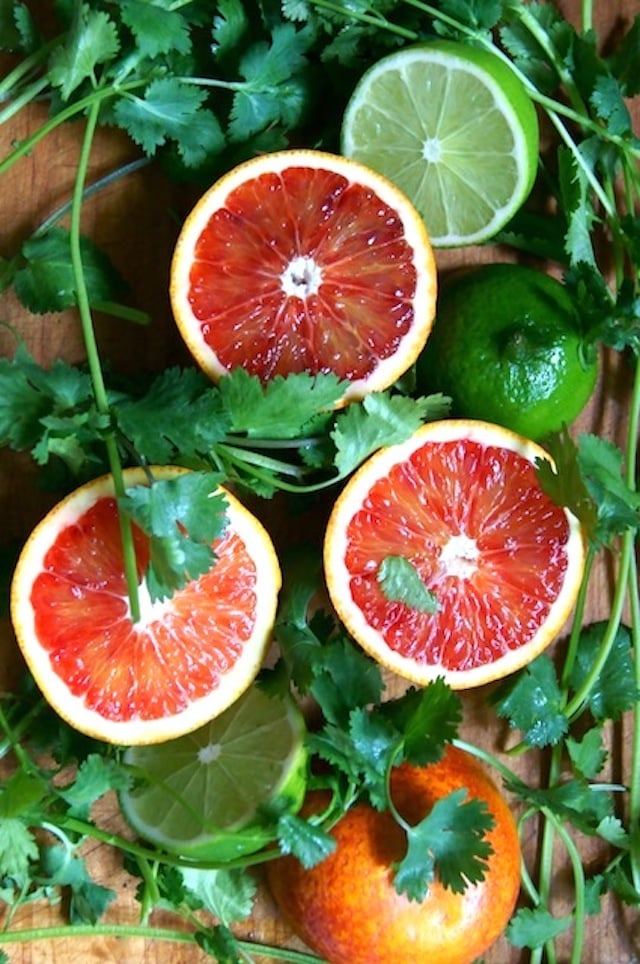 I adore the seedless Cara Cara oranges -- for their sweet flavor and gorgeous pink color!
You could also use a small Ruby grapefruit for a similar color and orange, oranges.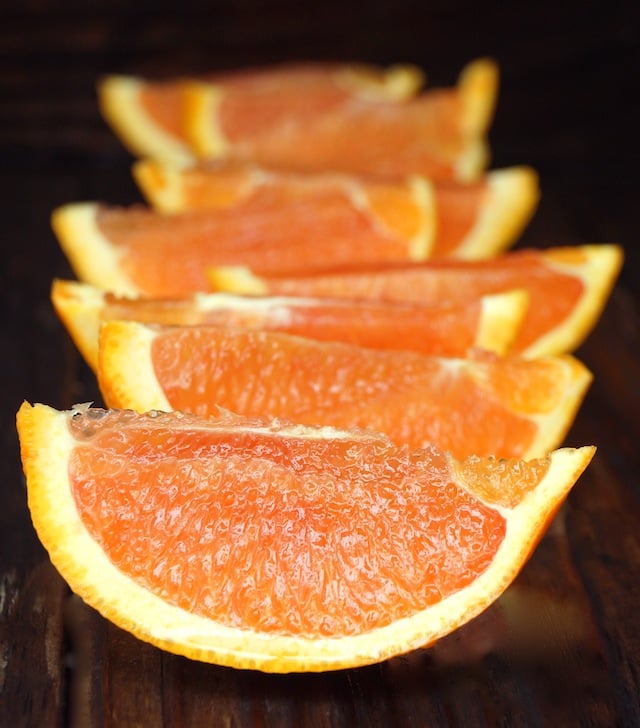 I used the sweet, small  Neapoliton tangerines from Melissa's Produce, as well as their super convenient, already peeled, baby carrots that come in a variety of colors. (I just saw that you can also get them at Trader Joe's.)
Whatever citrus you select, it's sure to be beautiful, and one of the most fun, colorful salads ever.
Tasting Citrus
Be sure to taste citrus when you can before purchasing -- the Farmers Markets typically offer samples, and you can always ask the manager of the produce section in grocery stores.  I've never had anyone say no, and you definitely want to be sure it tastes as good as it looks! 🙂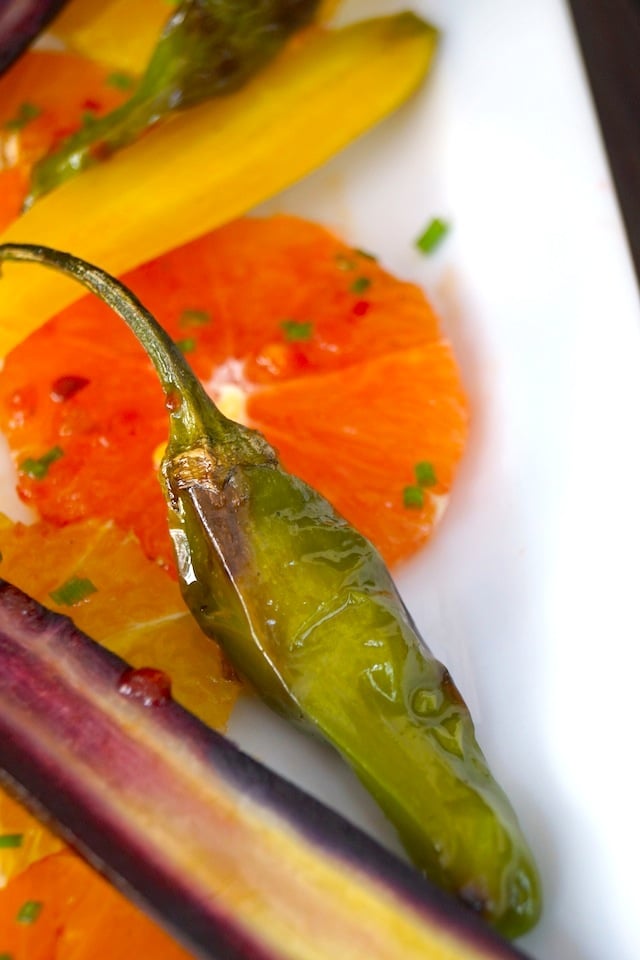 Enjoy every last beautiful bite of this Colorful Citrus Carrot Salad!
More delicious citrus recipes:
This is not a sponsored post -- Melissa's Produce invited me to a media event to learn about produce trends, and I was given a variety of produce for recipe testing.  As always, all opinions are my own.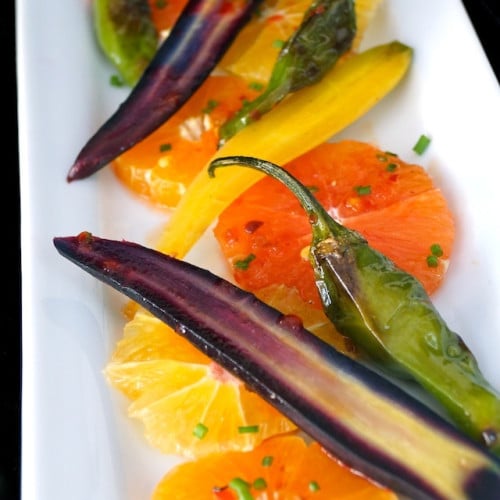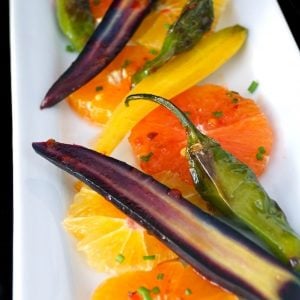 Citrus Carrot Salad Recipe
This Colorful Citrus Carrot Salad is as delicious as it is stunning. It's like an edible painting. A little bit sweet, and a little bit spicy, every bite is packed with flavor!
*Please note that you will have to sauté the Shishito peppers before assembling this salad. It should 10 minutes. (Here's
how to sauté the Shishito peppers
.)
Ingredients
2

tablespoons

fresh lemon juice

1 ½

teaspoon

honey

1

teaspoon

chili paste

(I like Sambal Oelek)

6

baby carrots,

varying in color

3 to 4

small tangerines,

(Neapolitan, Satsuma, and/or Ojai Pixies are great)

2

Cara Cara oranges

1

Cocktail Grapefruit

a few

chives for garnish,

finely chopped
Instructions
In a very small bowl, mix the lemon juice with the honey and chili paste. Set aside.

Fill a small bowl with ice water and set aside. Then peel the carrots and cut off the tops, leaving about ½ inch on. Place them in a steamer basket and steam over medium-high heat just until they're easily pierced with a fork, about 5 to 7 minutes.

As soon as the carrots are done, add them to the bowl of ice water for a few seconds. (This stops the cooking process and helps keep the color.) Pat the carrots dry with a paper bowl and then slice them in half lengthwise. Set aside.

Keeping them whole, peel the tangerines and then slice them horizontally into even-sized rounds, about ¼-inch.

Use a paring knife to peel the grapefruit and oranges. First, slice about ½-inch off of each end. Then stand them on one of their flat surfaces, and use the knife to carefully cut just between the pith and flesh, moving the knife downwards and following the curve of the fruit. Continue until peeled. (

Here's a photographic guide to peeling citrus this way.

)

Now slice the oranges and grapefruit horizontally into even-sized rounds, about ¼-inch. (The grapefruit will have seeds -- just use the tip of a knife to remove them.)

Now arrange the peppers, carrots and citrus evenly among four plates.

Sprinkle each one with the chives and drizzle with the dressing.
NUTRITION
Have you tried this recipe?
I'd love to see it on Instagram! Tag me at @cookingontheweekends or leave a comment & rating below.
Cooking On The Weekends is a participant in the Amazon Services LLC Associates Program, an affiliate advertising program designed to provide a means for sites to earn advertising fees by advertising and linking to Amazon.com.
Save