Dragon Fruit "Ice Cream" with Pomegranate Glaze is a trick AND a treat! This exotic Dragon Fruit dessert is the most delicious way to elevate your Halloween meal -- or any meal.
First, what is Dragon Fruit?
This delicately sweet fruit is an exotic cactus that was originally grown in Central America. Now Dragon fruit grows mostly in southern California and Florida.
The exterior color ranges from yellow to hot pink to red, with touches or yellow and green. The interior color of Dragon Fruit can be white or magenta — and sometimes somewhere in-between. Those that are magenta are the sweetest.
What does Dragon Fruit Taste Like?
Dragon Fruit tastes like a blend of a soft pear and kiwi, with a wonderful and subtle crunch from the tiny black seeds.
Photo Credit for above magenta Dragon Fruit: melissas.com
Dragon Fruit for Halloween
I've never really been into scary or gory stuff. For Halloween or otherwise.
I do however love cute and/or pretty. For just about everything, including food.
So when Melissa's Produce challenged a handful of food bloggers to use some of their freaky fruits to make something for Halloween, I had a pretty idea for a Dragon Fruit dessert that in is both and a trick and a treat.
Photo credit for Freaky Fruits image: Melissas.com
I decided to use Dragon Fruit, pomegranate and finger limes to make Dragon Fruit "Ice Cream" with Pomegranate Glaze.
There's really not too much to it, as it's essentially only three ingredients and is all about the presentation.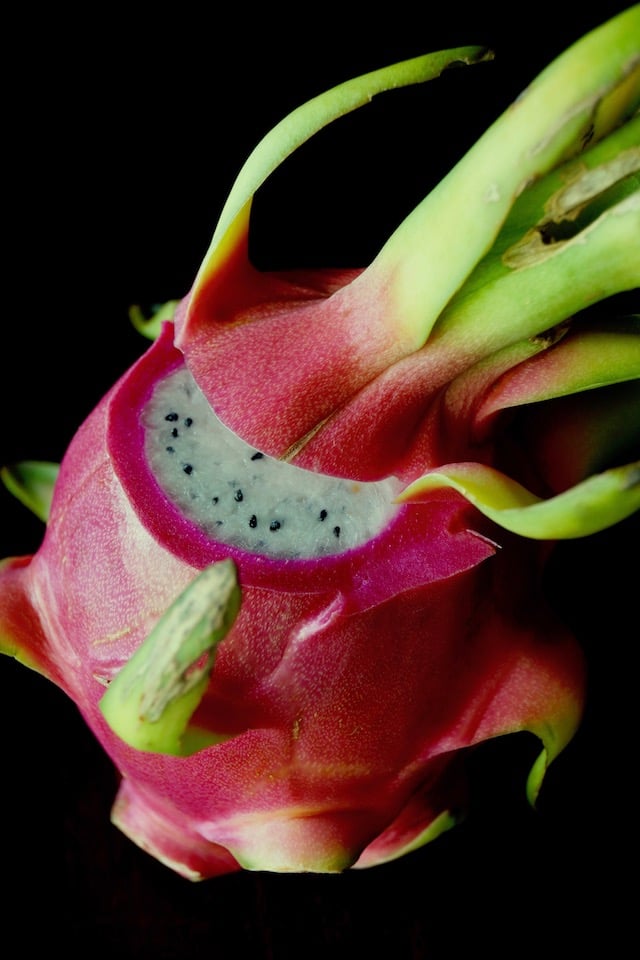 A Trick and a Treat!
The treat. The treat is the super tasty, naturally sweet dragon fruit.
The trick. The trick is that it's presented to look like ice cream, but of course it's not.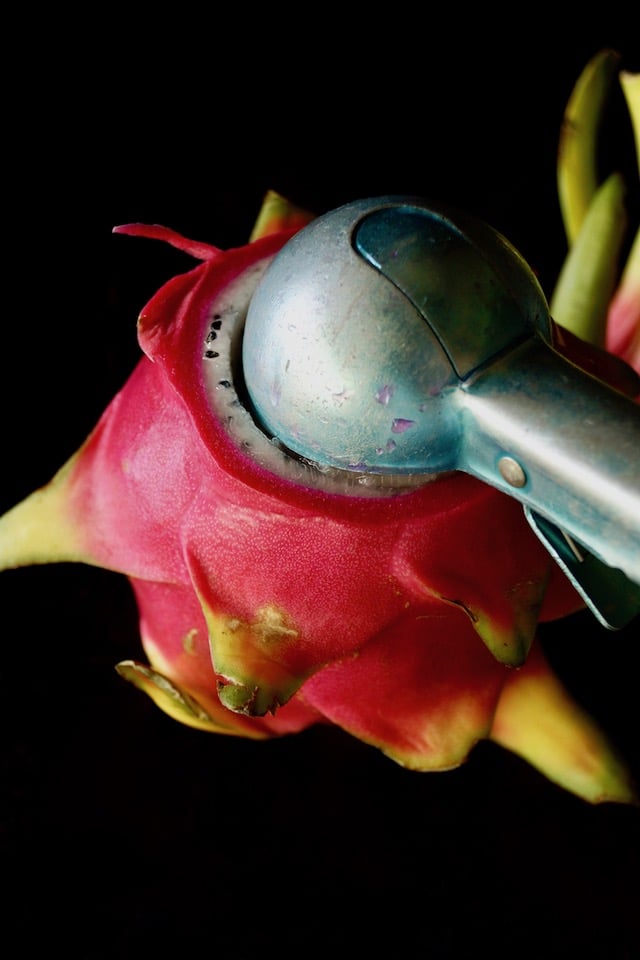 I know, it's not a huge trick — but, at first glance you might not know what you're looking at.
To my point, my son took one look at it, and thought it might be sushi rice with black sesame seeds. Not a bad guess.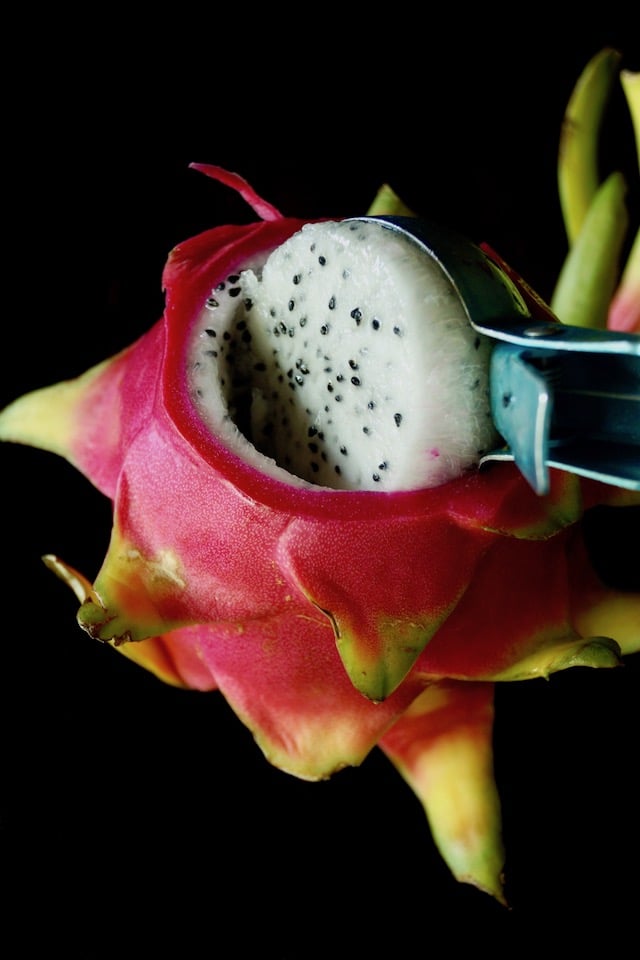 I treated the Dragon Fruit like a pint of ice cream.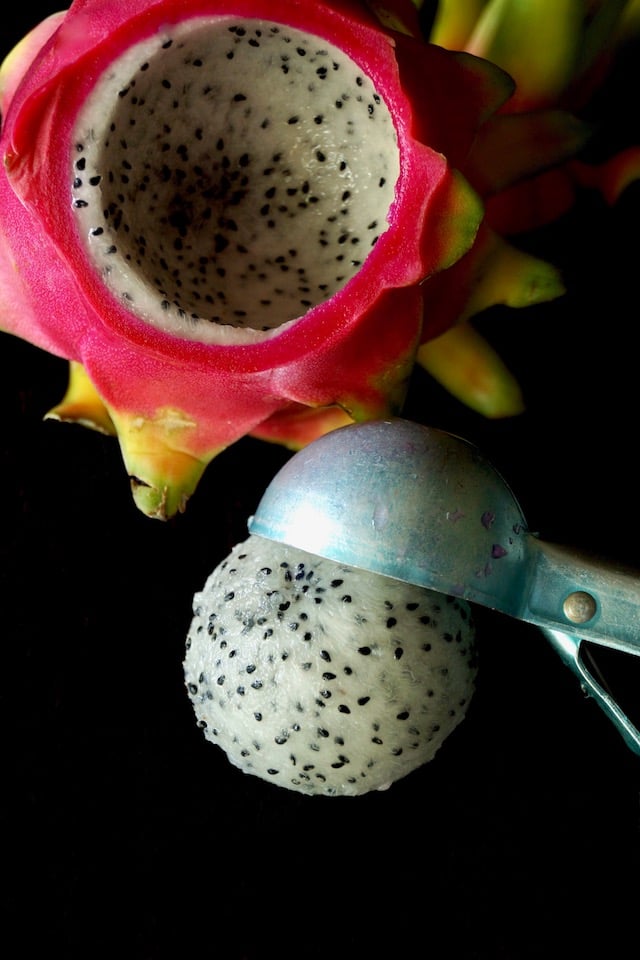 I liken cutting off the top of the fruit to removing the lid from the carton. Then the fruit is scooped out, just as ice cream would be.
Pomegranate Glaze
First the pomegranate is blended into a juice and then strained.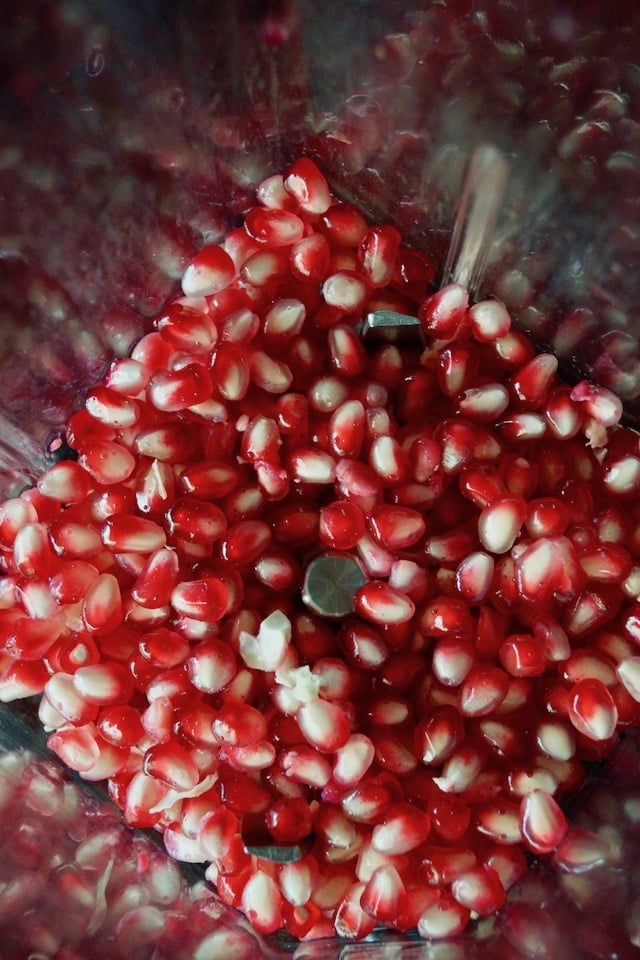 It's then cooked into a syrup which is drizzled over the Dragon Fruit scoops, adding to the allure of this dessert.
Never seeded a pomegranate? Here's how.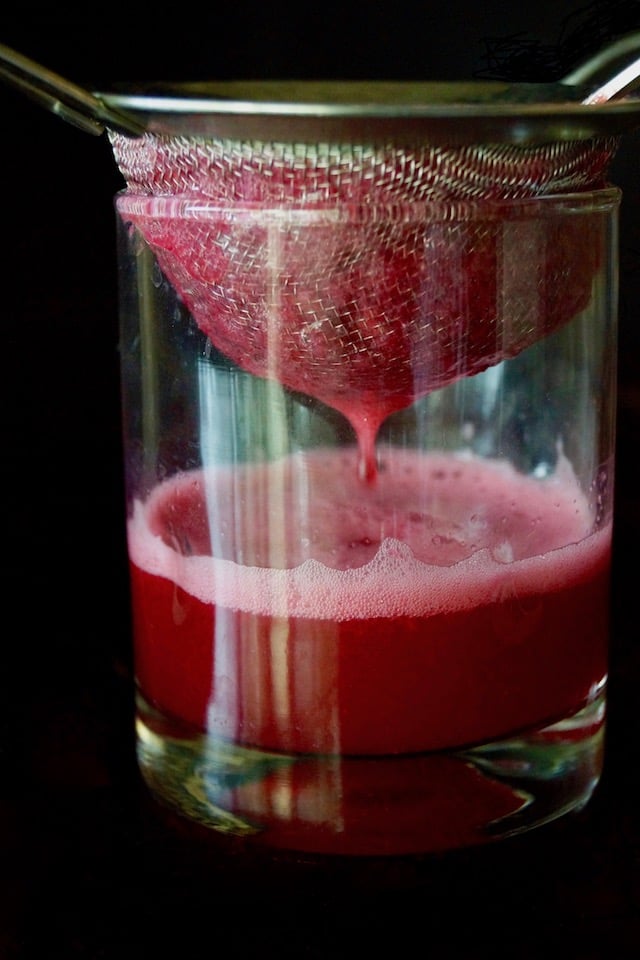 And a delicate touch of finger lime, gives it just a hint of tart crunch that brings the whole thing together.
You can learn more about finger limes here.
My Dragon Fruit "Ice Cream" with Pomegranate Glaze is elegant enough for a fancy dinner party, and fun enough for an after school snack for the kids.
And pretty enough for any occasion!
This Dragon Fruit dessert is light, health and fun.
Other Ways to Eat Dragon Fruit
There are some foods that I think are better left untouched. Meaning, they're not used in a recipe, but are simply eaten and admired just as they are -- like the "Ice Cream."
You can also easily be scoop the flesh into tiny balls like this . . .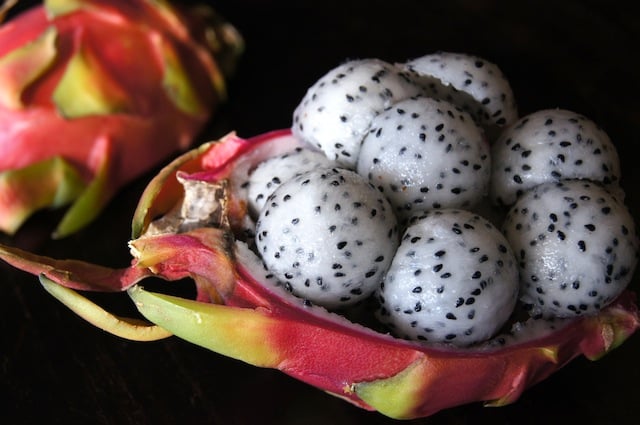 You can also use a knife to peel it, keeping it whole, and then you can slice or dice it any way you like.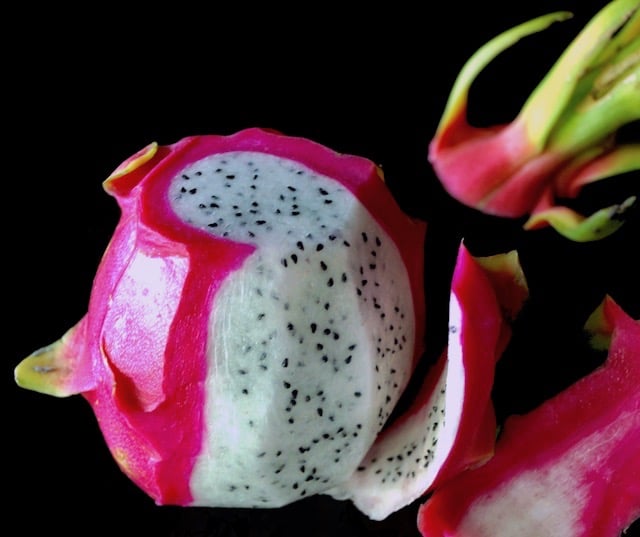 Even the emptied skin is beautiful.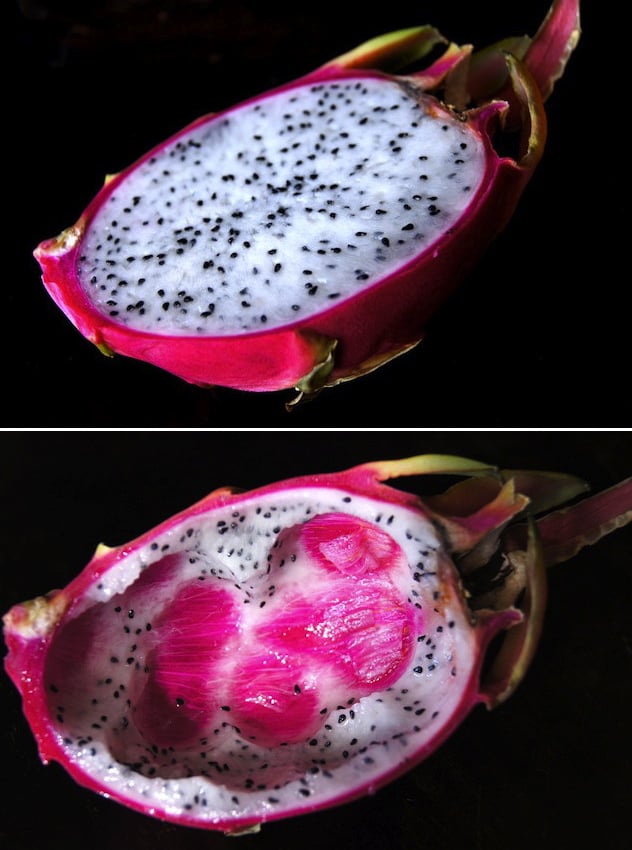 Dragon fruit is also lovely in sorbet, ice cream and cocktails.
A couple more Halloween treats . . .
Oh, and these Witch Finger Grapes are another fun fruit for Halloween, too.
This is not a sponsored post. Melissa's Produce invited me to participate in a contest using some of their Freaky Fruits, and provided me with those I used in this recipe.
Dragon Fruit "Ice Cream" with Pomegranate Glaze
This exotic fruit dessert is the most delicious way to elevate your Halloween meal this year.
Ingredients
2

tablespoons

granulated sugar

2

dragon fruit (white interior)

2

finger limes
Instructions
Make the glaze. Add the pomegranate seeds to a blender and and blend until it looks like juice, about 10 seconds. Strain, and then pour the juice into a small saucepan and add the sugar to it. (You should have about ½ cup of the juice after straining.)

Place the pan over high heat and bring to a boil. Immediately turn the heat to low and simmer until it thickens to a syrup consistency, and is reduced by about half.

Prepare the Dragon Fruit. Cut the tops off the dragon fruits (see above images). Use an ice cream scoop to scoop out as many scoops as possible from each one. Treat the tops as the lids to a pint-sized container of ice cream.

Assemble. When you serve the dragon fruit scoops, drizzle the desired amount of pomegranate syrup over it, and add about ½ teaspoon of finger lime "caviar" to each one.
NOTES
If you can't get your hand on finger limes, a little fresh lime juice is great, too.
NUTRITION
Have you tried this recipe?
I'd love to see it on Instagram! Tag me at @cookingontheweekends or leave a comment & rating below.