Serving a guest a Rambutan Martini (AKA Rambutini), at your next dinner party, will make you a star! The exotic rambutan fruit lends itself to this refreshing, festive rambutan cocktail.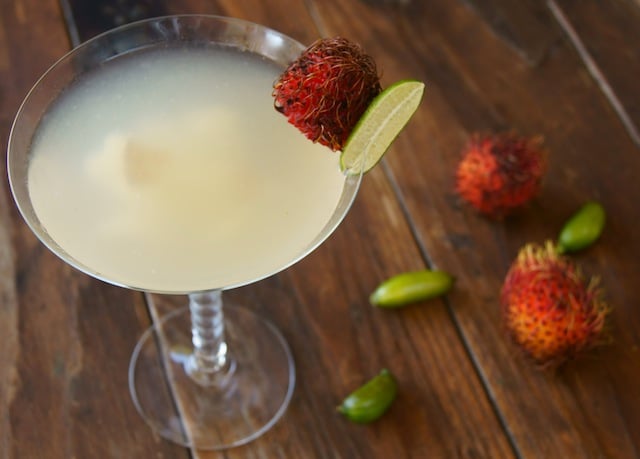 A Rambutan Martini Recipe -- I'm calling it a Rambutini.
Have you ever seen a rambutan? Tried one?
Inspiration for the Rambutan Martini
Many moons ago, I learned about these jewels, and recently I was sent a bundle of this super cool, exotic fruit from Melissa's Produce.
What is a rambutan?
It's a very beautiful and unique looking fruit that's closely related to a lychee.
What does a rambutan taste like?
While its delicious sweet taste is similar to that of a lychee, it's slightly firmer in texture and a bit less sweet -- though still quite sweet!
So, it's somewhat like an extra sweet grape, without the skin and a with a pit in the center.
Where to find them?
You should be able to find rambutans in Asian markets, and in many specialty produce sections of major grocery stores.
When are rambutans in season?
Their season seems to vary, depending on where they're grown, but it's roughly July through October.
I haven't seen too many rambutan recipes, and I'm pleased with my first creation using them.
This is a delightful tropical cocktail to serve at your next dinner party!
Recipe Tips and Notes
You can also make a lychee martini, simply substituting them for the rambutan. You can likely find both fruits canned, and that will work, too. However, it's much more fun to use fresh, if you can find them.
If you can't find rambutans at your local Asian market, you can order them

here

.
Did you happen to notice those pretty, unusual limes? Those are

Finger Limes

.
Please use a good vodka -- I like Ketel One or Belvedere.
Fun fact: Though rambutan may look prickly, they're not at all -- they're soft! Their name comes from the Malaysian word for hair, "rambut".
Cheers with a Rambutan Martini!
I hope to make more rambutan recipes in the future, and when I do, I'll be sharing them with you here.
More recipes using rambutans: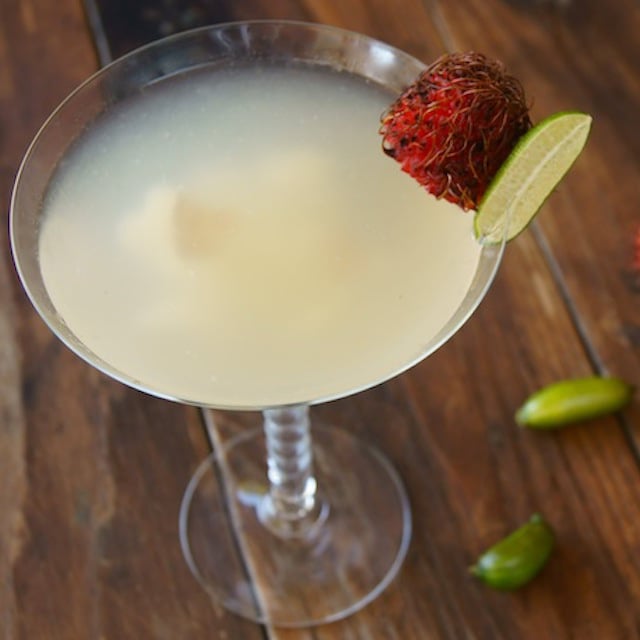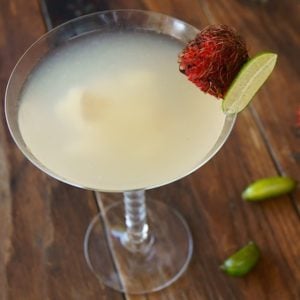 Rambutan Martini Recipe
Serving a guest a Rambutan Martini (AKA Rambutini), at your next dinner party, will make you a star! This exotic fruit lends itself to this refreshing, festive cocktail.
Ingredients
¼

cup

sugar

¼

cup

water

8

fresh rambutans

4 to 5

ounces

vodka

2

teaspoons

lime juice

½

teaspoon

vanilla

1

cup

ice
Instructions
Make simple syrup. Add the sugar and water to a small sauce pan and place it over medium-high heat. Heat just until the sugar has dissolved, then pour this into a small bowl to cool. (This is called simple syrup.)

Prepare the rambutans. Peel and pit the rambutans. A ripe rambutan should be easy to peel with your fingers. (You might need to make a small cut at the top to get you started.) Be very gentle as you carefully remove the thin skin from the fruit.  It will likely come off in just a few pieces.

Now use your fingers to dig into the flesh of the rambutan to remove the pit. It should very easily slide right out. Now use your fingers to dig into the lychee a bit to remove the pit.

You'll notice a very thin, white layer from the white pit, that will remain on the the inside of the fruit.  Don't try to remove this — it's very soft and doesn't detract from the flavor of the fruit. (If you try to remove it, you might loose a lot of juice in the process.)

Mix all of the ingredients. Place the rambutans in a cocktail shaker. Add the vodka, lime juice, vanilla, ice, and cooled simple syrup. Cover and shake fairly vigorously for about 30 seconds.

Strain. Strain into two martini glasses and add a few of the pieces of the rambutan flesh that you strained out as well.

Garnish. Garnish each glass with a small lime wedge and part of the rambutan skin. (Use a paring knife to make a small slit in each, to attach it to the rim of the glass.)
NOTES
Calorie count is only an estimate.
NUTRITION
Have you tried this recipe?
I'd love to see it on Instagram! Tag me at @cookingontheweekends or leave a comment & rating below.
Cooking On The Weekends is a participant in the Amazon Services LLC Associates Program, an affiliate advertising program designed to provide a means for sites to earn advertising fees by advertising and linking to Amazon.com.