Herb Roasted Sunchokes, often called Jerusalem Artichokes or Sunflower Chokes, are an unusual and delicious vegetable. They make for a lovely fall side dish, or can be added to salads and other recipes.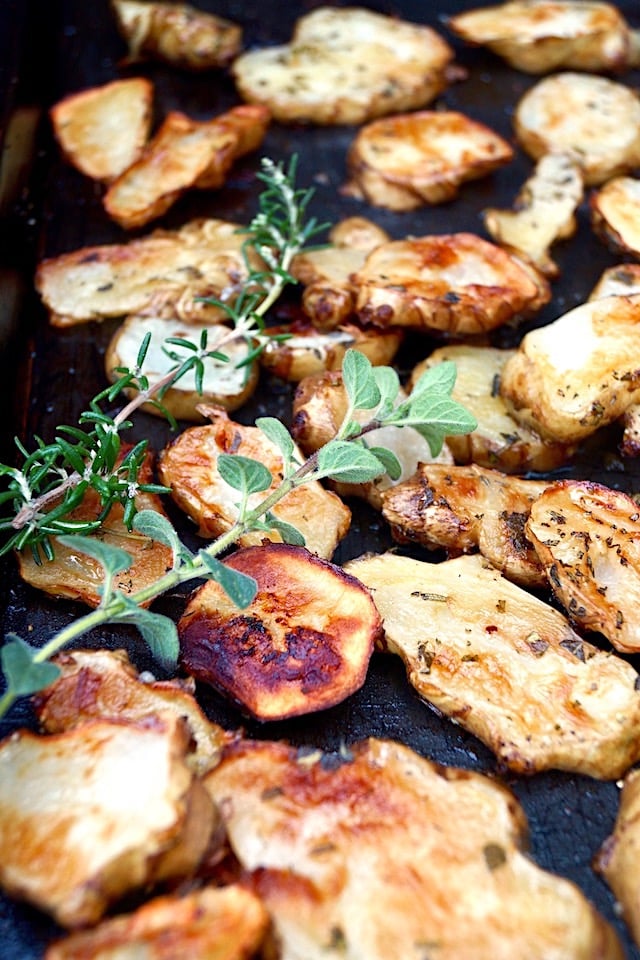 Both my grandparents on my mom's side never tasted a food they didn't like the look of. My grandmother always hated olives, but she'd never had one because she didn't like the look of them. And my grandfather thought mushrooms were the worst, but he'd never tried one. (At least he thought he'd never tried one. Every year they were in my mom's Thanksgiving stuffing, and he never even knew it.)
All of that to say, I think sunchokes are one of those foods that people just might not like the look of and not ever try. And they'd be missing out! Especially with these delicious Herb Roasted Sunchokes which are roasted to a golden crisp perfection.

What is a sunchoke?
A variety of a sunflower root, a sunchoke is a brown, lumpy tuber vegetable that resembles ginger root.
Sunchokes are sometimes referred to as Jerusalem Artichokes, though they're not an

artichoke

nor are they from Jerusalem.

Here's

some history about their name.
Their delicate flavor is nutty, subtly sweet and reminiscent of an artichoke or cauliflower.
Though they're not starchy, they're often compared to potatoes.
The texture of a raw sunchoke is crisp and crunchy, and soft when cooked, similar to a potato or cauliflower.
Instead of starch, inulin is the carbohydrate found in sunchokes.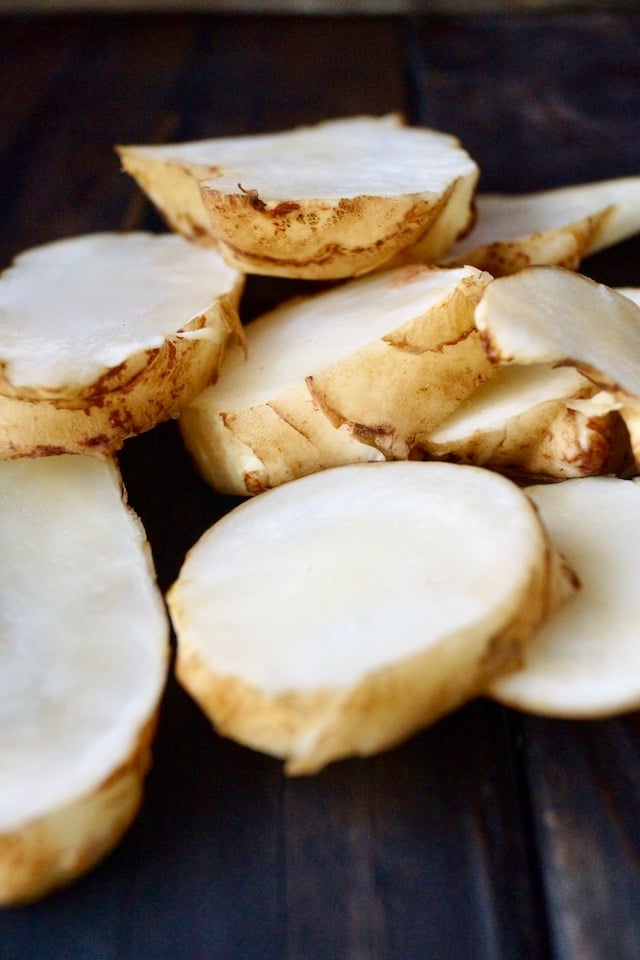 A word of caution . . . The inulin can cause gas and bloating — in some people. That said, a sensitivity to inulin varies from person to person and not all sunchokes contain the same amount of inulin.
My husband and I had no problem eating a bowl of these yummy herb roasted sunchokes, however, based on my research of this interesting, tasty vegetable, maybe take it slow the first time you try them. Just saying. 😉
How do you eat and cook a sunchoke?
With eatable skin, sunchokes can be eaten raw or cooked. They taste similar to a water chestnut when raw, and I much prefer them cooked.
You can roast, fry, sauté, or even grill sunchokes.
Sunchokes can also be cooked, puréed and made into delicious soups.
So there are a lot of ways one could work with this odd looking tuber, but I do hope you'll give the herb roasted sunchokes a go because I suspect you'll love them.
When are sunchokes in season?
Sunchokes are in season from approximately October to April.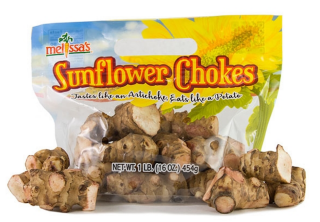 You should be seeing them in stores now. They are in Gelson's Market, Bristol Farms and Whole foods. You can also find them here at Melissa's Produce.
Enjoy!
This is not a sponsored post.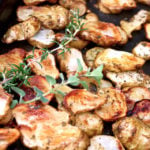 Fresh Herb Roasted Sunchokes Recipe
Often called Jerusalem Artichokes or Sunflower Chokes, Sunchokes are an unusual and delicious vegetable. They make for a lovely fall side dish, or can be added to salads and other recipes.
Keyword:
unique vegan sides, vegan side dishes
Ingredients
1

pound

sunchokes

2

tablespoons

olive oil

2

teaspoons

fresh rosemary,

finely chopped

2

teaspoons

fresh oregano,

finely chopped

salt and freshly ground black pepper
Instructions
Preheat the oven to 450 degrees and adjust a rack to the center.

Wash and dry the sunchokes and cut them into 1/4 to 1/2-inch slices.

Drizzle the olive oil on a sheet pan and then add the sun choke slices. Mix to be sure they're well coated. Now sprinkle them with the herbs and mix again.

Season generously with salt and pepper and place the sheet pan in the oven. Roast until the bottom of the slices are golden brown, about 10 minutes. Flip the slices over and repeat.

Let them cool and serve.
Save
Save
Save
Save
Save