Korean Pear Marinated Steak is full of delicious sweet and savory Asian flavors. Fabulous with a side of refreshing slaw, it's perfect for an indoor or outdoor dinner party.
You know how different art mediums can be applied in different ways? For instance, you can apply paint to a canvas in fine strokes with a brush, or use a sponge to add texture. You can paint on cement to get a rough effect or on silk for something totally different.
Take a Korean pear, for example. If I slice it and add it to a salad, it's crunchy, and the aesthetic star of the salad. I can also bake the pear to completely change its texture and create a warming dish for a winter day.
Or I can do what I've done in this recipe today — purée the pear and marinate the steak in it. It imparts its flavor and aroma, while at first glance, you don't even know it's there.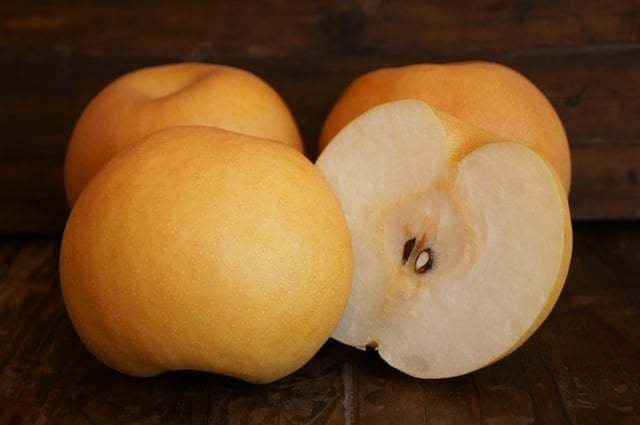 What's in the Korean Pear Marinade?
grated Korean Pears
Mirin (sweet rice wine)
soy sauce (preferably low-sodium)
sesame oil
grated ginger
scallions
sake
pepper, sugar
togarashi (mix of dried chile peppers)
What to Serve with Korean Pear Marinated Steak
My

Asian-Style Slaw

is a great vegan dish, but if you're a meat eater, I highly recommend serving it with this steak.
It's even more amazing if you add the steak and the slaw to a sandwich with a thin spread of

Chipotle Aioli

. Seriously, it's so good!
Of course the steak is also great alongside most green salads and with all sorts of potato dishes.
Recipe Tips
The recipe describes how to grill the steaks, but you can also cook them in a sauté pan. Just follow the same directions, only adding a bit of the grapeseed oil to the pan as you preheat it.
While I'm featuring Korean pears, you could also use Bosc or another firm pear.
Melissa's Produce's Korean Pears are available in most major grocery stores October through March.
Korean Pear Marinated Steak
Korean Pear Marinated Steak is full of delicious sweet and savory Asian flavors. Fabulous with a side of refreshing slaw, it's perfect for an indoor or outdoor dinner party.
Ingredients
⅓

cup

Mirin

⅔

cup

low-sodium soy sauce

2

tablespoons

sesame oil

2

teaspoons

garlic,

minced

1

tablespoon

ginger pulp

1

Korean pear,

peeled, finely grated (use a fine grater and you will create a purée, which is perfect)

2

scallions,

finely chopped

½

teaspoon

freshly ground black pepper

1

teaspoon

granulated sugar

2

tablespoon

sake

2

(8-ounce)

Rib Eye steaks
Instructions
Place the Mirin in a small sauce pan over high heat. Bring to a boil and then turn the heat to low and simmer to reduce by about a third, and let it cool.

Add the cooled Mirin, soy sauce, sesame oil, garlic, ginger, pear, scallions, pepper and sugar, to a medium-sized mixing bowl.

Whisk until all of the ingredients are evenly combined.

Pour this marinade into a shallow container or heavy-duty zip-lock bag, place in the refrigerator, and marinate the steaks for at least 30 minutes, and up to 2 hours.

After the steaks have marinated, remove them and set aside on a plate. Place the remaining marinade in a small sauce pan and add the sake. Bring it to a boil, and let it simmer on low heat to reduce by about a quarter. Set aside.

Preheat a grill over high heat. Season the meat lightly with salt and pepper and drizzle with grape seed oil. Once the grill is very hot, cook the steaks to desired doneness. For medium-rare, 3 to 4 minutes per side. You should hear a sizzling sound when the steak hits the grill -- if you don't, wait until it's hot enough. Let steaks rest for at least 5 minutes, slice thinly against the grain, and spoon the cooked marinade over it and sprinkle with a bit of Togarashi.
Have you tried this recipe?
I'd love to see it on Instagram! Tag me at @cookingontheweekends or leave a comment & rating below.
Cooking On The Weekends is a participant in the Amazon Services LLC Associates Program, an affiliate advertising program designed to provide a means for sites to earn advertising fees by advertising and linking to Amazon.com.
This is not a sponsored post. All opinions are my own.
Save