Red Goddess Grilled Flank Steak is so delicious. Marinated in a sauce that's made with red peppers, onions, garlic, spices and fresh herbs, it will be a huge hit at your at your next dinner party or barbecue!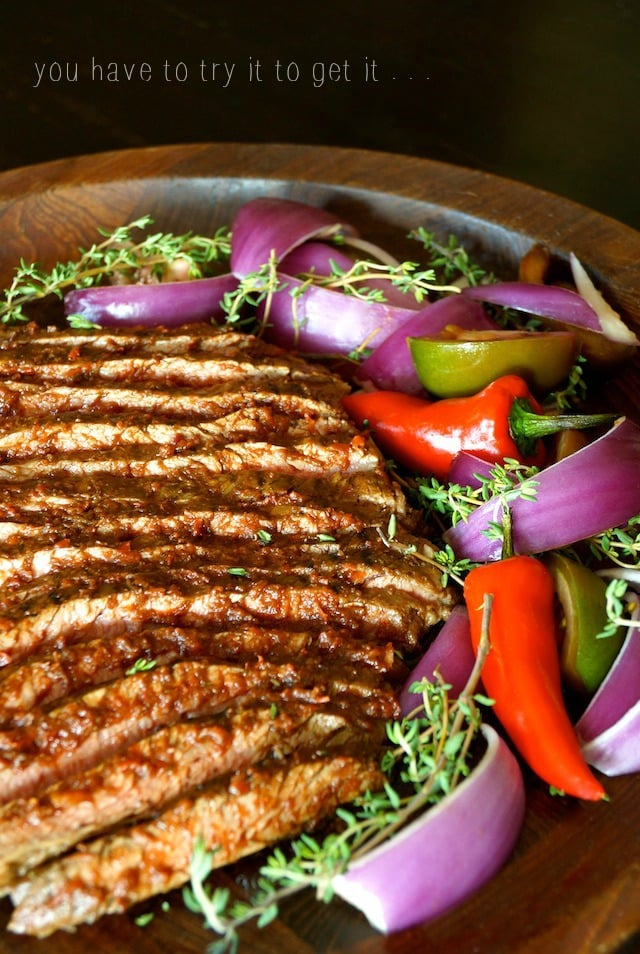 Red Goddess Grilled Flank Steak is Irresistible!
At the end of a meal, when I'm faced with a serving platter with a few bits of steak left, and some crazy delicious sauce still remaining along its surface, I find it nearly impossible to get into the kitchen before I go at it. Which I only do if there are guests -- otherwise, why would I even get up!? 😉
This is totally the case with this recipe.
You see, the steak is marinated in the so delicious Red Goddess Sauce.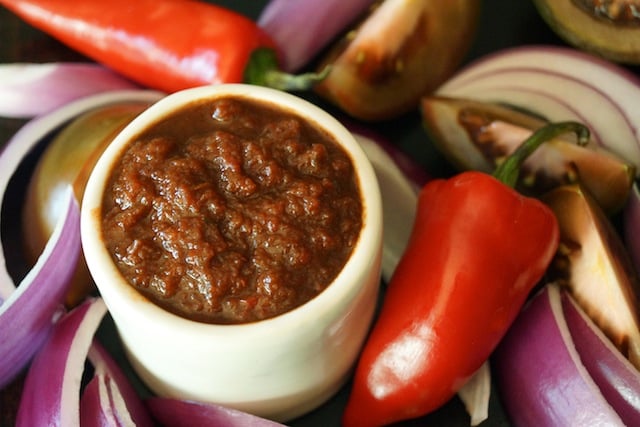 What's in this recipe?
Flank steak -- Flank steak is great for grilling because it cooks very quickly.
Red Goddess Sauce -- This is made of red bell pepper, red onion, red jalapeño pepper, tomatoes, thyme, red wine, honey, sweet paprika and cinnamon.
You're hungry now, right? 😉
The Red Goddess sauce is fantastic! When I make it, I make a really big batch so that I have it on hand for recipes like this one.
What to Serve With it
Here are a few delicious ideas . . .
This steak is great for a weekend barbecue and here's a bonus . . . it also slices beautifully for sandwiches.
I hope you try this, because you have to get just how delicious it is. Enjoy every bite.
Red Goddess Grilled Flank Steak Recipe
Red Goddess Grilled Flank Steak is so delicious. Marinated in a sauce that's made with red peppers, onions, garlic, spices and fresh herbs, it will be a huge hit at your summer barbecue!
Ingredients
1

approximately (2-pound)

flank steak

salt and freshly ground black pepper
Instructions
Marinate. Add the Red Goddess Marinade to a large, heavy-duty zip-lock bag. Trim any excess fat off of the steak and then add the meat to the bag. Move it around to be sure it's well coated. Remove the air from the bag and seal it. Then place this bag into a second bag -- to ensure it doesn't leak. Marinate for about 24 hours in the refrigerator.

Grill. When you're ready to to cook, remove the marinated steak from the bag and let any excess marinade run off back into the bag. (Don't throw out the marinade!) Place the steak on a large plate and then season both sides with salt and pepper.  Heat a stove-top grill or outdoor BBQ, and once it's very hot, add the steak. (If you don't hear a sizzling sound, it's not hot enough. Wait for the sizzle!) Turn the heat down just a bit and then grill the steak until it's cooked the way you like it -- for medium-rare, about 8 minutes. Turn the steak over about half way through the grilling time.

Heat marinade/make sauce. While the steak is grilling, pour saved marinade into a small saucepan. Place the saucepan over high heat, bring to a boil, and then reduce to low and simmer to reduce it by about ¼, 15 minutes or so. Season it generously to taste with salt, pepper and a bit more honey if necessary. (Here's How to Season to Taste.)

Assemble and serve. Place the meat on a plate and loosely cover with foil. Let it rest for at least 10 minutes. Slice thinly, against the grain, and drizzle the sauce over it.
NOTES
Calorie count is only an estimate.
NUTRITION
Have you tried this recipe?
I'd love to see it on Instagram! Tag me at @cookingontheweekends or leave a comment & rating below.
Cooking On The Weekends is a participant in the Amazon Services LLC Associates Program, an affiliate advertising program designed to provide a means for sites to earn advertising fees by advertising and linking to Amazon.com.