Cilantro Shrimp Burgers are a super unique twist on a burger. Shrimp burger patties are topped with a delicious smoky guacamole recipe and they're bursting with fresh flavors. Great for lunch, dinner, and outdoor summer parties.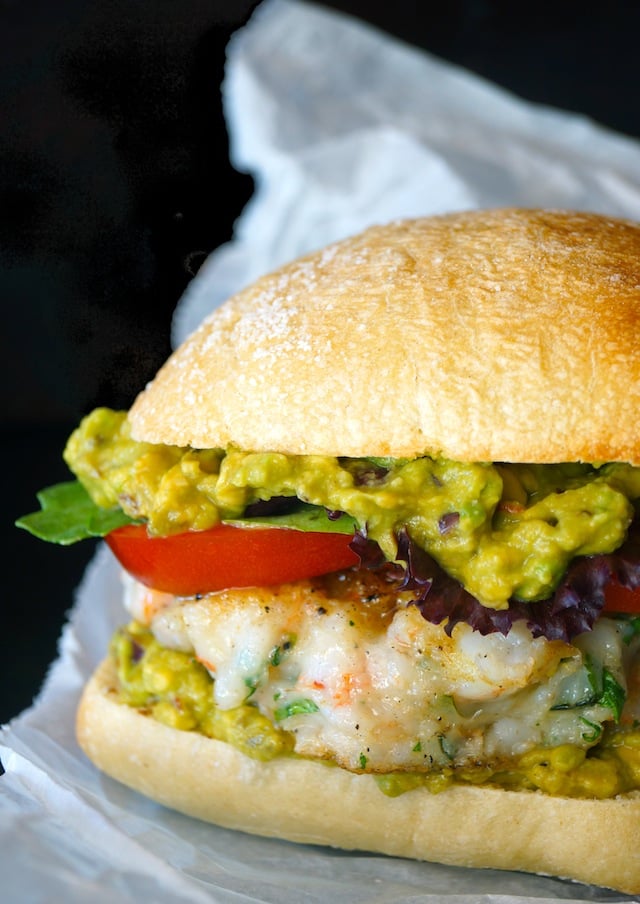 I'm going to be in full bragging mode and tell you that you absolutely, must, without question, make this shrimp burger recipe!
There are so many ways to make and define a burger these days! Beef (of course!), turkey, chicken, veggie, tofu, mushroom, and the list goes on. So why not shrimp!?
Can I buy already peeled and deveined shrimp?
Yes, of course! Though if you have the time, it's quite easy to peel and devein your shrimp. Here's an easy-to-follow, step-by-step photographic guide to teach you how.
You'll always save money doing this step yourself! So it's a question of if you have the time or not. It's sort of a zen-like activity, once you get into it. (For me, anyway.)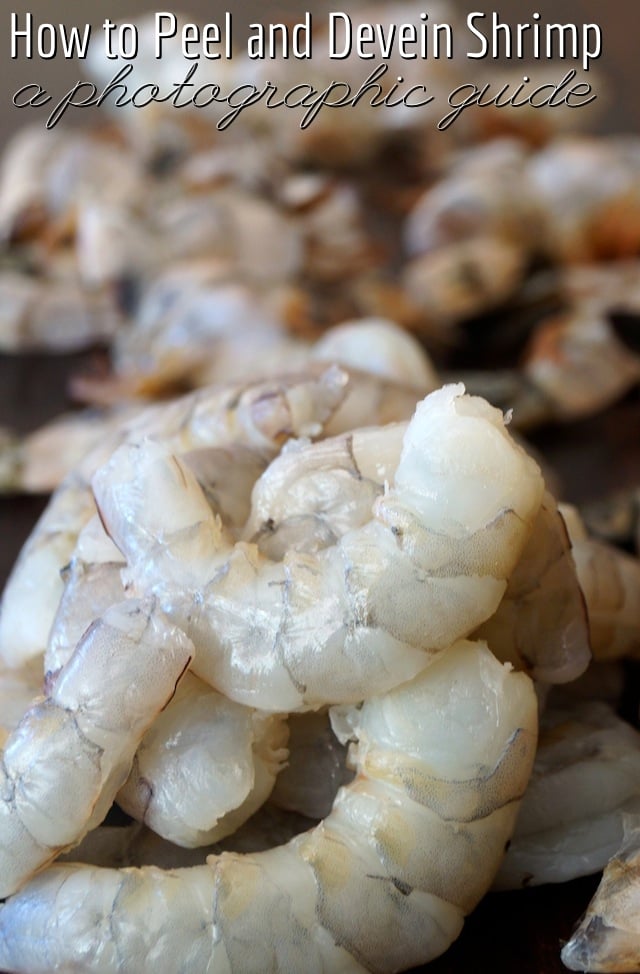 What do these Cilantro Shrimp Burger patties taste like?
I knew I wanted to have avocado in these shrimp burgers, so I decided they should have a Mexican vibe. Hence, the cilantro, chipotles and cumin. It's such a delicious combination of flavors and the subtle sweetness of the shrimp balances everything perfectly.
The shrimp burger is out of control juicy and oozing with delicious flavors, and the smoky guacamole recipe is beyond belief, as it's smoky, spicy, fresh and creamy all at once.
Oh, and the little bits of crunch from the red onion is so good!
Can I grill the Cilantro Shrimp Burger patties?
I don't recommend it. They're a bit fragile on the grill, while they're quite easy to manage in a sauté pan. Even though we sauté them, they're still lovely to serve at an outdoor summer barbecue.
Add a big salad, chips and a super scrumptious salsa to the party, and you're all set!
The shrimp burger patties are equally as delicious on their own . . .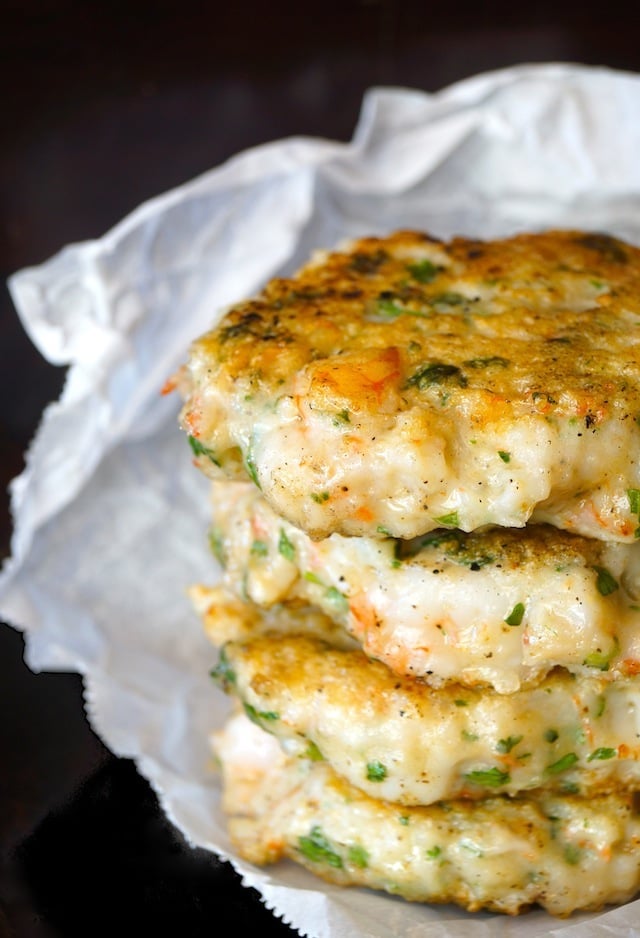 I'm telling you, this should be your dinner tonight.
What to Serve with Shrimp Burgers
I love most burgers with a salad, and these would be lovely . . .
Enjoy the shrimp burgers and the delectable smoky guacamole recipe whenever you decide to try them.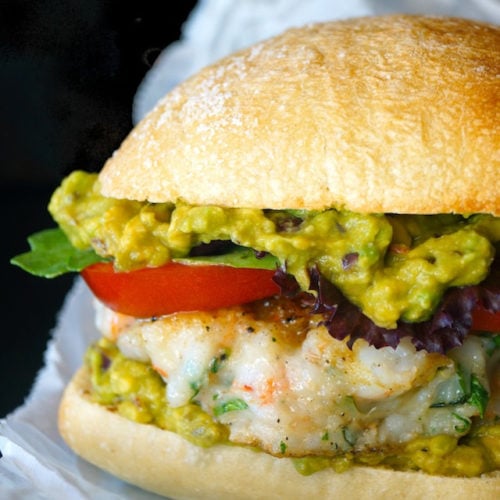 Cilantro Shrimp Burgers with Smoky Guacamole
This recipe is a unique twist on a burger. Topped with a delicious smoky guacamole, they're bursting with interesting, fresh flavors and are great for lunch, dinner, and outdoor summer parties.

*To save about 15 minutes, you can buy the shrimp already peeled and deveined. If you have the time though, it's easy to do yourself and you'll save some money. Here's How to Peel and Devein Shrimp.
Cuisine:
American, Mexican
Keyword:
burgers made with fish, good for summer bbq
Ingredients
For the guacamole
1

medium-sized

avocado

should provide about 3/4 cup mashed

2

tablespoons

red onion,

finely diced

1

teaspoon

fresh lime juice

1 1/2

teaspoons

chipotles in adobo sauce,

finely chopped

1/4

teaspoon

salt
For the burger
1

large egg

1/4

cup

packed cilantro leaves,

washed and dried

3/4

teaspoon

salt

1/2

teaspoon

ground cumin

1/2

teaspoon

freshly cracked black pepper

olive oil for the pan

about 8

thin slices

vine-ripened tomato

1

small handful

baby lettuces

4

of your favorite burger buns,

lightly toasted
Instructions
For the guacamole
In a small mixing bowl, mash the avocado with a fork. Add the onion, chipotles, lime juice, and salt -- stir to blend. Cover with plastic wrap and press it gently directly on top of the guacamole. Set aside.
For the burgers
Add all but about ¾ cup of the shrimp to a food processor fitted with the blade attachment. Turn it on to pulse it just a bit. Then add the egg and cilantro and blend again until it's smooth, about 10 seconds. Add this to a mixing bowl and set aside.

Roughly chop the remaining ¾ cup of shrimp into small pieces. Add them to the smooth portion in the mixing bowl, along with the salt, cumin and pepper. Mix just to blend and set aside.

Coat the bottom of a large sauté pan with olive oil and place it over medium-high heat. Once it's very hot, use a ½ cup measure to scoop and shape the shrimp mixture into 4 burgers. They will be sticky, but will easily hold together when you place them in the pan. Sauté them just until they're cooked through, 2 to 3 minutes per side. They should be golden brown.

Now add about 1 tablespoon or so of the guacamole to each half of the toasted buns. Add a burger to each, followed by a couple of tomato slices and a bit of the lettuce. Close the burger and enjoy! (These are best when the burgers are still warm.)
Cooking On The Weekends is a participant in the Amazon Services LLC Associates Program, an affiliate advertising program designed to provide a means for sites to earn advertising fees by advertising and linking to Amazon.com.