Hot Water Cornbread is an old-fashioned type of cornbread that's ideal for soaking up saucy comfort food dishes likes stews and braised meats or vegetables. Taking just minutes to whip up and cook, it's not what you might expect, and it's delicious.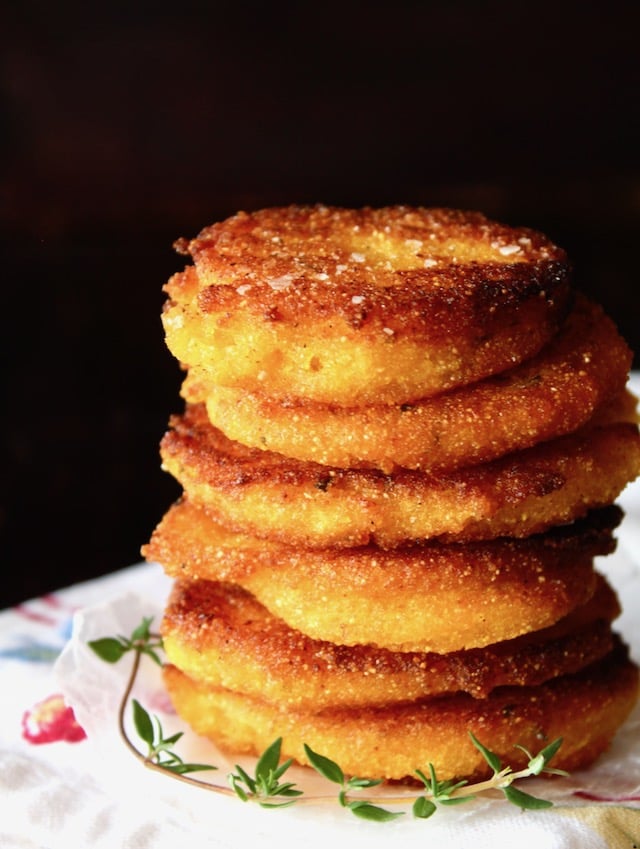 Unusual and delicious, this style of cornbread is fun to make, and it's a fantastic addition to so many meals.
This version is gluten-free and vegan.
What is Hot Water Cornbread?
Hot Water Cornbread is an old-fashioned type of cornbread that was, and still is in many areas, a very popular staple in the south.
Its origins go back to the native people of the Americas, who had been using ground corn as food for thousands of years.
Part of its popularity came from the fact that it had essentially three ingredients (water, cornmeal and fat) and was very affordable.
Made on the stove-top and fried, rather than baked in the oven, the texture is ironically not very bread-like. Not even shaped like bread, Hot Water Cornbread is shaped into patties that have a very crunchy crust with a slightly creamy center.
Some say their purpose as part of a meal was to soak up sauces — traditionally meat juices and potlicker (juices left from things like collard greens or beans).
Variations
There are dozens of slightly different ways to make Hot Water Cornbread.
A variety of fats can be used. Traditionally it's lard.
The amount fat can vary from a thin layer on the bottom of the skillet, to deep frying. I think Hot Water Cornbread is best when it's fried in a cast iron skillet with a generous amount of oil coating the bottom.
Some people mix some of the fat into the cornmeal and hot water, while others only fry the batter in the fat.
Some use self-rising cornmeal, some add baking powder to cornmeal, and some recipes, like mine, use just straight up cornmeal.
More often than not, a small amount of salt is added, and sometimes a touch of sugar too.
As I'm not an expert on southern cooking, I'm sure my version isn't totally authentic. Regardless, it's incredibley tasty!

How to Make this Hot Water Cornbread Recipe
(More detailed instructions are at the bottom of the post.)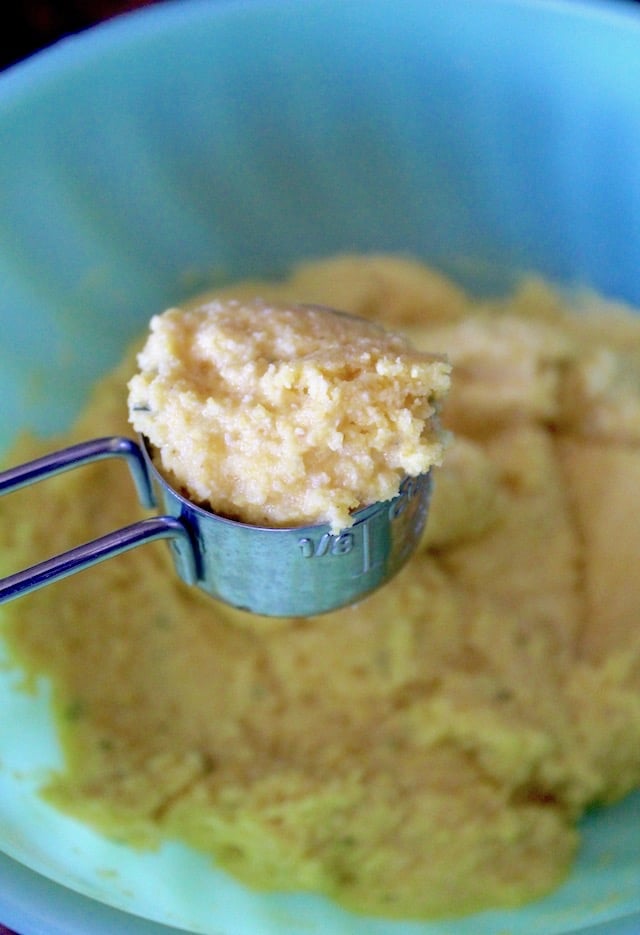 - Mix cornmeal with boiling water, salt and honey.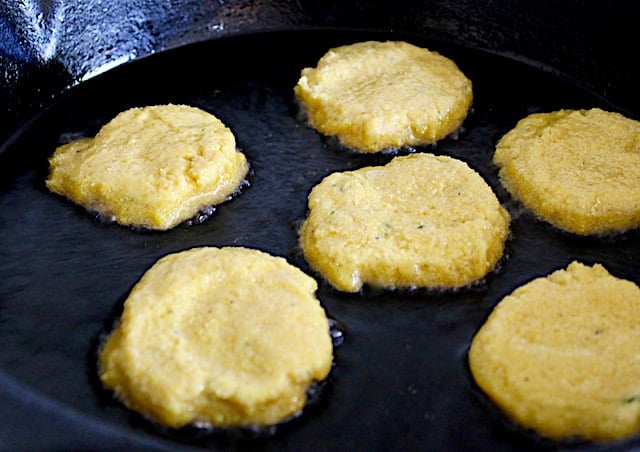 - Preheat a skillet (preferably a cast iron skillet) with oil and add the batter in balls of about two tablespoons each, and flatten them.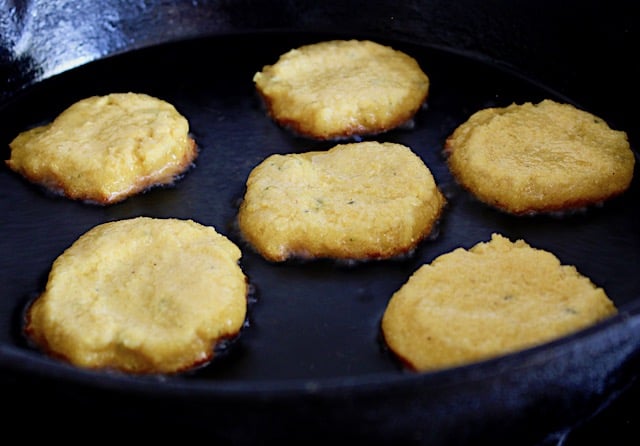 - When the bottoms are brown, flip them over to brown the other side.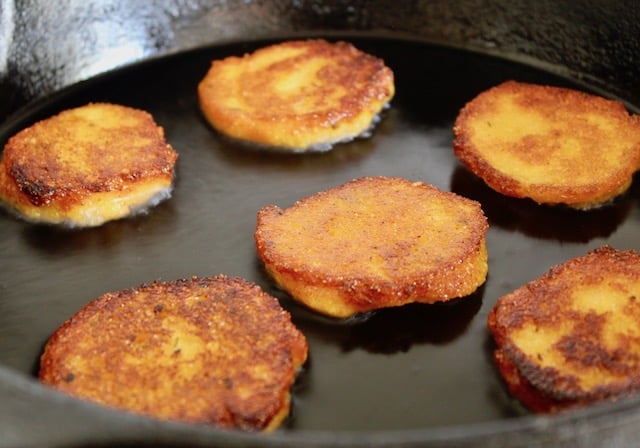 - Drain excess oil on a paper towel-lined plate.
Recipe Tips, Substitutions and Additions
When shaping the batter, use a small amount of oil on the spoon, measuring cup, or whatever tool you're using to scoop it with. This will make it much easier to shape, and it won't stick.
This recipe calls for two tablespoons of honey, which makes it only very subtly sweet. Feel free to add a touch more or less, or skip it all together.
Some alternative fats you can use are lard, ghee, olive oil, vegetable oil or bacon fat. (The grapeseed oil in the recipe works well and is a healthy choice.)
You can make the "patties" any size you like. The smaller they are, the easier they are to work with. As the recipe indicates, I recommend about

⅛

cup each.
You can add finely chopped fresh herbs or dry herbs, and bits of bacon would be delicious mixed into the batter. You could also melt a bit of cheese on top.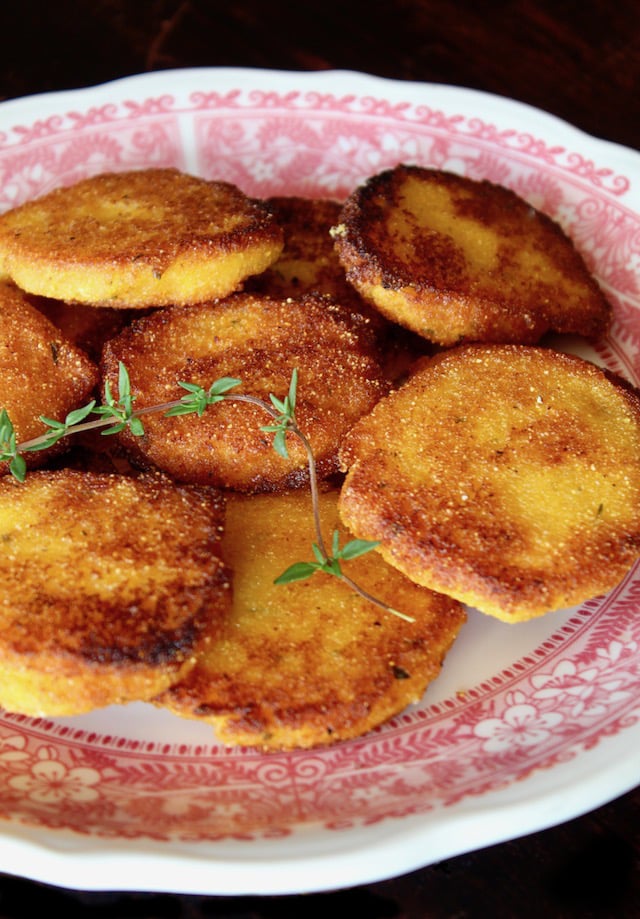 What to Serve With it
Hot Water Cornbread is best served as a side with something saucy. They're an ideal vehicle to dip into, or scoop up, stews, beans, soups, and soft cooked eggs. In other words, serve them with warm comfort foods. 🙂
I hope you find Hot Water Cornbread as tasty and as interesting as I do!
More cornbread recipes: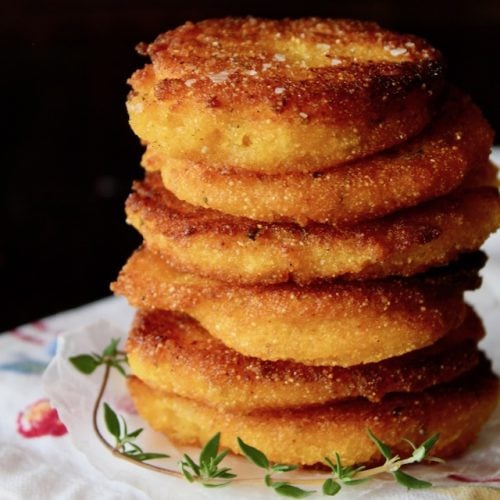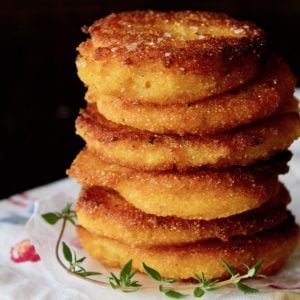 Hot Water Cornbread
Hot Water Cornbread is old-fashioned and made exactly how it sounds, with hot water and cornmeal. Taking just minutes to whip up and cook, it's not what you might expect, and it's delicious.Makes about 14 patties / Serving size: about 2 to 3
Ingredients
2

cups

cornmeal

1½

cups

water

2

tablespoons

honey

½

teaspoon

salt

grapeseed oil for the skillet (about ¼ cup, depending on size of the skillet)
Instructions
Line a large plate with a double layer of paper towels and set aside.

Make the batter. Add the cornmeal to a large mixing bowl and set aside. In a small sauce pan, add the honey and salt to the water and bring to a boil. Once it's boiling, pour it into the bowl with the cornmeal and stir until blended.

Oil and preheat the skillet. Coat the bottom of a large skillet (preferably cast iron) with about ⅛ inch of grapeseed oil, and place it over high heat.

Fry. Once the pan is very hot, add the batter in scoops approximately 2 tablespoons each. Using a ⅛ cup measure is perfect, but you can also use a cookie scoop or spoons. Whatever you use, coat it lightly first with oil to avoid sticking. With the back of an oiled spoon, gently flatten them so they're about ½ inch thick. (If you don't hear a strong sizzling sound when the batter hits the pan, wait until it's hotter or they won't brown.) Fry until golden, about 2½ minutes per side. As you remove them, place them on the paper towel-lined plate to drain any excess oil. Repeat this process until you've used all of the batter — you should not need to add more oil, but if for some reason the pan gets dry you can add some.
NOTES
Calorie count is only an estimate.
NUTRITION
Have you tried this recipe?
I'd love to see it on Instagram! Tag me at @cookingontheweekends or leave a comment & rating below.
Cooking On The Weekends is a participant in the Amazon Services LLC Associates Program, an affiliate advertising program designed to provide a means for sites to earn advertising fees by advertising and linking to Amazon.com.