Gluten-Free Cornbread with Jalapeño and Bacon is smoky, spicy and subtly sweet. It's fabulous to serve with coffee for brunch or with a bowl of chili for dinner.
I love cornbread!
It's comforting, savory, subtly sweet and delicious with breakfast, lunch or dinner.
My son was diagnosed Celiac Disease when he was 5-years-old. At that time, I'd assumed cornbread would be safe for him. Not true!
Even though cornbread is made primarily with cornmeal or cornflour, it typically also has all-purpose flour in the mix.
So over the years, as I've done with cookies, cakes and other breads, I decided I would have to come up with some delicious gluten-free cornbread recipes.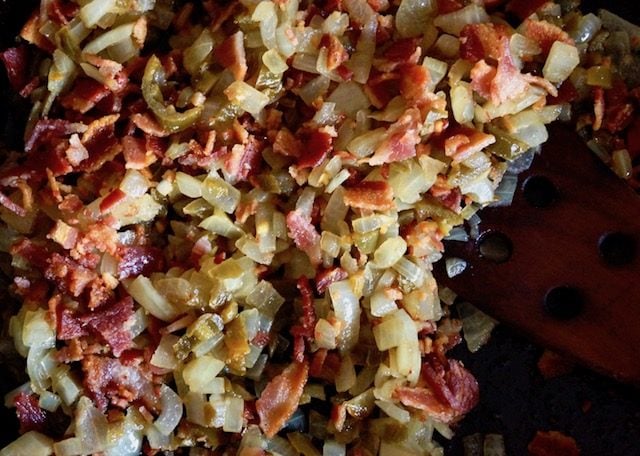 * Cornbread is not always gluten free. *

Read the labels of breads and mix boxes. As I said, while corn meal and corn flour are both gluten free, watch out for what else might be added.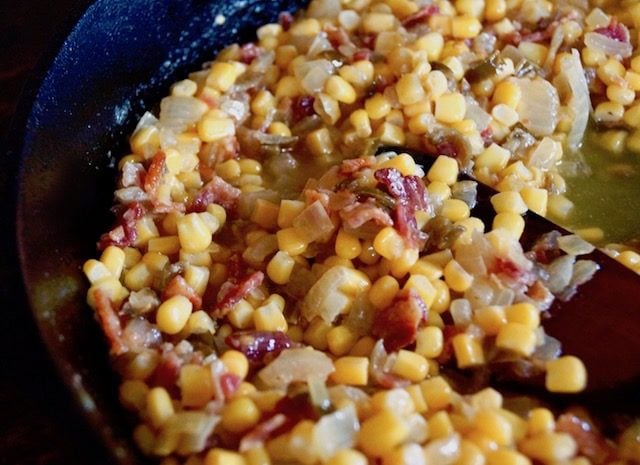 Recipe Tips
I love making cornbread in my

cast iron skillet

, and the instructions below will tell you to do the same. You can however use an approximately,

9 x 13 x 3-inch baking dish

, if you don't have one. It will still be great. I prefer the cast iron because the edges and bottom crisp up especially well, and it's a one-pan recipe this way.
If you really love extra heat, do not remove the seeds from the jalapeños. I usually remove about half.
Two things you can do to save time:  1) Use frozen, thawed corn and 2), use canned (well drained), chopped jalapeño peppers. (Please note that the seeds are usually included in the canned, and would be difficult to remove.)
I use cornmeal in this recipe -- you can use corn flour for a smoother texture.
Don't expect a sweet cornbread. This is subtly sweet.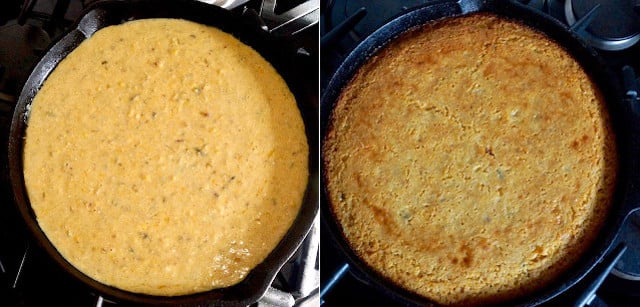 Can you make it without the bacon?
Yes! Of course. The bacon is delicious in this -- but, if you're serving vegetarians, this is an easy change. Simply use olive oil to sauté the onions and jalapeño (instead of the bacon fat from cooking the bacon).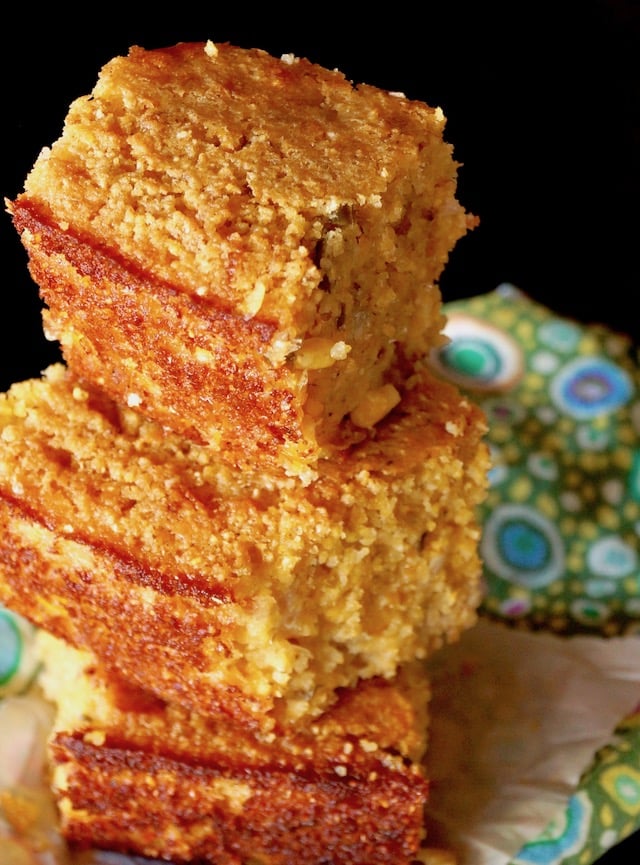 What to Serve With it
Enjoy!
Oh, and here's a recipe for Hot Water Cornbread -- it's really interesting, delicious and is also gluten-free.
Gluten-Free Cornbread with Jalapeño and Bacon
Gluten-Free Cornbread with Jalapeño and Bacon is smoky, spicy and subtly sweet. It's fabulous to serve with coffee for brunch or with a bowl of chili for dinner.
Ingredients
4

strips

applewood smoked bacon

1½

cups

onion,

finely chopped

¼

cup

jalapeño pepepr,

washed and dried, finely chopped (seeds removed for less heat)

2

cups

fresh corn kernels

1

cup

unsalted butter

3

cups

cornmeal

1½

teaspoons

baking soda

1¾

teaspoons

coarse sea salt

¼

cup

granulated sugar

2¼

teaspoons

ground cumin

4

large

eggs

3½

cups

buttermilk

2

tablespoons

lemon juice

freshly ground black pepper
Instructions
Heat the oven to 425°F and line a large plate with a paper towel. Set aside.

Add the bacon to a 12-inch cast iron skillet over medium heat. Cook until the bacon is brown and crisp, about 3 minutes per side. Remove the bacon -- but not the bacon fat -- from the skillet. Set the bacon aside on the paper towel-lined plate.

Add the onion to the bacon fat in the skillet and cook over medium-low heat for about 4 minutes. Add the jalapeños and sauté until the mixture is aromatic and the onions are soft, about 2 more minutes. Crumble or finely chop the bacon and add it to this mixture, along with the corn. Now add the butter to the skillet, swirl it around the bottom and sides to melt it into the other ingredients. Season to taste with salt and pepper. Turn off the heat and leave the skillet as it is to cool on the stove.

In a large mixing bowl, stir the cornmeal, baking soda, salt, sugar and cumin. In another large bowl, whisk the eggs, buttermilk and lemon juice together. Then stir the wet ingredients into the dry and mix until smooth.

Add the contents of the pan to the batter and mix until it's fully incorporated. Pour this back into the skillet and then place it in the 425°F preheated oven. Bake until the edges are golden and it no longer jiggles, about 30 to 35 minutes.

Let it cool for at least 20 minutes before serving. Serve directly from the skillet.
NOTES
Calorie count is only an estimate.
NUTRITION
Have you tried this recipe?
I'd love to see it on Instagram! Tag me at @cookingontheweekends or leave a comment & rating below.
Cooking On The Weekends is a participant in the Amazon Services LLC Associates Program, an affiliate advertising program designed to provide a means for sites to earn advertising fees by advertising and linking to Amazon.com.