Gluten-Free Hatch Chile Cornbread Casserole is rich, hearty and packed with smoky flavors. It's perfect for brunch or alongside a chili or a salad for dinner.
I'm having a Hatch Chile Festival.
In my kitchen, that is.
Hatch Chile Festival
This is not to be confused with the enormous Hatch Chile festival going on in New Mexico. My kitchen is a bit smaller than New Mexico.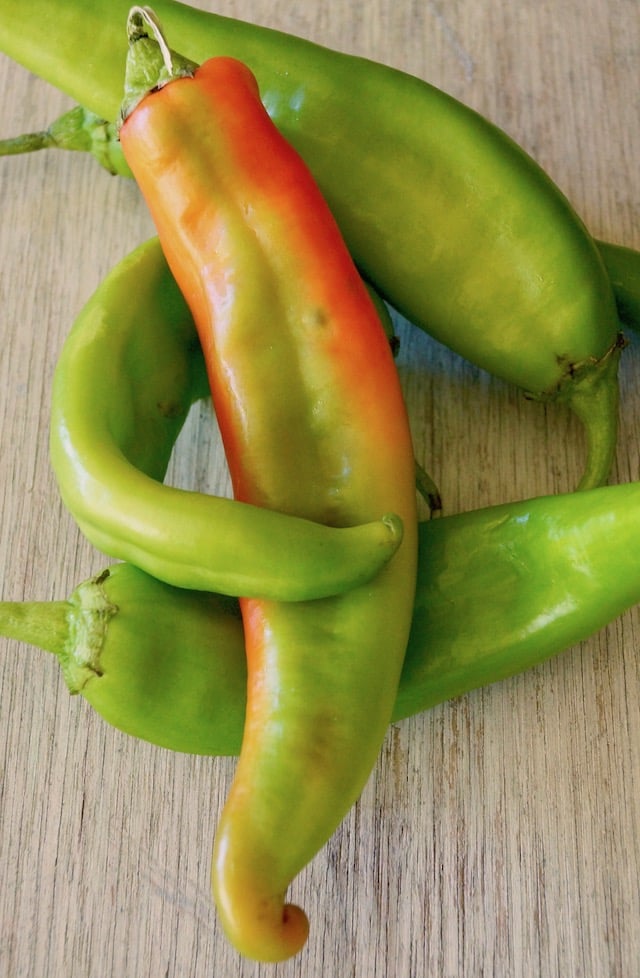 Truth is, all of my beautiful Hatch chiles from Melissa's have indeed been contributing to a festive atmosphere at my house!
Some red, some green, some hot, some mild, and all delicious and each one with a slightly different shape.
Read all about them here.
And roasting them is part of the fun! I always find these chiles so pretty — raw, roasted, sliced, diced.
Any which way, they're lovely!
Hatch Chile Roastings
And you know what is so cool? During Hatch Chile season, markets all over the U.S. are roasting them for you! You choose your chiles, as many as you want, and the stores will roast them for free.
This way not only can it save you some time, but you can freeze them roasted, and use them all year long! Brilliant.
Courtesy of Melissa's Produce, here is the list of all of the store locations where they will roast them for you.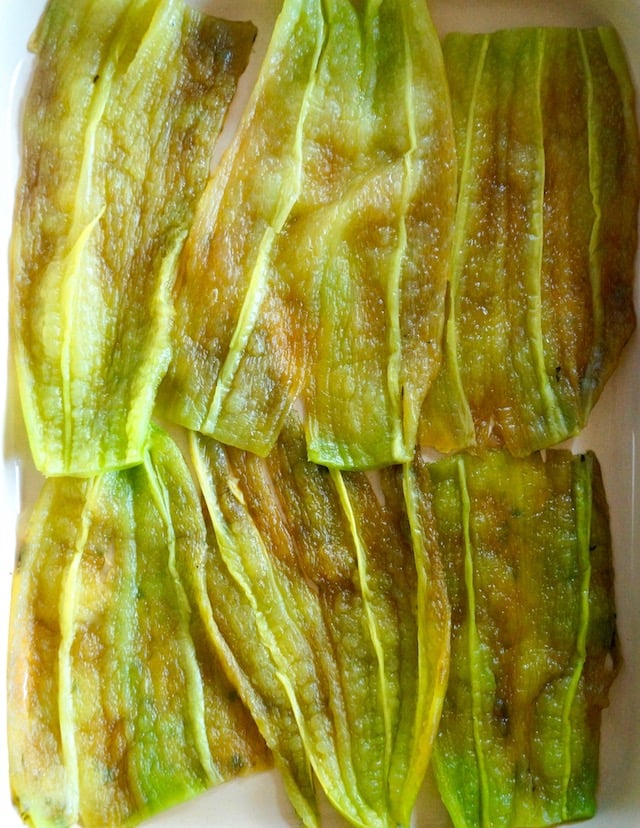 I love this casserole because the layering process is so pretty. This is definitely a recipe where making it is as much fun as eating it.
Can you make Hatch Chile Cornbread Casserole ahead?
Yes, you can make it a day ahead of time, so it's the perfect dish to bring to a potluck brunch, or to prepare early for a party at your house.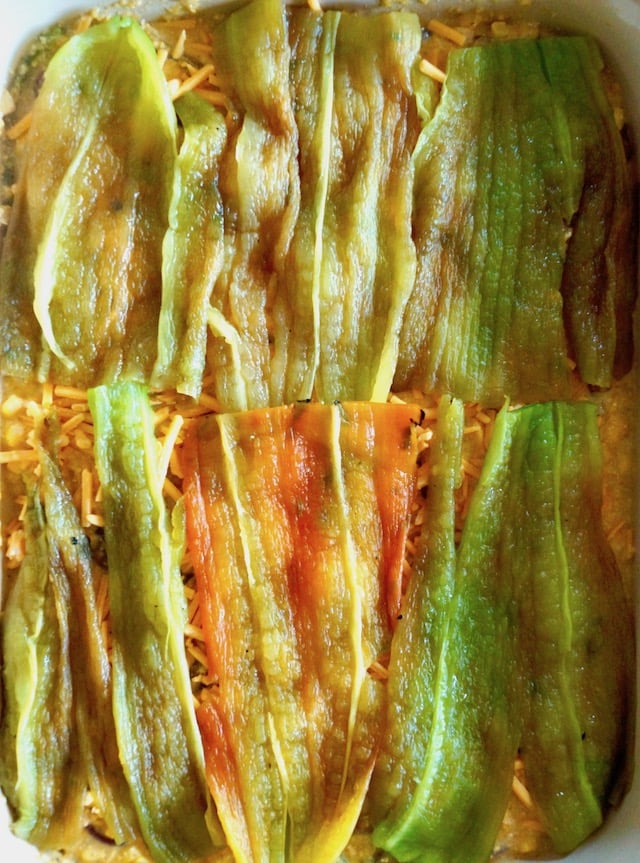 This is an amazing brunch dish that will wow your guests, for sure.
Hatch Chiles are so delicious with so many wonderful ingredients — chicken and corn, shrimp and onions, grilled vegetables, and the list goes on.
I would definitely put hatch chiles in the category of "fun food." They're fun to cook with and certainly never fail to create a fun dish!
This Roasted Hatch Chile Cornbread Casserole is perfect alongside a bowl of hot chili or a hearty salad.
And it also makes for a super delicious breakfast or brunch, served with a dab of sweet butter.
Check out the list below in case you want many more ideas for cooking with Hatch Chiles.
A few more of my favorite Hatch Chile recipes . . .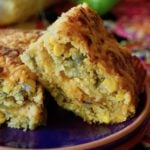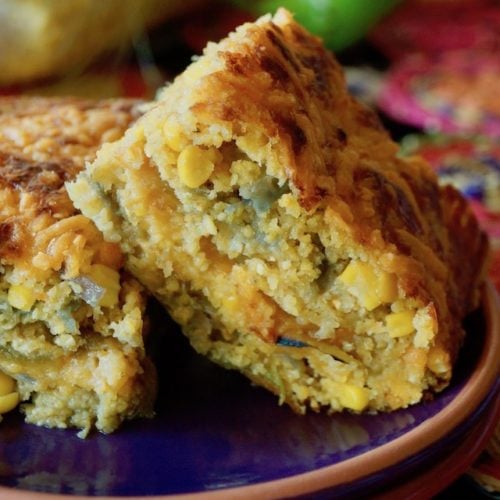 Gluten-Free Hatch Chile Cornbread Casserole
Gluten-Free Hatch Chile Cornbread Casserole is rich, hearty, packed with smoky flavors, and oh-so-delicious! It's perfect for brunch or along side a chili or a salad for dinner.
Course:
Side Dish, Brunch
Keyword:
great for brunch, great with chili
Ingredients
1

tablespoon

olive oil

2

cups

red onion,

thinly sliced

1

teaspoon

garlic,

minced

2

cups

fresh corn kernels

(from about 2 ears of corn)

3/4

teaspoon

smoked paprika

2

cups

corn meal

3/4

teaspoon

baking soda

1 1/2

tablespoons

granulated sugar

1 1/4

teaspoons

sea salt

1 3/4

cups

buttermilk

2

large

eggs

3

tablespoons

unsalted butter,

melted

2

cups

grated cheddar cheese
Instructions
Cut the stem end off of each one and carefully, use a small paring knife or your fingers, to make a slit in each of the peppers to open them and remove the seeds.

Preheat the oven to 375°F.

Coat a large sauté pan with the olive oil and place it over medium heat. Add the onion and garlic, and cook until the onions are soft and beginning to brown, about 7 minutes.

Add the corn and paprika to the pan and cook for another 2 minutes or so, just to blend the flavors. Set aside.

In a large mixing bowl, combine the cornmeal, baking soda, sugar and salt. Make a small well in the middle and add the buttermilk and eggs. Mix until the batter is smooth.

Fold in the melted butter and the onion-corn mixture.
To assemble
Place 6 of the peppers, smooth side down, in a nonstick,

9 X 13 X 3-inch baking pan

. (If your pan is not nonstick, drizzle the bottom lightly with olive oil.) Set the remaining 6 peppers aside.

Pour about 2 cups of the batter evenly over the peppers and sprinkle with 3/4 cup of the cheese.

Gently add a layer of the remaining 6 peppers, smooth side down, on top of the cheese.

Pour the remaining batter (about 2-1/2 cups) over the peppers, and sprinkle with the remaining 1-1/4 cup of the cheese.

Bake in the preheated 375°F oven until it begins to brown on top and the batter is set, about 25 minutes.

If the casserole is finished, but the top is not as brown as you'd like, place it under the broiler for about 30 seconds.

Let the casserole cool in the pan for at least 20 minutes before serving.
Recipe Notes
This would also be delicious with Poblano chiles!
Among other stores, you can get Hatch chiles right now at Gelson's Market, Whole Foods and Bristol Farms. And of course you can order them here at Melissa's Produce.
Cooking On The Weekends is a participant in the Amazon Services LLC Associates Program, an affiliate advertising program designed to provide a means for sites to earn advertising fees by advertising and linking to Amazon.com.