This Gluten-Free Cornbread Stuffing recipe for Thanksgiving is a family favorite. Made with caramelized onions, mushrooms and pecans, this stuffing is on a level of its own.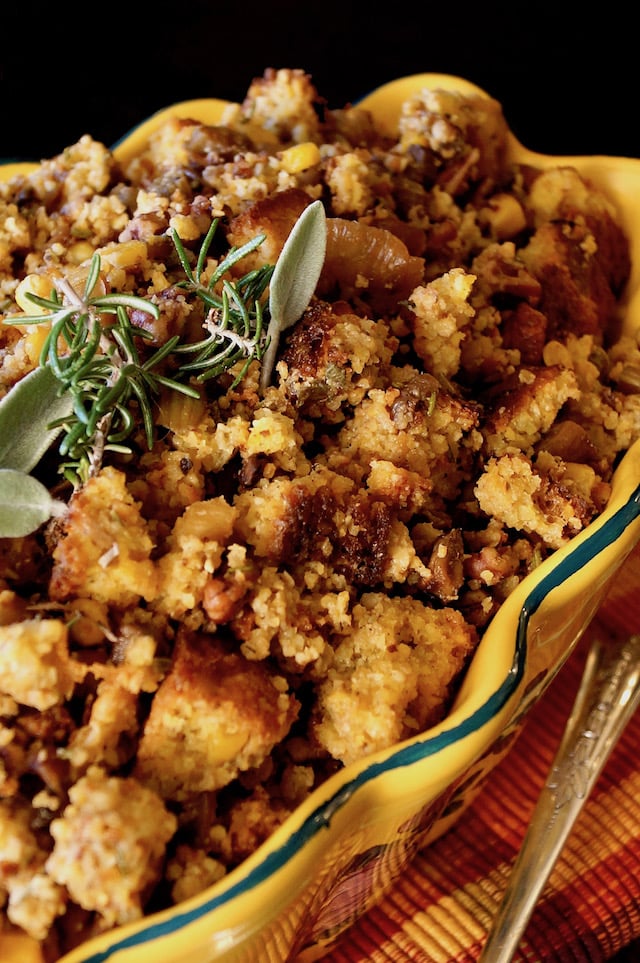 Inspiration
My mom used to start cooking her Thanksgiving stuffing at least a week before the holiday. The aromas of caramelized onions and fresh herbs would drift through our house for days.
The whole week, I could always smell Thanksgiving as I'd walk down our block on my way home from school.
The cooking, tasting, and adjusting didn't end until after the Thanksgiving feast.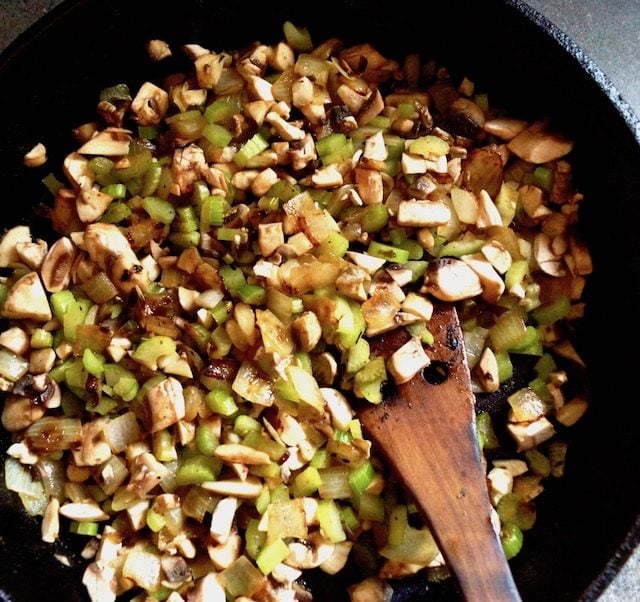 My mom would add something to her Thanksgiving stuffing daily for the whole week! After each new ingredient, we would all taste and say how delicious it was.
Those positive reviews, however, did not stop my mom from making subtle changes until the very last moment. And somehow it just got better and better.
Time marches on, though, and now I am the main cook for the family's Thanksgiving feast. And I make my own stuffing (and admittedly, I don't spend a full week on my version).
And I make gluten-free stuffing because my son can't eat wheat.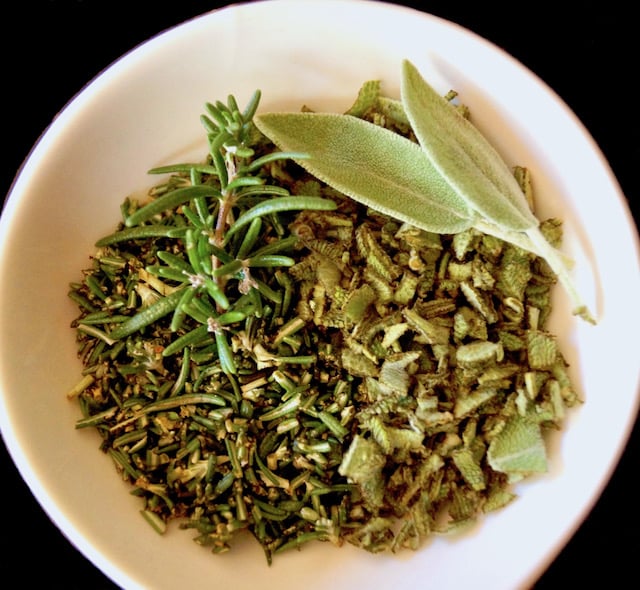 Gluten-Free Stuffing Made with Cornbread
This is a family favorite!
And each time I begin this recipe, when I sauté the onions and add the fresh herbs, the oh-so-amazing aroma brings me right back to every other Thanksgiving.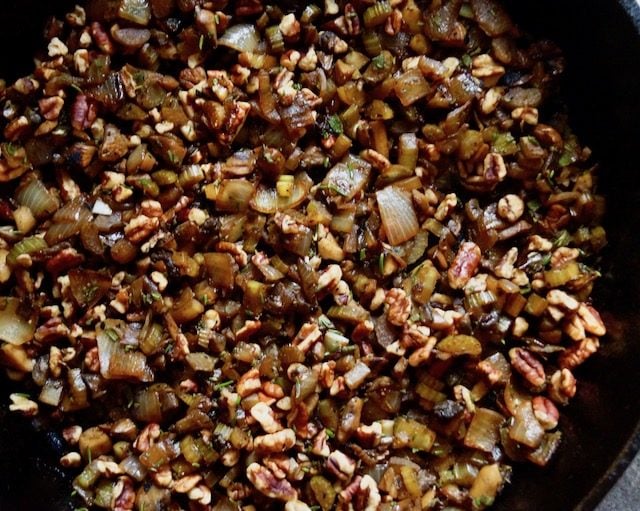 What's in Gluten-Free Cornbread Stuffing recipe?
your favorite gluten-free cornbread (I use Skillet Jalapeño Bacon Cornbread)
onion
celery
mushrooms
sage
rosemary
sherry
pecans
vegetable, chicken or turkey stock
Just imagine a combination of these ingredients!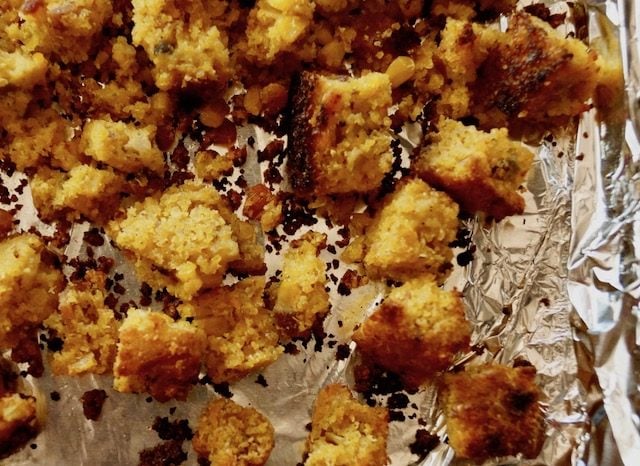 Recipe Tips
Typically, cornbread is much more crumbly than other (loaf) breads. Even once you've toasted your cornbread cubes, don't expect them to hold their shape.
In the recipe I link to my favorite gluten-free cornbread recipe, but if you are up to making your own, and have a recipe you love, you can use it. This recipe will work with just about any cornbread.
To keep this gluten-free, if you buy your own cornbread (or a mix), it's very important to read the labels. Just because it's made with corn flour, doesn't mean other flours might not be in the mix.
You can make the cornbread up to a week ahead. Just wrap it tightly in a couple of layers of plastic wrap. Keep it in the freezer until the day before you make the stuffing.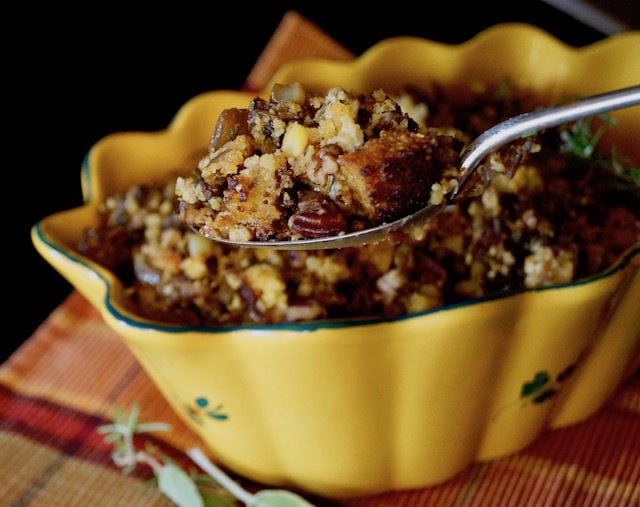 Can you make the Gluten-Free Stuffing ahead?
You can make this Gluten-Free Cornbread Stuffing ahead.
You can do everything up to mixing the toasted cornbread and stock with the onion mixture. About an hour before serving, mix everything together and heat.
I hope you love this as much as my family and I do.
Here's another version of gluten-free stuffing you might also like, made with gluten-free white bread.
What else is on the Thanksgiving menu?
I'm glad you asked. 😉
Gluten-Free Cornbread Stuffing Recipe
Gluten-Free Cornbread Stuffing for Thanksgiving is a family favorite. Made with caramelized onions, mushrooms and pecans, this stuffing is on a level of its own. 
*Please note that the prep time does not include the time it takes to make the cornbread (which you can also choose to buy). The recipe for the cornbread I use is
here
, and it takes about 1 hour and shoud be made a day or so ahead of time. (See notes.)
Ingredients
olive oil for the pan

2

cups

yellow onion,

medium dice

1½

cups

celery,

finely chopped

3

cups (about 10-ounces)

Crimini mushrooms,

roughly chopped

1½

tablespoons

fresh sage,

washed and dried, finely chopped

1½

tablespoons

fresh rosemary,

washed and dried, finely chopped

½

cup

dry sherry

1

cup

toasted pecans,

roughly chopped

about ½

cup

turkey, chicken or vegetable stock

salt and freshly ground black pepper
Instructions
Cut the cornbread into bite-sized pieces. Place them on baking sheet and toast until they are dry and beginning to brown, about 15 minutes. Remove them from the oven and set aside to cool to room temperature.

While the cornbread is toasting, coat a large sauté pan with olive oil and place it over medium heat. Add the onion and cook until it's soft, about 7 minutes. Then add the celery and cook for another couple of minutes. Stir in the mushrooms and a bit more olive oil if necessary. Sauté the mushrooms until they are nicely browned, about 10 minutes. Turn the heat to low and deglaze the pan with the sherry, scraping any bits of onion, celery, and mushroom off the bottom of the pan and back into the mixture. Add the herbs and cook on medium heat until almost all of the liquid has evaporated. Season to taste with salt and pepper. (Here's How to Season to Taste.)

Add the toasted cornbread and the mushroom mixture in a large mixing bowl. Gently mix to combine. Add the desired amount of stock to the stuffing. (If it's too wet, it will become mushy. Be careful and add a little bit at a time.) Season to taste with salt and pepper.

Before serving, heat stuffing in covered dish just until it's heated through, about 20 minutes at 350°F. For added crispness to the top, uncover the dish for the last 5 minutes or so.
Have you tried this recipe?
I'd love to see it on Instagram! Tag me at @cookingontheweekends or leave a comment & rating below.
Save
Save
Save
Save