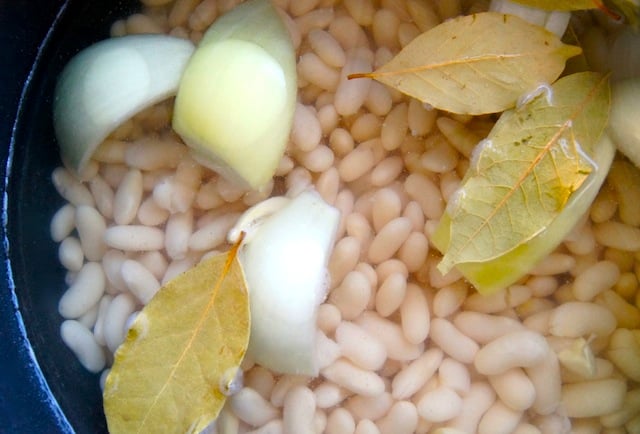 I'm a chef who goes through "ingredient phases."  That is, I get really "into" a particular ingredient and experiment with it all week long.  My phases are always fun and full of learning, but usually after a week or so, I'm ready to move on to another ingredient.
At the moment, I'm  deep in my Cannellini bean phase!  I love them!
Over the weekend I soaked and cooked a couple of pounds of these guys. I want to make sure that you all know how simple it is to cook your own dried beans.
Dried Bean Tips and Notes:
Dried beans will expand to about two and a half times their dried measure size.
Store dried beans in airtight containers in a cool, dry area.
Cooked beans can be stored in their cooking liquid for about 4 days in the refrigerator.
Cooked beans may be stored in the freezer, packaged in airtight containers or bags, in small batches that make sense (about 2 cups each or so). For best results, the beans should be used within a few weeks.  To defrost them, place them in the refrigerator overnight.
DO NOT add salt until the beans are tender and cooked completely. (Adding salt prevents the beans from absorbing water.)
The following DO NOT need soaking: lentils, black-eyed peas, and whole and split peas.
Off we go!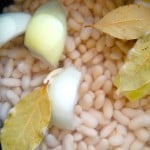 How To Cook Dried Beans (You Should Know!)
This recipe is a good guide for cooking most dried beans. (It's my tired and true method for Cannellini beans. However, please note that cooking times will vary slightly, depending on the type of bean you're using.) Makes about 6 cups.
Ingredients
1

pound

of Cannellini beans

1/2

of a small brown onion

cut into large chunks

5

whole garlic cloves

roots removed and cut in half

5

bay leaves
Instructions
In a large mixing bowl, soak the beans in about three times their volume of lukewarm water, for about 12 hours.Drain the beans, add them to a large stockpot, and fill the pot with enough cold water to go a couple inches above the beans.

Turn the heat to high and bring to a boil. Then reduce the heat to low, and simmer the beans for about 20 minutes. (Use a large metal spoon to remove any foam that has appeared on the surface during this time.)

Drain the beans and return them to the pot. This time, add enough water to go several inches above the beans and add the onion, garlic and bay leaves.

Turn the heat to high and bring to a boil. Then reduce the heat to low, and simmer until the beans are tender, about 1-1/2 hours.
Save