Colorful, beautiful, and so tasty -- this Dragon Tongue Bean Salad is drizzled with a spicy honey-mustard dressing and is the perfect summer side dish for barbecues or a vegan main course. Dragon beans are unique and fun to work with.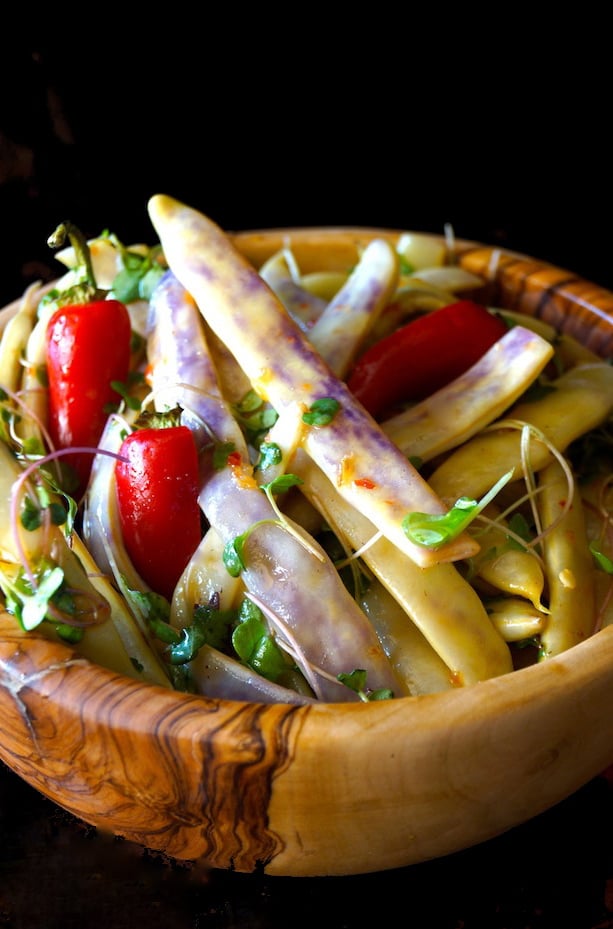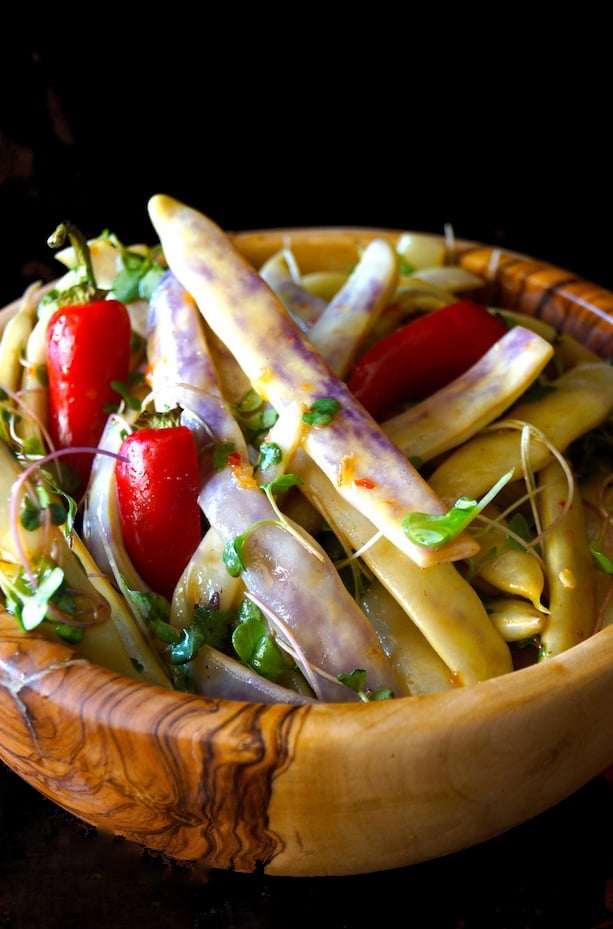 What are Dragon Tongue Beans?
More commonly called Dragon Beans, these beans are

uniquely colored with distinctive purple streaks and specks with a cream-colored background.

Their pods are edible and they don't have strings like many other beans.

They're considered a "Romano" variety of bean.

The beans can be eaten raw or cooked.
The smaller they are, the younger they were when they were harvested, and that's when they're best eaten raw.
Dragon Beans are typically in season May through September.
What do Dragon Tongue Beans Taste Like?
With a perfect crunch, they have a nut-like flavor and are subtly sweet.
When my friends at Melissa's Produce sent me a sample of the ever-so-stunning Dragon Beans, I wondered if I should use them in the kitchen, or simply set them out in a pretty bowl for display.
Never having explored Dragon Bean recipes before, I decided on the cooking option, but loved looking at how pretty they were during the process.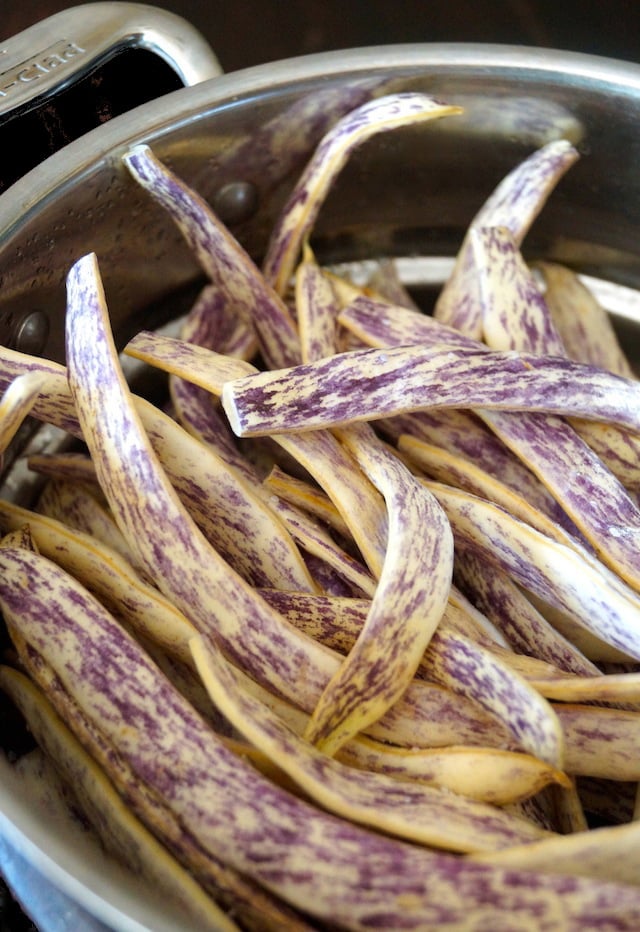 My Dragon Beans were fairly large -- about 6-inches each.
So in this Dragon Tongue Bean salad, as the main ingredient, I wanted to soften them slightly.
How to Cook Dragon Tongue Beans
Dragon Tongue beans are lovely steamed or quickly simmered. It intensifies their delicious nutty flavor. They will fade in color, but you will still see some purple here and there.
Dragon Tongue beans are also perfect for pickling along with fresh herbs, spices, and other vegetables.
You can also stir fry them with other vegetables.
I wasn't expecting this -- it reminded me of my Purple Sweet Potato Muffins that turned green in the oven. So this was another one of my unplanned foodie science experiments in my kitchen. 😉
When to Serve it
Dragon Tongue Bean salad has a wonderful blend of textures and colors and is the perfect scrumptious summer side dish for barbecues or picnic item. It will be the prettiest dish at the party and totally wow the guests!
I love it served with all sorts of rich meat entrées too.
You can likely find them in the specialty produce sections of markets like Sprouts, Whole Foods, Bristol Farms and Gelson's. For more information from Melissa's Produce about these cool beans, you can go here.
And yes, if you can't get your hands on these, of course you can replace them with green, yellow, or any others you'd like. The end result will still be divine.
If you experiment with the beans, raw or cooked, and come up with your own Dragon Bean recipes, please share them in the comments.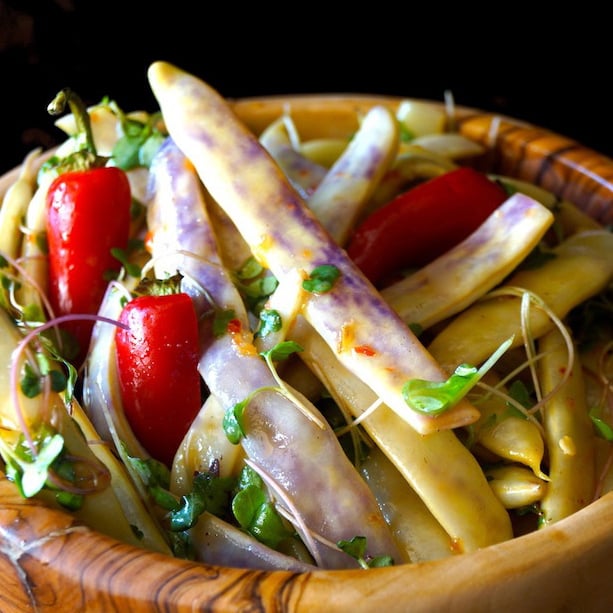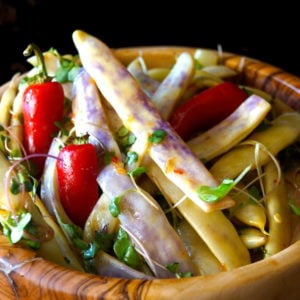 Dragon Tongue Bean Salad Recipe with Spicy Honey-Mustard
This pretty salad is the perfect summer side dish for barbecues or a vegan main course. Dragon beans are unique and fun to work with.Please note that when steamed, though you'll still see bits of color, the purple will fade significantly. (Please see above comments about this.)
Ingredients
For the salad
1

pound

Dragon Tongue beans,

washed and dried, root ends trimmed

2

cups

loosely packed mixed micro greens,

washed and dried

a few red Thai chile peppers for garnish and added heat if desired
Instructions
For the dressing
Add the vinegar, mustard, honey, chili paste, salt and pepper to a small bowl. Whisk until smooth. Gradually add the oil while still whisking. Once it's smooth, set aside.
For the salad
Prepare a large mixing bowl with ice water and set it aside.

Place a steamer rack into a pot with the water level just below it. Over high heat, bring the water to a boil and then add the beans to the rack, sprinkle lightly with salt and cover. Steam just until they're about 50% more tender, about 3 minutes.

Immediately drain and add the beans to the bowl of ice water -- this will help preserve any bits of purple still remaining. Let them sit in the ice water until they're cold, then drain, dry them, and add them to a large mixing bowl.

Toss the beans with the micro greens and the dressing.

Wash, dry, and slice the red chile peppers in half for garnish (and added heat) if desired.

Serve!
NOTES
Calorie count is only an estimate.
NUTRITION
Have you tried this recipe?
I'd love to see it on Instagram! Tag me at @cookingontheweekends or leave a comment & rating below.
Cooking On The Weekends is a participant in the Amazon Services LLC Associates Program, an affiliate advertising program designed to provide a means for sites to earn advertising fees by advertising and linking to Amazon.com.