Knockwurst recipes might be hard to come by, and I know it's a big claim to say these are the best baked beans ever -- but really, they are! This knockwurst and beans combination has been in my family for years, and they were the most delicious when my mom made them.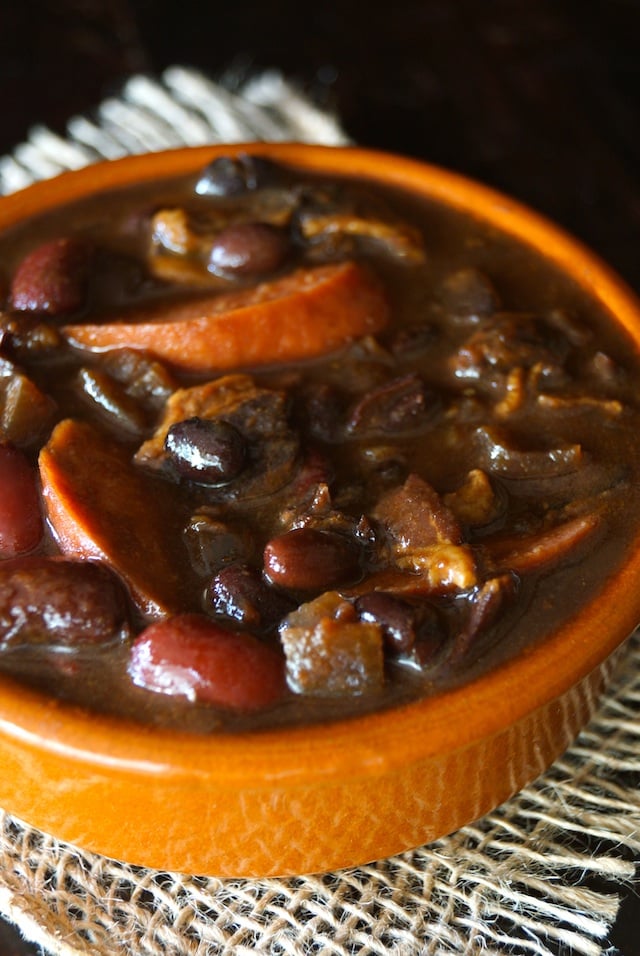 When I came to the knockwurst recipes in my Grandmother's recipe collection, my jaw dropped. For real!
Baked Beans With Knockwurst and Bacon
My mom used to make this knockwurst and beans recipe regularly, and I loved it. Unless you're someone who doesn't eat meat, I promise, you will too. My mom originally got this recipe from my grandmother and I didn't know we had the recipe anywhere, which is why I was so thrilled to find it.
This knockwurst recipe is no joke! It's a bunch of crazy tasty ingredients that marry together in a low oven all day long. All day!
I know what you're thinking -- as you eye the bacon below . . .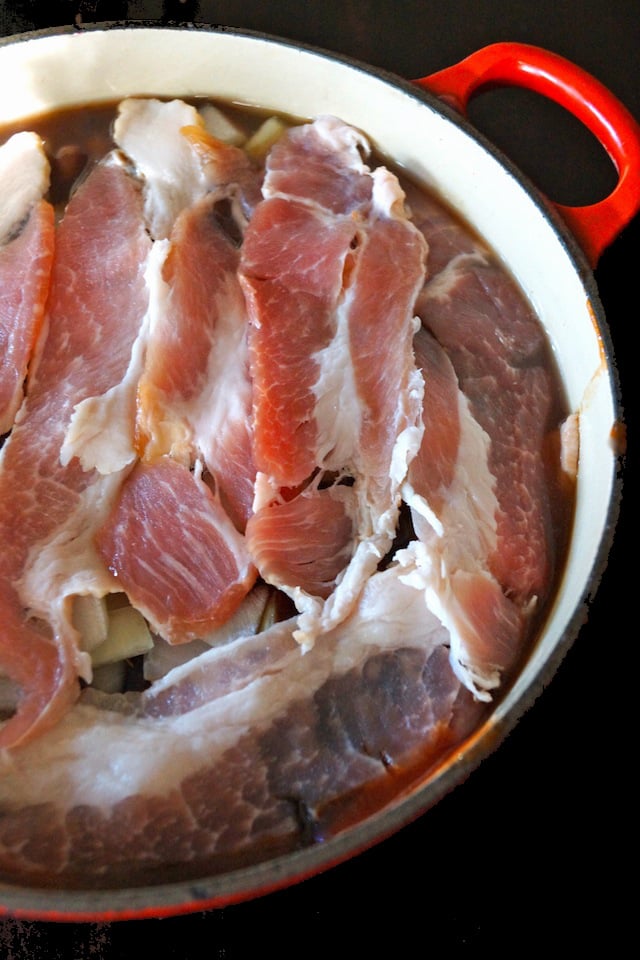 No, this is not the healthiest recipe in the world, it's knockwurst and beans, after all. Knockwurst!  When was the last time you had knockwurst, if ever?

You know how I feel though -- if it's not often, and in moderation, it's okay! Totally okay. In my humble opinion, of course. And you certainly don't want to miss out on the best baked beans ever, do you?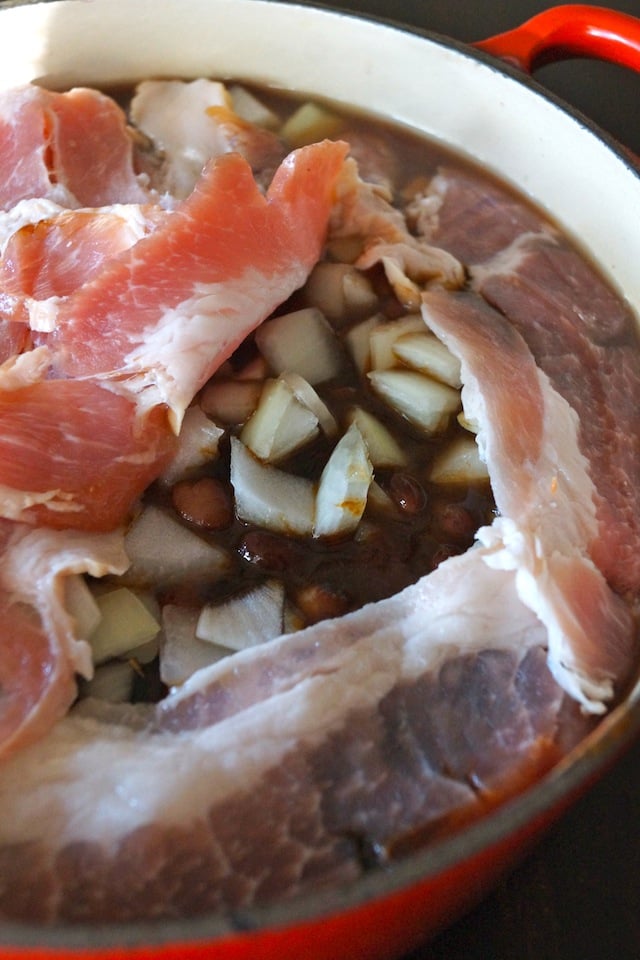 Unlike my Grandmother's Stuffed Cabbage recipe, this one I only changed a tiny bit -- less molasses. (Not to worry, there's still plenty!)
What makes this one of the best knockwurst recipes?
The bacon is the key! I absolutely love how the bacon cooks in whole strips  -- seeping its smoky, salty juices into the beans as it becomes soft and tender.
Knockwurst Recipe Inspiration
When I was a kid, about once a month my mom would make this, and it was the most incredibly delicious, comforting meal of all time. And not having had any knockwurst recipes on Cooking On The Weekends, well, I had to share.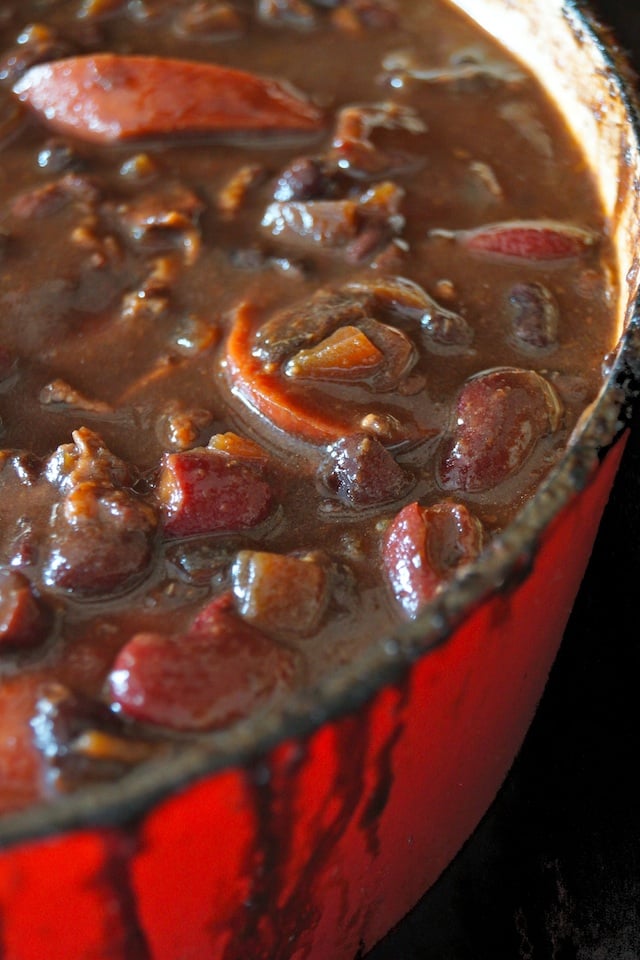 Seriously, I'm not sure I can properly describe just how utterly delicious this is. Ketchup and all. 😉
It's over the top!
I hope you enjoy knockwurst and beans as much as my family and I do. It's a treat.
More comforting recipes with beans: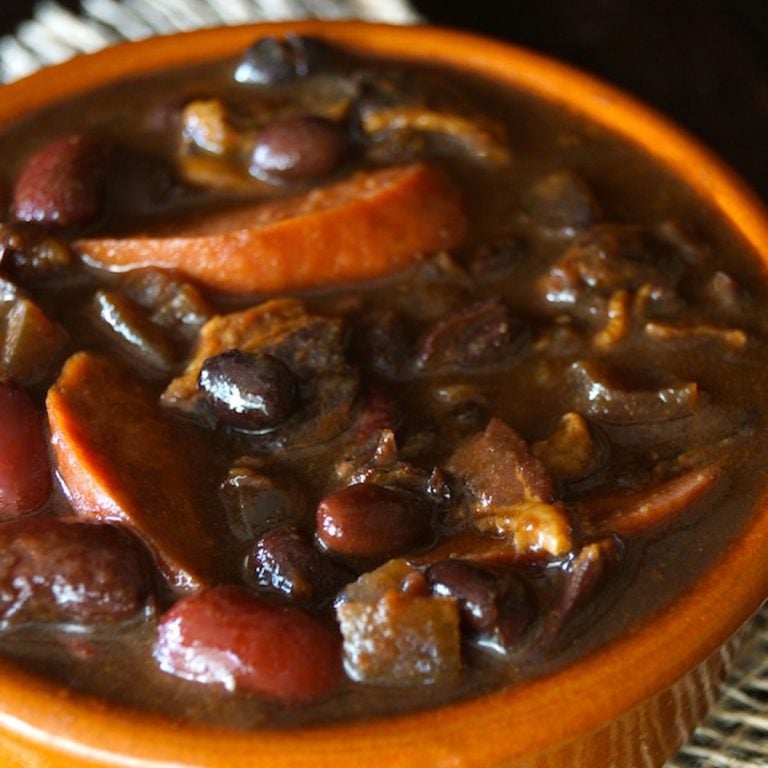 Knockwurst and Baked Beans Recipe
This knockwurst and beans combination has been in my family for years, and they were the most delicious when my mom made them.
Ingredients
2

(15-ounce cans)

black beans

2

(15-ounce cans)

kidney beans

⅔

cup

ketchup,

divided

⅓

cup

molasses,

divided

3

tablespoons

Worcestershire sauce,

divided

1 ½

cups

yellow onion,

finely chopped, divided

12

ounces

bacon

(about 9 strips)

4

knockwurst,

cut into ½-inch slices
Instructions
Preheat the oven to 225 degrees F (see notes), and adjust a rack to the center.

In a large mixing bowl, combine the 4 cans of beans, draining only about ½ of the liquid from each one before doing so.

In an approximately 5 quart Dutch oven, or other oven proof pot, add about ⅓ of the bean mixture. Then as evenly as possible, drizzle about a third of the ketchup, half of the molasses, and 1 tablespoon of the Worcestershire sauce on top. Next sprinkle about ½ cup of the onions. Add one layer of the bacon on top of the onions, so that the ingredients are covered completely. (You can cut the bacon strips in half if necessary.)

Repeat the above layering process two more times, but on the last time, there will be no molasses.

Cover the pot and place it on a baking sheet in the preheated 225 degree F oven for 7 hours.

Remove from the oven, add the knockwurst and then bake for 1 more hour.
NOTES
* I'm sure you could also make this recipe in a slow cooker. Believe it or not, I don't own one. (Gasp!)
NUTRITION
Have you tried this recipe?
I'd love to see it on Instagram! Tag me at @cookingontheweekends or leave a comment & rating below.
Cooking On The Weekends is a participant in the Amazon Services LLC Associates Program, an affiliate advertising program designed to provide a means for sites to earn advertising fees by advertising and linking to Amazon.com.