This Breadless Grilled Cheese Bell Pepper Sandwich is incredibly delicious. It's essentially ham and cheese panini with peppers in lieu of bread, making it both unique and gluten-free.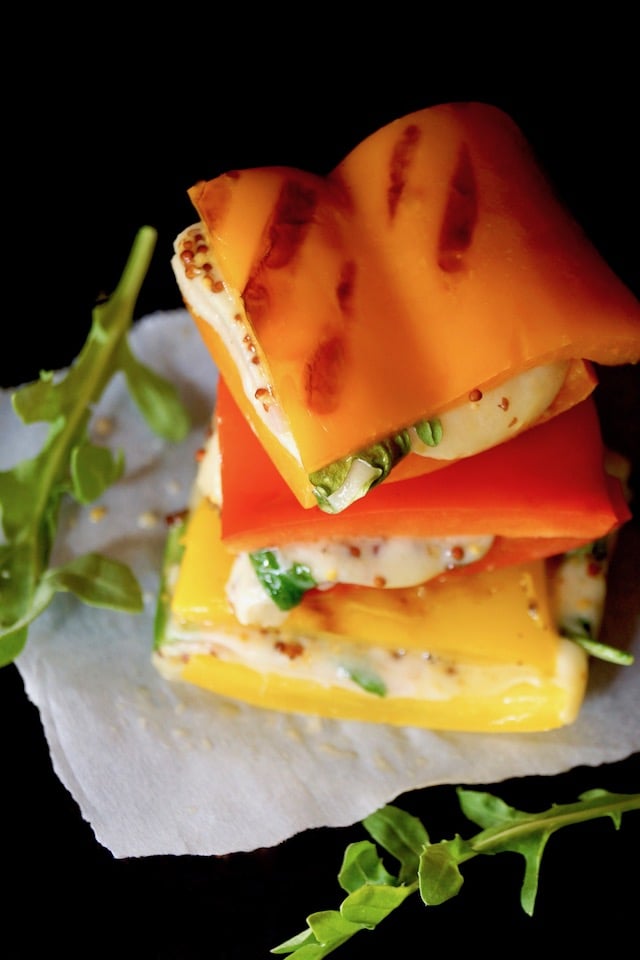 Inspiration
This is such a fun way to make a sandwich without bread. With a son with Celiac Disease, I'm always trying to come up with new, awesome gluten-free recipes.
This Bell Pepper Sandwich is exactly that!
The bell peppers are the "bread" for breadless grilled cheese.
It's so delicious with nutty, creamy Gruyère — melting beneath a slightly sweet slice of ham, peppery arugula, and tangy mustard.
This is a phenomenal gluten-free bell pepper sandwich.
It has a truly magical flavor combination.
And guess what?
You can make this inside of 20 minutes!
What's in this recipe?
colorful bell peppers
whole grain Dijon mustard
Gruyère cheese
arugula
olive oil
How to Make Them

You can make this on a grill, though I think it's easiest in a panini press.
– Cut the peppers into what will become the "bread."
– Add the mustard, ham, cheese and arugula, and the top slice of pepper.
– Grill in the panini press.
(More detailed instructions are below.)
This recipe is so pretty! I mean, seriously, look at those colors! And it's just as tasty as it is pretty.
When to Serve This Delicious Grilled Cheese
It's a fabulous lunch or dinner.
It's a lovely appetizer or hors d'oeuvre if you cut them into small bites.
These are absolutely perfect for a cocktail party.
How about a picnic?
The list goes on.
Recipe Tips and Substitutions
You can of course mix this up with your own favorite cheese, greens, etc. Swiss, Mozarrella, Cheddar, it's your call. (Hard cheeses are typically best for this recipe.) Spinach, chard or kale are some alternative green you can use.)
Not a fan of grainy mustard? Use whatever your favorite is.
Vegetarian? Skip the ham and add a thin tomato slice.
I think the small size can be fun, but make them any size you like, adjusting the size of the pepper slices accordingly.
Here are a few more breadless "sandwiches:"
Enjoy!
Breadless Grilled Cheese Bell Pepper Sandwich
This super fun, breadless sandwich recipe is over-the-top delicious! I made it with peppers because I think it's tasty, and it also happens to be perfect for gluten-free grilled cheese!
Ingredients
4

large

bell peppers (varying colors),

washed and dried

1

tablespoon plus 1 teaspoon

whole grain Dijon mustard

8

ounces

Gruyère cheese,

thinly sliced

6

ounces

applewood smoked ham (or your favorite ham),

thinly sliced

¾

cup

loosely packed arugula leaves,

washed and dried

extra virgin olive oil for drizzling

salt and freshly ground black pepper
Instructions
Slice about 1-inch off the tops and bottoms of the peppers, including the stems. Then slice each one in half vertically. Use a paring knife to smooth out the inside of each half, and to remove the seeds and membranes. Set aside.

Spread half of them with the mustard and evenly distribute half of the cheese slices on top. Follow the cheese with the ham and arugula on top. Then add the remaining cheese, and "close" them with the remaining pepper halves, smooth side up.

Drizzle the top halves with a bit of olive oil and then sprinkle them with salt and pepper.

Once the panini press is ready (most have a green light - much like a waffle maker), place the "panini" on the bottom "plate," and close. Most presses will take about 5 minutes. I lift the lid a bit when I think it's getting close to check. The size of the panini press will determine how many you can make at once. I make two at a time in mine.

You can serve them whole, or cut each one in half.
Notes
If you don't have a

panini press

, my second choice is a

stove-top grill

. Just gently press down on the top with a flat-bottomed spatula during the cooking process.
Have you tried this recipe?
I'd love to see it on Instagram! Tag me at @cookingontheweekends or leave a comment & rating below.
Cooking On The Weekends is a participant in the Amazon Services LLC Associates Program, an affiliate advertising program designed to provide a means for sites to earn advertising fees by advertising and linking to Amazon.com.