This comforting Mushroom Pork Stew is full of earthy flavors and fresh ingredients.  Super hearty and oh-so-delicious, it's a quick and easy pork stew recipe that will become a family favorite!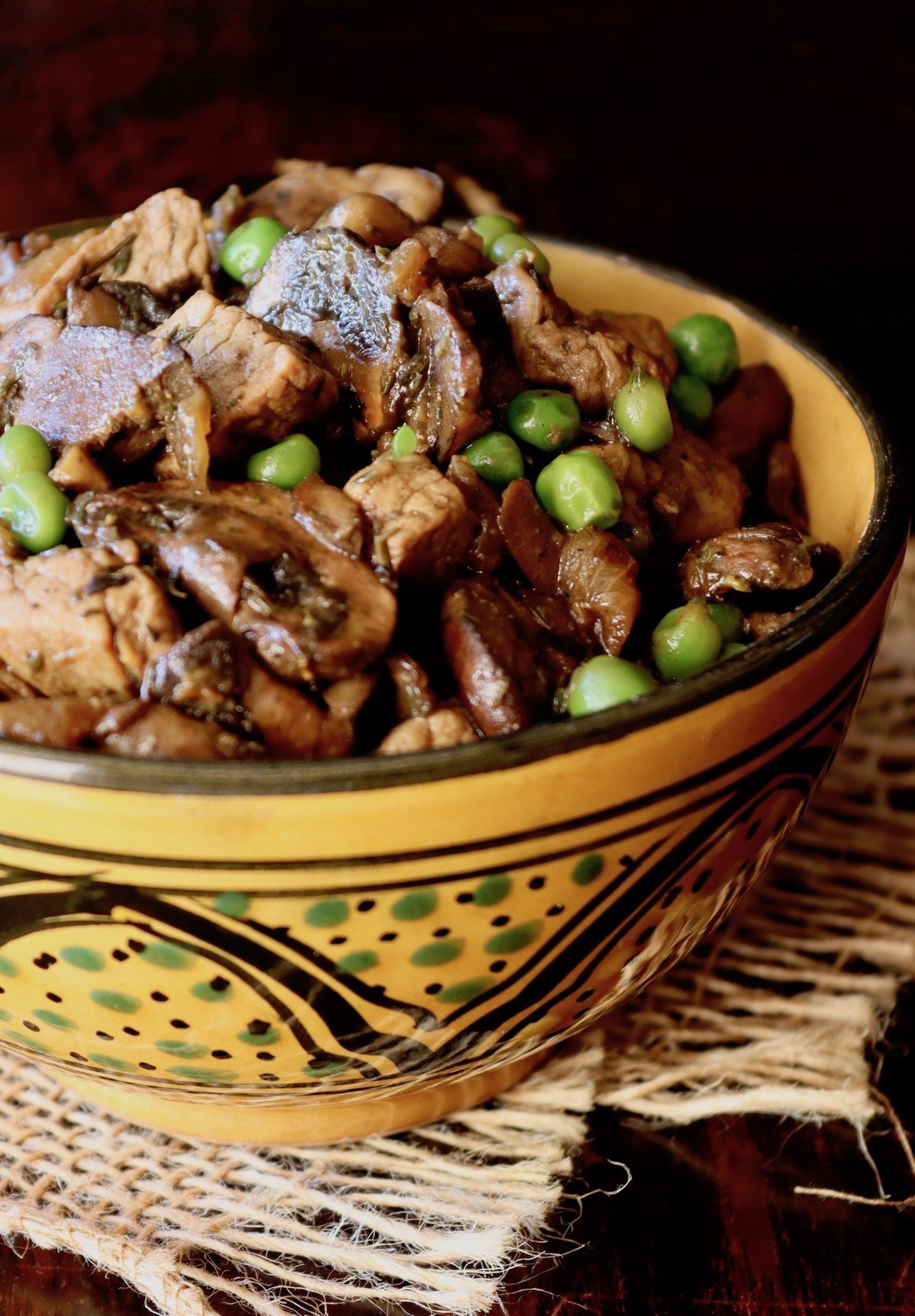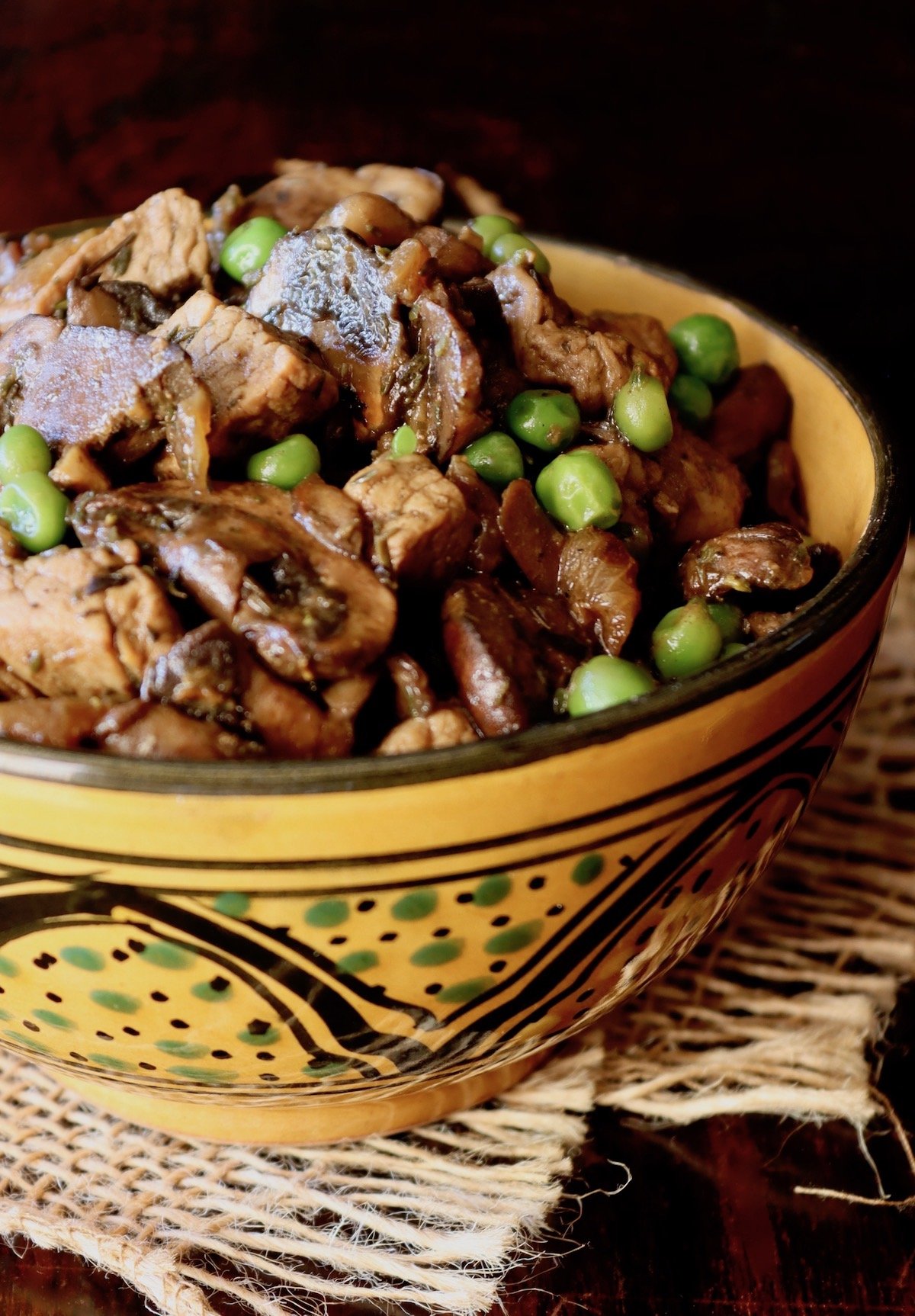 If you've been following Cooking On The Weekends for a while, you know I'm someone who loves being in being in the kitchen — delectable briskets cooking all day, yummy bread puddings that soak up aromatic ingredients for hours, scrumptious casseroles that involve layer after layer . . .  and the list goes on.
That said, sometimes I just need to feed my family in a quick and easy way.  So I while I will cut the time and complexity, I will never cut the deliciousness!  Case in point: this Caramelized Mushroom Pork Stew.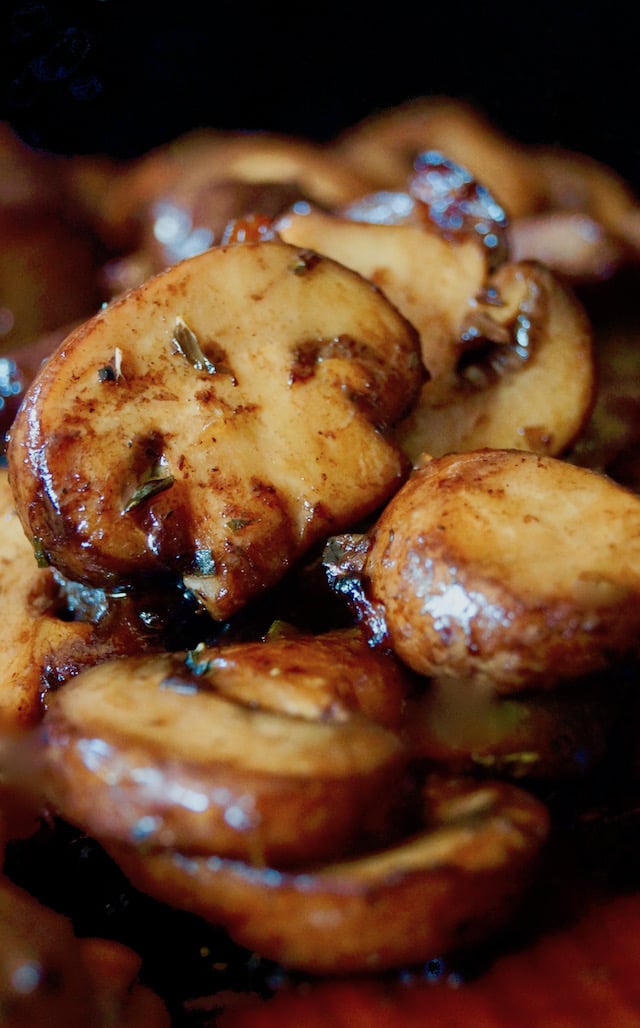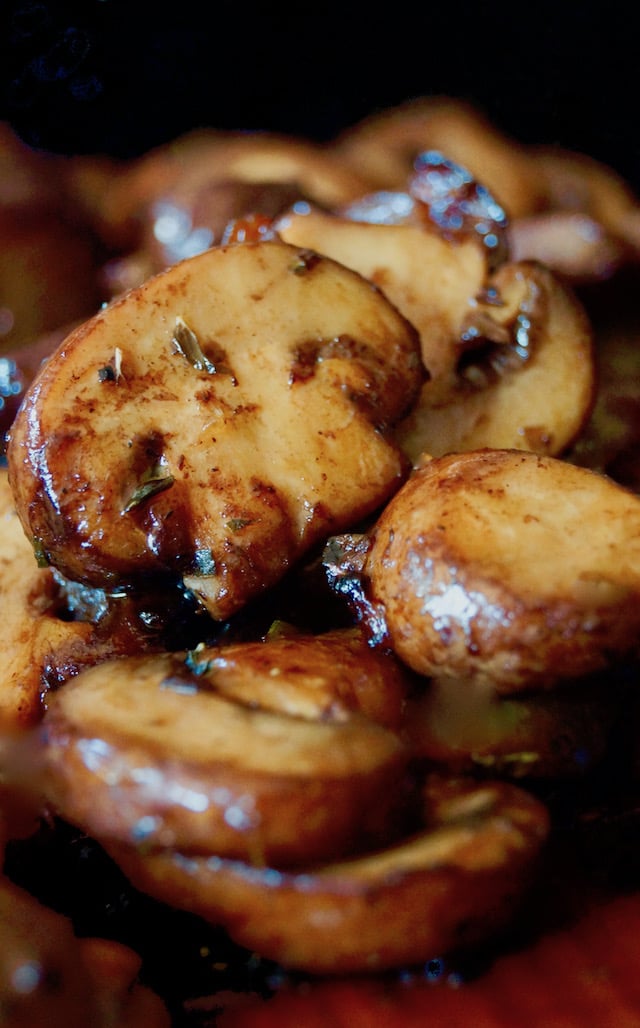 If you've read any of my posts over the last month or so, you know my dad's been in the hospital for a long while now.
What does that have to do with with a mushroom pork stew?
Well, only that I made this one-pot, quick and easy pork stew recipe couple of nights ago, almost inside of 40 minutes.  And with my schedule right now, driving to and from the hospital so much, quick and easy is key.
Everyone loved it!  Both kids included! 🙂 I served it over brown rice, but you could also use pasta, toasted bread, or serve it on its own.
And by the way, I wouldn't hesitate to serve this to guests at a dinner party either!  The flavors are so developed that they'll assume you spent hours on it.
---
Why should you follow my STEWS, STEWS, STEWS
Pinterest Board

?
There are over 45 stew recipes.
I'm constantly updating with new recipes from around the web.
The stew recipes range from vegan and vegetarian to beef and pork.
You love comfort foods, like me!
You can't get enough stew recipes, like me!
Last week my dad was moved from the hospital where he had his heart surgery on March 14th, to a rehab hospital, where he'll be another couple of weeks.  His recovery is still excruciatingly slow going, but one of his doctors said something to me that I really appreciated . . . .
He said to look at the progress each day, even if it's very tiny amount, like a couple more steps down the hall, and then to imagine if that happens each day, and think about 30 days from now.
This was the first thing I was told that helped me see a somewhat full recovery someday at the end of this very difficult road.
Still working on getting his spirits up.  I brought one of my boys to see him yesterday, and I caught my dad smiling a couple of times at things he said.  Made my heart melt.
Enjoy this super yummy, quick and easy pork stew recipe
Quick and Easy Caramelized Mushroom & Pork Stew Recipe
This comforting Mushroom Pork Stew is full of earthy flavors and fresh ingredients. Super hearty and oh-so-delicious, it's a quick and easy pork stew recipe that will become a family favorite!
Ingredients
olive oil for the pan

1 1/2

pounds

pork tenderloin,

cut into bite-sized pieces

1

cup

onion,

medium dice

1

tablespoon

garlic,

minced

2

teaspoons

dried oregano

1

teaspoon

dried thyme

2

pounds

crimini mushrooms,

washed, dried & thinly sliced

1/4

cup

dry white wine

1 1/3

cup

frozen peas,

thawed

1/2

cup

half and half

sea salt and freshly ground black pepper
Instructions
Coat the bottom of a large sauté pan (12-inch, at least) with olive oil and place it over medium-high heat.

Season the pieces of pork with salt and pepper and add about half of them to the pan when it's hot. (You should hear a sizzling sound when they hit the pan — if you don't, wait.) Once the pieces are nicely browned and cooked through — about 5 minutes — remove them from the pan and add them to a large bowl. Repeat with the remaining pork, adding more oil to the pan if necessary.

Add the onions and garlic to the pan and turn the heat to medium. Cook, stirring from time to time, until the onions are soft, about 5 minutes. Add the oregano and thyme and stir.

Add a bit more oil, to be sure the bottom of the pan is well coated, turn the heat to high and add about half of the mushrooms. Once they're beginning to brown, add the other half, and continue to sauté until all of them are nicely caramelized and tender, about 15 minutes total. Now deglaze the pan by drizzling the wine over the mushrooms and quickly stirring with a wooden spoon or spatula, scraping any thing that's stuck to the bottom off and into the mixture.

Return the pork to the pan, along with the peas and half and half.

Season generously with salt and pepper to taste, and cook for another couple minutes, just to be sure all of the ingredients are blended and hot. (

Here's How to Season to Taste.

)

Serve over rice, pasta or a toasted baguette.
Save
Save
Save
Save
Save
Save
Save