Easy Pork and Mushroom Stew is full of earthy flavors and fresh ingredients. With sherry and aromatic herbs, this stew is hearty, comforting and delicious, and will quickly become a family favorite!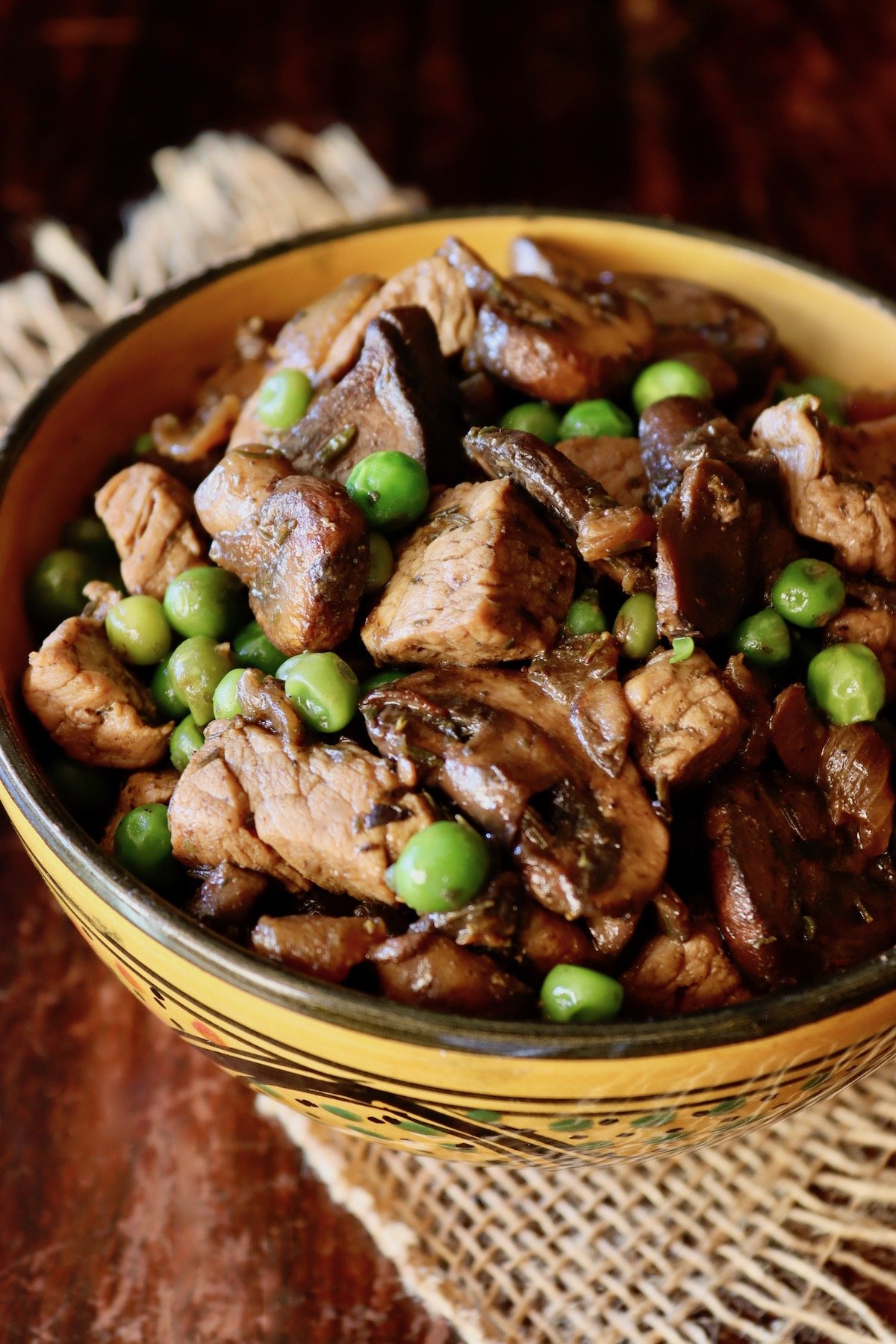 If you've been following Cooking On The Weekends for a while, you know how much I love being in the kitchen — delectable briskets cooking all day, yummy bread puddings that soak up aromatic ingredients for hours, scrumptious casseroles that involve layer after layer . . . and the list goes on.
That said, sometimes I just need to feed my family in a quick and easy way. And while I will cut the time and complexity, I will never cut the deliciousness!
Case in point: this Easy Pork and Mushroom Stew.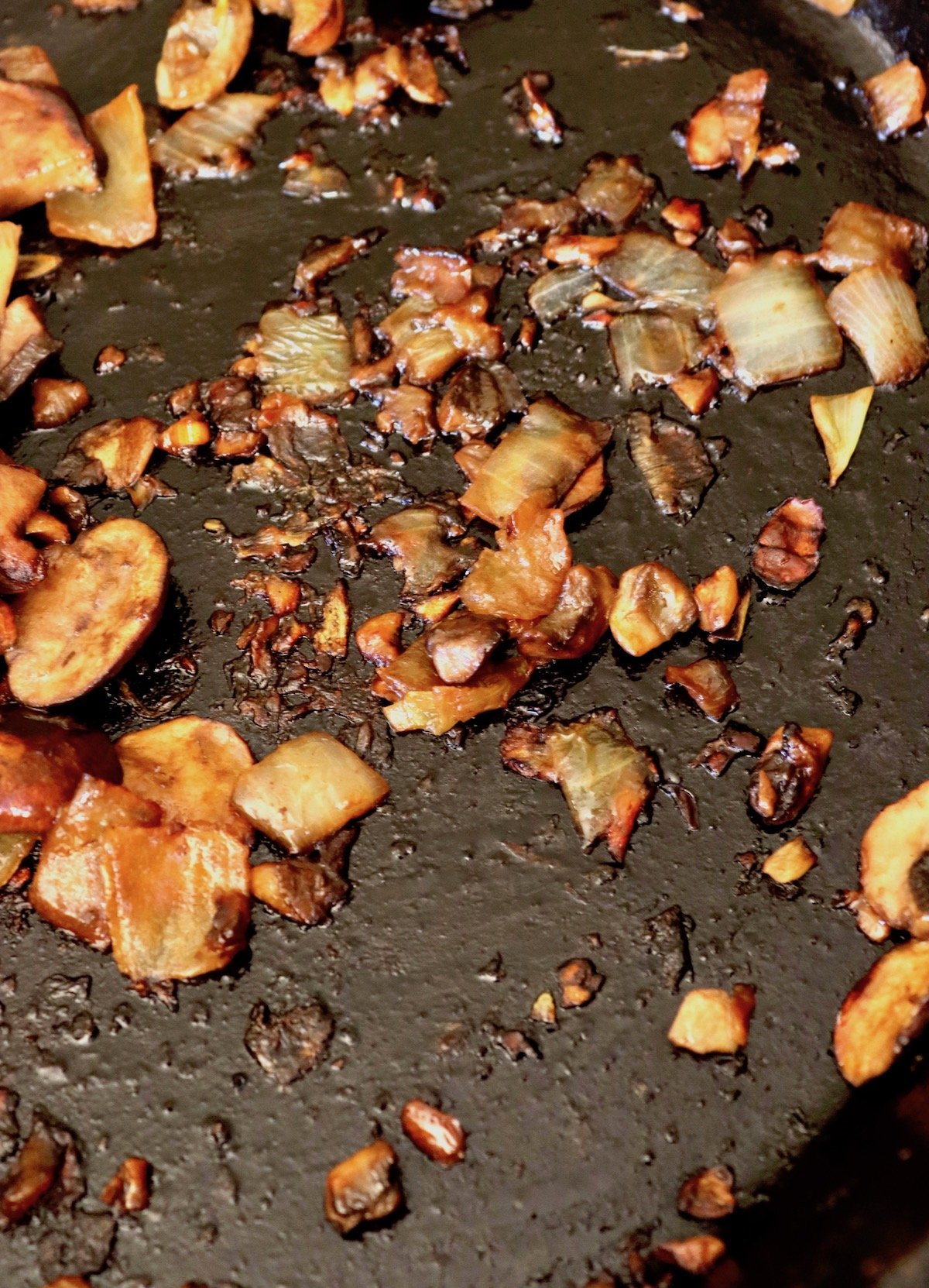 Above: Bits of mushroom and onion stuck to the pan. Part of what makes this stew (and so many dishes) so delicious is deglazing the pan. Deglazing is adding a liquid to a hot pan when caramelized bits of the ingredients are stuck to the bottom. Doing this releases them and allows them to be mixed back into the dish. These bits that are stuck are packed with flavor and will deepen the overall flavor of the stew. (In this recipe, the liquid is sherry.)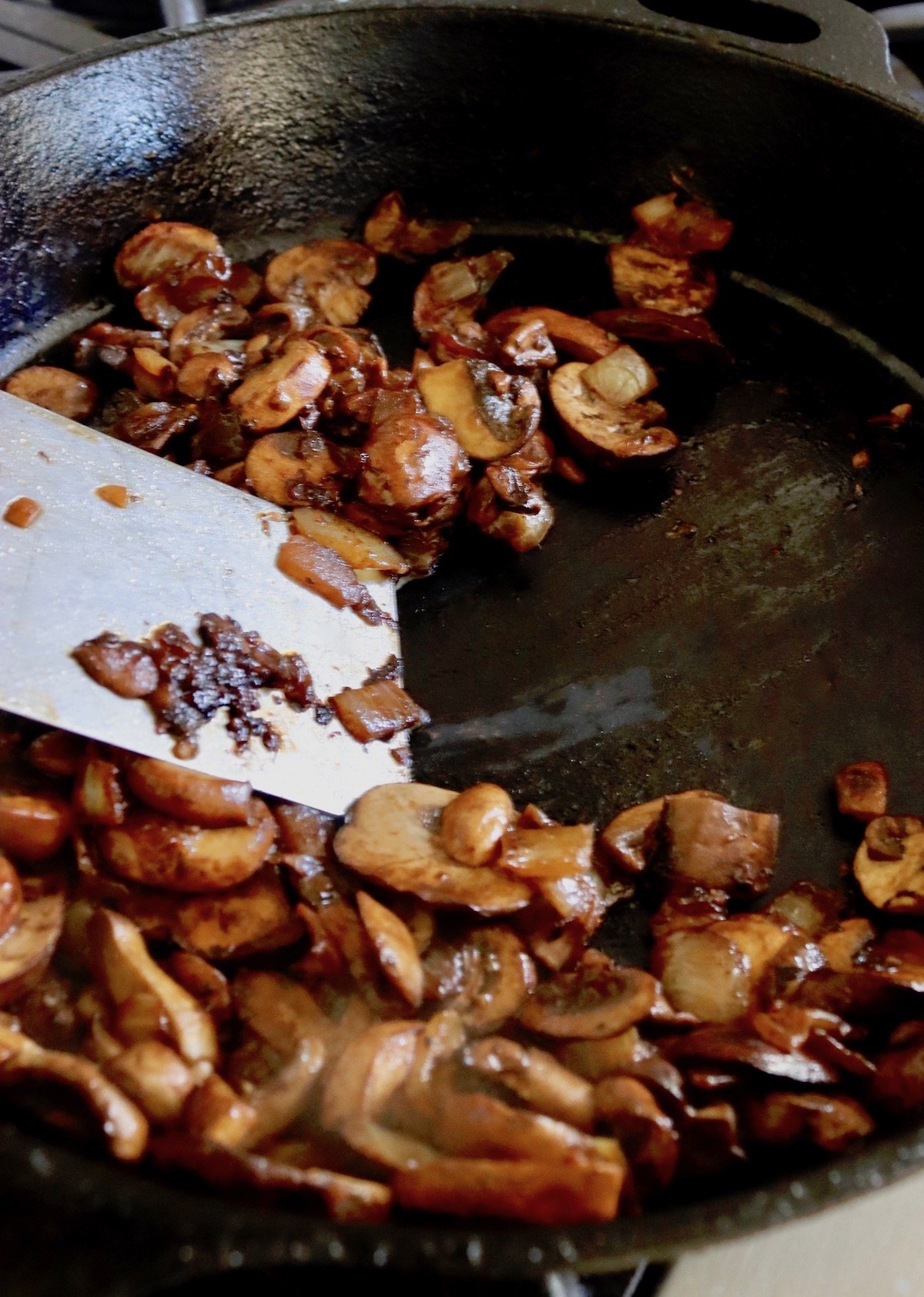 Above: This is the same pan after it's been deglazed with sherry. All of those stuck bits of deliciousness have been released and brought back into the mix.
What makes it quick and easy?
This stew recipe is made in one pot.
When cut into bite-sized pieces, pork tenderloin only takes a few minutes to cook all the way through.
Like most pork stew recipes, it's a bit rustic, so the cuts don't have to be precise.
The flavors come together very quickly, though it will taste like it took hours because it's so rich and the flavors are deep.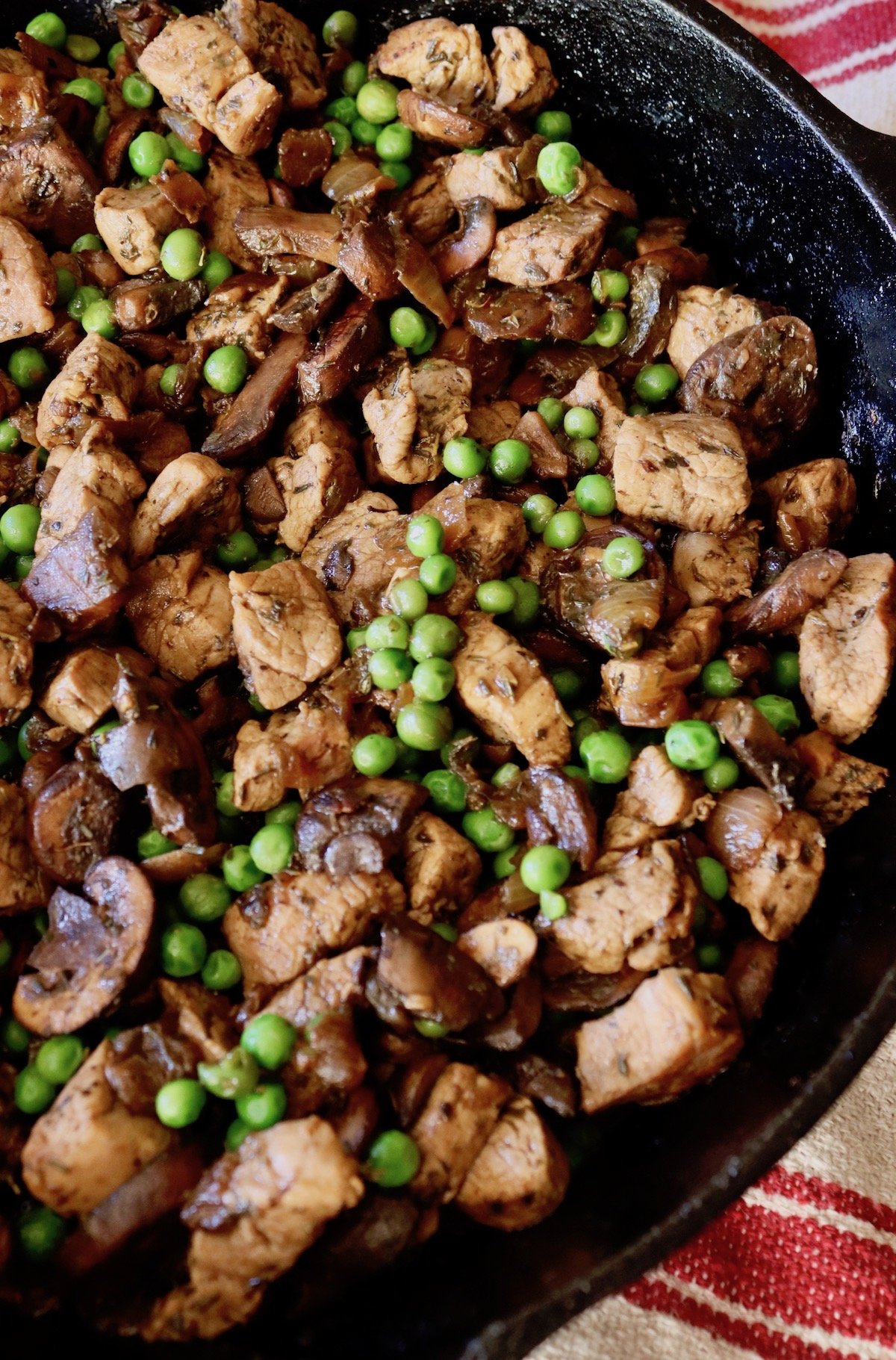 What to Serve with it
When I make this one-pot, quick and easy stew I serve it over rice. You can also serve it with pasta or toasted crusty bread. Anything that will easily soak up any extra sauce will be fantastic.
Can you Make it ahead?
Even though this pork stew recipe comes together so quickly, you can also make it ahead of time. Let it cool completely before putting it in a tightly sealed container and refrigerating. It will keep nicely for up to about four days. When you're warming it, add a few tablespoons of additional stock, and be sure just to heat it through and not cook it any longer.
Can you freeze stew?
Most stews, including this one, can be made ahead and frozen, and reheat well. Stew is best reheated on the stove or in the oven. Store the stew in a tightly sealed container in the freezer for up to about a month. Thaw it in the refrigerator, and when you warm it, just do so long enough to heat it through, and not further cook it.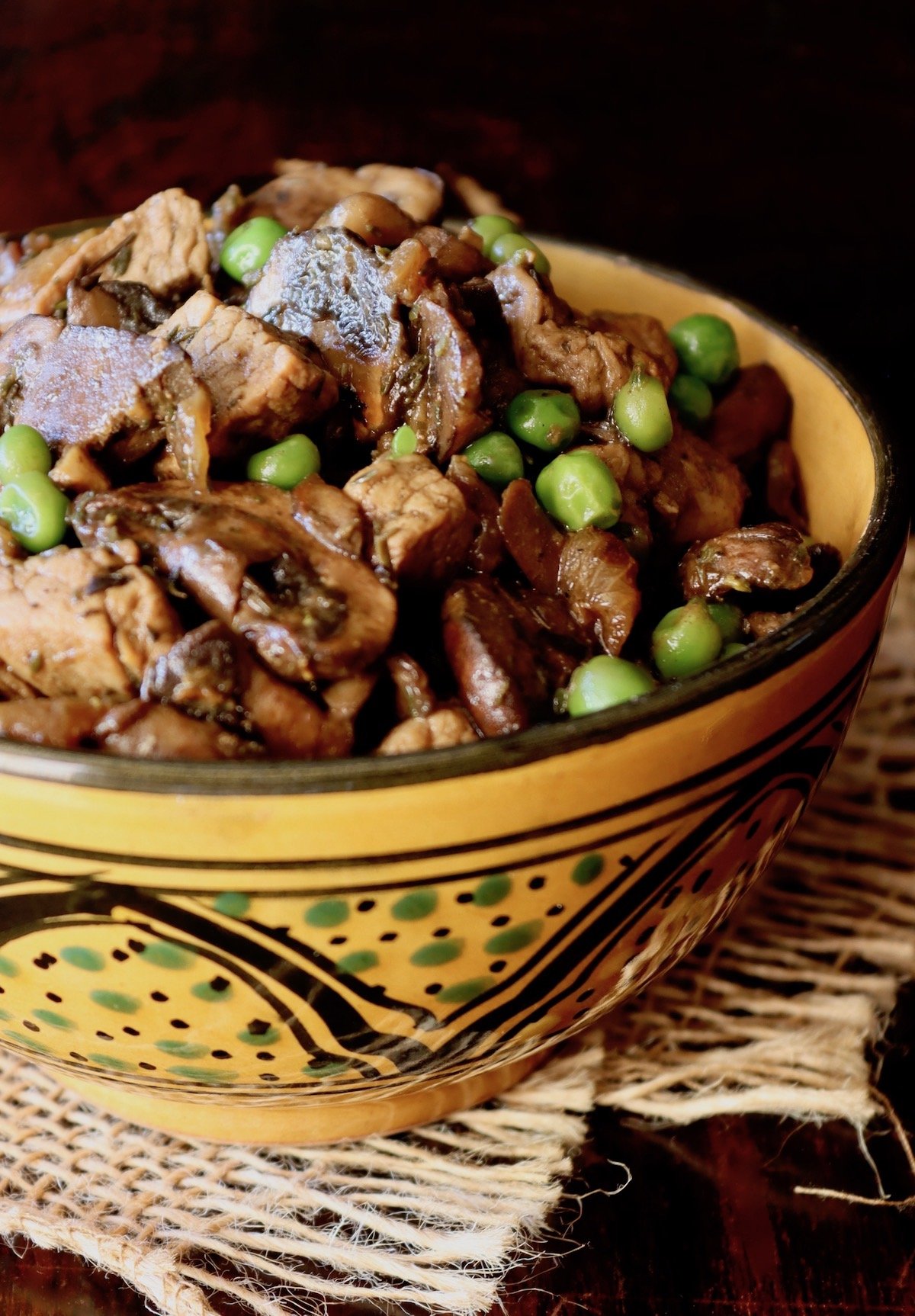 Recipe Tips and Substitutions
You can use fresh herbs instead of dry if desired. If you do, use three times the amount.
If you don't have peas, or don't love them, you can add steamed broccoli or fresh spinach -- or any combination thereof.
I love the flavor of

sherry with mushrooms

, which is why I almost always use it to deglaze the pan when cooking with them. However, dry white wine works well also. And if you don't have, or don't want to use either, use an equal amount of vegetable or meat stock.
I hope you love this Pork and Mushroom Stew as much as my family and I do!
More scrumptious pork recipes: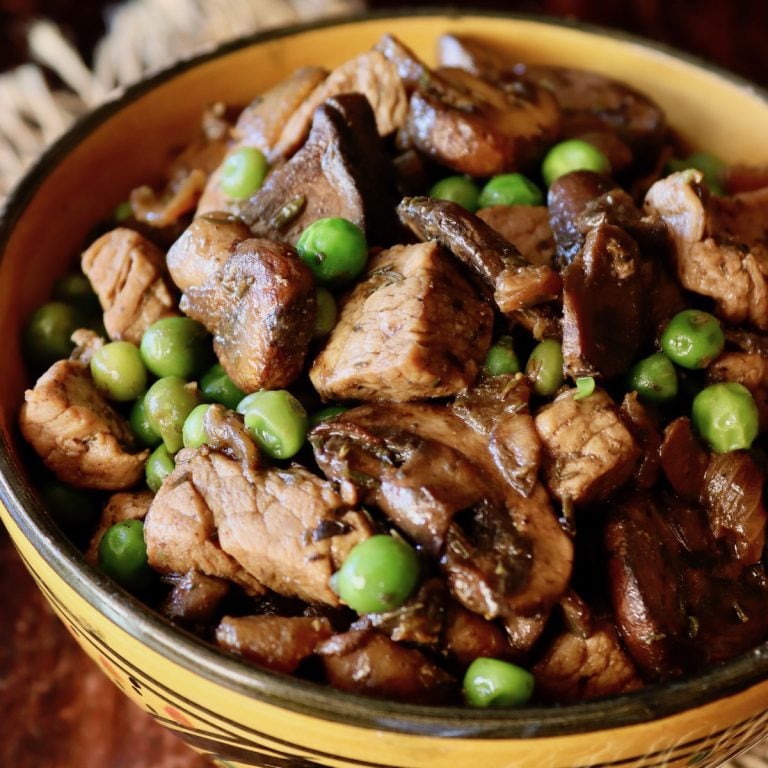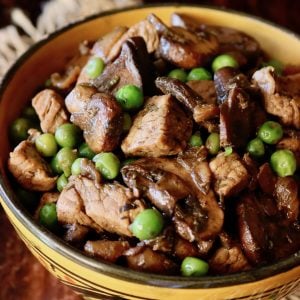 Easy Pork and Mushroom Stew Recipe
This comforting Easy Pork and Mushroom Stew is full of earthy flavors and fresh ingredients. Super hearty and delicious, it's a quick and easy pork stew recipe that will become a family favorite!
Ingredients
olive oil for the pan

1½

cups

diced onion (bite-sized pieces),

1

tablespoon

minced garlic

1

pound

Crimini or Button mushrooms,

washed and dried, thinly sliced

2

teaspoons

dried thyme

1

teaspoon

dried tarragon

¼

cup

medium dry sherry

1½

pounds

pork tenderloin,

cut into bite-sized pieces

⅓

cup

vegetable or meat stock

1⅓

cup

frozen peas,

thawed

salt and freshly ground black pepper
Instructions
Sauté the onions. Coat the bottom of a large sauté pan (12 inch, at least) with olive oil and place it over medium-high heat. Add the onions and garlic to the pan. Cook, stirring from time to time, until the onions are soft and slightly golden, about 7 minutes.

Sauté the mushrooms and deglaze. Add a bit more oil, to be sure the bottom of the pan is well coated, turn the heat to high and add about half of the mushrooms. Once they begin to brown, add the other half, and continue to sauté until they're all golden and tender, about 10 minutes total.

Now deglaze the pan by drizzling the sherry over the mushrooms and quickly stirring with a flat-edged spatula, scraping anything that's stuck to the bottom off and back into the mixture. Stir in the tarragon and thyme.

Add the pork and cook. Season the pieces of pork with salt and pepper and add them to the pan. Mix and add the stock. Once the pieces are cooked through — about 5 minutes — add the peas.
NOTES
Calorie count is only an estimate.
NUTRITION
Have you tried this recipe?
I'd love to see it on Instagram! Tag me at @cookingontheweekends or leave a comment & rating below.