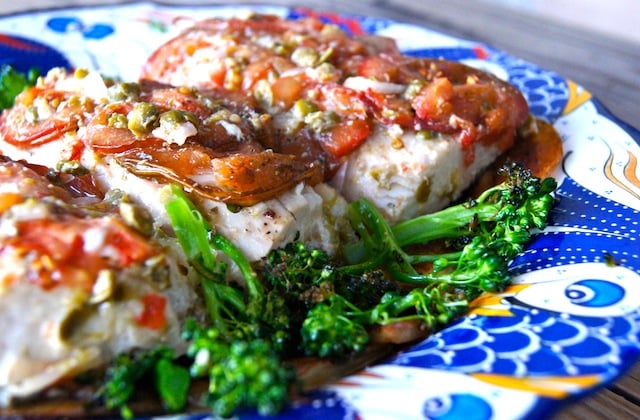 I don't know about you, but this time of year is so incredibly busy for me, I feel like I'm just going, going, going — and then going some more!
I have to make an effort to slow down, and take time out to enjoy a meal with friends and family.  And there's no better time then in the heart of comfort food season.
I don't think fish is the first thing that comes to mind for a comfort food — unless it's something like Cioppino or Smoky Tomato Fish Stew (pictured below).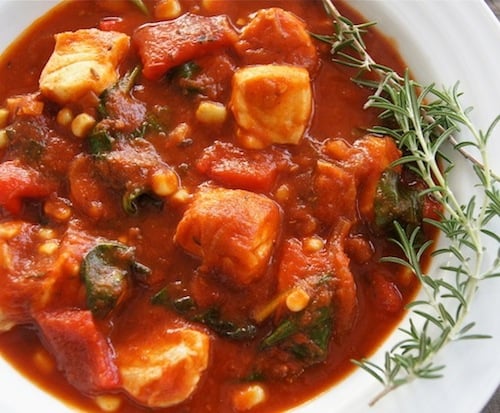 I tend think of fish in lighter dishes and for warmer weather.  So I have to remind myself that, that's not necessarily true.
And today I'm reminding you, with this super, delicious, easy-to-make Lemony Tomato Caper Marinated Mahi Mahi.
Just look at those beautiful, fresh ingredients. I love it!
It's hearty, packed with flavor, all made in one dish, and is perfect for a cool, winter night.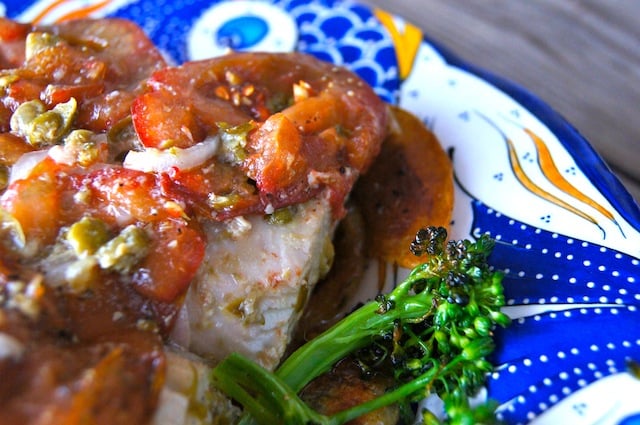 It's especially good over rice or pasta — I love it on this Roasted Garlic Basil Brown Rice.
Enjoy!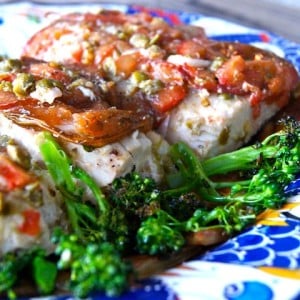 Lemony Tomato Caper Marinated Mahi Mahi Recipe
Ingredients
1/3

cup

roughly chopped capers

1/4

cup

finely chopped shallots

1-1/2

tablespoons

olive oil

1-1/2

teaspoon

minced garlic

Zest of 1 small to medium-sized lemon

Juice of 1 small to medium-sized lemon

1-1/2

cups

thinly sliced

fresh tomatoes

4

approximately 5-ounce wild-caught Mahi Mahi fillets

Sea salt and freshly ground black pepper
Instructions
In a small bowl, combine the capers, shallots, oil, garlic, lemon zest and lemon juice.

Spread a tablespoon or so of the marinade to the bottom of an (approximately 9 X 9 X 3 -inch) baking dish. Then place about half of the tomato slices in a single layer on top and drizzle a bit more of the marinade over them.

Dredge the fish fillets into the marinade, coating them well and then place them on top of the marinade-drizzled tomato slices. Evenly distribute the remaining marinade over the fish fillets, followed by the remaining tomato slices -- they should completely coat the fish.

Cover with plastic wrap an marinate for 30 minutes in the refrigerator.

Preheat the oven to 450 degrees F.

Remove the plastic, season with salt and pepper, and place in the preheated 450 degree F oven. Bake for just until he fish is cooked through, about 15 minutes.

Serve!
Save
Save