This Wasabi Glazed Seared Ahi Tuna Appetizer recipe is as delicious as it is pretty. It's sweet, spicy and fresh — all at once.  Suitable for any occasion or party, this super impressive recipe can be made in only twenty minutes.
Amazon affiliate links are for your convenience. As an Amazon Associate I earn from qualifying purchases at no additional cost to you.
What's not to love?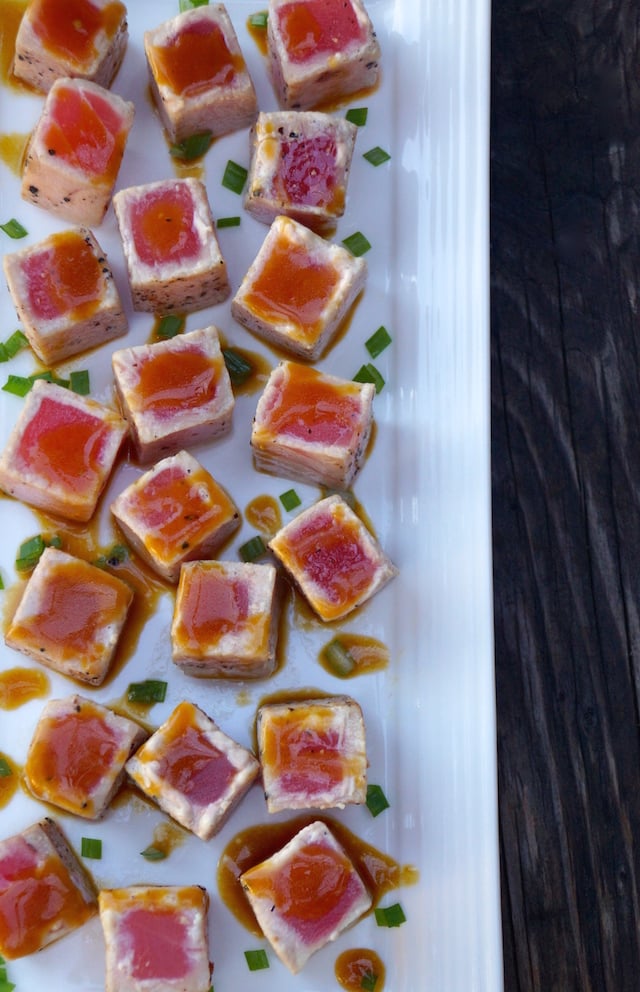 What makes the Wasabi Glazed Seared Ahi Tuna Appetizer recipe so fantastic?
The Ahi is slightly warm and peppery on the outside and refreshing and cool on the inside.
The wasabi glaze is spicy, sweet, rich and perfectly smooth — all at once.
It's super impressive and will totally wow your guests. Believe me!
It only takes about twenty minutes to create.
It's truly a bite that will satisfy every desire your palate may have.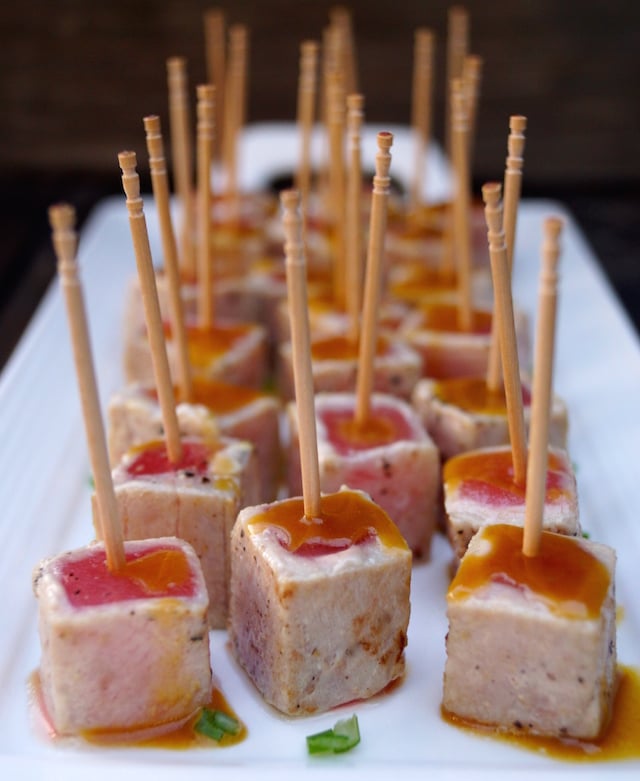 Back in my catering days, this Wasabi Glazed Seared Ahi Tuna Appetizer was one of the most popular things on my menus — especially for holiday parties.
I think seared ahi is universally a treat most people love, and in this form, they are festive and fun.
While wasabi is quite spicy and pungent, the glaze is mellowed with a bit of honey and Tamari.  And believe it or not, the unexpected ingredient in the glaze for this oh-so-scrumptious recipe is butter. Yep, butter!  It makes the glaze shine and give is a super smooth, rich texture.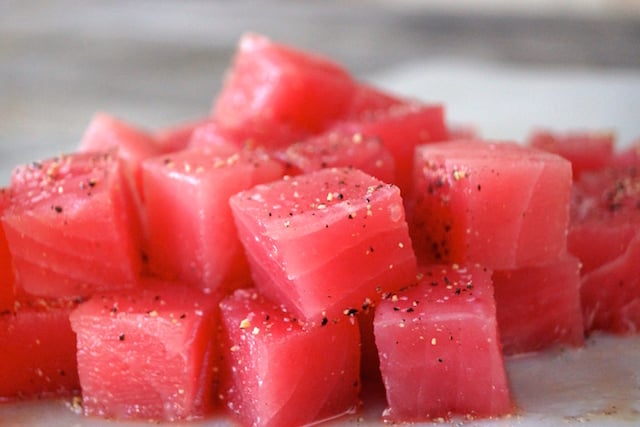 Don't forget as you're cooking, always take a moment to admire and celebrate the beauty of the individual ingredients. Who knew a pile of raw ahi could be so stunning?  Don't you think it looks like watermelon in this picture!?
This is a great appetizer to make for a small dinner or cocktail party. It will for sure excite and impress your guests!  And again, while it looks oh-so-fancy, the prep is fairly quick and easy.
I hope you'll give it a go!
Enjoy every last bite of this Seared Ahi Tuna Appetizer recipe!
Can't get enough ahi tuna? Here you go . . .
Wasabi Glazed Seared Ahi Tuna Recipe
The Wasabi Glazed Seared Ahi Appetizer recipe is as delicious as it is pretty.
*To help you cut the ahi into even squares, you can partially freeze the fillets first.

Keyword:
bite-sized hors d'oeuvres, party food
Ingredients
2 1/2

teaspoons

wasabi paste

2

teaspoons

low-sodium Tamari or soy sauce

1

tablespoon

unsalted butter

3/4

teaspoon

honey

1

pound

Ahi tuna fillet,

sushi grade (about 1-inch thick - see notes)

grapeseed, or other neutral oil

for the pan

sea salt and freshly grated black pepper
Instructions
Add the wasabi and Tamari (or soy sauce) to a small sauté pan and use a small whisk to blend until it's smooth.

Place the pan over low-medium heat and add the butter. Swirl the pan around until the butter has melted and is completely incorporated.

Whisk in the honey and set aside to cool to room temperature.

While the glaze is cooling, cut the Ahi into small cubes, about 1-inch -- and season them with salt and pepper. (It's very easy to cut into cubes if it's semi-frozen. Just be sure they're thawed by the time you sear them.)


Coat the bottom of a medium-sized sauté pan with the oil and place it over high heat. Once the pan is very hot, add the Ahi and sear all but two opposing sides. (If you don't hear a sizzling sound when the tuna hits the pan, it's not hot enough -- wait for the sizzle!) Only cook it through a bit, less than⅛-inch, probably no more than 10 seconds per side. You can use a fork to simply roll them to sear each side. You'll want to remove them from the pan the instant they're done, so doing this is small batches is a good idea. Place them directly on a plate or serving platter, raw side up. (You can also cut the tuna into strips, and slice them into cubes after searing them.)

Drizzle the cooled wasabi glaze over them, add toothpicks and serve.
Recipe Notes
The easiest way to make this recipe is to buy the Ahi frozen and cut it when it's partially thawed — you'll get nice even pieces. (After you cut it and before you sear it, let it thaw completely.)
You can also make this as an entrée -- simply sear (or cook a bit more if desired), ahi steaks -- about 5-ounces per person -- and drizzle the wasibi glaze over them.
Cooking On The Weekends is a participant in the Amazon Services LLC Associates Program, an affiliate advertising program designed to provide a means for sites to earn advertising fees by advertising and linking to Amazon.com.