Pretzel Bars! Peanut Butter Seven Layer Bars! Pretzel Seven Layer Bars. Peanut Butter Pretzel Magic Bars! I simply didn't know what to call these endless layers of deliciousness, so I combined almost every possible combination.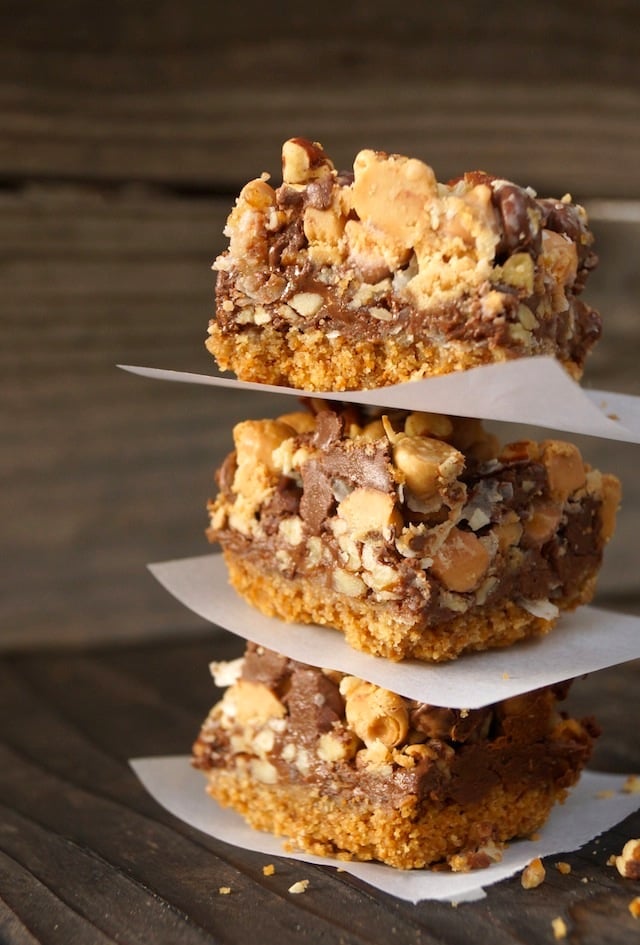 These Peanut Butter Pretzel Seven Layer Magic Bars deviate a bit from the typical fare — sweet or savory — that you might normally see on Cooking On The Weekends.
First, there's not too much cooking skill involved — and second, they're not exactly made with fresh, whole foods.
Am I doing a good job selling them, or what? 😉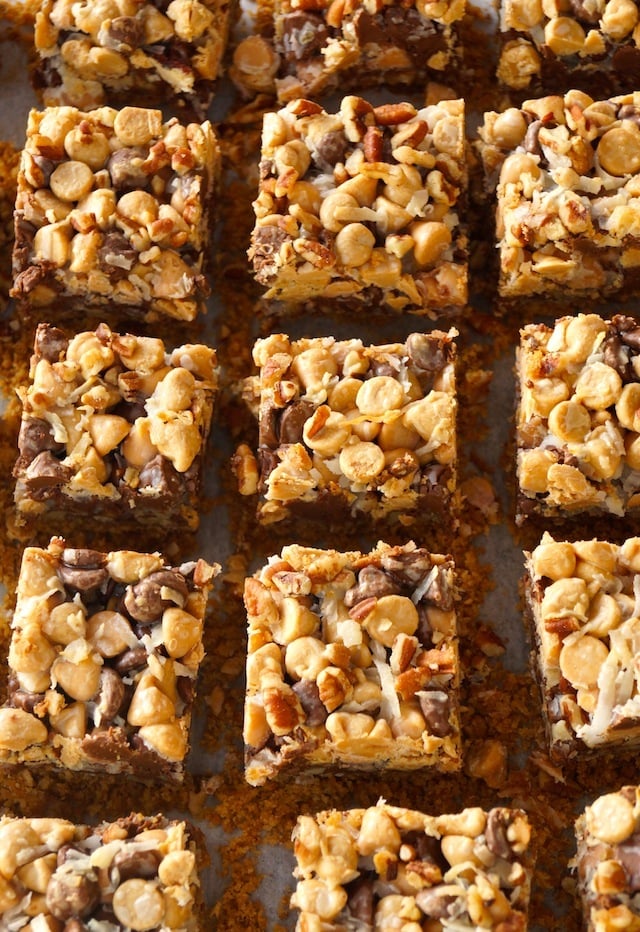 Inspiration for Peanut Butter Pretzel Seven Layer Magic Bars
Recently I was at a local café and grabbed a quick coffee and a Seven Layer Bar
After I ate the over-the-top, outrageously sinful dessert, I could not stop thinking about employing all of the ingredients — and some more — in my own baking pan.
At first they were going to be Peanut Butter Seven Layer Bars, then I decided to add the pretzel layer and found out about another name for this type of dessert.
Never having made this dessert, I did a little research and learned that these are also called Magic Bars . . . and that there aren't really seven layers. (Nor are they magic, FYI.)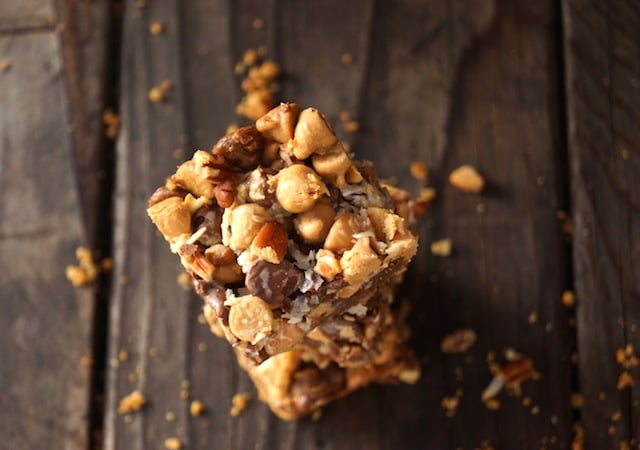 What makes the Seven Layer Pretzel Bars unique?
I'm not sure why I felt so compelled to make them, but as long as I was, I had to "make them my own" . . . so yes, I used pretzels for the crust, instead of the usual graham crackers, and added a creamy layer of chocolate-peanut butter deliciousness.
The result is whole lot of crazy sweetness packed into one pan.

What's in Peanut Butter Pretzel Seven Layer Magic Bars?
sweetened condensed milk
pretzels
pecans
coconut
butter
chocolate chips
butterscotch chips
peanut butter chips
peanut butter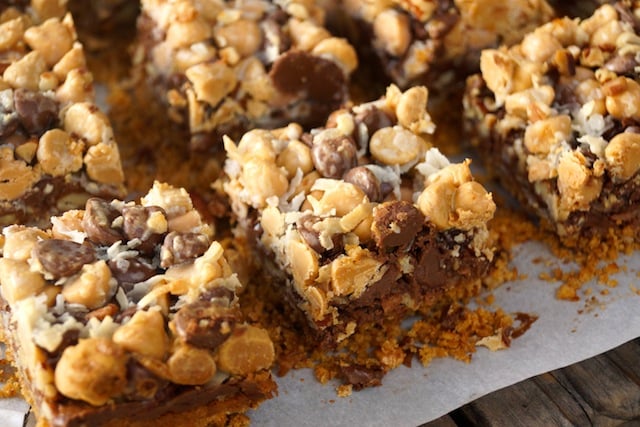 What do they taste like?
They're crunchy, salty, ooey, gooey, rich, and creamy — all at once!
Yes, they're a bit crazy — ridiculous, in fact. I mean when does one ever buy butterscotch chips!?
It's seriously almost like having a handful of pretzels with a variety of chocolate chips dipped in peanut butter and sprinkled with coconut and pecans. Only it's all melted together into one organized and good looking bar.
They must be cut into small squares, as all you'll need is one or two bites. At a time, anyway.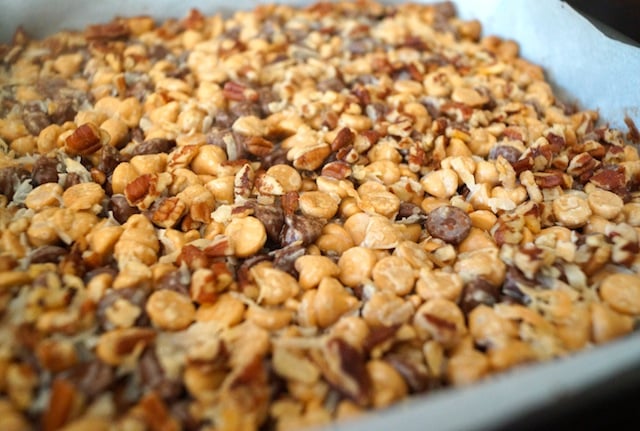 So there you have it. Every now and then, you gotta do what you gotta do, and be human. Eat something like this, and enjoy it!
I do hope you'll indulge and see what all my fuss is about. Peanut Butter Seven Layer Bars, well, actually Peanut Butter Pretzel Seven Layer Magic Bars are truly over-the-top.
Okay fine, maybe they're just a little bit magical.
Enjoy!
Can't get enough chocolate and peanut butter? My scrumptious Chocolate Peanut Butter Decadence will also satisfy your craving.
Peanut Butter Pretzel Seven Layer Magic Bars
These dessert bars have endless layers of pure, sweet deliciousness!

Keyword:
dessert bars, dessert bar recipes
Instructions
Add the pretzels to a food processor fitted with the blade attachment and blend until you have a mostly smooth powder. Pour this into a large mixing bowl and mix in the melted butter. Now press this into the parchment-lined baking pan. (It helps to flatten it out with a flat-bottomed metal spatula.)

Drizzle the crust evenly with 3 tablespoons of the sweetened condensed milk, then use a small flat-bottomed spatula to carefully spread it out.

Sprinkle evenly with ½ cup of the pecans and ½ cup of the coconut.

Add the peanut butter and semisweet chocolate to a small sauce pan and place it over low-medium heat. Heat just to melt the chocolate, and then gently mix the two together. Drizzle this evenly on top of the coconut and pecans, and then gently spread it out.

Now sprinkle evenly with ¼ cup of the pecans and ¼ cup of the coconut.

In a large mixing bowl, combine the milk chocolate chips, peanut butter chips, and butterscotch chips with the remaining ¼ cup of the sweetened condensed milk and the remaining ½ cup of the coconut. Pour this over the last layer and then use your hands or a spoon to move it around so that it's as even as possible.

Sprinkle with the remaining ¼ cup of pecans and then place in the preheated 375°°F oven just until the top (mostly along the edges) is golden, about 20 minutes.

Let them cool completely in the pan, at least for 1 hour. Then gently lift it out of the pan, carefully holding the edges of the parchment paper. Lift it onto a cutting board and then slice into approximately 20 evenly sized pieces.
Cooking On The Weekends is a participant in the Amazon Services LLC Associates Program, an affiliate advertising program designed to provide a means for sites to earn advertising fees by advertising and linking to Amazon.com.