This Cauliflower Bread with Gruyère is a gluten-free, healthy and delicious, low-carb bread. It's perfect to toast for breakfast, to serve as a side dish or for sandwiches.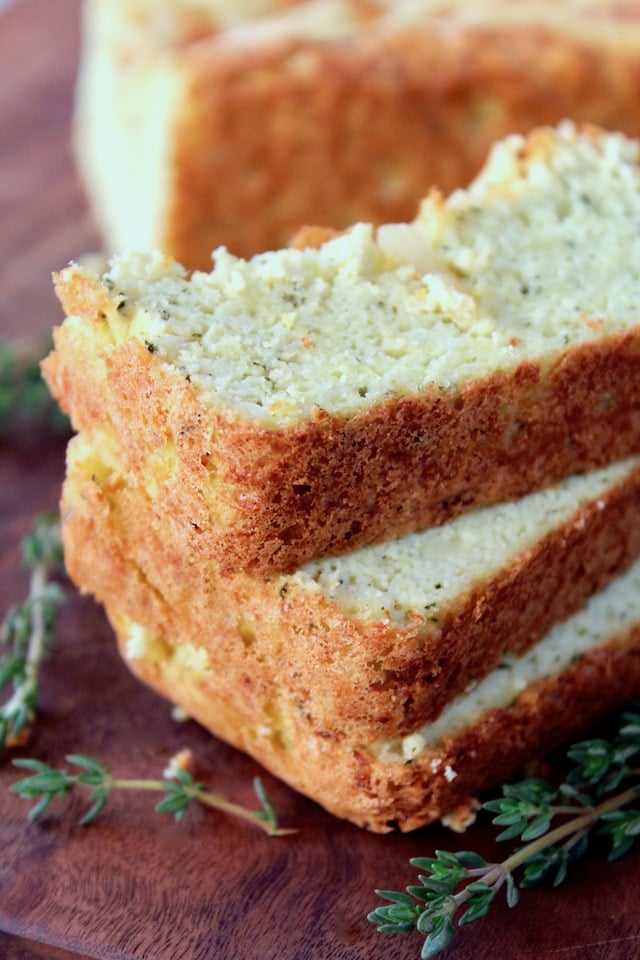 This Cauliflower bread is unlike typical sandwich bread. The texture is soft, somewhat dense and a tiny bit crumbly.
It more or less behaves like a loaf of short bread. Some cauliflower bread recipes might include yeast, but this is a great recipe -- not only because it's delicious -- but because it comes together without any kneading or rising time.
Pizza crusts made with cauliflower are easy to find these days, but I always love creating recipes for things you can't find in grocery stores, and I've never seen anything like this before.
This bread bursts with the savory flavors of fresh thyme and garlic, and it's so tasty that you will want slice after slice.
What Ingredients are in this recipe?
cauliflower
avocado oil
fresh thyme
garlic
salt
sugar
eggs
almond flour
baking powder
Gruyère
How to Make Cauliflower Bread
- Rice the head of cauliflower (which will be a small one or about half of a larger one) with a food processor, and then steam it until it's tender. Cauliflower florets break apart effortlessly, making it easy to add to the machine.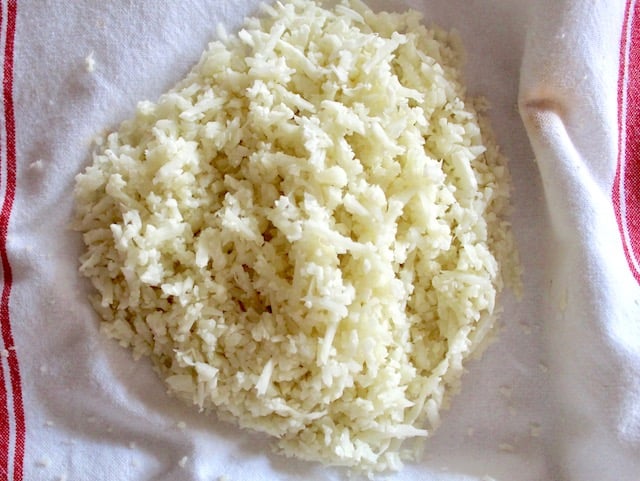 - With a clean kitchen towel, wring out the cauliflower to remove any excess liquid. (Paper towels are too thin for this. The cauliflower should be as dry as possible.) You can see the difference between the riced cauliflower before and after wringing it out in the above and below images.
- In a large bowl, mix the cauliflower, oil, thyme, garlic, salt, sugar and egg yolks. Then add the almond flour and baking powder and set aside. 

- In another mixing bowl, whip the egg whites until they form stiff peaks, and immediately fold them into the cauliflower mixture. This is what makes the cauliflower bread rise in the oven, and it's one of my favorite ways to make a gluten-free bread work well. (Be sure to use a rubber spatula to scrape off any remaining egg whites from the bowl.)
- Quickly pour the batter into a parchment paper-lined, prepared loaf pan and evenly sprinkle the grated Gruyère on top. (Using parchment paper is a great, easy way to lift the bread out of the pan once it's cool.)
- Place the pan in a 375°F oven. Bake until the bread no longer jiggles and is golden on top, about 40 minutes. Let it cool before removing it from the pan.
(More detailed instructions are in the recipe card below.)
Recipe Tips and Substitutions
There are two keys to the success of this recipe: 1) It's very important to drain as much liquid as possible out of the cauliflower after it's been riced and steamed. It's quick and easy to do this (see photos above, and instruction no. 2 below in the recipe). 2) The egg whites must be whipped until stiff and then immediately folded into the batter gently so you don't remove too much air.
To save time you can purchase pre-riced cauliflower, which is readily available as there are so many cauliflower rice recipes out there. (you will need 1½ cups).
You can also use garlic powder to save a bit of time. Use about 1½ teaspoons.
I use avocado oil in this cauliflower bread recipe. It's healthy and has a mild flavor that's barely detectable. You can also use olive oil, bearing in mind the flavor is slightly stronger).
Use any fresh herbs you like! Italian seasoning is especially delicious with the cauliflower, and the thyme is delicious — rosemary, oregano or dill would also add great flavor.
This recipe calls for super fine almond flour. I've also made it with coconut flour — it's a bit more dry, but also works.
What can you substitute for Gruyère? You can use almost any grated hard cheese you like on top of the bread. I love the nut-like flavor of Gruyère with cauliflower — Swiss, Mozzarella, and Parmesan cheese would also be lovely. Or feel free to skip the cheese if you'd like.
Since this bread is soft, if you want to toast it, it might be easiest on a baking sheet in a hot oven. To use a toaster, be sure it's been out of the oven for at least a few hours.
Can you make Cauliflower Bread ahead?
This bread is best the day it comes out of the oven, but can still be great if it's stored properly.
Room temperature. Cauliflower bread will keep for one day in a tightly sealed container at room temperature.
Refrigerator. It will keep well for about four days in a tightly sealed container in the refrigerator.
Freezer. This recipe will keep well for a month in a heavy-duty zip-lock bag with all of the air removed in the freezer.
This cauliflower cheese bread is great to make for friends with a special diet (gluten-free, low carb, etc.). I didn't create it with that intention. It just inherently works this way.
I hope you enjoy this Cauliflower Bread with Gruyère as much as we do!
More delicious cauliflower recipes:
Cauliflower Bread with Gruyère
This Cauliflower Bread with Gruyère is gluten-free, healthy and delicious. It's perfect to toast for breakfast, to serve as a side dish or for sandwiches.
Ingredients
about ¾

pound

cauliflower (about ½ small cauliflower),

washed and dried

⅓

cup

avocado oil

1

tablespoon

fresh thyme,

washed and dried, finely chopped

1

teaspoon

garlic,

minced

½

teaspoon

salt

½

teaspoon

granulated sugar

5

large

eggs

1

cup

super fine almond flour

1

tablespoon

baking powder

⅓

cup

Gruyère cheese,

grated
Instructions
Set the oven and prepare the pan. Preheat the oven to 375°F and adjust a rack to the center of the oven. Line an 8½ x 4½ x 3-inch loaf pan with parchment paper.

Prepare the cauliflower. Remove the greens and cut out the core of the cauliflower. Use a food processor with the grater attachment to "rice" the cauliflower. (You can also use a hand grater.) You need 1½ cups riced cauliflower. Place a steamer rack into a pot with the water level just below it. Over high heat, bring the water to a boil and then add the cauliflower to the rack, turn the heat to low and cover. Please note that if the holes in the rack are larger than the bits of cauliflower, you'll need to first place a piece of cheesecloth inside to line it. Alternately, you can use a fine mesh strainer instead of the rack. Steam until the cauliflower is tender, about 15 minutes. Then pour it onto a kitchen towel, wrap it tightly and wring it out to remove as much moisture as possible (there should be a lot). Do this a few times until you no longer see any liquid dripping from the cloth. The cauliflower has to be as dry as possible. Once you've removed all of the liquid, it should only measure about ½ packed cup.

Begin making the batter. Add the cauliflower, oil, thyme, garlic, salt and sugar to a food processor fitted with the blade attachment. Blend until smooth. Now separate the eggs and add the yolks to the food processor and the whites to a clean mixing bowl. Set the whites aside. Blend the yolks into the cauliflower mixture and then spoon the batter into a large mixing bowl. Use a large spoon to mix the almond flour and baking powder into the batter. Set aside. 


Whip the egg whites and finish the batter. Use an electric mixer to whip the whites until stiff peaks form. Immediately add the whites to the bowl with the batter and mix just until it's well incorporated. Very quickly pour the batter into the prepared loaf pan. Evenly sprinkle the grated Gruyère on top.


Bake. Place the loaf pan on a baking sheet and into the preheated 375°F oven. Bake until the bread no longer jiggles and is golden on top, about 40 minutes. 


Cool. Let it cool in the pan for at least 5 minutes. Then use the edges of the parchment to very gently lift it out and onto a cooling rack. (The bread will sink a little in the center.) Wait for it to be completely cooled before slicing.
NOTES
Calorie count is only an estimate.
NUTRITION
Have you tried this recipe?
I'd love to see it on Instagram! Tag me at @cookingontheweekends or leave a comment & rating below.
Cooking On The Weekends is a participant in the Amazon Services LLC Associates Program, an affiliate advertising program designed to provide a means for sites to earn advertising fees by advertising and linking to Amazon.com.