The only thing better than potatoes confit, is Rustic Garlic Confit Mashed Potatoes! Creamy and rich, they're a fabulous side dish for almost any meal, including Thanksgiving.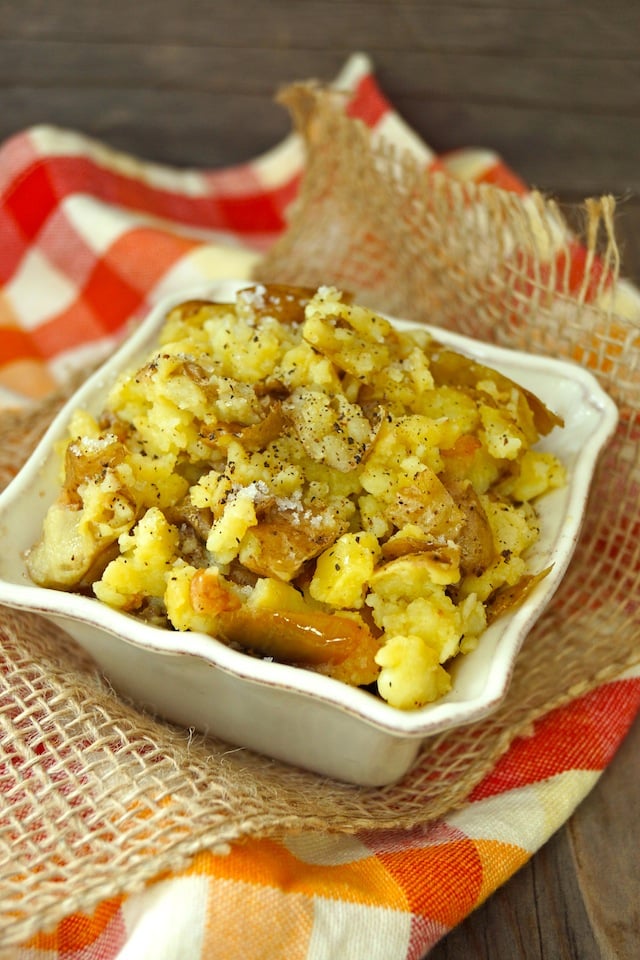 Do you ever have a bite of a delicious food, and without intentionally doing so, you close your eyes and moan a bit?
Well, I think it's going to happen when you try these Garlic Confit Mashed Potatoes.
The rich and creamy potatoes with a generous amount of slow roasted garlic, is absolutely impossible to resist.
What does Confit Mean?
Confit typically refers to cooking a meat in its own fat, like Duck Confit. However, the term has extended itself to vegetables cooked in a fat as well — just not their own, obviously.
Hence these lovely potatoes cooking in olive oil.
After getting such a positive response to my Rosemary Potatoes Confit, I tweaked them a bit by adding garlic, and then mashing them to create this deliciousness.
How to Make Them
- Place the potatoes and garlic in a baking dish with enough height to cover them with oil.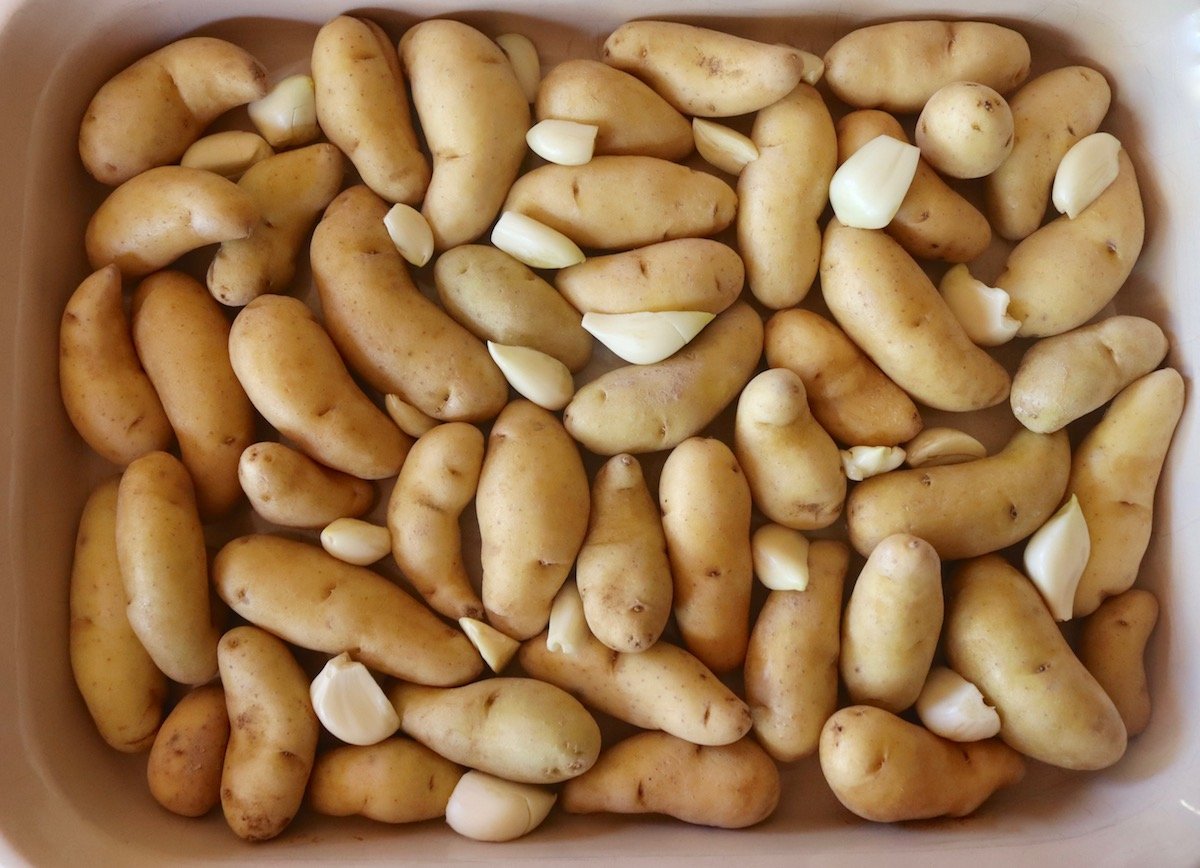 - Pour in the oil to cover everything, but barely.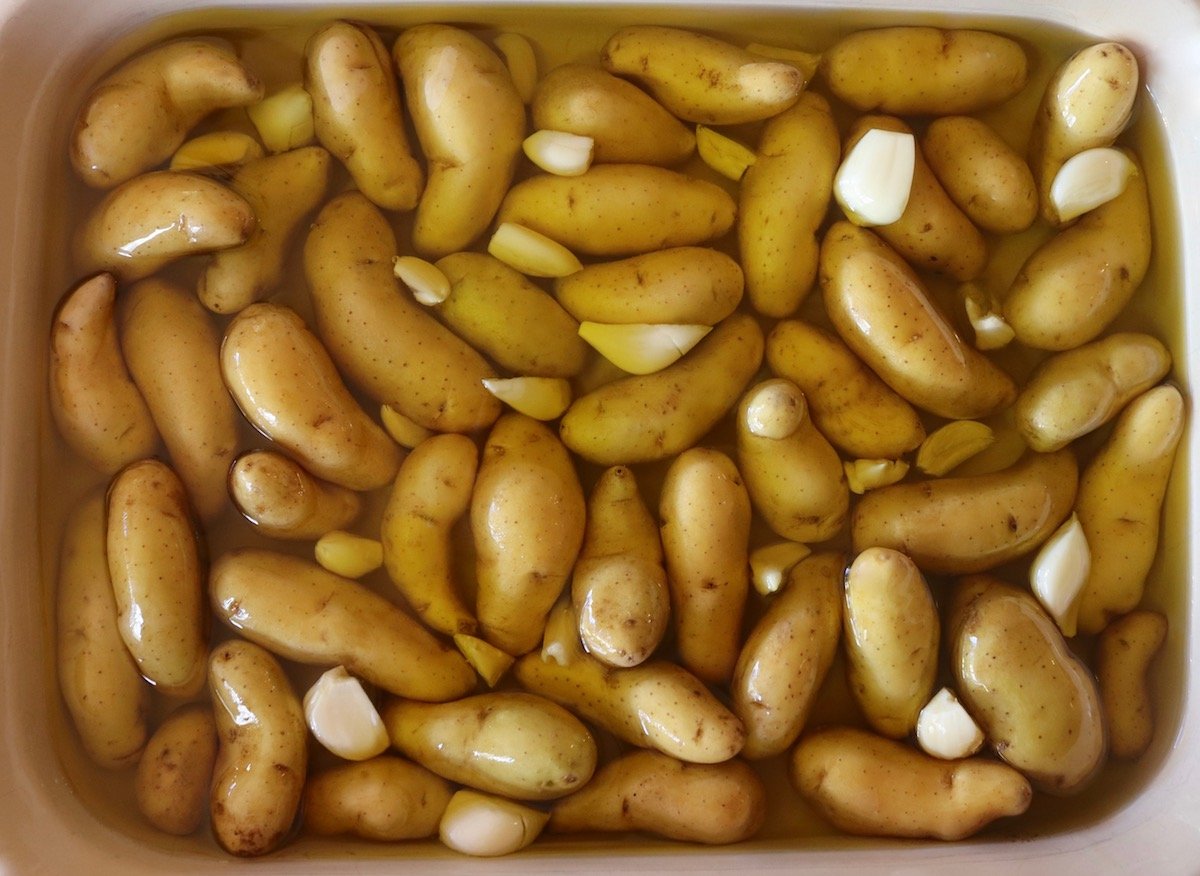 - Bake at a low temperature in the oven, uncovered, for about 2 hours.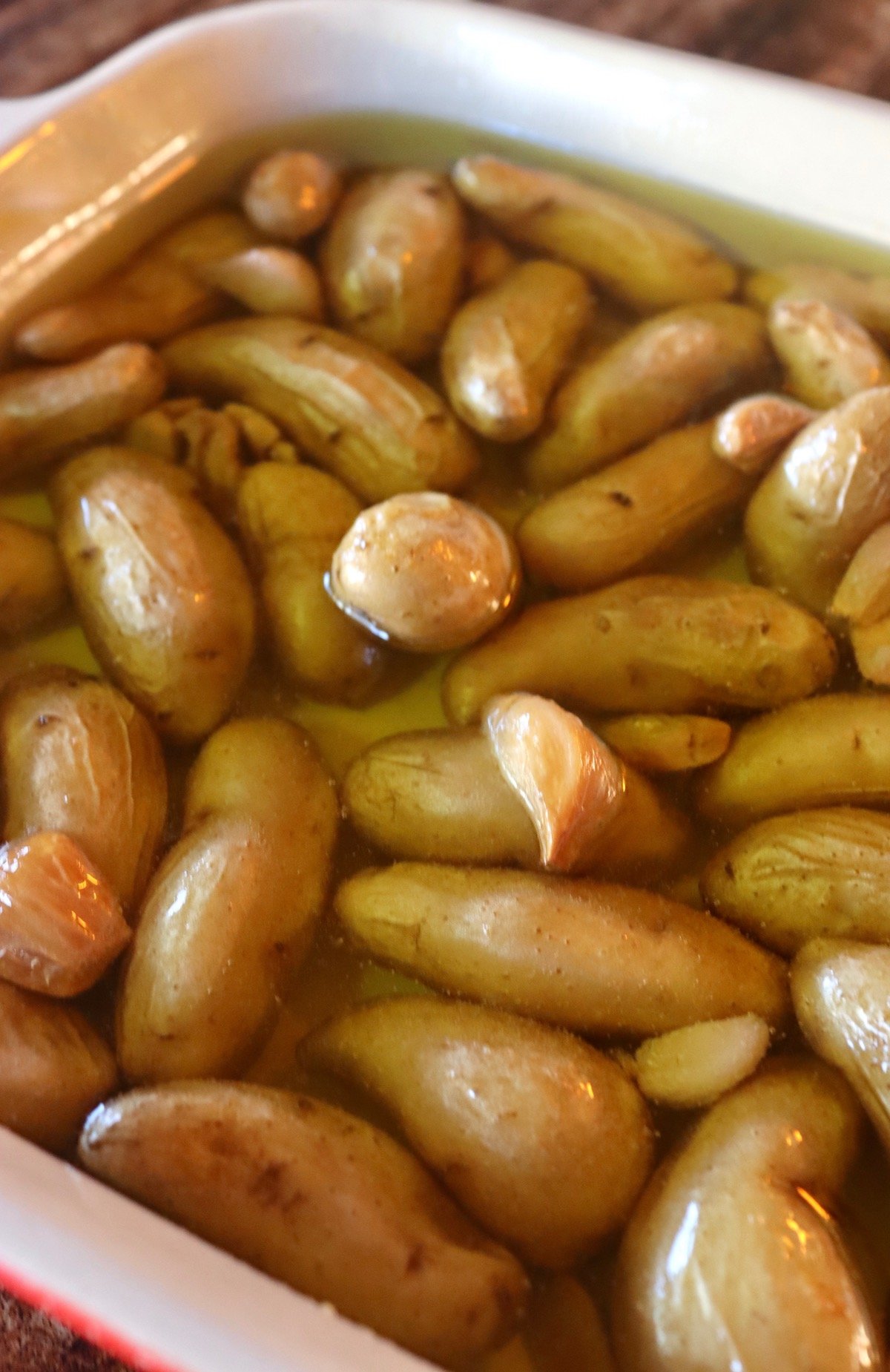 - With a slotted spoon, to leave the oil behind, transfer the potatoes and every bit of the garlic to a mixing bowl.
- Mash and season.
(More detailed instructions are in the recipe card below.)
Can you make them ahead?
You can make these up to two days before hand. Once they've cooled to room temperature, wrap them tightly with plastic wrap and refrigerate. A couple hours before serving, bring them to room temperature and heat them in the oven at about 350°F, covered with foil.
Recipe Tips
You can add fresh herbs to the potatoes if you'd like. Rosemary or oregano would be lovely. Place a couple of sprigs beneath the potatoes before you add the oil.
For a smoother mashed potato, once the potatoes and garlic are removed from the oil, you can blend them in a food processor, fitted with the blade attachment.
Rustic garlic Confit Mashed Potatoes are crazy delicious! Like melt-in-your-mouth and oozing-with-flavor delicious! They're an experience.
And they would be amazing as a part of your Thanksgiving feast!
Enjoy every single bite!
More potato sides for Thanksgiving or any day: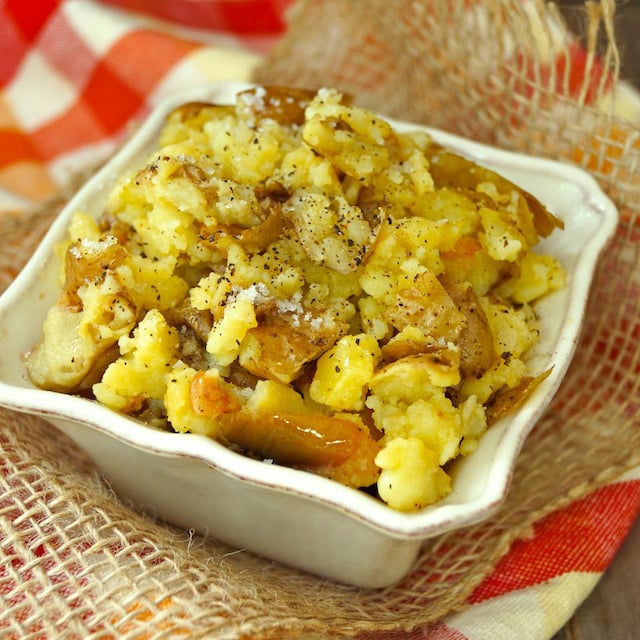 Garlic Confit Mashed Potato Recipe
These potatoes are creamy and rich, and are a fabulous side dish for almost any meal, including Thanksgiving.
Ingredients
1

pound

Idaho Dutch Yellow Potatoes or Fingerlings

washed and dried

2

cups

extra virgin olive oil

¼

cup (about 1 small head of garlic)

garlic cloves
Instructions
Set the oven. Preheat the oven to 225°F.

Prepare the potatoes. Place the potatoes in a baking dish that will hold them snugly, in a single layer, and with enough height to cover them with the oil, without getting too near the top edge. Set aside.

Prepare garlic and add it to the potatoes. Peel the garlic cloves, and then use a paring knife to cut off the root ends. Slice them vertically down the center and use the tip of the knife to remove the inside root.

Add the garlic cloves to the potatoes, making sure they are evenly dispersed.

Add oil and bake. Pour the oil over the potatoes and garlic. It should cover them, but barely. Place the baking dish with the potatoes on a baking sheet, and then in the preheated 225°F oven, uncovered, for 2 hours. Then turn the heat to 400°F, and cook for another 10 minutes -- at this point the oil should be sizzling a bit.

Cool. Remove them from the oven and let them cool at room temperature in the oil.

Remove potatoes and garlic from oil and mash. Use a slotted spoon to transfer the potatoes and every bit of the garlic to a mixing bowl. Use a large fork to mash everything together. (I prefer the potatoes to be chunky for this dish.)

Season. Season generously to taste with salt and pepper. (Here's How.)

Save the garlic infused oil -- you can use it for all sorts of cooking for the next couple of days.
NOTES
Calorie count is only an estimate.
NUTRITION
Have you tried this recipe?
I'd love to see it on Instagram! Tag me at @cookingontheweekends or leave a comment & rating below.