This Rosemary Confit Potatoes recipe is truly special. Its melt-in-your-mouth quality is unmatched by any other potato I've tried, and the scent of the rosemary brings it to yet another level.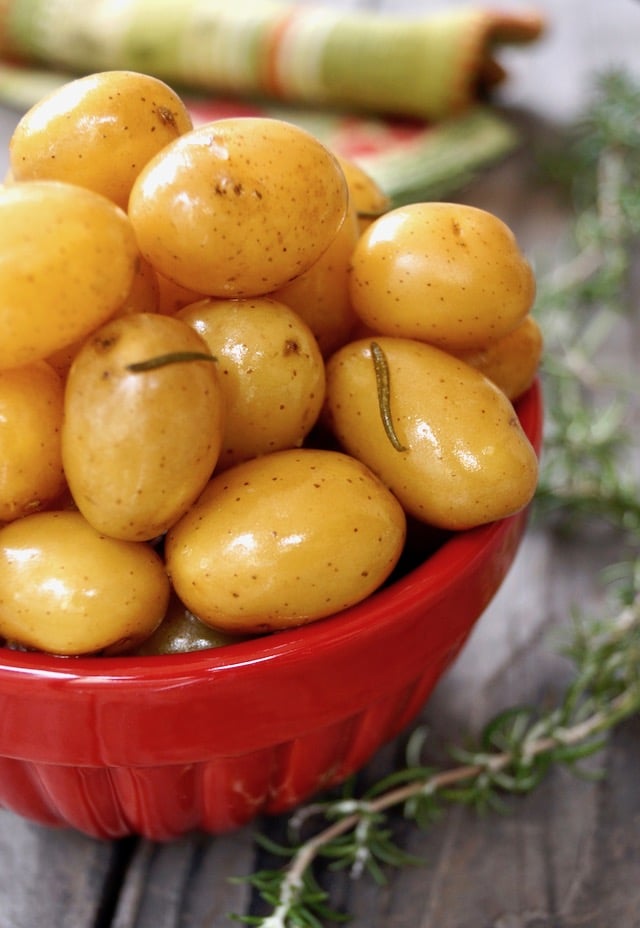 Do you remember the Chocolate Peanut Butter Decadence dessert I made? From my anniversary dinner?
Really, how could you not!?
Well, I've been holding out out on you.
At that same dinner, I also had a fantastic potato dish — Confit Potatoes. And yes, I just had to recreate it. When I taste something this good in a restaurant, I'm almost impatient to get home and try my own version of it.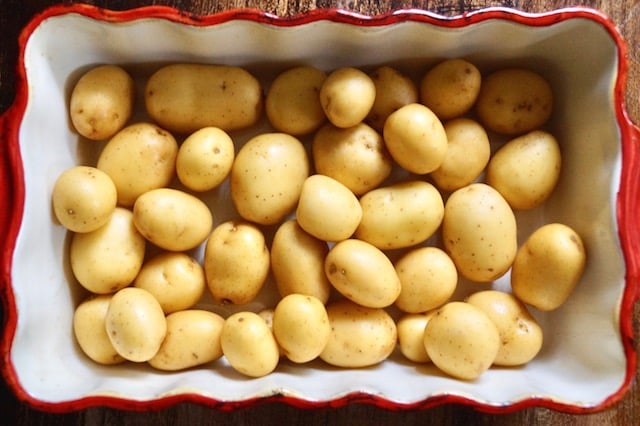 What is Confit?
Confit typically refers to cooking a meat in its own fat, like Duck Confit.
However, the term seems to have extended itself to vegetables cooked in a fat as well — just not their own, obviously.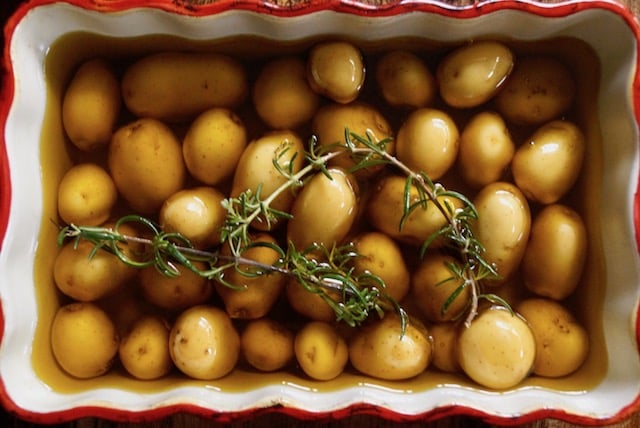 What's in this Rosemary Confit Potatoes Recipe?
It's almost all in the title!
They are unbelievably smooth, succulent, and rich.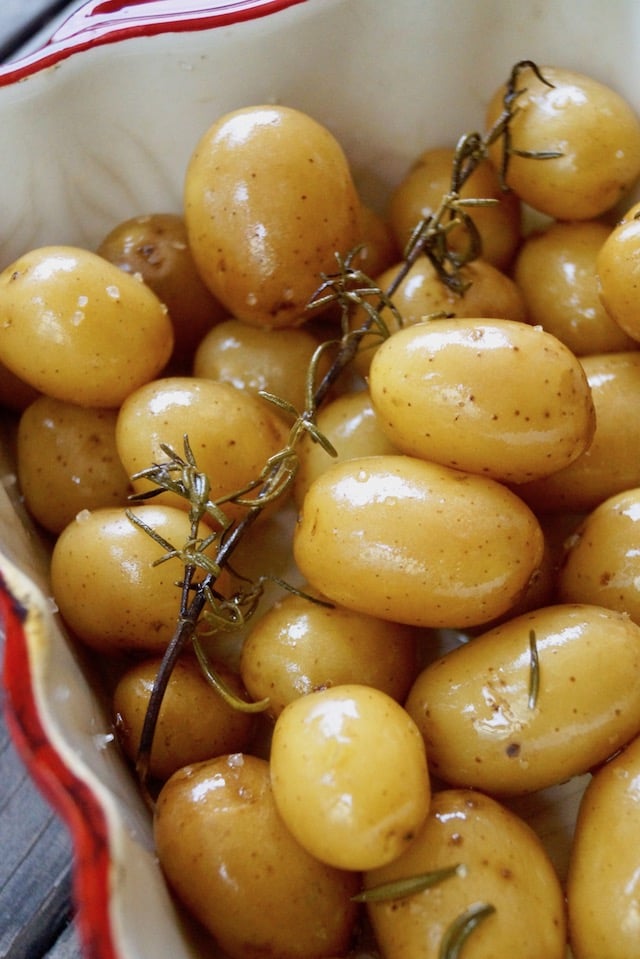 What to Serve with Rosemary Confit Potatoes
If you serve these at a dinner party, there's no question you'll be a hit. This would be such an excellent side dish to have alongside almost any meat recipe.
I think they would be especially delicious with

Mediterranean Marinated Flank Steak

or

Lavender Rosemary Grilled Ribeye Steak

. Add a side salad and dinner is ready.
Of course they'd be fabulous with chicken and turkey also.
And here's an interesting and super delicious idea for you to try. . . you can let them cool completely to room temperature, or even chill them, and then cut them into quarters to toss into a hearty main course salad. Add roasted chicken and you're all set. Yum!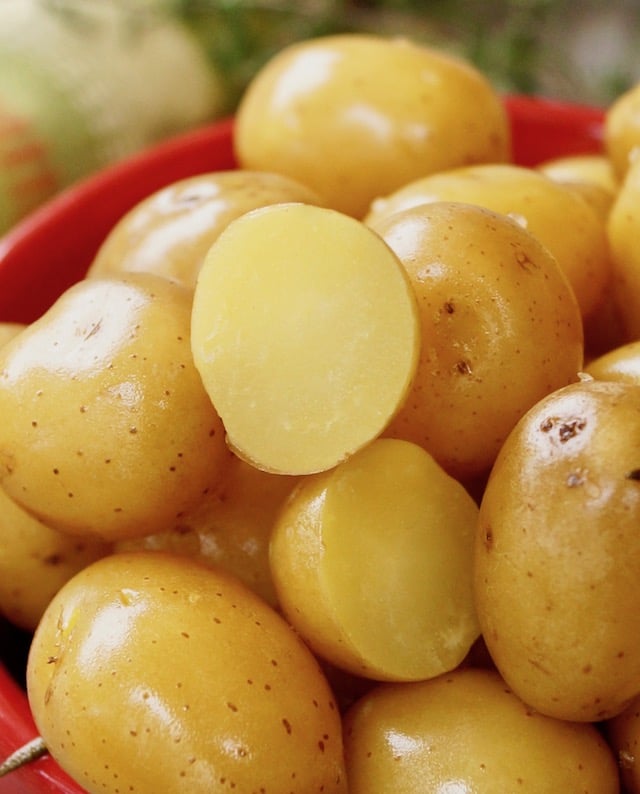 Recipe Tips
You can use any small potato you like. The smaller the better for confit potatoes. I use the Pee Wee Dutch Yellow potatoes and love them. They're so tiny — each one (or two) is one bite!
As always, starting with the best ingredients is important, so the higher quality the olive oil, the better.
Be patient. A good deal of the success of this recipe will depend on the slow cooking process.
I also took this recipe a step further and created a mashed potato dish out of it: Rustic Garlic Confit Mashed Potatoes (below).
Rosemary Confit Potatoes Recipe is a fantastic, easy dish to add to your fall and winter comfort food recipes and to wow your dinner party guests with.
Tomato-Rosemary Confit below is on my list of most delicious foods ever, and now Rosemary Confit Potatoes are up there, too.
Enjoy!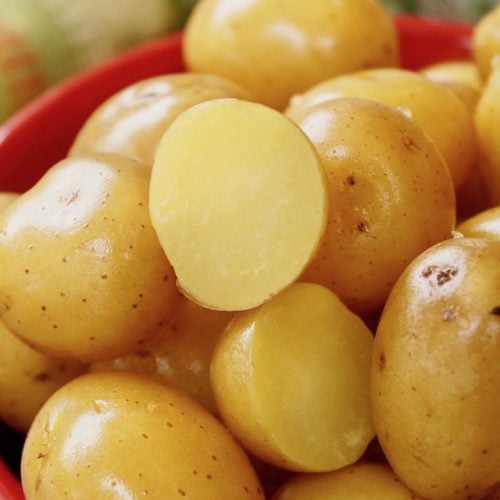 Rosemary Confit Potatoes Recipe
This is a melt-in-your-mouth recipe that's unmatched by any other potato I've tried, and the scent of the rosemary brings it to yet another level.
Keyword:
great potatoes to go with steak, great with meat, best potato sides
Ingredients
3/4

pound

Pee Wee Dutch Yellow Idaho potatoes,

washed and dried

about 4

sprigs

fresh rosemary,

washed and dried

about 2

cups

extra virgin olive oil

coarse sea salt
Instructions
Preheat the oven to 225°F.

Place the potatoes in a baking dish that will hold them snugly, in a single layer (more or less), and with enough height to cover them with the oil, without getting too near the top edge.

Add the rosemary sprigs to the baking dish, placing some underneath the potatoes.

Pour the olive oil over the potatoes evenly -- they should all be completely, or almost completely submerged in the oil.

Place the potatoes in the preheated 225°F oven, uncovered, for 2 hours.

Remove them from the oven and let them cool at room temperature until the oil stops sizzling.

Drain the potatoes over a bowl. (Save the rosemary infused oil -- you can use it for all sorts of cooking!)

Add the potatoes to a serving bowl, or return them to the baking dish and gently toss them with the salt to taste. (Here's How to Season to Taste.)
Save
Save
Save