It doesn't get much better than this Garlic Smashed Potatoes recipe. A perfect side dish for Thanksgiving -- or any day! Full of fresh, aromatic herbs, they're rich, creamy and over the top delicious.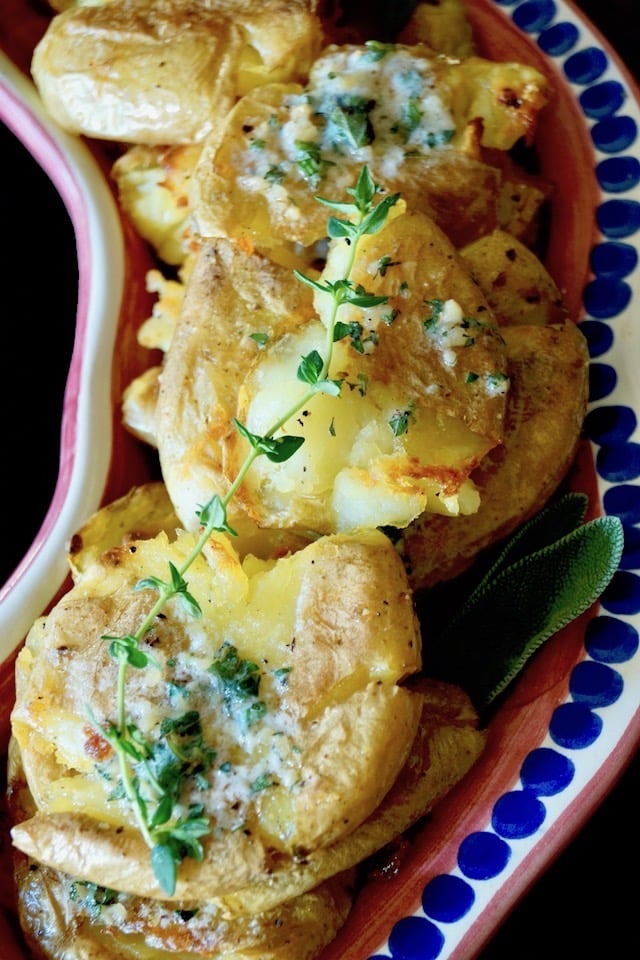 What are Smashed Potatoes?
---
Do you love French fries and mashed potatoes?
Well my friends, Smashed Potatoes are a combination of both of these delectable treats.
Typically made with smaller potatoes, like Baby Dutch Yellow potatoes, New or Fingerlings, the key to smashed potatoes is keeping them soft inside, while achieving a super crispy outside.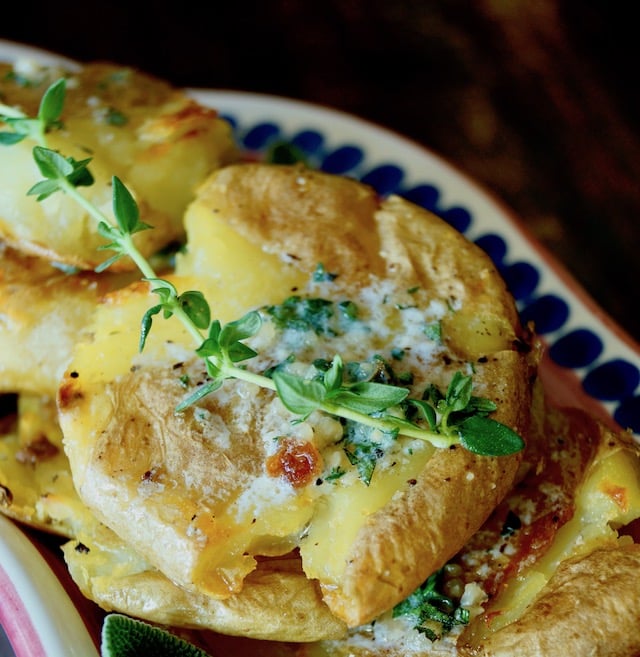 How Do you Make Smashed Potatoes?
---
Smashed Potatoes are made in essentially three simple steps: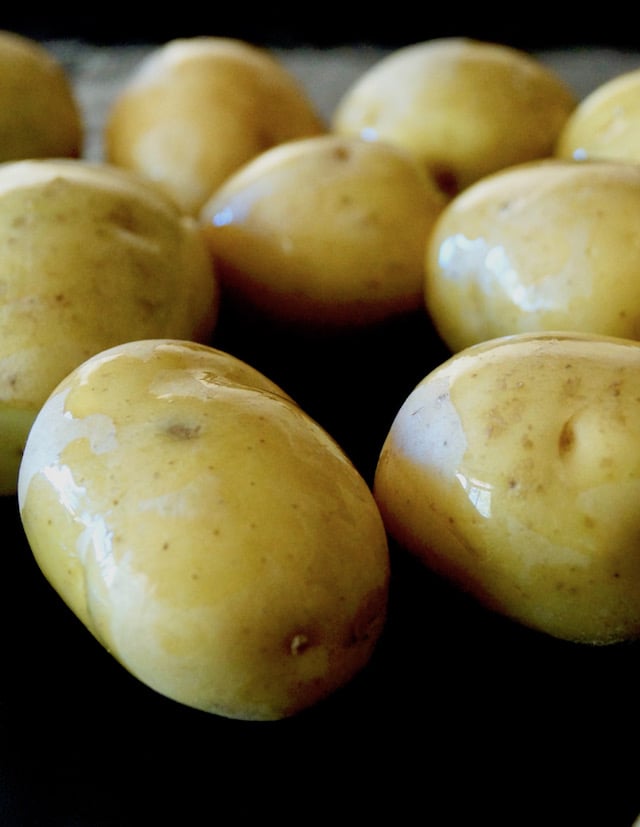 1. Softening the potatoes. This can be done either by steaming or roasting.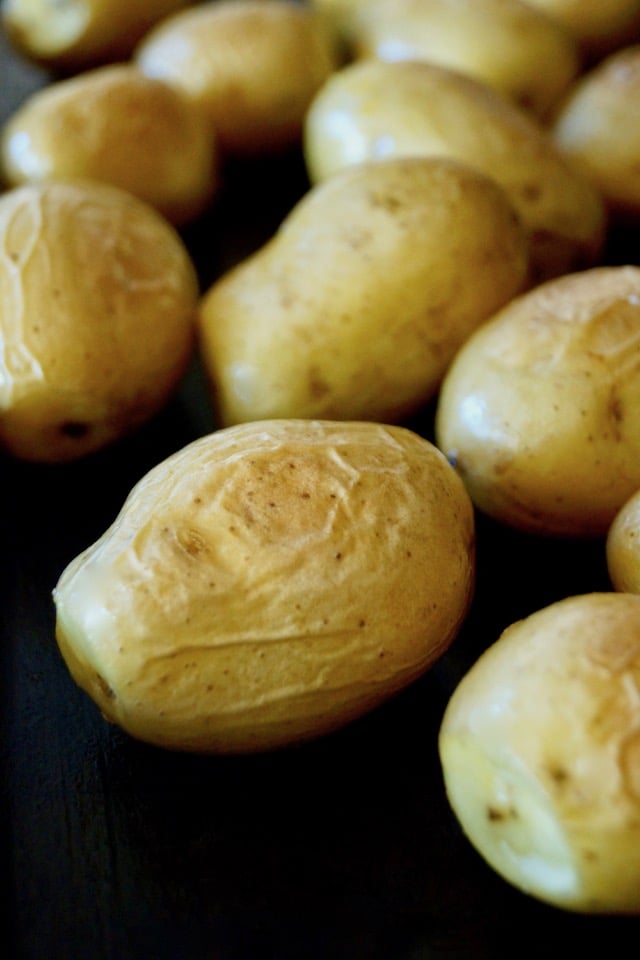 2. "Smashing" the potatoes. I use a smooth meat mallet for this, but you can also use the bottom of your smallest sauté pan or even the back of a large metal spatula.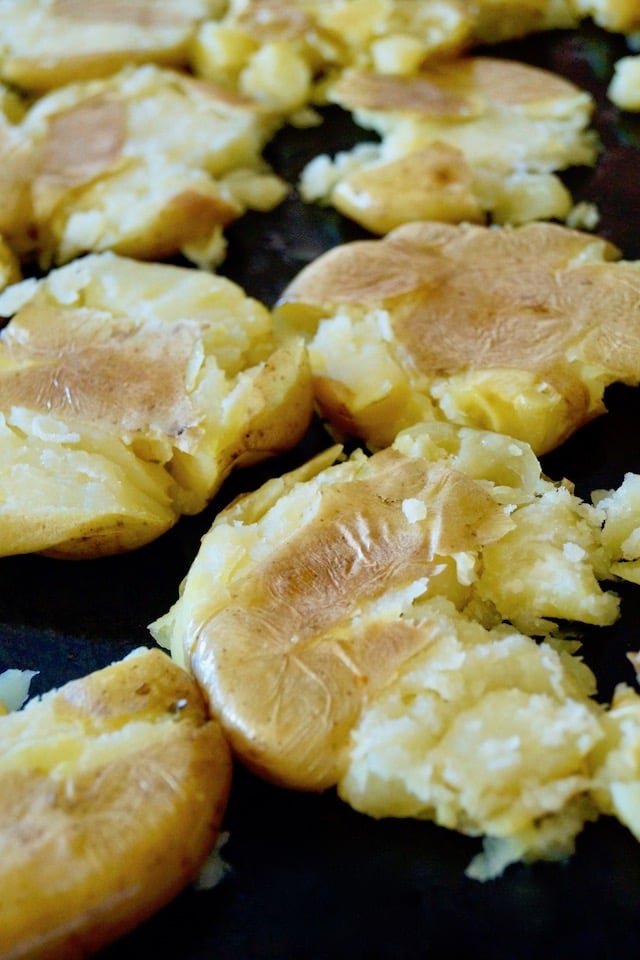 3. Browning the potatoes. This can be done in a very hot oven or on the stove in a sauté pan.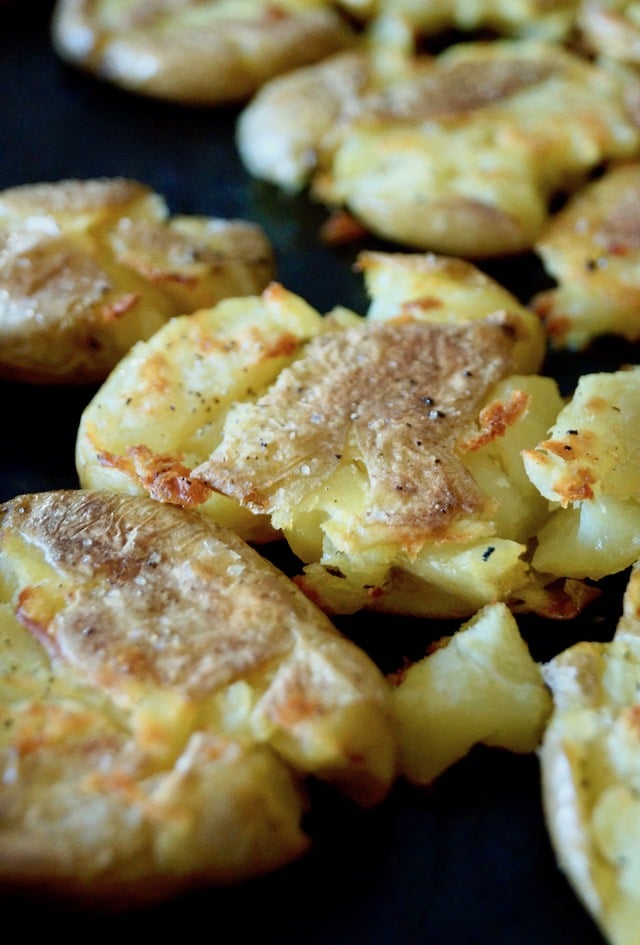 A Thanksgiving side . . .
Just imagine these soft and crispy potatoes, seasoned with butter and fresh herbs next to your tender slices of Smoky Paprika Bacon Roasted Turkey, with gravy running under them. Yum!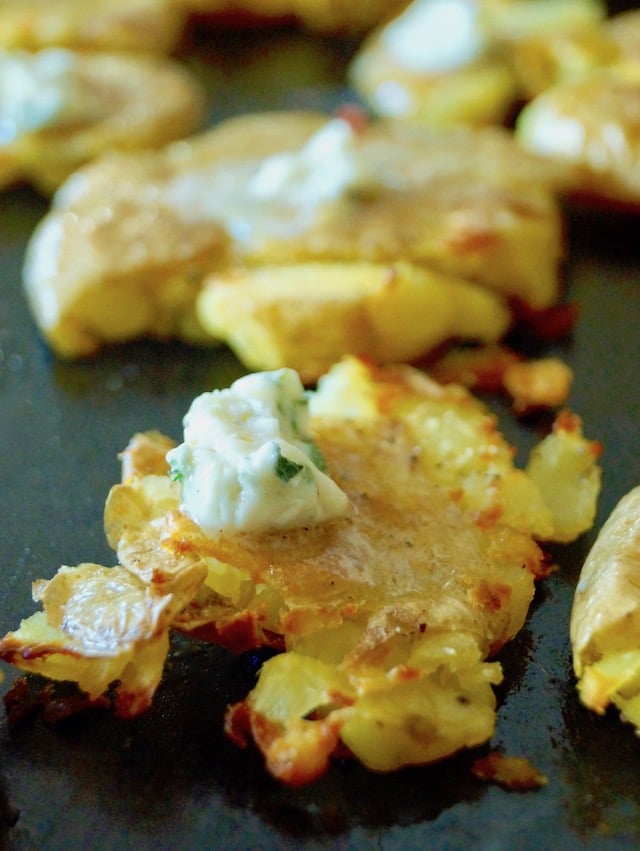 You should be able to find Melissa's Produces' Baby Dutch Yellow Potatoes all over right now.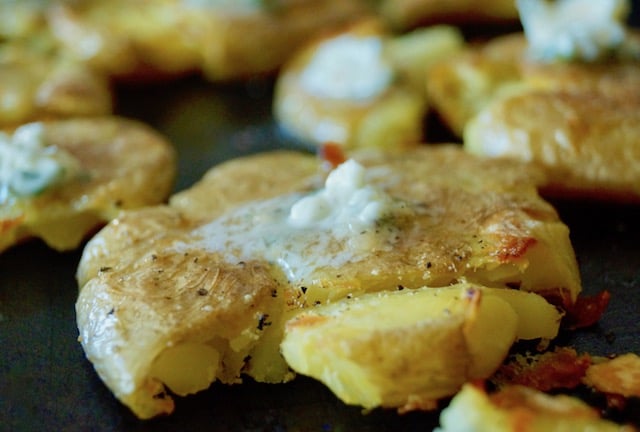 More Smashed Potato recipes . . .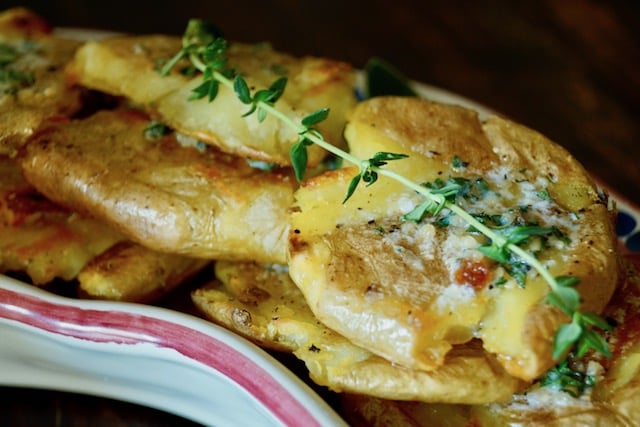 I really hope you'll try these! No need to wait for a holiday -- hey, I made them yesterday! 😉
Garlic Smashed Potatoes Recipe
It doesn't get much better than Herb Garlic Smashed Potatoes! A perfect Thanksgiving side dish recipe, full of fresh, aromatic herbs, they're rich, creamy and oh-so-delicious!
Ingredients
olive oil for the pan

1¾

pound

Idaho Baby Dutch Yellow Potatoes,

washed and dried

4

tablespoons

unsalted butter,

softened

1

tablespoon

mixed fresh herbs (I use sage, oregano and thyme),

finely chopped

½

teaspoon

garlic,

minced

⅛

teaspoon

salt

ground black pepper to taste
Instructions
Preheat the oven to 400°F and drizzle the bottom of a sheet pan with olive oil. Place the potatoes on the pan and once the oven is ready, roast them until they're tender, about 25 minutes. A fork should easily slide in and out, and the skin should be beginning to wrinkle. When you remove them from the oven, turn the heat up to 425°F.

While the potatoes are roasting, in a small bowl, mix the butter with the herbs, garlic, salt and pepper. Set aside.

Once the potatoes come out of the oven, use a smooth meat mallet or the bottom of a your smallest sauté pan to gently press down on the potatoes. They will crack and become flat on both sides. Sprinkle with a bit of salt and pepper and place them in the now 425°F oven until the undersides of the potatoes are becoming golden, about 10 minutes. Then flip them over and continue to roast until golden, about another 10 minutes.


Remove the pan from the oven and add a small dollop of the prepared garlic-herb butter to each potato. Let it melt and serve!

NOTES
Calorie count is only an estimate.
NUTRITION
Have you tried this recipe?
I'd love to see it on Instagram! Tag me at @cookingontheweekends or leave a comment & rating below.
Cooking On The Weekends is a participant in the Amazon Services LLC Associates Program, an affiliate advertising program designed to provide a means for sites to earn advertising fees by advertising and linking to Amazon.com.
Save