Sherry Mushrooms are bursting with flavor and they're a delicious tapa or side dish. They're also a fabulous addition to polenta, rice, pasta, steak, chicken, and then some.
With essentially two ingredients, you can make a mushroom dish that's deeply flavorful, rich and over the top delicious.
Sherry Mushrooms are very simple, yet incredible!
These mushrooms can stand on their own as an appetizer -- a tapa, if you will. They're perfect to serve with a few other small plates. It's always so much fun for guests to have a few different dishes to sample.
I love them as a side dish, too. Mushrooms are great alongside grilled steak or chicken.
They can also be a wonderful, earthy ingredient to add to a number of other dishes.
Ideas for Using Sherry Mushrooms
Mix them into polenta.
Add a little cream and they'll become a mushroom pasta sauce.
Top small toasts with them for an appetizer.
Mix them into savory pie fillings.
Toss them into salads.
Add them to a stir fry.
How to Mix Them up
As I said, Sherry Mushrooms are simple to make, with essentially two ingredients -- and they're delectable as they are. That said, there are many fun ways to mix them up with additional flavors.
Here are a few ingredients you can add to the mushrooms:
minced garlic
roasted garlic
minced shallots
butter with parsley
fresh herbs, like thyme, rosemary, tarragon and sage
Recipe Tips
-Be sure the pan is super hot before you sauté the mushrooms.
-It's important to add the mushrooms in batches. They won't caramelize nicely if too many are in the pan at once.
-I use cream sherry in this recipe which makes the mushrooms a little sweet. If you prefer less sweetness, use a medium or dry sherry.
-Season generously to taste with salt and pepper. (Here's how.)
-If you want to save a little time, you can buy sliced packaged mushrooms.
-This recipe also works well with Shiitake and Portobello mushrooms.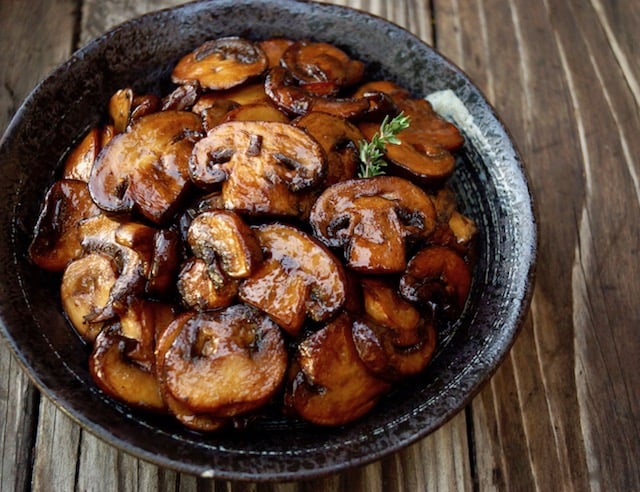 Enjoy! I hope you love these Sherry Mushrooms as much as I do.
More delicious mushroom recipes: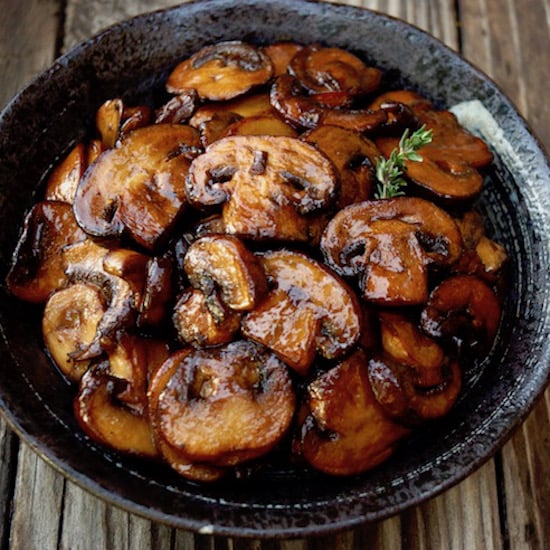 Sherry Mushrooms Recipe
Sherry Mushrooms are a delicious tapa or side dish. They're also a fabulous addition to polenta, rice, pasta, steak, chicken, and then some.
Ingredients
about ⅓

cup

olive oil for the pan,

divided

2½

pounds (about 16 cups)

Crimini or Button mushrooms,

washed and dried, sliced or quartered

1

cup

cream sherry
Instructions
Coat a large sauté pan generously with olive oil, and place it over high heat.

Add the the mushrooms in batches, 4 cups at a time, and cook until they have shrunk quite a bit, and are golden brown, stirring from time to time. Remove the mushrooms and add them to a bowl. This should take about 10 minutes per batch. Using some of the oil each time, repeat the process until all of the mushrooms have been sautéed. Add all of the mushrooms back to the pan.

Reduce the heat to low and deglaze the pan with the sherry. Return the heat to high and use a wooden spatula with a flat edge to loosen any mushrooms bits from the bottom of the pan. Mix and sauté until the sherry has evaporated just about completely.
NUTRITION
Have you tried this recipe?
I'd love to see it on Instagram! Tag me at @cookingontheweekends or leave a comment & rating below.