Question: What's better than a Rice Krispie Treat?
Answer: A chocolate Rice Krispie treat!
And what's better than a chocolate Rice Krispie Treat?
A Reese's Peanut Butter Cup-Chocolate Rice Krispie Treat!
Oh my!  These treats are insanely good! No, really . . . insanely good!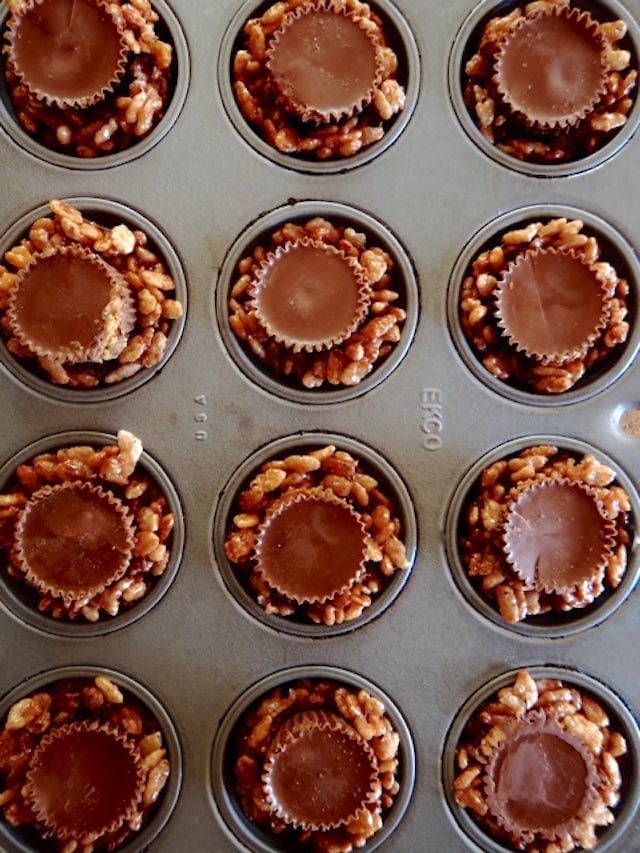 They're creamy on the inside, crispy on the outside, and chocolaty and peanut buttery all over!
That pretty much sums it up.  Please make them so you can experience their deliciousness!
Enjoy!
Reese's Peanut Butter Cup-Chocolate Rice Krispie Treat Recipe
Makes 2 dozen
Ingredients
6

tablespoons

unsalted butter

plus about 2 teaspoons to grease the pans

2 1/4

cups

marshmallows

2

tablespoons

cocoa powder

3 3/4

cups

rice cereal

I use Erewhon Crispy Brown Rice, Gluten-Free

24

mini Reese's Peanut Butter Cups

3/4

cup

semi-sweet chocolate chips
Instructions
Lightly grease two mini muffin pans (1 dozen each) or one mini muffin pan (2 dozen each) with the 2 teaspoons of butter, and unwrap the peanut butter cups. Set aside.

In a large pot over medium heat, melt the butter with the marshmallows. Stir in the cocoa powder and blend. Turn off the heat, add the cereal, and stir to coat completely.

Reese's Peanut Butter Cup-Chocolate Rice Krispie Treat RecipeLet the cereal mixture cool only until you can touch it. It has to be somewhat warm to form the treats. Divide the mixture fairly evenly amongst the muffin pans, adding some into each muffin "cup" -- just enough to form a layer about 1/4-inch thick on the bottom and sides.

Before you move on, preheat the oven to 350 degrees.

Place a peanut butter cup into each cereal "shell" you've made.

Reese's Peanut Butter Cup-Chocolate Rice Krispie Treat RecipeThen use a flat-bottomed, metal spatula to firmly press down on each one -- this will ensure the peanut butter cup fills all the tiny crevices.

Now you can evenly divide the chocolate chips on top of each treat. Pop the pan(s) in the oven just long enough to melt the chocolate chips, about 4 minutes. As soon as they come out of the oven, use a small, flat spreading knife to smooth the melted chocolate to coat the surface of each treat.

Let set at room temperature for at least an hour before serving. (To firm the top up more quickly, place in the refrigerator for about ten minutes.)