This Triple Chocolate Gluten-Free Biscotti Recipe is easy and creates a crunchy, sweet, super chocolatey cookie, that's perfect for dipping in coffee, cocoa or dessert wine. Whether you're gluten-free or not, this makes all chocolate lovers swoon.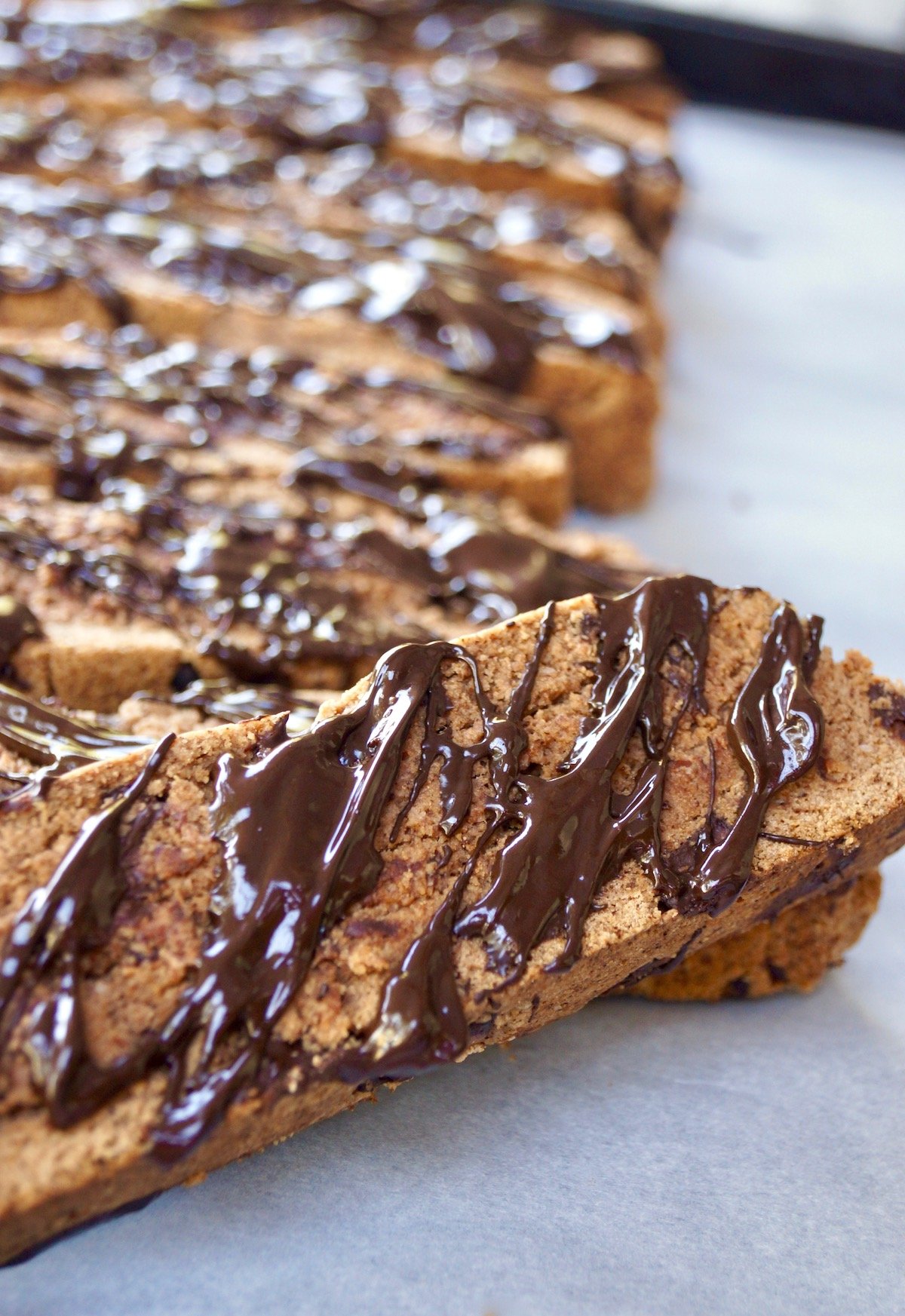 Gluten-free chocolate biscotti is not in most bakery cases. This recipe is so easy to make at home, so nobody has to miss out.
With a son with Celiac Disease, I'm always trying to make new, delectable gluten-free desserts.
What is biscotti?
Traditionally made from almonds, with origins in medieval Italy, biscotti are twice-baked, oblong-shaped, dry, crunchy cookies.
These crunchy cookies are designed to be dipped into drinks, commonly Vin Santo, a Italian dessert wine. (Which is so delicious!) They're also dipped in coffee, cocoa and tea.
More about the history of biscotti is here.
Make Gluten-Free Chocolate Biscotti in Five Easy Steps
1. Make the dough, and note that it's thick and on the dry side.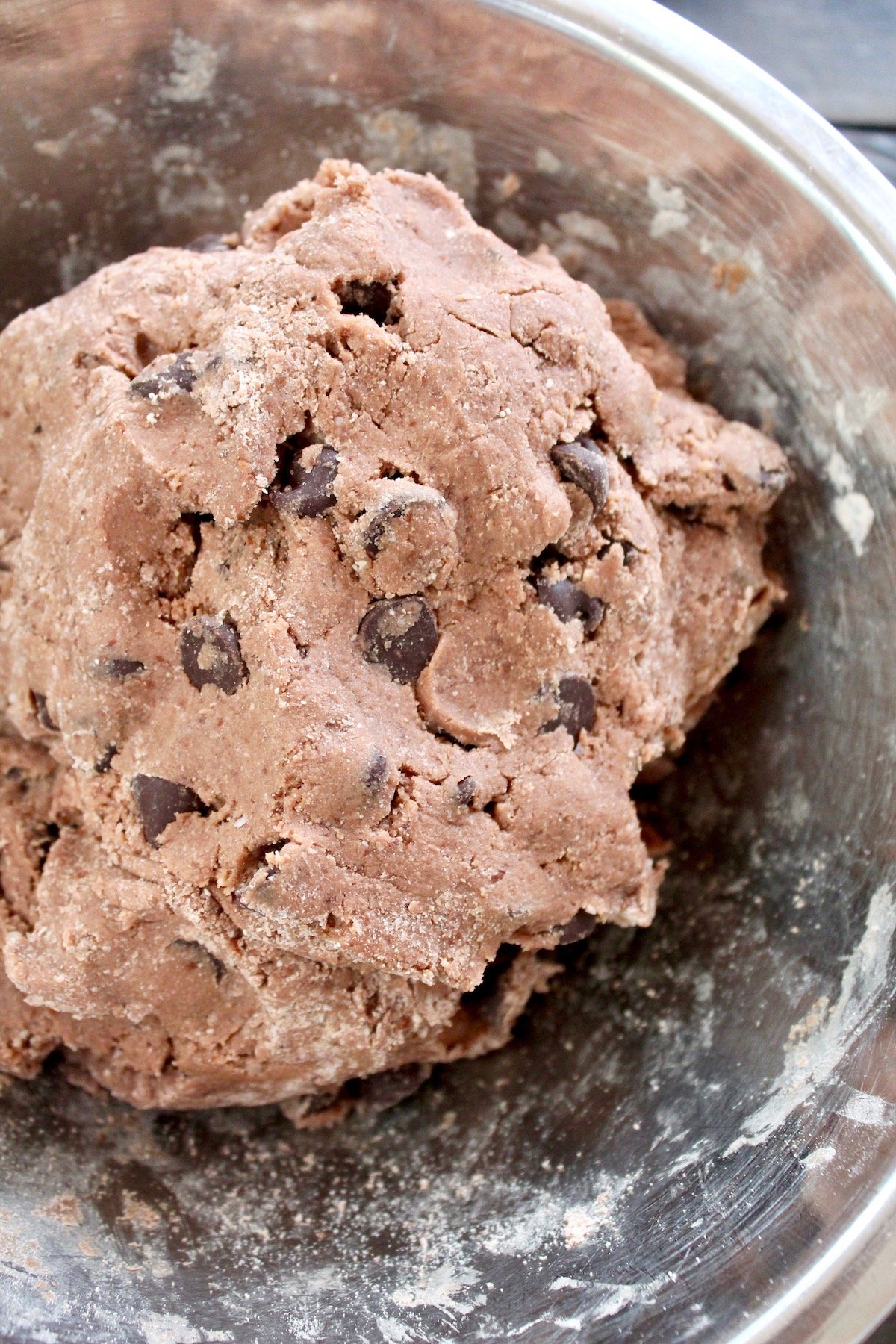 2. Shape the dough into a large slightly rounded rectangle.
3. Bake.
4. Slice the baked dough.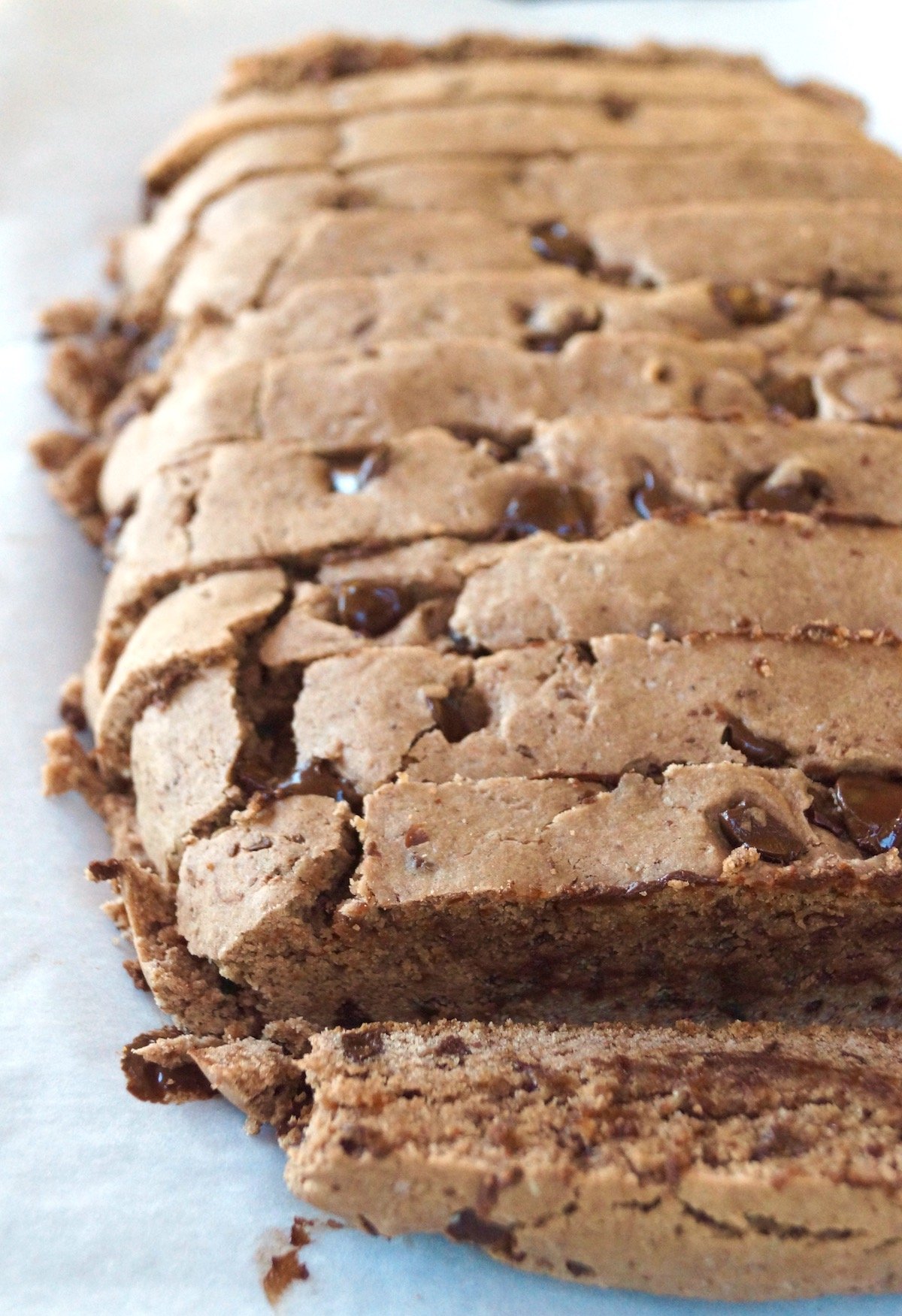 5. Bake the dough again, now sliced, for a second time.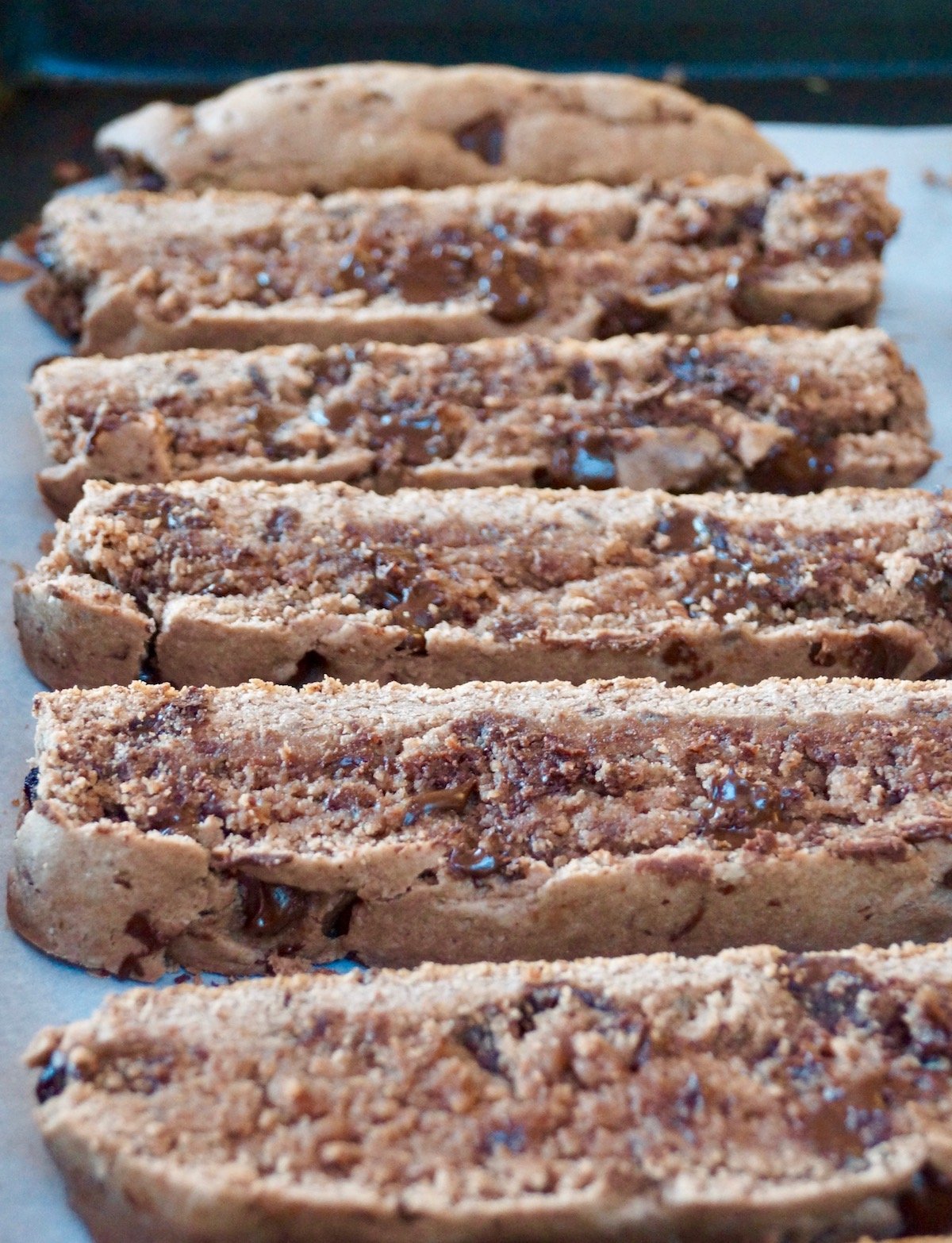 Drizzle them with chocolate if desired. Not sure why you wouldn't desire this. 😉
Recipe Tips and Substitutions
Gluten-free chocolate biscotti dough is thick and on the dry side. It helps to use your hands for the final mixing of the ingredients.
Since the dough is so thick, when shaping it, placing a sheet of plastic wrap on top can be very helpful . Press down on it with the palms of your hands.
A serrated knife is best for slicing the cookies. Do so slowly and gently to avoid crumbling.
Drizzling the chocolate on top is optional, but it only adds to its chocolatey deliciousness.
Before you store the biscotti, be sure they are completely cool and dried -- whether or not you've drizzled them with chocolate.
I use

Cup4Cup Gluten-Free Flour

in this recipe — and in most of my gluten-free baked goods. It's really fantastic, as it behaves the most like a regular all-purpose flour, of all of the varieties I've tried. If you use a different gluten-free flour, if it does not contain

xanthan gum

, add one teaspoon of it to the recipe.
How to Store Them
Biscotti should be stored in a tightly sealed container layered with parchment or wax paper, preferably in a tin, which helps to maintain crispness. They should be good for at least three weeks if stored this way at room temperature.
Biscotti should not be refrigerated as they will loose their crispness.
You can also freeze biscotti for up to about three months. Again, in a tightly sealed container layered with parchment or wax paper.
I hope you love these Triple Chocolate Gluten-Free Biscotti as much as I do. Enjoy them with your morning coffee or cocoa, afternoon tea or a delicious dessert wine.
More gluten-free chocolate desserts:
Triple Chocolate Gluten-Free Biscotti
This Triple Chocolate Gluten-Free Biscotti Recipe creates a crisp, sweet and super chocolatey cookie, perfect for dipping into coffee, cocoa and dessert wine.
Instructions
Set the oven and prepare the pan. Preheat the oven to 350°F and adjust a rack to the center. Line a baking sheet with parchment paper and set aside.

Make the dough. In medium-sized mixing bowl, combine the flour, almond meal, cocoa powder, baking powder and salt. Use a whisk to evenly blend. Set aside.

In another medium-sized mixing bowl, gently whisk the eggs with the sugar, vanilla and salt.

Make a well in the center of the dry ingredients and pour in the egg mixture. Mix just until everything is evenly incorporated, and then add 1½ cups of the chocolate chips. Since this dough will be thick and on the dry side, you will likely need to use your hands to mix at the end.

Shape and bake. On the parchment-lined baking sheet, shape the dough into one large, slightly rounded, rectangle that's about 5"W x 14"L x 1½"D. (It might help to place a piece of plastic wrap on top and gently press down with the palms of your hands.)

Bake in the preheated 350°F oven until it looks dry, about 20 minutes.

Remove it from the oven, and turn the heat down to 275°F. Let it cool a bit on the baking sheet for at least 10 minutes.

Slice. Lift the parchment off the baking sheet and place it on a cutting surface. Use a large serrated bread knife to cut the biscotti horizontally, into approximately 1½" slices. Line the baking sheet with a new sheet of parchment (unless the one you used isn't cut from slicing), and place the slices on top.

Bake again. Return the baking sheet to the now 275°F oven and bake until the biscotti look dry in the center, about 20 minutes per side. (They can easily be flipped over halfway through the cooking time with a small off-set spatula.)

Cool and drizzle with chocolate. Let them cool on the baking sheet for at least an hour. Then melt the remaining ½ cup of chocolate in a microwave or double boiler on the stove-top. Use a teaspoon to drizzle the melted chocolate over the biscotti. Let the chocolate set at room temperature, about 45 minutes.

Serve or store. Serve or store them in a tightly sealed container layered with parchment or wax paper. Do not refrigerate. They can be kept this way for a few weeks at room temperature, or in the freezer about 3 months.
NOTES
Calorie count is only an estimate.
NUTRITION
Have you tried this recipe?
I'd love to see it on Instagram! Tag me at @cookingontheweekends or leave a comment & rating below.
Cooking On The Weekends is a participant in the Amazon Services LLC Associates Program, an affiliate advertising program designed to provide a means for sites to earn advertising fees by advertising and linking to Amazon.com.