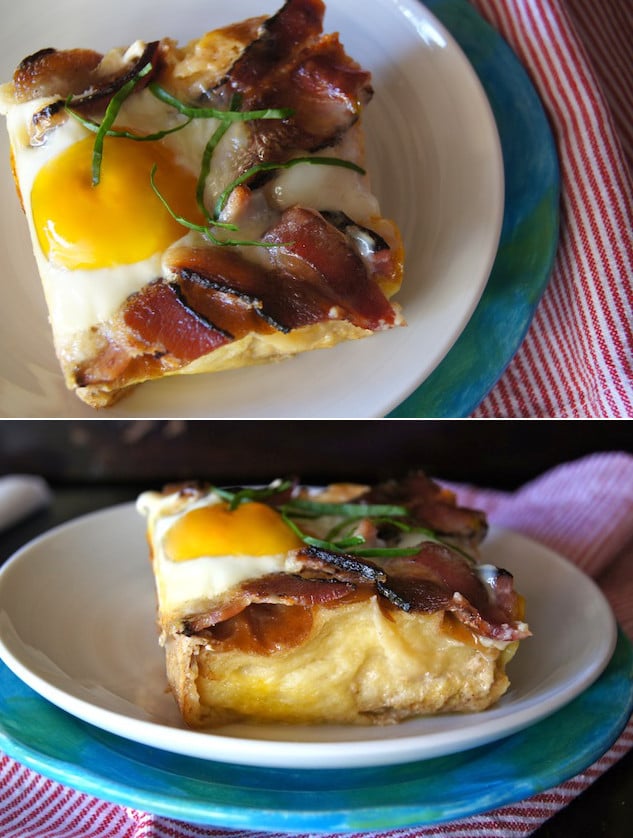 You know that bite of French toast drizzled with maple syrup, that gets a bit of the yolk from the side of eggs, and a few crumbles from the side of bacon?  (The best bite ever.)
Well here it is all neatly put together into one dish, just for you.
This "French toast" should really be called bread pudding, since it's all held together in one dish.  (Just didn't have as good a ring as its given title.)
Christmas breakfast?  Sunday Brunch? Breakfast for dinner? Anytime is a good time for this totally scrumptious blend of flavors.
Buttermilk Baked French Toast Recipe, + a Side of Bacon and Eggs
Please note that only 30 minutes of the prep time is active working time.
Ingredients
1¾ cups buttermilk
¾ cup pure maple syrup
8 eggs, divided
1 tablespoon pure vanilla extract
1 teaspoon cinnamon
2 (6-inch) soft baguettes
6 strips applewood smoked bacon
3 tablespoons unsalted butter, melted
Instructions
In a medium sized mixing bowl, whisk the buttermilk with the syrup, 2 of the eggs, vanilla and cinnamon. Whisk until it's very smooth.
Pour the buttermilk mixture into an approximately (8 X 8 X 3-inch) baking dish.
Slice the baguettes in half, lengthwise, and then cut about ¼-inch off of the crust sides, lengthwise.
Add the bread to the dish with the buttermilk mixture, and very carefully press it down until it's completely submerged. Then flip each one over. Add a layer of plastic wrap directly on top, and then cover the dish with another layer (completely, from the bottom, so it doesn't spill). This way you can press down on top from time to time, to be sure the bread is absorbing as much liquid as possible.
Place in the refrigerator for at least 2 hours. (You can leave it for more time, even overnight -- the longer you leave it, the more like bread pudding it will be.)
While the bread is soaking, add the bacon to a large sauté pan over medium heat. Cook until it's just beginning to become brown and crisp, about 3 minutes per side. Remove the bacon from the pan. Set it aside to drain a paper towel. (It should be slightly undercooked, and will finish cooking in the oven later.)
When you remove the soaked bread from the refrigerator, adjust a rack to to the center of the oven and preheat to 375 degrees F.
Super gently flip each piece of bread over in the dish. Then drizzle the entire surface with the melted butter.
Arrange the partially cooked bacon strips on top and set aside until the oven is ready.
Place the dish in the preheated 375 degree F oven. Bake for 30 minutes, and then crack the remaining 6 eggs on top of the bacon, so that they are spread out evenly. Continue to bake until the French toast portion has risen above the edges and the eggs are set, about 30 more minutes. If at any point the bacon is becoming too dark, loosely lay a piece of foil on top.
Remove and let it cool for about 10 minutes.
Make sure when you serve, each person gets an egg, and don't forget to put the maple syrup on the table. (Just in case.)