This Egg White Frittata recipe with potato is every bit as hearty as a whole egg frittata -- you wont miss the yolks! Egg white recipes like this one can be very versatile and can take on several delicious flavors at once.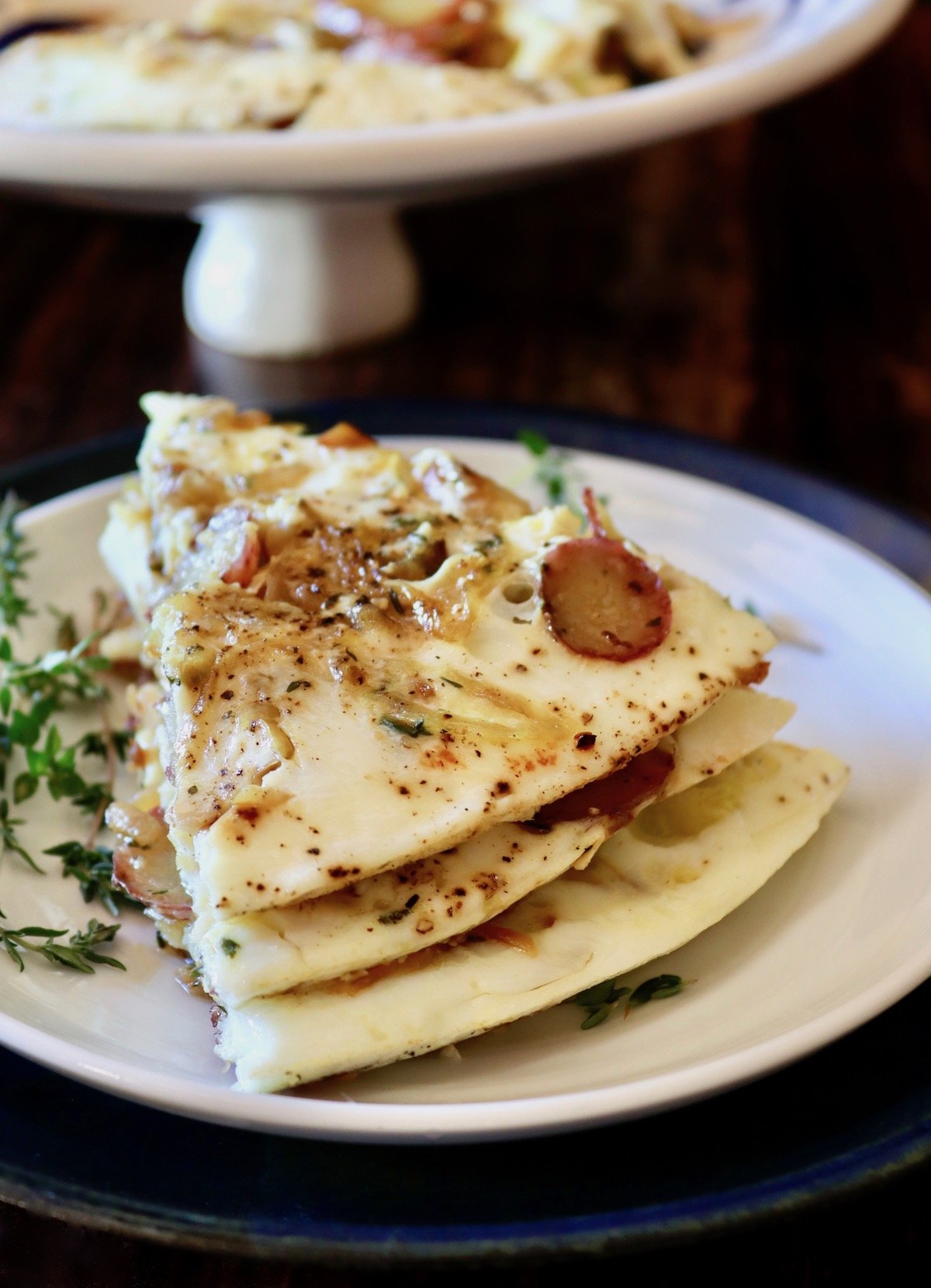 What is a traditional frittata?
Frittata is the word for omelet in Italian.
It presents as a crustless quiche and the eggs are typically enriched with additional ingredients such as meats, cheeses or vegetables -- or any combination thereof.
In the case of this egg white frittata, it meets all of those requirements, minus the egg yolks.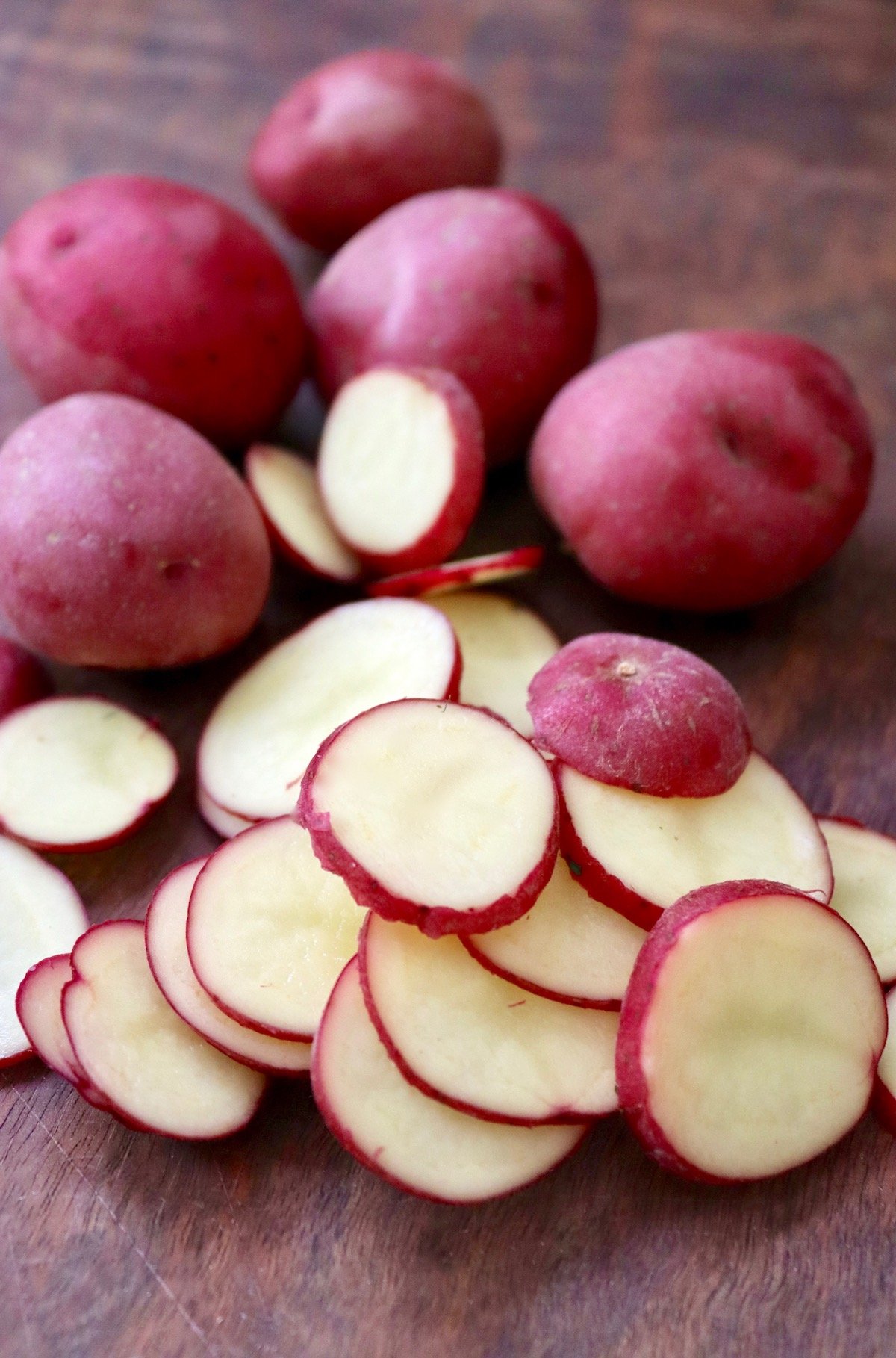 Do you ever order an egg white omelet because you think it's the "light and healthy" choice?
Well, it's certainly a healthy choice -- however, why does it have to be light?
Don't get me wrong, light can be delicious, but when I'm especially hungry, I want something that tastes hearty, rich, and healthy, but not light. Know what I mean?
As it turns out, recipes with egg whites only do not always have to be light. And let me tell you, this scrumptious egg white frittata is the perfect example.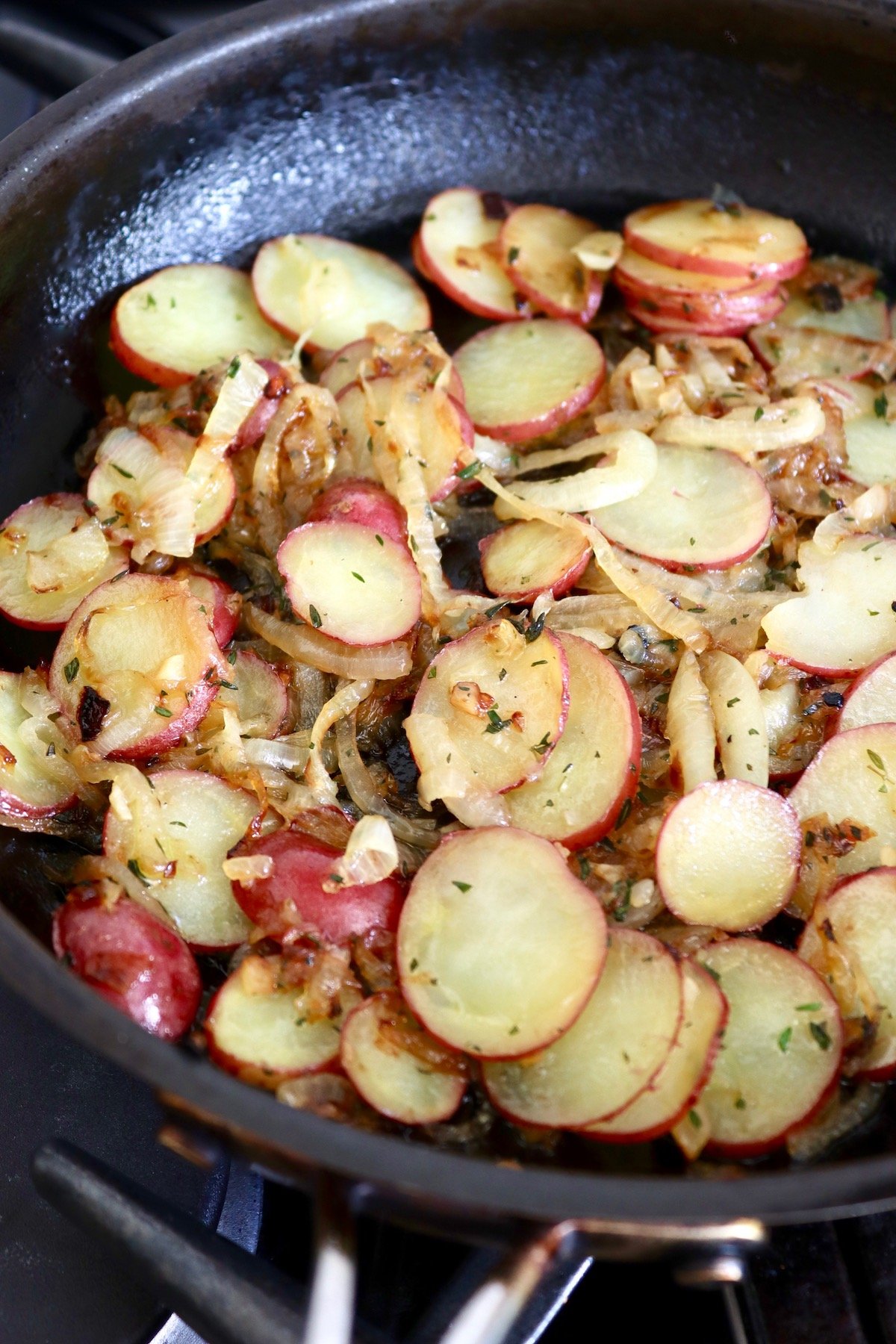 There is however a trick to this.
What is the trick to making the best egg white frittata?
NEVER whisk or mix the egg whites in any way, shape or form!
Why don't we mix?
Simple -- they won't feel light if you don't whisk them. And by the way, they still are light -- in the healthy sense of the word.
The result of not mixing the egg whites is that the texture is thick and smooth. They are more dense without any air incorporated into them.
This is how we get the "hearty." The "rich," we get by developing the flavors of the added ingredients.
And in the case of this potato egg white frittata, it's the addition of the caramelized onions that brings it on.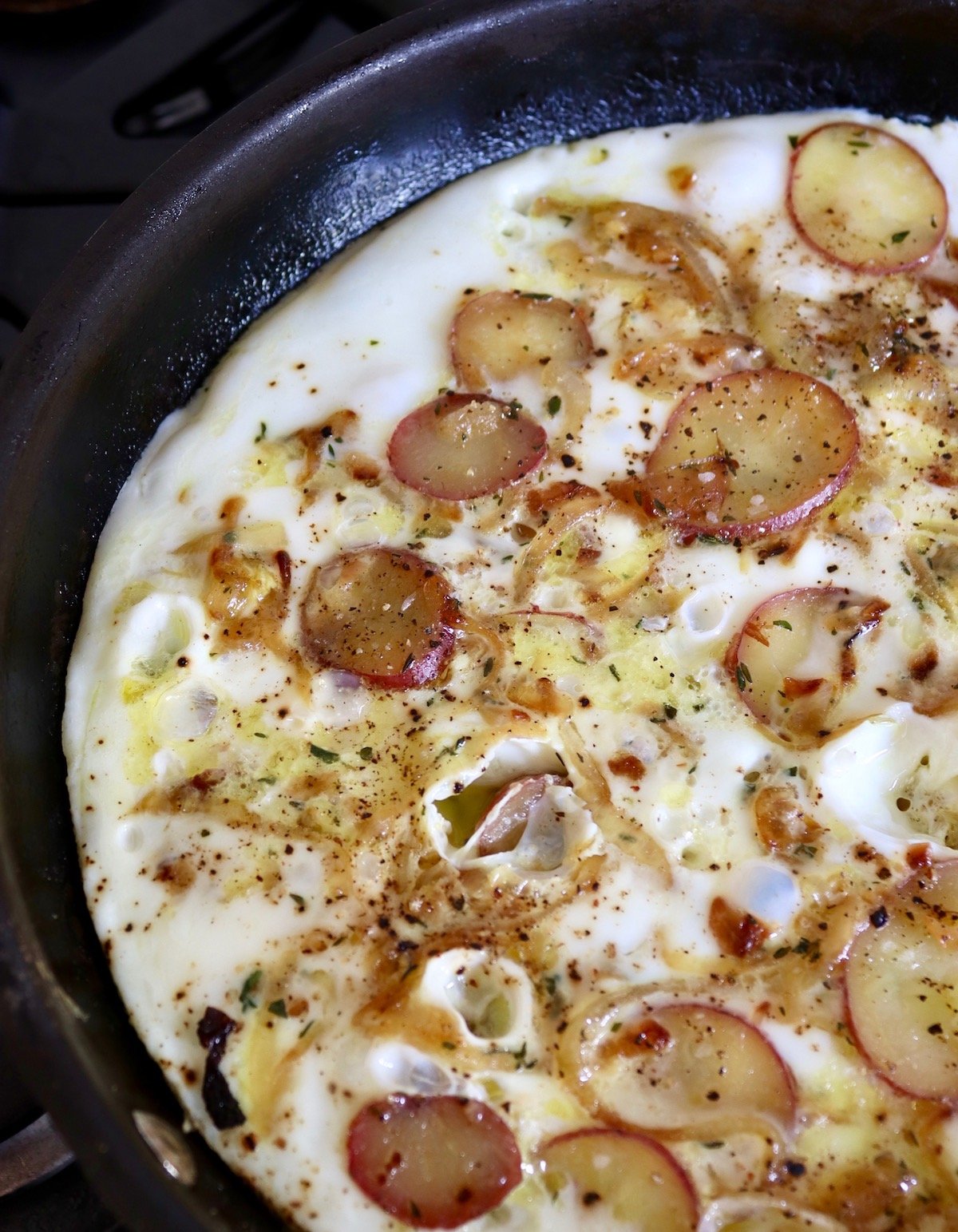 How to Add the Egg Whites in This Recipe
Crack the egg, obtain the whites and add them to the pan as they are. NO mixing of any kind -- not even to season them. (The other ingredients will all be seasoned enough to make it delicious.)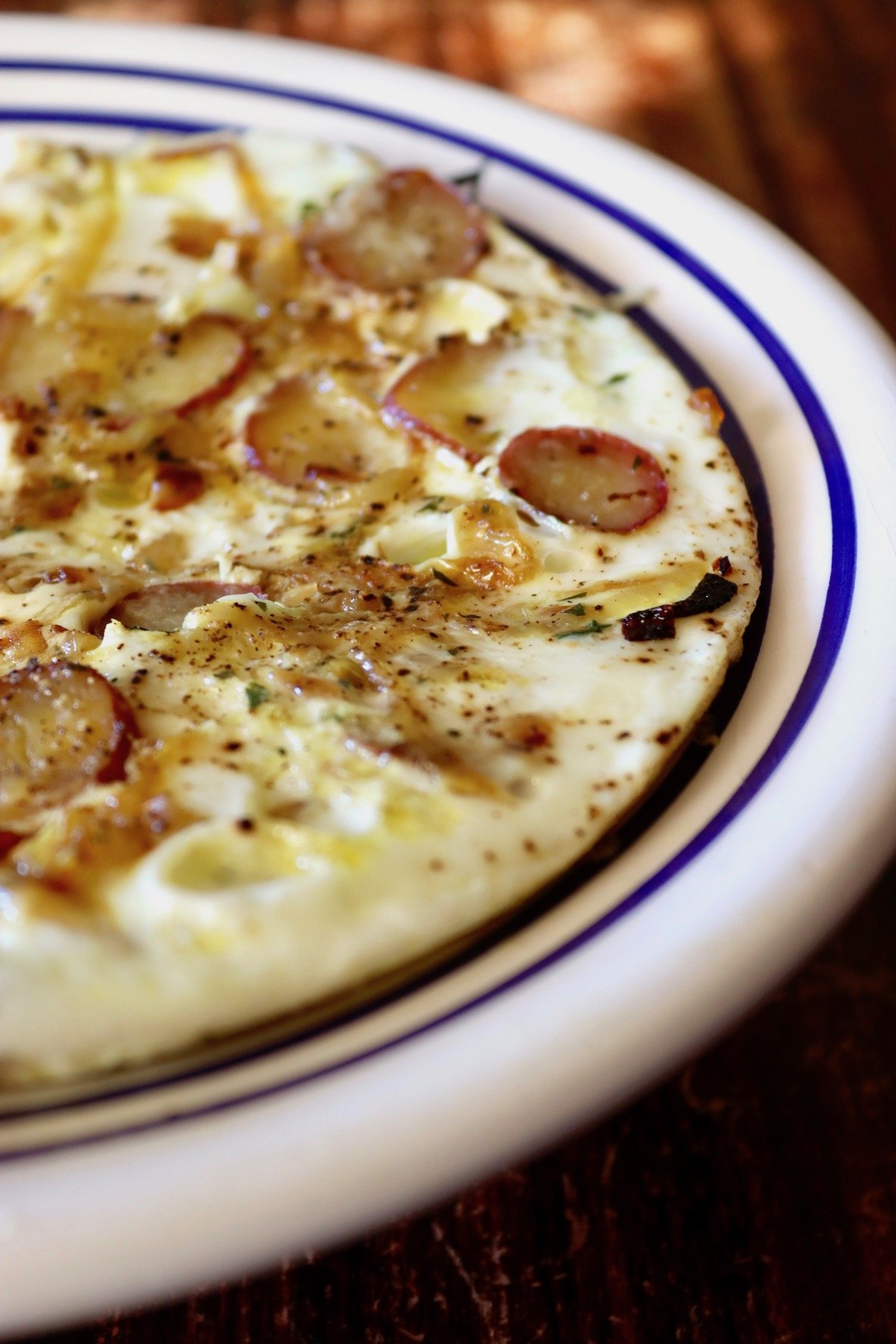 Recipe Tips and Substitutions
Much like a

risotto

, once you know the technique for frittata making, you can use practically any ingredients you want. In this recipe, you can switch the potatoes with broccoli, spinach, cauliflower, zucchini, and so on.
While my recipe calls for small red potatoes, you can use other potato varieties, just be sure they are thinly sliced and bite-sized pieces.
I've repeated this many times, but to the get hearty consistency here, be sure not to mix the egg whites, and drop them into the pan as you crack the shells. Will it ruin it to mix? Not exactly, it will just be a very different texture. Still tasty, though.
In addition to not mixing the whites, the recipe also instructs you to let the whites "drop gently into the pan -- one by one." This technique also adds to the final smooth texture. However, if you're not comfortable doing this because you want to make sure all of the eggs are good first, you can drop all of the whites into a bowl and then slowly and evenly pour them into the pan.
Definitely use a non-stick pan and a generous amount of olive oil so the frittata easily slides out and onto a plate.
You can sprinkle cheese on top if desired -- Gruyère or Swiss would be great.
Can you make the same recipe with whole eggs? Absolutely, just use 6 large eggs.
You might see bubbles appear when the frittata is finished, or almost finished cooking. This is okay, they will sink down as it cools.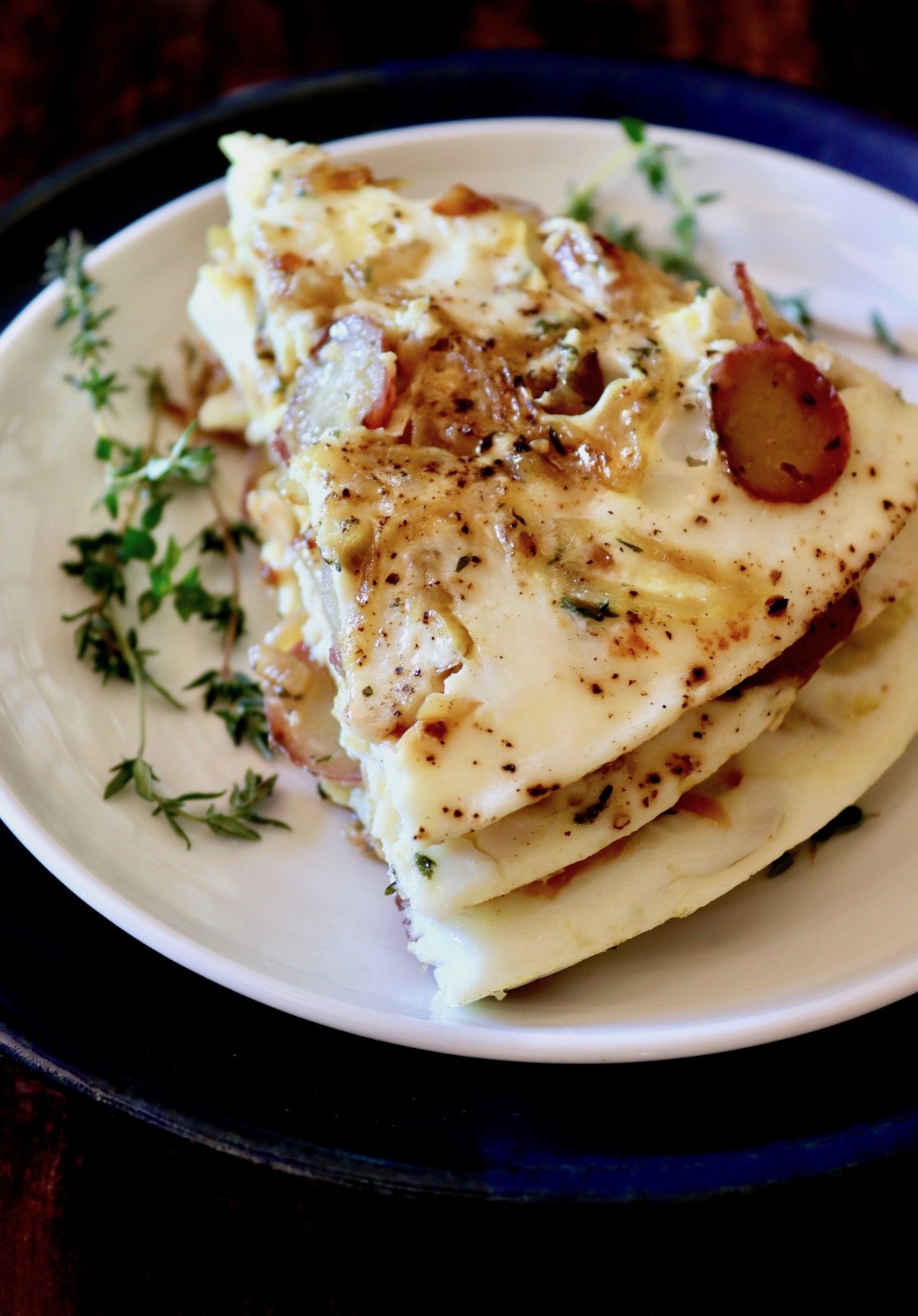 I hope you find you love egg white frittatas as much as I do.
Should you find yourself with an abundance of egg whites -- say, more than you need for this frittata -- here's a fun list of egg white recipes (all desserts)!
And you can make gelato with the saved egg yolks.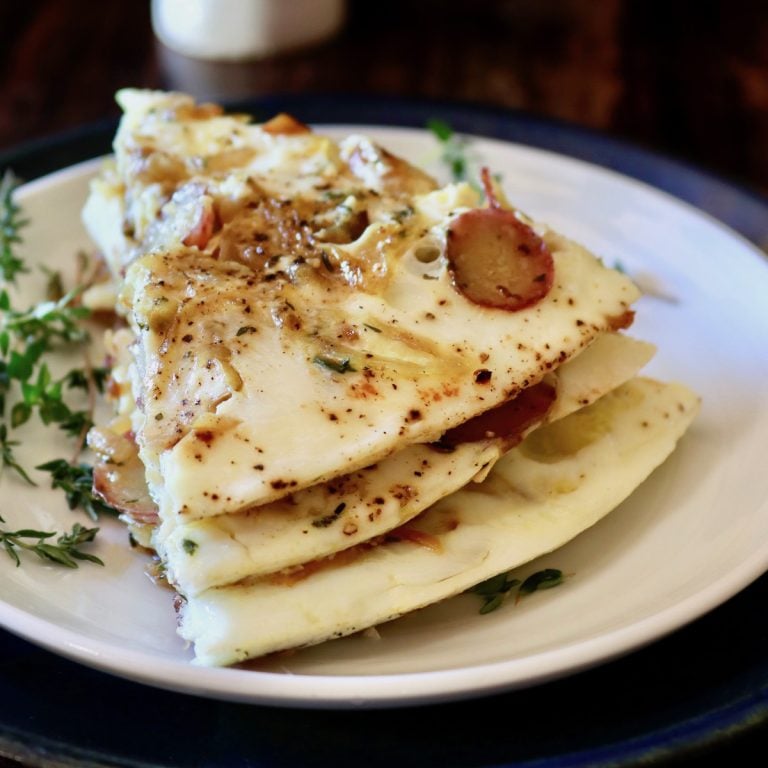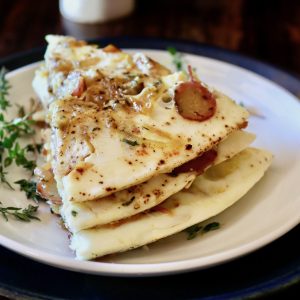 Egg White Frittata with Potato
This Egg White Frittata is every bit as hearty as a whole egg frittata, and you wont even miss the yolks!
Ingredients
olive oil for the pan

2½

cups

yellow onion,

thinly sliced

2½

teaspoons

garlic,

minced

1

tablespoon

fresh thyme,

finely chopped

1

cup

small red potatoes (about ½ pound),

washed, dried and thinly sliced

12

large

egg whites

sea salt and freshly ground black pepper
Instructions
Have all of your ingredients ready to go except the potatoes, which are best to slice at the last minute so they don't turn gray.

Sauté everything but the egg whites. Coat the bottom of a 10 inch, non-stick sauté pan with olive oil, and place it over medium heat.

Add the onions and garlic and sauté, stirring every couple of minutes, until the onions are soft and nicely browned, about 10 minutes. Mix in the thyme and let this cook for another minute or so -- until it's very aromatic.

Add the potatoes and sauté for a couple of minutes. Then turn the heat to low, cover and let the potatoes steam until they are tender, 8 to 10 minutes. You should stir a couple of times during this process. Season this mixture generously to taste. (Here's how.)

Remove half of the onion-potato mixture. Turn the heat off and remove half of the onion-potato mixture from the pan. Set it aside, and then arrange the other half, so that it neatly covers the bottom of the well-oiled pan.

Add the egg whites. With the heat low-medium, crack the eggs, one-by-one, separating them as you go, evenly into the pan. Let the whites drop gently into the pan, capturing the yolks in the shell. (You can save the yolks for making ice cream or custard.) This should be done carefully, to avoid getting yolk and/or shell into the pan, but quickly. Do not mix or whisk in any way. Not even for a second!

Return the other half of the onion-potato mixture. Now arrange the remaining half of the onion-potato mixture directly on top of the egg whites. Most of this will stay "afloat."

Cook. Cook until you see that the bottom is opaque, then reduce the heat to the lowest setting, cover and cook just until all of the whites have solidified, about 15 minutes.

Remove from pan and serve. Once the frittata is cooked, gently loosen the edges with a non-stick pan safe spatula, and slide it onto a large plate. Let it cool for a few minutes and then serve.
NOTES
Calorie count is only an estimate.
NUTRITION
Have you tried this recipe?
I'd love to see it on Instagram! Tag me at @cookingontheweekends or leave a comment & rating below.
Save