This Ginger Persimmon Bread Recipe is packed with soul-warming spices. Whether you serve this quick bread as part of a Christmas breakfast or as an afternoon snack, it will become one of your favorite persimmon recipes!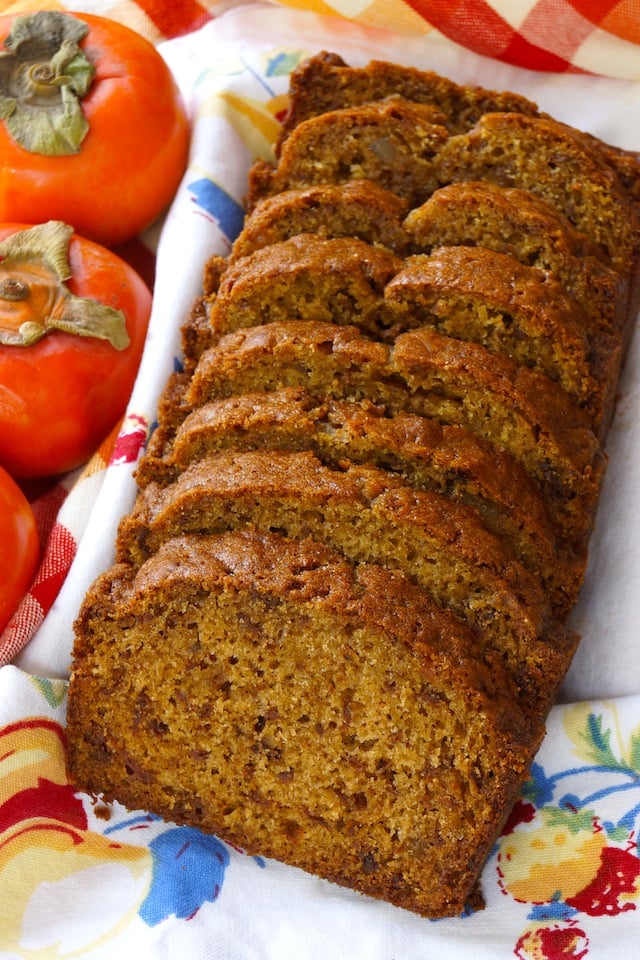 The fall and winter months are an invitation to bake. Are you with me?
Comforting and cozy treats, delicious aromas of warming spices making their way through the house, the oven heating the kitchen . . .
I love quick breads, which are really dessert breads -- cakes, if you will. 😉
This Ginger Persimmon Bread is full of the quintessential flavors for this time of year. It's like gingerbread with the sweet flavor of persimmon running through it.

What's in this recipe?
Get ready to want to run to the market. 🙂
Fuyu persimmons
brown sugar
olive oil
eggs
vanilla
fresh ginger
crystalized ginger
ground cinnamon, cloves and ginger
flour, baking soda and salt
YUM!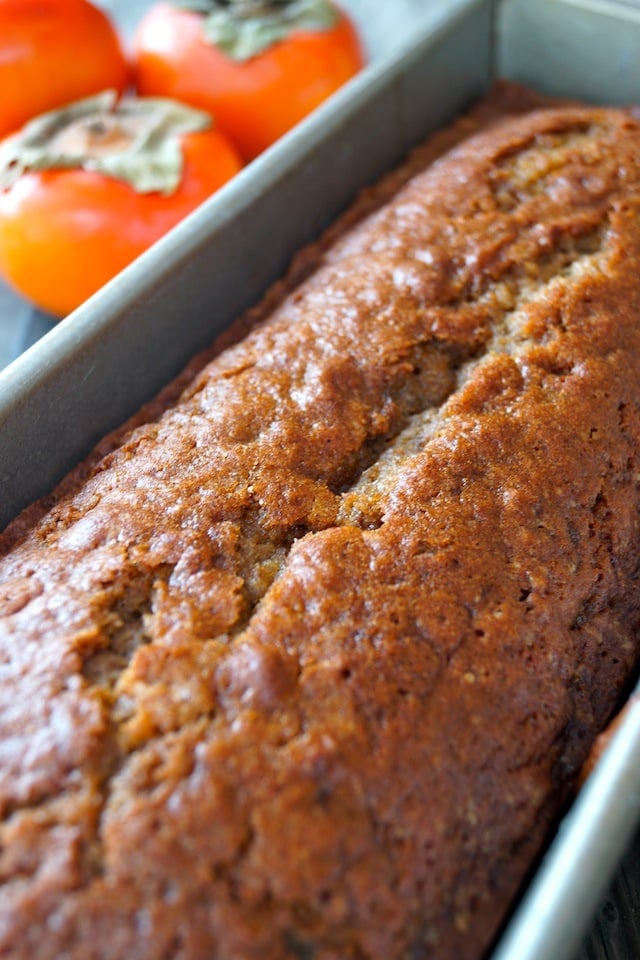 Persimmon recipes are so delicious with aromatic, warming spices. They go hand in hand.
When the persimmon bread bakes, the spices might even make their way out a crack in a window, thereby making the whole street -- possibly even the neighborhood -- smell delightful and delectable! Nothing better.
It's lovely to experience this. It's the essence of fall and winter baking.
What is a Quick Bread?
Quick breads are typically breads leavened with baking powder and/or baking soda, instead of yeast.
I especially love quick breads like this because they involve no yeast or kneading. Hence the "quick" in quick bread.
You throw this together and get it in the oven inside of 20 minutes.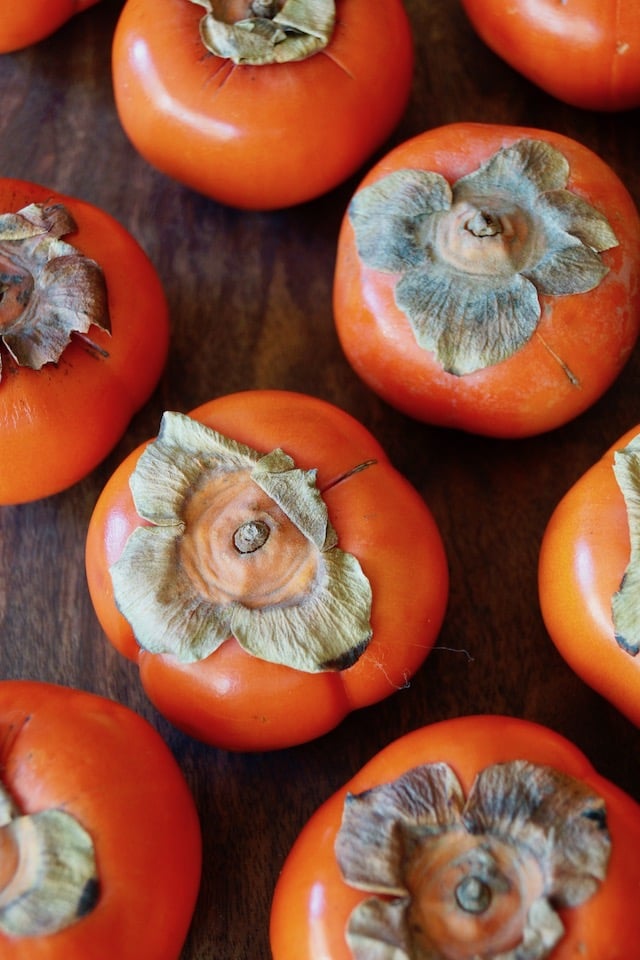 Can you make Gluten-Free Persimmon Bread?
Yes, you can substitute the flour in the recipe for Cup4Cup All-Purpose Gluten-Free Flour. Please note that the texture of gluten-free persimmon bread will be slightly different.
Can you make Persimmon Bread ahead?
Yes! I made this Persimmon Bread the night before I wanted to serve it. I left it covered lightly with foil overnight, and it was ideal the next morning.
Room temperature. In a tightly sealed container, Persimmon Bread can be kept at room temperature for about two days.
Refrigerator. Wrapped tightly, it can be stored in the refrigerator for up to a week.
Freezer. Wrapped tightly, you can store it for about a month in the freezer.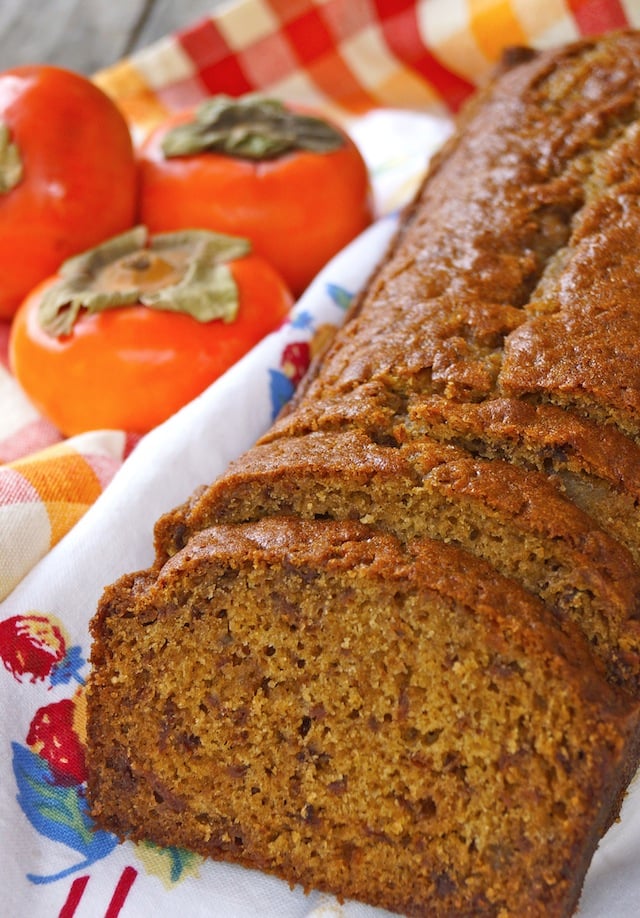 This is one of my favorite persimmon recipes so I hope you'll try it to share with your family and friends. Maybe even make an extra loaf or two for gifts.
Enjoy every slice of the delectable Ginger Persimmon Bread.
A few more delicious persimmon recipes: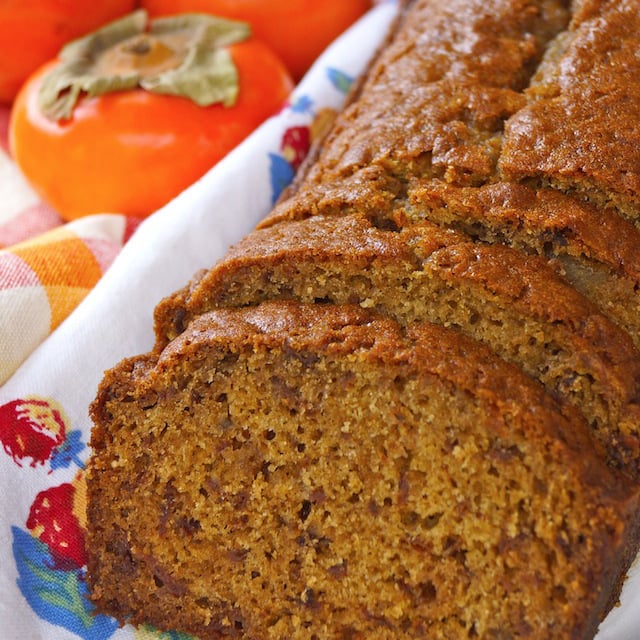 Ginger Persimmon Bread Recipe
This Ginger Persimmon Bread Recipe is packed with soul-warming spices. Whether you serve this as part of your Christmas breakfast or as an afternoon snack, it will become one of your favorite persimmon recipes!*Makes 1 (12-inch) loaf
Ingredients
1½

cups

Fuyu persimmons,

grated (about 1 pound persimmons)

1½

teaspoons

baking soda

1½

cups

brown sugar

¾

cup

olive oil

2

large

eggs

1

large

egg yolk

1½

tablespoons

fresh ginger pulp,

finely grated

1

tablespoon

vanilla

1¼

teaspoon

ground cinnamon

¾

teaspoon

ground cloves

¾

teaspoon

ground ginger

¾

teaspoon

salt

2

cups

all-purpose flour

½

cup

crystallized ginger,

finely chopped
Instructions
Place a rack in the center of the oven and preheat to 350°F. Grease an approximately 12-inch loaf pan with a light coating of olive oil. (It's easiest to do this with a spray, pastry brush -- or dab the oil on a paper towel to spread it around.) Set aside.

Slice the leaf ends off of the persimmons (just a ½-inch or so), then use a vegetable peeler or paring knife to peel them. Use either a hand held grater or a food processor with the grater attachment, to grate them. (You will need 1½ cups.)

Now add 1½ cups of the grated persimmon to a bowl and add the baking soda. Mix to blend and set aside. (The baking soda with thicken the liquid derived from grating the fruit.)

In a large mixing bowl, combine the brown sugar with the olive oil and mix to blend. Then add the eggs and egg yolk and mix again. Once it's smooth, stir in the fresh ginger, vanilla, cinnamon, cloves, ground ginger, and salt.

Fold in the flour and mix just until it's fully incorporated. Then fold in the grated persimmon and crystallized ginger.

Pour the batter into the prepared loaf pan and bake in the 350°F preheated oven until it's golden brown, set, and beginning to crack on top, about 50 minutes.

Let it cool in the pan for at least 30 minutes before serving.
NUTRITION
Have you tried this recipe?
I'd love to see it on Instagram! Tag me at @cookingontheweekends or leave a comment & rating below.
Cooking On The Weekends is a participant in the Amazon Services LLC Associates Program, an affiliate advertising program designed to provide a means for sites to earn advertising fees by advertising and linking to Amazon.com.