Asparagus Aussie Lamb Crostini is a lovely way to start a spring party. Lemon scented Asparagus Gremolata and thinly sliced Aussie Lamb are simply dreamy together!

I'm grateful to True Aussie Beef and Lamb for sponsoring this post. As always, I only write about and cook with brands I believe in. To find out where to buy Aussie Lamb near you visit True Aussie Beef and Lamb.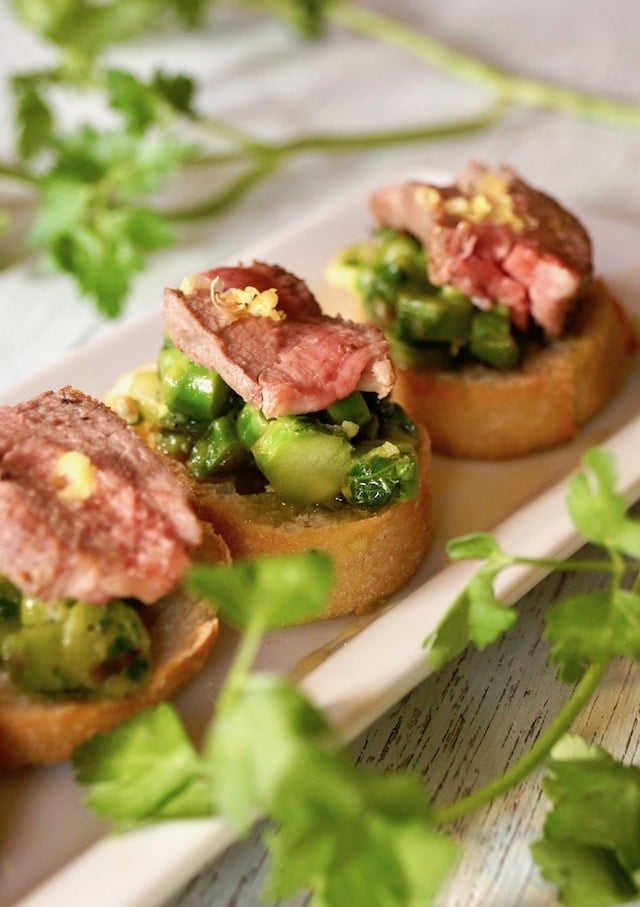 A few days ago I collaborated with True Aussie Beef and Lamb and hosted and catered a spring garden party for a handful of other Los Angeles based food bloggers.
Australian Lamb was the star in just about every course, and the menu reflected the theme which was Simply Spring. It was so much fun!
Have you ever had lamb from Australia?
One of the reasons I'm so happy I had the opportunity to work with Aussie Lamb is because I sampled and worked with almost every cut.
As with most meats, the cuts are each best suited to different cooking techniques — and let me tell you, they're all outstandingly delicious.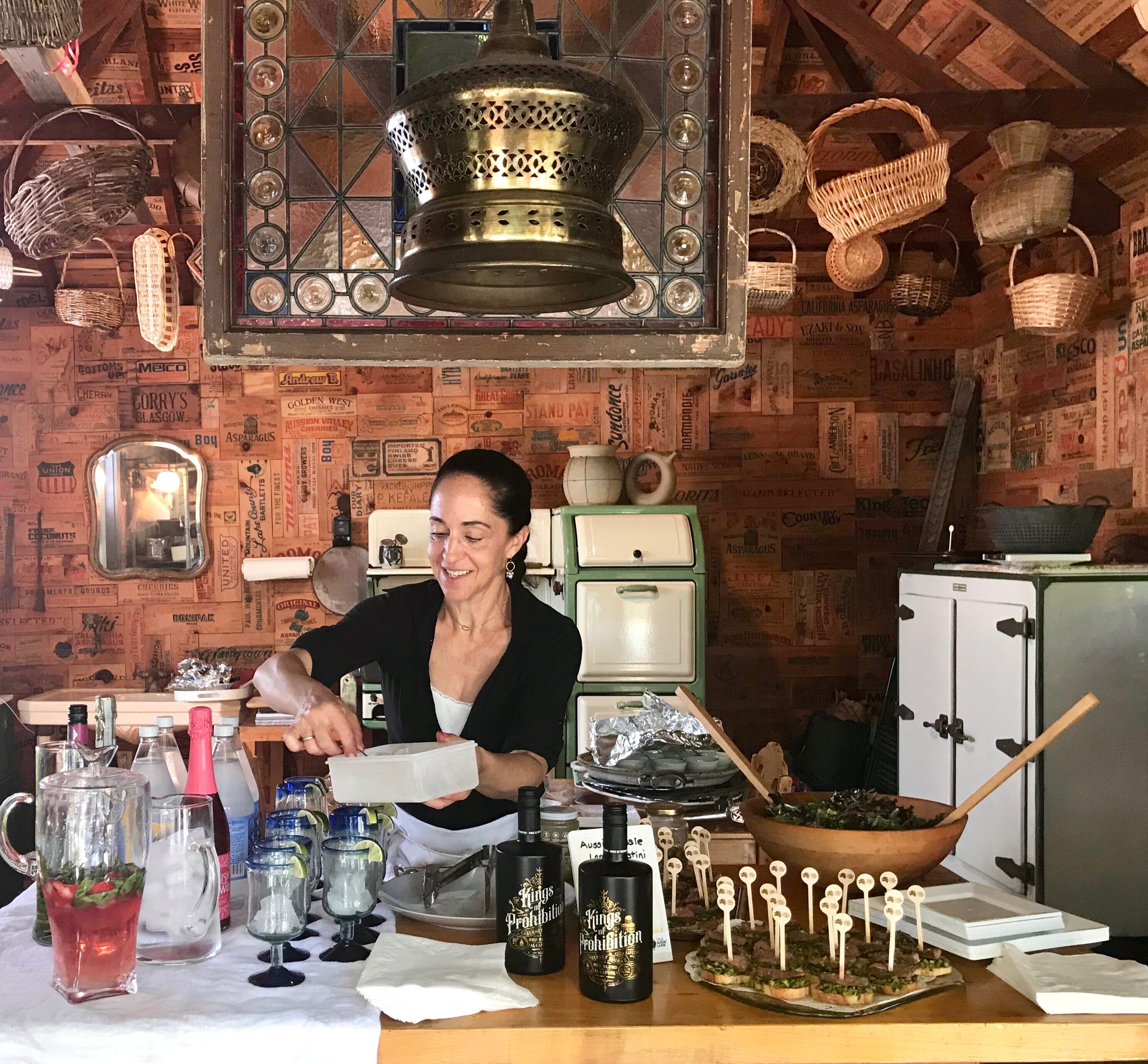 photo credit: Merry Graham / amerryrecipe.com
More to Love About Aussie Lamb
The wide open spaces in Australia allow producers to have a natural approach to ranching that enables animals to live as nature intended, roaming freely and without stress.
Since the lamb is free-range and feeds on abundant pasturelands, it has a mild flavor and is naturally lean and tender.
Aussie Lamb is a totally pure product of its environment — it's free of artificial additives and hormone growth promotants.
Aussie Lamb is a healthy choice. Not only is it lean and high in protein, it also naturally contains thirteen essential nutrients, including Iron, Zinc, Omega-3 and B vitamins.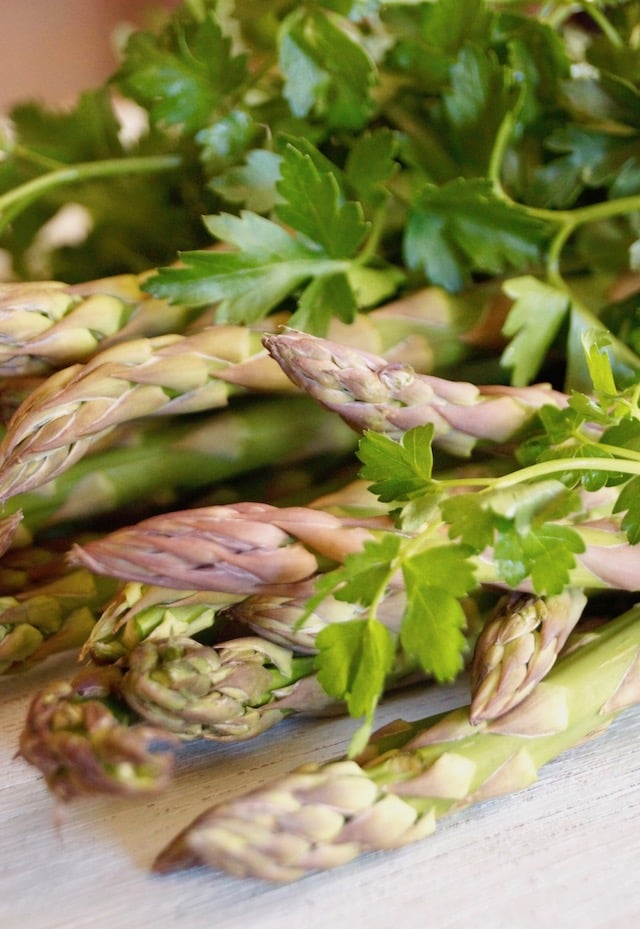 Now let's break down the recipe, shall we?
What is Crostini?
Crostini is the Italian word for toasts.
On menus, Crostini typically refers to an Italian appetizer that's made of small slices of toasted bread with toppings, which can widely vary. They can include anything from cheese and meats, to vegetables and fruits, or they can be presented simply with olive oil.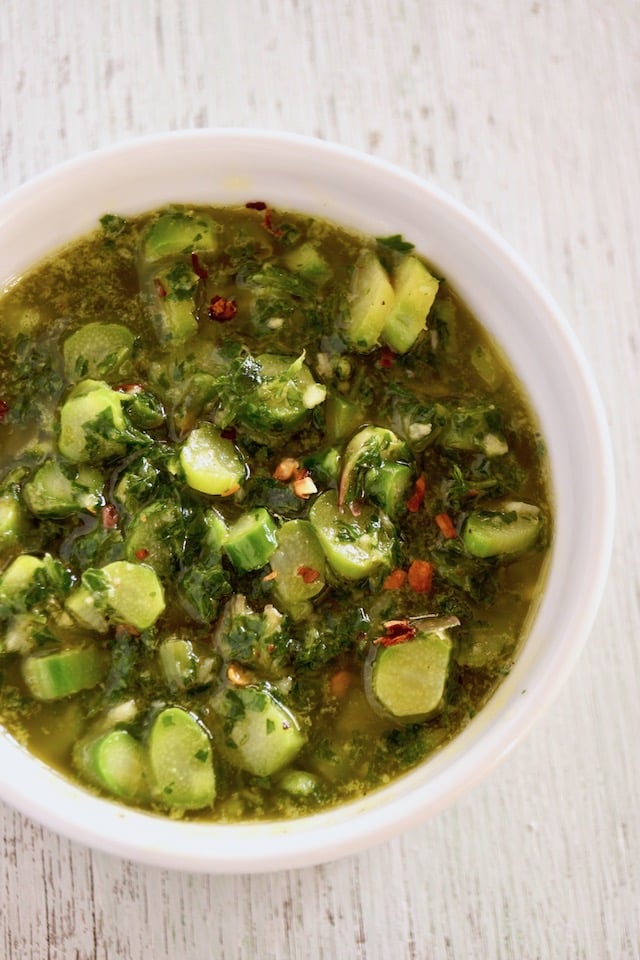 What is Asparagus Gremolata?
Gremolata is an Italian condiment that's classically made of lemon zest, garlic and parsley. I added asparagus knowing that the flavors would be perfect beneath the lamb, and celebrate spring at the same time. It's subtly tangy, super fresh and has a slight crunch.
Can you substitute the parsley?
Sure! If you're not a parsley fan, cilantro and basil would be my second choices.
When and How to Serve it
Springtime, of course!
Asparagus is everywhere in the spring and lamb is always an Easter favorite.
I think one to two bite-sized hors d'oeuvres are a lovely way to start any party, and this one will definitely whet everyone's appetite. However, you could just as easily turn this into a main course — simply cook the lamb loin chops and serve the Gremolata on top or on the side. It would be gorgeous!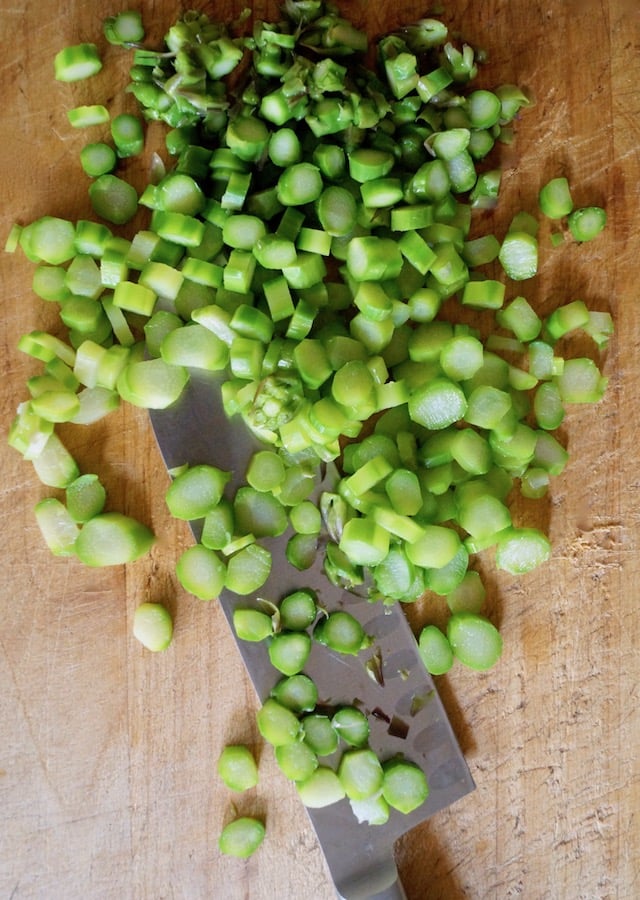 How to Make Asparagus Aussie Lamb Crostini
There are three components and corresponding steps . . .
The Aussie Lamb. Season the lamb loin chops, and sear and cook them in a very hot sauté pan. For medium rare, depending on the thickness, cook each side for about 5 minutes. Let the lamb rest for a bit and slice it off the bone, thinly.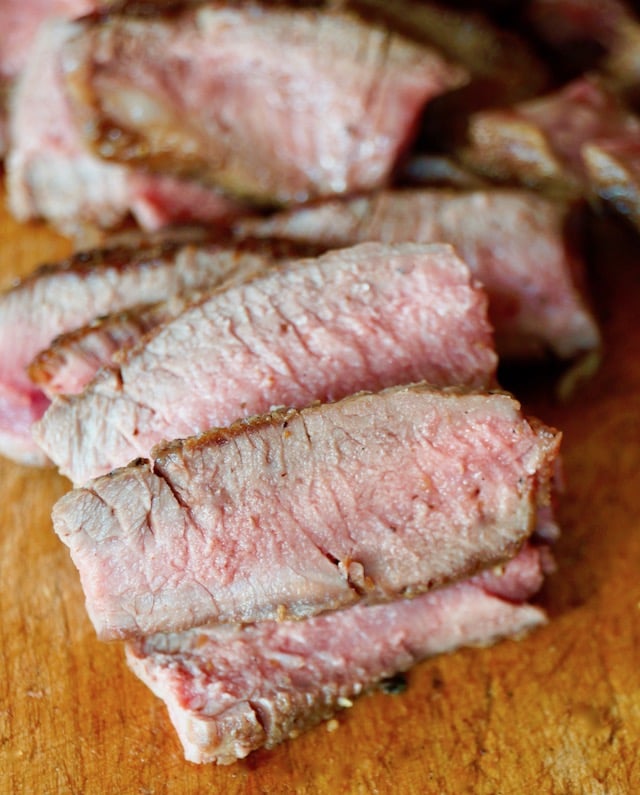 The toast. Cut a baguette into evenly-sized, thin slices and briefly toast them in a hot oven.
The Asparagus Gremolata. Trim, peel and steam the asparagus. I like to keep a bit of their crunch, so I don't steam them for too long. "Shock" the asparagus in ice water to stop the cooking and to help keep the bright green color. While the asparagus is steaming, blend all of the other ingredients in a food processor. Then mix it with the asparagus and season.
You can make the Gremolata up to 2 days in advance. Keep it refrigerated in a tightly sealed container.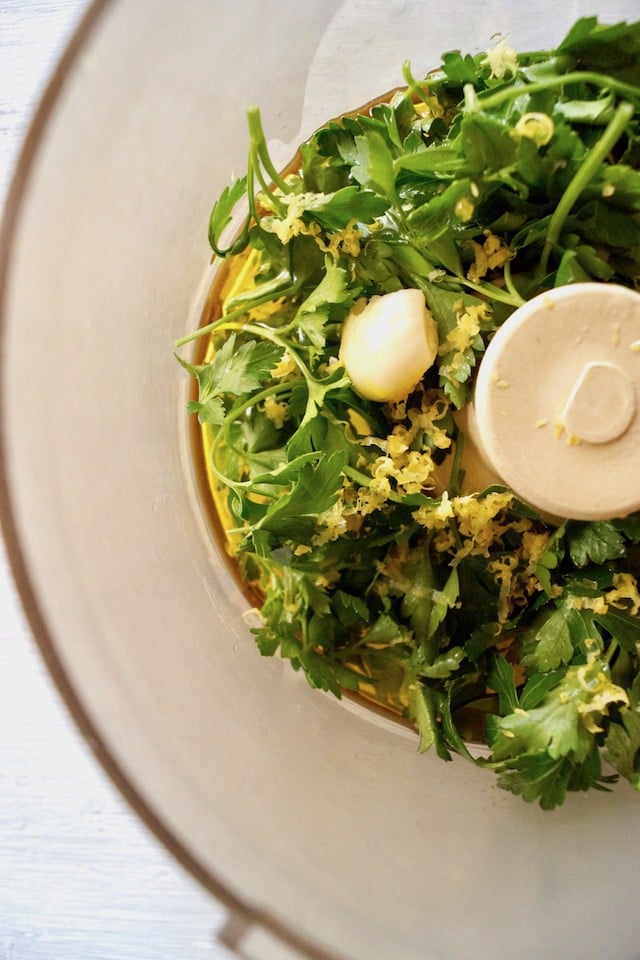 Then put the components together — toast as the base, a spoonful of the Gremolata on top, and then a slice of the lamb to follow. I love to add a bit of lemon zest garnish to each one. It adds another touch of freshness and brightens it.
(Detailed directions are below.)
I hope you plan a spring gathering at your home and whip these up for the guests.
I also served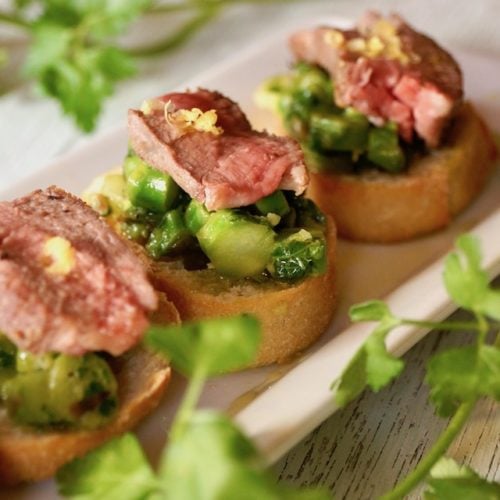 Asparagus Aussie Lamb Crostini
Asparagus Aussie Lamb Crostini is a lovely way to start a spring party. Lemon scented Asparagus Gremolata and thinly sliced Aussie Lamb are simply dreamy together!Recipe makes 20 crostini/ serving size: 2 crostini

Ingredients
1

thin, approximately 12-inch

French baguette,

cut into about 20 thin slices

¾

pound

asparagus,

washed, tough portions of stems snapped off, peeled if thick

½

cup plus 2 tablespoons

extra virgin olive oil,

divided

1

pound

Aussie Lamb loin chops,

excess fat trimmed off (see notes)

1

cup

packed Italian parsley leaves

washed and dried

1

small

garlic clove

(about teaspoon size)

2

teaspoons

lemon zest, plus more for garnish

1½

tablespoons

lemon juice
Instructions
Preheat the oven to 375°F. Fill a large bowl with ice water and layer two paper towels on a large plate. Set both aside.

Add the baguette slices to a baking sheet and set aside.

Cook lamb. Coat the bottom of a large skillet (preferably cast iron), with 2 tablespoons of the olive oil and place it over high heat. Place the loin chops in the skillet and sear undisturbed for about 5 minutes, flip and cook for an additional 5 minutes. (This timing is for medium-rare and will depend on the thickness of the chops.) Let the meat rest for at least 10 minutes before cutting it off the bone into approximately 20 thin slices. Set aside.

Steam asparagus. Place a steamer in a pot with the water level just below it. Over high heat, bring the water to a boil and then add the asparagus to the rack and cover. Reduce the heat to low and steam just until tender but not soft, about 8 minutes. Drain the asparagus and add it to the bowl of ice water immediately. Once it's cool, drain the asparagus spears again, and place them on the towel-lined plate to dry. Set aside.

Toast bread. While the asparagus is steaming, place the bread in the preheated 375°F oven and toast until the edges are golden, about 5 minutes. Set aside.

Mix Gremolata ingredients. Add the parsley, garlic and lemon zest and lemon juice to a food processor fitted with the blade attachment. Blend until the parsley is finely chopped. Then add the oil and blend until it's fairly smooth. Season to taste with salt, pepper and sugar. (Here's How to Season to Taste.) Finely chop the asparagus and add it to the parsley mixture. I call this Asparagus Gremolata, and you can make this portion of the recipe up to two days in advance.
Assembly
Evenly divide the Asparagus Gremolata among the baguette slices, and top each one with a slice of the lamb. Garnish with lemon zest and serve at room temperature. (You can assemble up to 1 hour ahead.)

NOTES
If you can get boneless Aussie Lamb loin, even better. If you can, sear the meat first in a very hot pan with olive oil, and then roast it in a 375°F oven until the internal temperature is 125°F to 130°F (for medium rare).
Calorie count is only an estimate.
NUTRITION
Have you tried this recipe?
I'd love to see it on Instagram! Tag me at @cookingontheweekends or leave a comment & rating below.
Cooking On The Weekends is a participant in the Amazon Services LLC Associates Program, an affiliate advertising program designed to provide a means for sites to earn advertising fees by advertising and linking to Amazon.com.